From Baroda, in South; to Patan, in North – Stepwells (or vavs, as locally known) can be found almost all across Gujarat. For hundreds of years, their efficiency in storing water, in response to the semi-arid climate and seasonal fluctuations, helped the local population strive and survive.
Today vavs represent the rich history and act as prominent historical sites for architecture students and tourists alike. It is believed that some of the vavs must have been built at Mohanjodaro during the Indus-Valley civilisation. Ahmedabad, too, has two prominent vavs, and both of them are an extraordinary heritage site to visit.
I ended up visiting them after an undeniable request from an autorickshaw driver in Ahmedabad, according to whom, Mata Bhavani and Dada Hari vavs are an important cultural heritage, gifted to his city. Hopelessly driven by his encouraging gamut, I decided to give them a visit.
My first stop was Dada Hari ni Vav, a carefully designed 500-year-old, which was originally built under the reign of one of the most prominent sultans of Gujarat named Mahmud Begada. A total delight to eyes, it offers a four-storeyed massive structure, all full of intricately carved walls and columns. The sunlight filtering through was making it look even more beautiful.
It gets darker as you go deeper. I wondered how the artisans would have created such a masterpiece back in the days.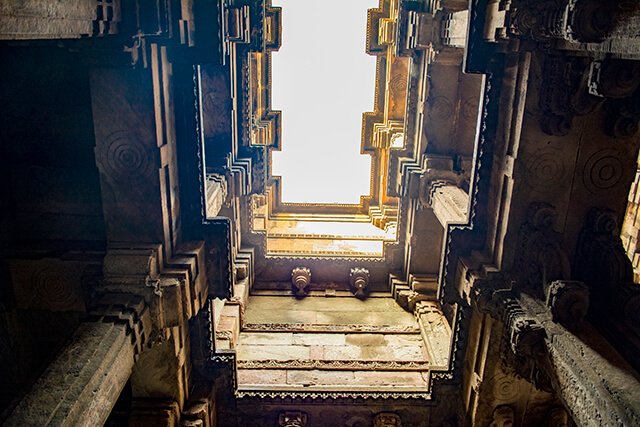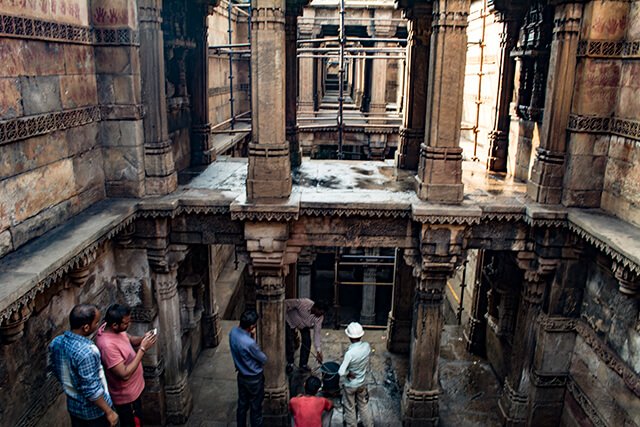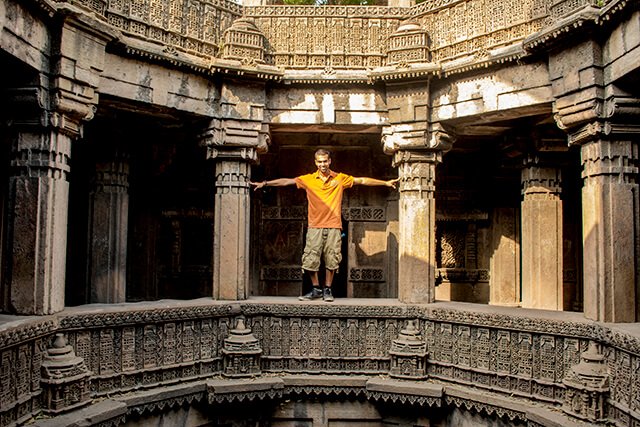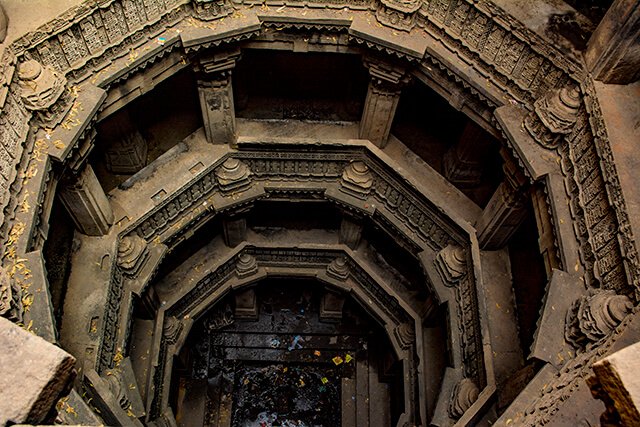 Just behind the Dada Hari ni Vav is the mosque of Sultani, where tourists are totally allowed to walk in and even take photographs. This was also built about 1500 AD and is said to be the final resting place of Bai Harir.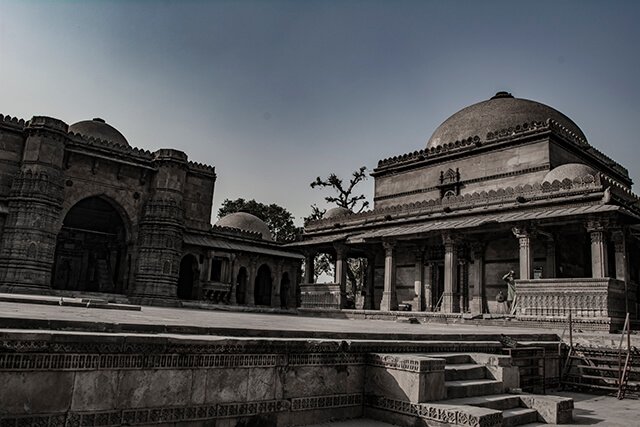 A few-minute walk from Dada Hari ni Vav took me to Mata Bavani ni Vav. Unlike other vavs in and around Ahmedabad, Mata Bhavani's vav apparently seemed to have a total Hindu influence, with its much later constructed small shrine of Hindu Goddess Bhavani, located at the lower gallery. It is from the shrine from which it has derived its name.
Though few may find Mata Bhavani's vav a little smaller in size, its beauty and rich history cannot be disregarded. Built-in the 11th century during the Solanki dynasty rule in Gujarat, it is one of the earliest existing examples of vavs in India.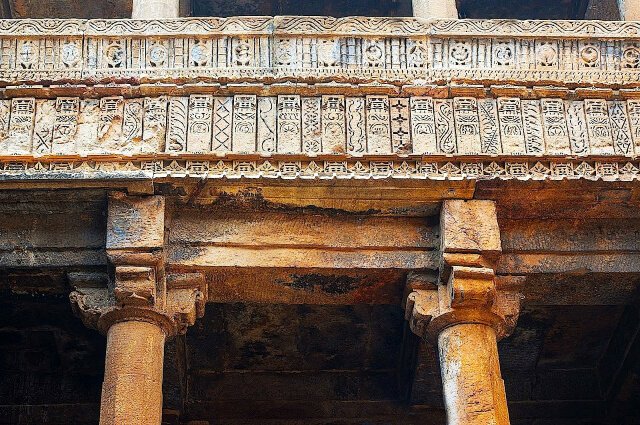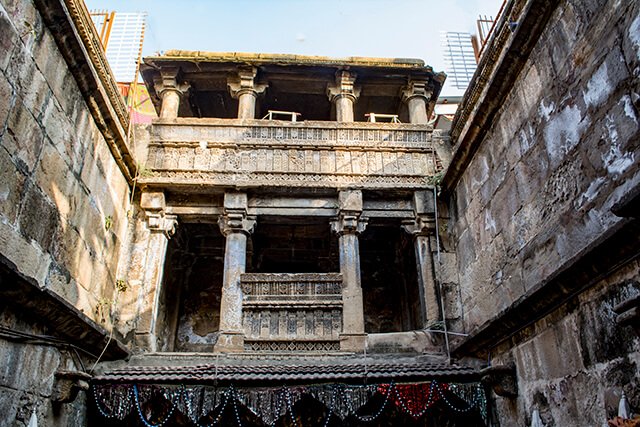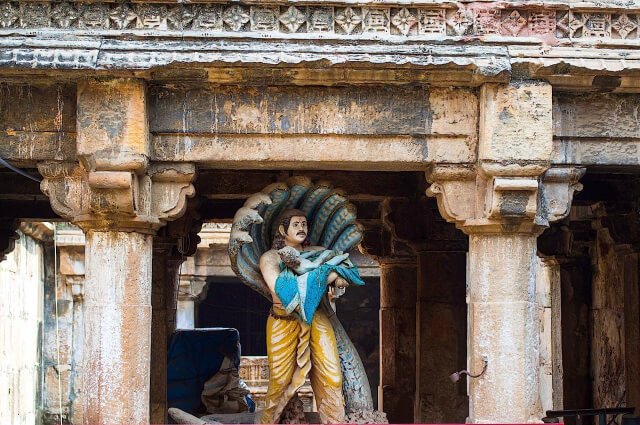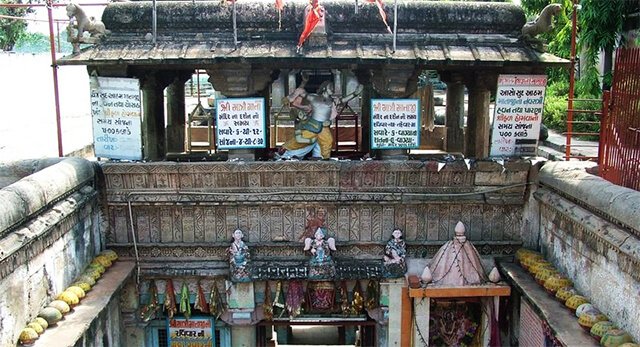 The contrast between the two was stark. Where Dada Hari ni Vav appeared to be lost in oblivion, as if slowly losing its battle against the changing time and generation, Mata Bhavani ni Vav was all lively, colourful and perfectly restored. It moreover had a specified visiting hour between 10 am and 6 pm. Dada Hari ni Vav, on the contrary, was open wide apart for humans, dogs, and apes, alike. I can't say which one did I prefer. I think both had their charm.
Another stepwell that you can visit around Ahmedabad is Adalaj ni Vav. Click Here to read about it.
Where To Stay In Ahmedabad
I stayed in French Haveli, a 150-year-old artistically restored haveli. It was located inside the heart of Dhal ni Pol. A few minutes' walks from the haveli took me to the famous and the always busy Manek Chowk market, the nearby Muslim tombs of Ahmedabad's first King and Queen and the beautiful Jama Masjid. The stepwells can be easily visited from the haveli with a 150 auto-rickshaw ride to all three stepwells or a 45-minute drive.
Further reading: A Traveller's Guide to Ahmedabad's Best Kept Secrets