Organised annually by Gujarat Tourism, between November and February, the Rann Utsav in Kutch has been gaining popularity among Indian and foreign travellers over the previous few years.
Though it's surely an interesting effort by Gujarat Tourism to allow people to revisit Kutch after it was left devastated by the 2001 earthquake, by creating a travel story linking to Kutch's geographical and cultural distinctions, the value for money the Kutch Rann Utsav offers is, unfortunately, pretty discouraging.
To own a tent (a Premium Tent, or a Rajwadi Bhunga, as named) that comes with complimentary meals and a one night/two days package, it costs nearly 6 thousand Rupees per person (excluding 18% taxes). For every extra person, in the tent, you pay an additional 4 thousand (and more taxes). This means a family of three can end up paying over 15 thousand Rupees for one night in Rann Utsav.
Please check the official festival website for the updated price list!
Also, before I share more about my experience and why I discourage you to go there, I want to share other useful resources I have written about the region. Here's my Kutch travel blog with backpacking tips, for more on what to see and do in Kutch other than the Rann Utsav.
If you want to visit more places in Gujarat, here's a more detailed tourist destination in Gujarat guide. For Ahmedabad only, here's the Ahmedabad travel blog. I also recommend you to not miss the popular step-wells in Ahmedabad, particularly Adalaj Stepwell. They are some of the most popular historic destinations, other than Kutch Rann Utsav in the entire Gujarat.
Now, let's get started with the topic at hand…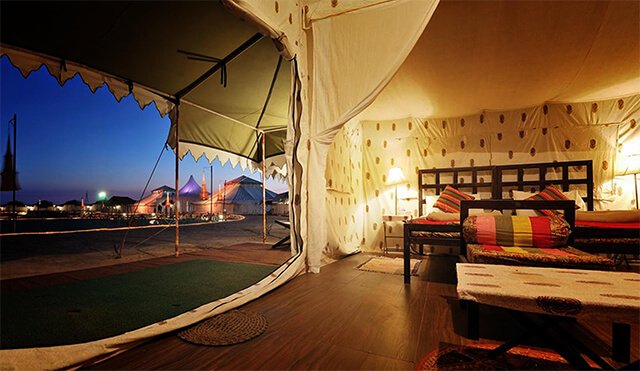 Rann Utsav In Kutch
…what to expect?
To be honest, a massive tented city, with a bit of chaos and many neatly staged cultural experiences!
The tent city of Dhordo, where Kutch Rann Utsav takes place, is moreover walled because the tourism department wants to keep those, who are not paying them any money, away from the show. A total turn-off!
I feel that due to the lack of information available online, about the entire Kutch region and its amazing natural White deserts, the organisers of Rann Utsav see it as a burgeoning commercial opportunity to make money. Sorry for the bad tone, but I personally find it that way.
Moreover, given the facts that the White Desert around Dhordo was perhaps the most crowded and dirtiest as compared to other White Desert locations I have visited, a visit to the White Desert from the tent city happens in buses instead of camel carts as otherwise advertised – it would not be wrong to say that the Rann Utsav is a total rip off.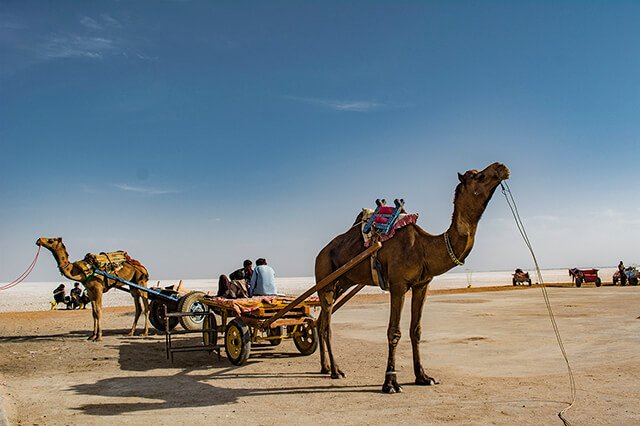 Getting The Big Picture
The major reason for anyone visiting Kutch is to explore its two natural landscapes: 1) Great Rann of Kutch for the White Desert (that you find at Kutch Rann Utsav) and 2) Little Rann of Kutch for the barren crack-land & salt-mashing.
During my 25 days of backpacking across Gujarat, out of which a fair share was spent exploring the Great and Little Rann of Kutch, I found a few impressive and offbeat sites that were far better than the Great Rann of Kutch located near the tent city of Dhordo (where the Rann Utsav takes place).
The White Rann near Dhordo, as I found out, was crowded and has been turned partially brown (from white) due to its overexposure to tourists. It was moreover impossible to hear the silence here and enjoy the moment on your own, as I apparently did in the more isolated and comparatively offbeat corners of White Rann.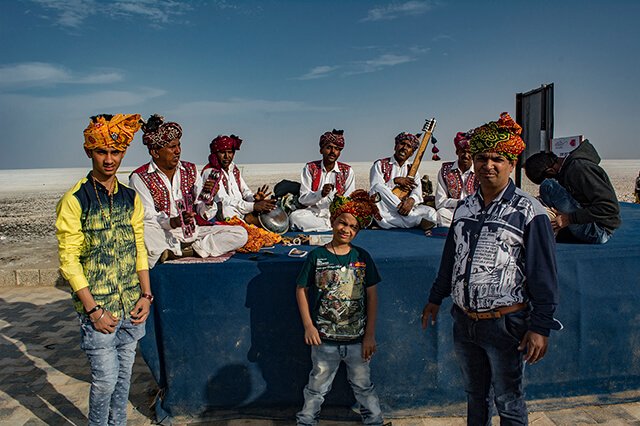 Crowds Start Appearing In Big Numbers, At the White Desert Around Dhordo Before Sunset
Dhordo is one of the most popular tourist destinations in India. In 2015, Prime Minister Narendra Modi also spent 3 days at Rann Utsav in Dhordo City, where his 31 Lakh Rupee bullet proof tent was made new around the world.
What To Do, If Not Visit The Rann Utsav?
In one sentence… plan your own itinerary! Particularly if you're alone, and are more or less interested in exploring the natural landscapes of Gujarat, over a crowded can-be-experienced-anywhere-in-the-world sort of fair.
A better alternative to the White Rann around the Dhordo Rann Utsav is the offbeat location of 'Ekal Ka Rann' located around 100 kilometres east of Bhuj (almost the same distance as Bhuj-Dhordo). I would particularly recommend Ekal Ka Rann to those who are looking for something more romantic, due to its isolated location.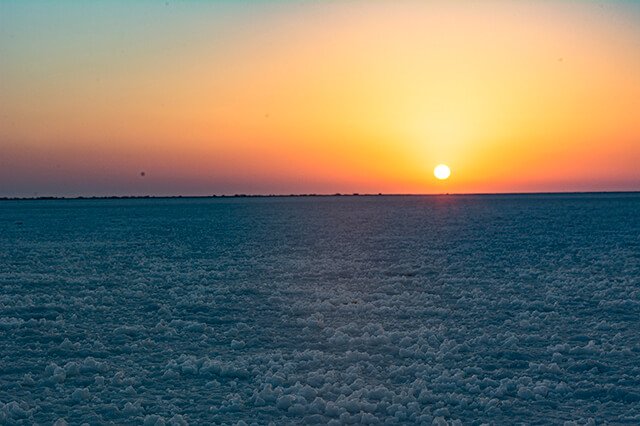 Romantic sunset at Ekal Ka Rann
To get the best experience of driving on the White Desert, however, head straight to Dholavira. This is where you'll come across a 7-kilometre straight road that passes through the White Desert on its either side.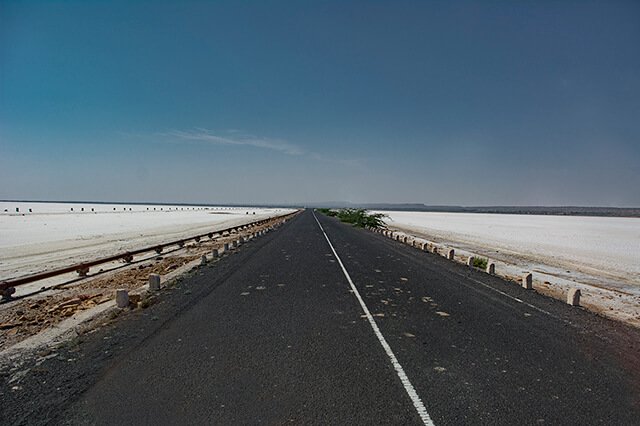 Road To Dholavira
Still, if you think that The White Rann near Rann Utsav in Dhordo is something you would at least want to explore, thanks to all the hype it has gathered during the years, you can always make a day tour from Bhuj. And it takes just a little over 4 hours for a round trip to Dhordo (from Bhuj).
If you do not book accommodation in Dhordo, you cannot access the premises of the tent city, where the Rann Utsav takes place, but that doesn't stop you from going to the White Rann and checking out the nitty-gritty of a local marketplace located in Dhordo.
Moreover, make sure you've your own transport, as the state transport buses do not go all the way to Dhordo and leave you somewhere in the middle of Bhuj-Dhordo. To rent a bike, you'll find only one shop inside the city of Bhuj, or you can make a deal with a local and rent theirs for a day – just the way I did!
How To Travel Rann Utsav
Though I don't really recommend you to visit this place if you are still going, and thinking about how to visit Rann Utsav, let me at least share the tips.
Most resorts in the area will arrange transport for you from Bhuj. Including if you booked yourself accommodation in Rann Utsav. Of course, they will charge for it, but it is convenient, given there are no buses operating on this route anyway.
To get to Bhuj, however, you can…
Take the train to Bhuj Railway Station. You can find regular trains from Delhi or Mumbai to Bhuj.
Fly, as we have a domestic airport in Bhuj. If you the flights are too expensive, you can also fly to Ahmedabad and then take a bus/train from Ahmedabad to Bhuj.
Travel on a bus if you are coming from someplace in Gujarat or nearby cities in Rajasthan.
Additionally, as I said above, you can stay in Bhuj only, hire a cab or a motorcycle and do a day trip to one of the nearby Great Rann places. This way you can also visit other popular highlights in Gujarat like Lakhpat Fort and explore some local art forms in Kutch.
Best Time To Travel
Most of the places in Kutch get flooded in monsoon and start drying up in October. Beginning the end of October until the end of March is the tourist season in Kutch.
For Rann Utsav, the best time to visit is the months of January and February. This is when the temperature is most pleasant.
Most accommodations start closing in mid-March and stay closed until November.
If you want to avoid crowds, November, December and March are the best months. If you want to enjoy the weather, January and February months are the best time to visit Rann Utsav.
It's best to visit the desert only in the early morning or evening, otherwise, the salt can be blinding. Also, full moon nights are the best (also the most crowded of all days in the season) for photography.
Here's the link to Gujarat Tourism website for more details about Gujarat and Rann Utsav in Kutch.