Before you read the original article, I want to tell you that I revisited Nongriat in November 2022 and was totally startled to see its state.
The impact of overtourism has almost killed the place.
Where last time I found local families in there too welcoming and heart-warming, this time they were too busy to even speak to. The root bridge was slowly dying too. You can read about my recent visit to the living root bridge in Nongriat.
So don't visit this place under any false impression and consider it just one of those popular holiday destinations in India.
Now let's continue with the original story I wrote after my first trip to Nongriat almost five years ago…
Nongriat
Nongriat is a combination of two words "Nong" meaning village and "Riat" meaning cliffs or ridges. In English, the word will literally means "A village surrounded by ridges". And that's exactly what you are going to find there, in addition to its mesmerizing beauty, natural swimming pools and friendly people.
It is located in the eastern Khasi Hills with a few other villages, including my favorite village Menteng.
Though the place has lately picked up in the charts of must-visit places thanks to its root bridges, it has a long history and a rich culture.
Root Bridges
The root bridges of Khasi hills are unique in the world. Deep inside the jungle, shrouded in clouds and rain these root bridges are indeed some astonishing man-made natural wonders.
It took around 20 years to build each root bridge and some of them are over 150 years old.
Not to forget, you can find a total of 11 such functioning root bridges around Nongriat, and possibly many, many more around the entire Khasi Hills.
But how did the people come across such a wonderful idea? Well, there's a story…
Being the inhabitants of "Thied Dieng" people of Nongriat realized that maintaining wood and bamboo bridges was a burden. And since they were experts in building tree roots and creating root handicrafts, they came up with this unique idea of root bridges.
They planted rubber trees on either side of the rivers and waited and weaved the roots to get a strong Root Bridge.
The first-ever root bridge on "The Umshiang River" was built some 180 years ago, but it got overflowed by the rainwater during monsoon.
This encouraged the villagers to build another one above the old bridge and that's how the popular Double Decker Living Root Bridge – a unique in the world where man and nature collide and cooperate to withstand the rage of the Umishian River – came into existence. Double Decker Root Bridge is moreover the first and the strongest root bridge ever built in this area.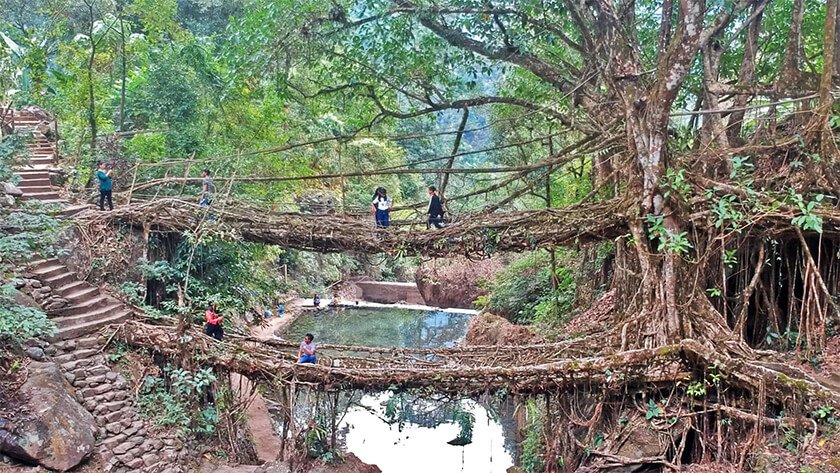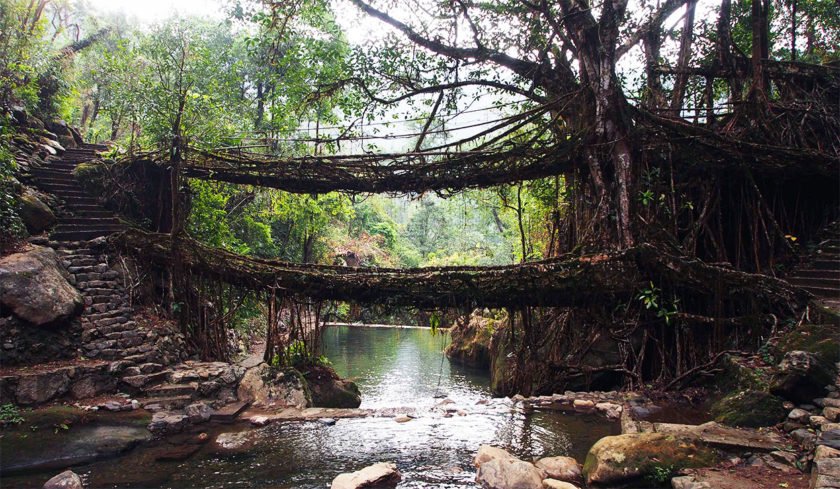 People of Nongriat
The people of Nongriat are extremely welcoming with many of them quite well-versed in English. And trust me, that is exactly when your love affair with Khasi Hills and its people will begin.
As I found, Nongriat people are very simple, shy, hospitable, friendly and hardworking.
They are short and thin but strong and healthy.
The best part about them is that they worship land and nature and call themselves "Animists".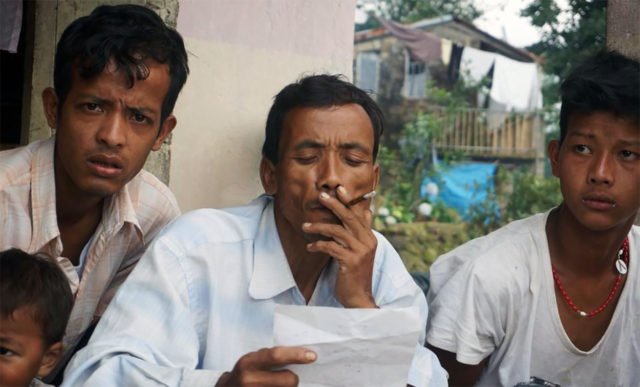 People of Nongriat – The True "Animists"
The people of Nongriat live in harmony with nature.
Traditionally, people here always found ways to use plants and animals to their advantage. Since everything is derived from nature, the relationship between nature and person is like that of mother and child, they believe.
"We live in perfect harmony with nature because we are animists," I remember my local host often claiming it to me.
No wonder, the people here have always regarded nature and all the living beings that exist on it with respect – and their traditional Khasi dish known as Jadoh is a perfect example of that.
The Story of Jadoh
Khasi people do not waste any part of the animal, not even the eyeballs if they kill it to obtain meat. And Jadoh, a traditional Khasi dish is a perfect example of that.
Jadoh includes rice cooked in either pork or chicken's blood served with some sort of disgusting meat pieces – generally pork's brain and intestine.
It is like a different version of a less spicy Biryani, except for its texture and the feeling you get while you chew it in your mouth.
More On Nongriat
After migrating to India, Nongriat Khasi people originally lived on the other side of the valley in a village named "Thied Dieng". This was around 200 to 250 years ago. But in a strafing battle that ensued between "Mawphu" and "Thied Dieng", the latter lost and fled to the present valley.
There were five clans, so they split into five villages namely, Tyrna, Nongriat, Mynteng, Ramdait, and Nongkrong – this was to fend off any further aggression by its neighbouring kingdom and villages.
The people of Nongriat and of neighbouring villages are known as Khasi people. Khasi means WAR.
Originally Khasi people were nomads, who hailed from Cambodia and Northern Thailand – moving to Myanmar and then to North East India. Some ended up in the present state of Meghalaya whereas others moved to Bangladesh. These people have their indigenous religion, traditions, and culture.
Also, read this Meghalaya Travel Guide if you are interested in exploring more places in Meghalaya.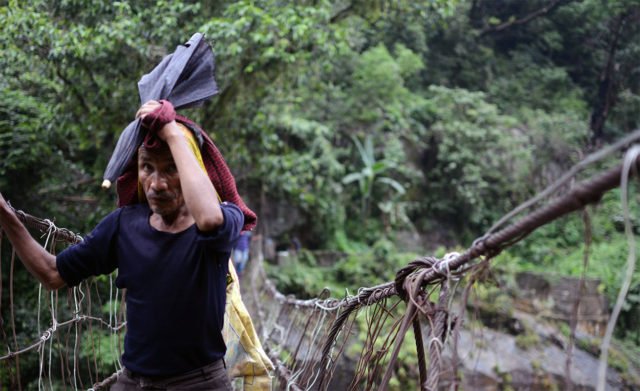 Eastern Khasi hills is a thick tropical rainforest. Most of the land here is owned by local villagers, whereas some of it is owned by the whole community – among which some parts are "Sacred Grooves".
Sacred groves in Nongriat, Meghalaya are special parts of the forest where sacrifices are being made to keep away the spirits.
Forest is the source of livelihood for the people – apart from its tourism – which, indirectly again relies on the forest. The main products are Bay leaf, Wild Black Pepper and broomsticks – during harvesting season (between October and April).
Almost all of the Khasi villages and community areas sit on top of a great plateau which provides comfortably cool weather, and below them are the plains of Bangladesh. The temperature of Bangladesh and land conditions make the border areas of Bangladesh a perfect place to cultivate many vegetables and fruits including oranges and import them into India.
If getting lost is your thing, I would most certainly recommend you to visit Nongriat. It is one of those rare places where natural beauty and the local people work together to ensure that your appetite for nature is completely satiated with them.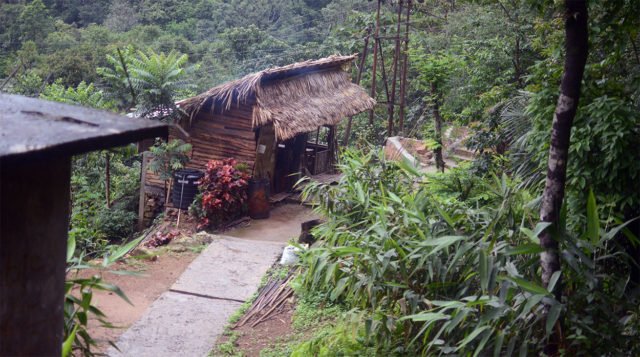 How To Travel Nongriat
Delhi to Guwahati
To travel to Nongriat, you will first have to find your way to Guwahati.
The best way to get to Guwahati is by flight. Flights from all major airports to Guwahati are always very cheap in price, with enough options – from budget airlines to business class.
If you want to travel by train, be rest assured that is fairly easy too. Guwahati has a railway station with almost as many trains coming here as Delhi or Bangalore railway stations.
Guwahati to Tyrna
Once you reach Guwahati, the next thing is finding your way to Tyra. You can do that either in a bus or a taxi or self-drive.
I suggest you hire a motorcycle or a car and drive to Tyrna as this will save you a lot of time. There is a parking space in Tyra (charging 30 Rs for 12 hours or double for overnight). I rented my motorcycle from a place called Wanderlust Bike Rent in Guwahati and can recommend you the same place.
Alternatively, you can find a bus from Guwahati to Shilling, then Shillong to Cherapunji. From Cherapunji, you will have to hire a shared cab to Tyrna. From Shillong (here are things to see in Shillong) Tyrna is 64 km away.
Nongriat Trek
Once you reach Tyrna, next is the Nongriat trek which takes about 2-4 hours depending upon how fast you walk.
From the parking area in Tyrna to Nongriat there are almost 3500 steps, but very steep. It is actually a great toll on your legs and knees if you plan to do the entire trek in a single day (Tyrna to Nongriat and back).
As it seems, climbing down is still easy, but climbing up is quite a task. After about 1500 steps you will reach a place called Nongthymmai. There are a few shops to eat at Nongthymmai. It is also the midpoint of the Nongriat trek.
There is a diversion and another root bridge there that costs Rs 10.00. You can skip that root bridge as you will find the bigger one in Nongriat.
As I said above, Tyrna to Nongriat trek can take about 2-4 hours
That's all in this travel blog. If you've any questions, feel free to get in touch by writing a comment below or contacting me on Instagram (for a quick reply).