When planning my first backpacking trip I Googled tourist places to visit in Meghalaya to get an idea from other travel guides out there.
People suggested that backpacking in Meghalaya, won't be a good idea because of the lack of public transport. But it wasn't the transport that I was worried about. Limited travel information available online and the availability of very few Meghalaya travel guides (s) was the biggest challenge. But to hell with it, I still decided to go, and on the basis of my travels, I have written this guide to help you during your travels.
So let's get started with some of the top places to visit in Meghalaya.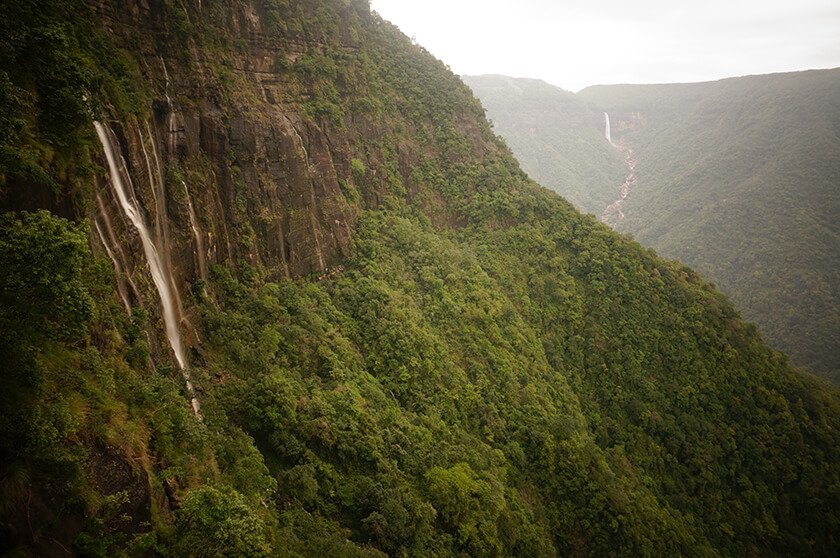 Meghalaya Travel Guide
Situated in the northeast region of India, Meghalaya is all about mesmerizing hills, dominating rainforests, dramatic clouds and a lot of rain. The town of Cherapunji and Mawsynram are statistically among the wettest places on earth.
English is the official language here, making communication with locals fairly hassle-free. I found Meghalaya as one of the safest and most convenient places in India for solo travelling.
The entire state is majorly populated by three indigenous tribes, who follow a matrilineal system with property and wealth passing from mother to daughter. Visit Meghalaya to explore a now-clichéd and a different side of India.
Tourist Places to Visit In Meghalaya
Living Rootbridges
This is something so unique that you can't find it anywhere else in the world – river bridges made out of river figs.
Root bridges were originally made by indigenous Khasi people, living in and around the Village Nongriat, in Eastern Khasi Hills. There are a number of small root bridges around the area with a Double Decker Root Bridge, unlike one of its kind, located in Nongriat.
Exploring root bridges and crossing them watchfully, is one of Meghalaya's top experiences. Here is more on Nongriat in this Meghalaya photoblog.
Update March 2022: I revisited Nongiat in January 2022 and was totally startled to see its state. Overtourism has killed the place. Where last time I found local families in Nongriat too welcoming and heart-warming to be true, this time they were too busy to even speak to. Kids were busy selling fake 'natural honey. The root bridge was slowly dying. Read More: Nongriat Isn't Worth Visiting Anymore.
Eating Jadoh
Jadoh is a traditional Khasi dish of meat served with rice. The exclusivity, however, is that it includes rice cooked in either pork or chicken's blood – because Khasi people do not waste any part of the animal, not even their eyeballs if they kill it to obtain meat.
I've eaten some exotic foods around India, but none of them match the exoticness of that of Jadoh's.
You can read more about Jadoh in this Nongriat travel blog.
Mawsynram
Housing a few families under its wetland, the town of Mawsynram is the rainiest place in the world.
Though Mawsynram gets most of the rain during its rainy season (between June and September) expect periodic showers throughout the year. So before you plan Mawsynram, make sure you've invested in a good raincoat or an umbrella.
Cherapunji
Before Mawsynram, Cherapunji owned the title of Rainiest Place in the World. Though even today it won't disappoint you with the annual rainfall it gets in a year.
Cherapunji is located a few hours' drive from Shillong. Come here to see Meghalayas a few popular natural caves, the mesmerizing Nohkalikai Waterfall, and an ideal viewpoint to see India's neighbour Bangladesh from a distance.
Shillong
Shillong is the capital city of Meghalaya. Congested in a small place with yellow-metered taxis running around the popular Police Bazar, Shillong is trendy, energetic and has a vibrant young crowd. The food in Shillong is super-cheap and the accommodation range from budget guesthouses to villas.
Visit Shilling to see a bustling Indian-capital city that doesn't grow mad on you. If nothing else, come to play golf in Asia's second-largest golf club, surrounded by rainforests.
To read more about what to see and do there, read this Shillong Top Things To See Travel Guide.
Mawphlang Sacred Forest
About 45 minutes drive from Shillong, in the East Khasi Hills you find a full medicinal plant grove. Knowns as Mawphlang, this is the Khasi tribe's sacred forest. What's interesting is that the local tribal people perform animal sacrifices here and burn the bodies of their deceased.
Visit the nearby Khasi Heritage Village to see, and perhaps experience, some mock tribal huts too.
Dawki River
If you think rivers in India are all dirty and polluted, visit the Dawki river in Meghalaya. Located next to the India Bangladesh border, this river remains so clean that you can actually count the pebbles underneath. Watch a few google photos of the Dawki River and you will know what I am talking about. Dawki River is certainly a place to visit and click some Instagram-perfect photos.
Update May 2022: I visited Dawki earlier in 2020 and found that overtourism has killed this place too. Dawki is now polluted, crowded and over-priced. Though the river is still very clean, staying in Dawki is not a recommended experience. Having said that, visit Dawki only on a day trip. Read more here in this Dawki River Travel Blog.
That's all the places to visit in Meghalaya. Now let's discuss further the cost of travelling and the best time to travel.
What Is The Cost of Travelling In Meghalaya
Food
Food in Meghalaya is cheap. If you eat meat and fish, it's even better, as it is easily accessible and is amazingly good in taste. When I visited Cherapunji in September 2015, I survived on Pork+Rice for pretty much all my time there. I was hooked on it, and it was cheaper than any other (good quality) Pork+Rice dish I have ever had in India. Expect a one-time meal to be available for under 100 Rupees.
Accommodation
Many small tourist-towns across Meghalaya offer homestays, which cost somewhere between 500 to 1000 Rupees a day, including food. A cheap room, with a shared bathroom, in most popular towns, including Shillong, start from 350 Rupees a day. Pay around 500 Rupees and you have your own bathroom and a standard room.
Transportation
There are no trains in Meghalaya. So if you want to travel cheaply, use state buses. They are a little infrequent, but thanks to the shared-taxi system in the entire state, transport is at least possible pretty much everywhere. And it is cheap as it is in the rest of India. A 2-hour shared taxi drive, from Shillong to Cherapunji can cost around 200 Rupees. Buses, on the other hand, may cost less than 100 Rupees.
What Is The Best Time To Travel Meghalaya
The weather in Cherapunji is tropical. It rains and it sweats. You can travel anytime but during monsoons (between June and September). However, March and May is the best time to travel to Meghalaya.
This is when the maximum temperature hovers around 25°C on average and the chances of rain are low.
Some Useful Travel Tips
Since most of Meghalaya is covered in the rainforest, the wildlife here is rich. Expect to see a few big-size spiders pretty much almost everywhere. And if you're into butterflies and moths, there's no other place (at least not anywhere else in India) to be.
Transport and accommodation are pretty easy to find in the most popular tourist places in Meghalaya. Almost all the villages, that have a reason for tourists to come, have a guest house or a homestay. If nothing is found, you can book day/weekend excursions to throughout Meghalaya, from the Meghalaya Tourism office in Shillong.
If you enjoyed this Meghalaya travel guide and found the top tourist places in the Meghalaya list useful, why not leave a comment? Also, share your comments if you have something more to add. Let's help the community.