If Dawki River is one of Meghalaya's top tourist destinations and Meghalaya is proud of it, then let's be honest, tourism in Meghalaya is going in wrong direction!
Just like most tourists, my original fascination to visit the Dawki River was quite obvious too. I was riveted by those Instagram photos with a boat floating above a river so clear that you could literally see through it.
Umngot River, as I found, was indeed one of the picture-perfect cleanest rivers I've seen in India.
On a good day, the river remains so clear that one can count the pebbles underneath. And that's how I found it during my brief two-hour but no-less-lucky visit.
The picturesque beauty of Umngot River (or Dawki river) was indeed mesmerizing both in reel and real.
The many floating boats gave an impression as if they were being dragged on a glass surface, rather than being sailed.
But hey, that's just one part of the story!
If you have any questions about the place, you can contact me on Instagram (PS: I won't lie, lol). Alternatively, see videos on my Youtube Channel and get a better idea of how it looks.
INSTAGRAM CAN LIE !!
Everything we see on Instagram these days is not true. From cropping out unwanted details to adding fake filters beyond recognition, Instagrammers ensure their trips look as enviable as possible. I have seen how destinations sometimes look entirely different as they appear on someone's Instagram page. And that was the case with Dawki too.
Another place where Instagram lied to me as it did during my trip to Dawki River was Jodhpur, in Rajasthan.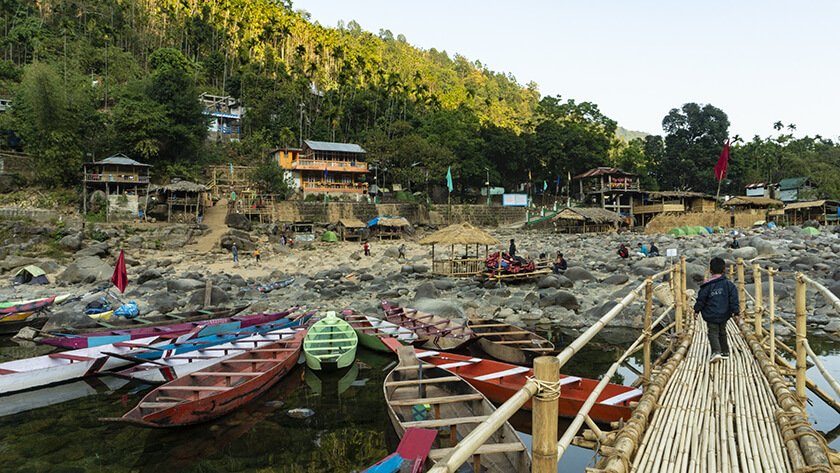 My Journey From Cherapunji to Dawki
My visit to the small border town of Dawki, in Jaintia hills, in north-east India, happened after my disappointment with Nongriat, Cherapunji.
I revisited Nongriat, and the Living root-bridges, after more than 5 years. During this visit, I found that this part of Meghalaya was on its way to self-destruction, thanks to Overtourism. The town felt choking, natural beauty seemed dying, and local culture appeared lost.
Read more about my bad experience exploring living root bridges in Nongriat, here: Living Root Bridges in Nongriat.
Heartbroken and sad, I left Nongriat, in Cherapunji early morning and rode straight to Dawki. From Charapunji, it was about a 100km ride but it took me nearly 5 hours.
Riding in Meghalaya can take time, not because the roads are bad but because the landscapes are so beautiful there. At every 10 km, you would want to stop and take pictures.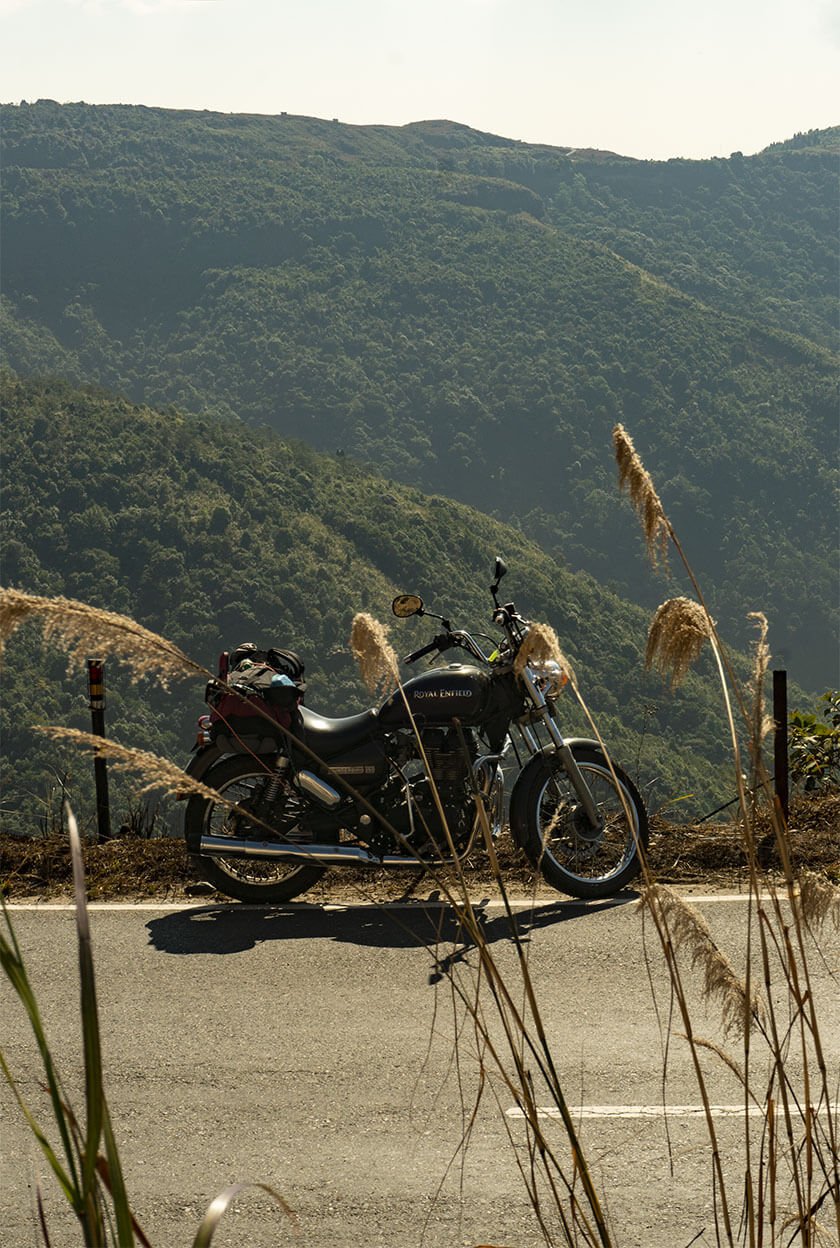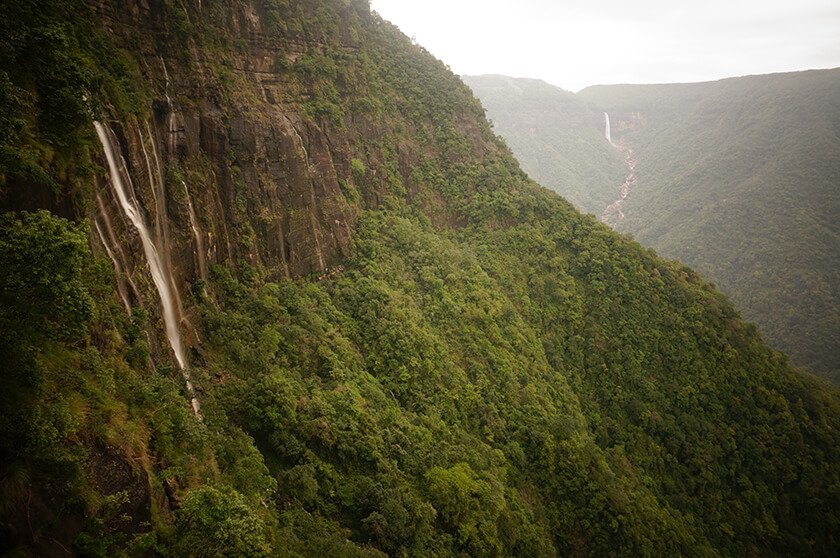 By the time I reached Dawki, the sun was nearing the horizon. Time was about 4-ish I think – leaving me with just enough daylight to quickly scan the town and find a place to stay.
But as I crossed Dawki Bridge, I found only a crowd and confusion. At a distance, and near the riverbank, the scene at India and Bangladesh border was even more intimidating.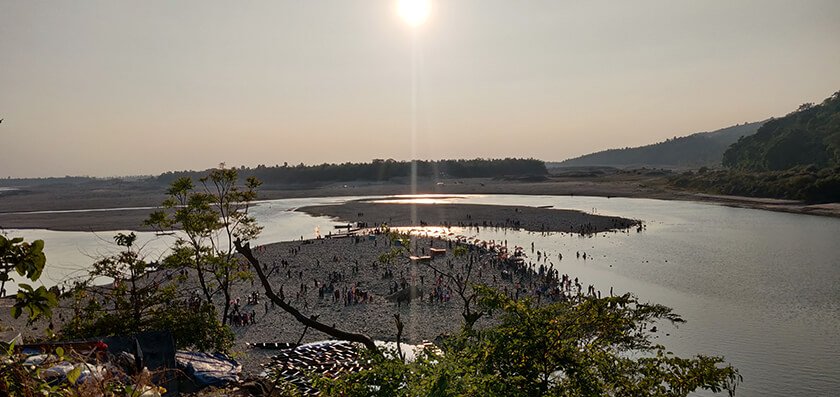 Dawki River: Not Worth Visiting
Before I reached Dawki, I was well notified that staying in Dawki village is not worth it. "Rather go to Darrang or Shnongpdeng," my friend, whom I happened to meet during a blog trip to Dwijing festival, in Bodoland, told me.
Without wasting any time, I took a detour from Jowai-Dawki road, away from the Indo-Bangladesh border and reached Shnongpdeng. I parked my motorcycle at the parking in Shnongpdeng and walked towards the Dawki River.
Shnongpdeng had homestays and campsites beside the river. But honestly speaking, it wasn't a place where I would want to stay. In five words, Shnongpdeng was 'filthy, messy and disappointingly unorganised'.
From plastic waste to human faeces, I could find it all. And right next to the filth, a so-called tourist campsite charging 500 Rupees a night.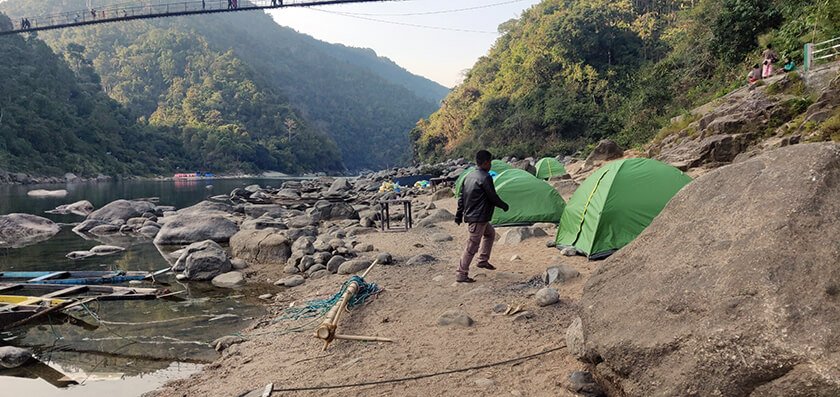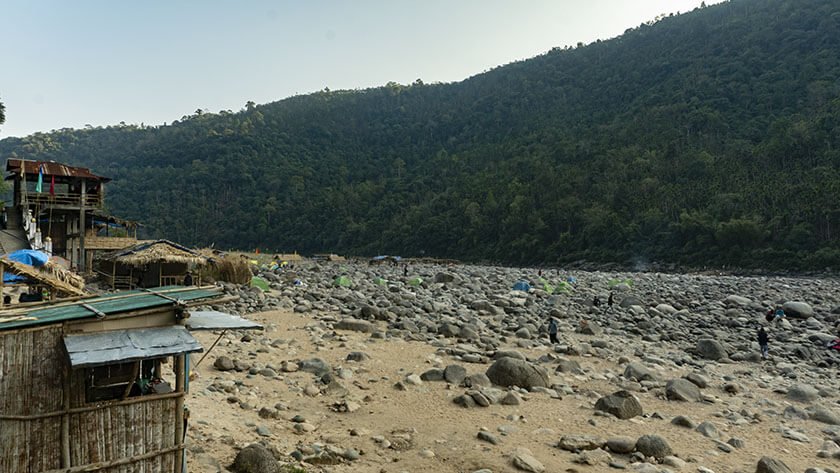 Dawki River appeared as one of those tourist places that have fallen prey to Overtourism and to human greed. Locals and authorities did not worry about the harm it can bring to the ecosystem and only made quick money.
For me, the place was not just disappointing but one of the biggest examples of bad tourism in India.
In just a couple of hours, I knew that I am not staying there. By the time I scanned Dawki and Shnongpdeng, it was already too late and dark, and I had no place to sleep. Yet I decided that I am leaving this place. I rode 40 km in the same direction I came from, making Mawlynnong my home for the night.  If you are looking for accommodation, I recommend checking out deals at Booking.com.
Dawki River
Though you might have guessed by now that I don't really recommend this place during your Mehalaya adventure, if you still decide to go, I advise you to do so between September and December.
Ideally, winter makes for the best time to visit Dawki. This is when the river is cleanest and the weather is perfect. But because this is also the peak tourist season, everything is too crowded. You don't want to visit a place that is already falling prey to over-tourism in peak tourist season.
Monsoon may make for a great time to visit, but because rain brings mud into the river it doesn't make sense to visit during the monsoon either.
May and June is the holiday season, hence, a peak season again, leaving it to the months of Sept, Oct and Nov to be the best time to visit Dawki. I also recommend taking a tour to have a better and more interesting experience.
How To Travel To Dawki River
Again, if you're still thinking to visit this place, despite my warning to not do so, here is how to travel…
By Air
The nearest airport is in Shillong. But if you are flying from Delhi or Bangalore or any other big town in India, you will find the best price flights to Guwahati. So I suggest you book a flight to Guwahati airport.
Guwahati to Shillong is only a 2 hours journey. You can rent a motorcycle, book a bus or a taxi and travel from Guwahati to Shillong even at 12 midnight. So yea, book a flight to Guwahati save yourself some money. For cheapest flight deals check out CheapOair.
By Train
Since Meghalaya has no trains, the nearest train station is, again, Guwahati railway station. As soon as you come out of the train station in Guwahati, you find readily available taxis (shared and private both) and buses that go to Shillong. A bus costs about 200 Rupees and shared-taxi costs about 350.
Shillong to Dawki
You can find a bus from the Shillong government bus station for about 200 Rupees. The bus takes you to Dawki village, from where you can walk to Shnongpdeng or take a taxi. You can also do a boat ride from where your bus will drop you to Shnongpdeng village.
If, however, you have missed the bus, or staying far from the Shillong government bus station, you can catch a shared taxi from the police bazaar or from the private bus station in Shillong. A shared taxi may cost around 500 Rupees per person.
Another way to travel from Shillong to Dawki is by renting a motorcycle or a car. You can rent a Royal Enfield Motorcycle in Shillong or Guwahati for about 1000 Rupees a day. Having your own vehicles saves a lot of time in Meghalaya.
I rented my motorcycle from a place called Wanderlust Bike Rent in Guwahati and rode across Meghalaya, including Dawki. In total it is about 5 hours journey but can take you 7 hours or more because the route is very beautiful and you may stop on the way and click pictures. You can Google navigate and follow the route.
If you hire a motorcycle, you don't need to pay any green tax or toll taxes on the way. If, however, you rent a car, you may end up spending a little in taxes too.
From Guwahati to Shillong, you find a 4-way highway that can be travelled during the night as well. From Shillong to Dawki, however, it is advised to travel during the day only. Though roads in Shillong remain fairly good in condition, it is a mountain region with narrow curves.
Where To Stay In Dawki
There are three places to stay: Dawki village, Darrang village and Shnongpdeng village. So let's talk about them all…
Dawki Village
It either serves tourists who book a group tour and have no idea where their travel agent has made an arrangement for them. Or those who were visiting Dawki river on a day trip from Shillong but got stranded.
Darrang Village
When Dawki village became crowded, Darrang came up with homestays and guesthouses. But over time, Darrang also got crowded and tourists started looking for places deeper inside. And that's when Shnongpdeng village came into the picture. Speaking of places to stay in Darrang, however, check for Frankenstein Camps or Betelnut Resort.
Shnongpdeng Village
For most budget travellers, Shnongpdeng offers local homestays and riverside camping for as low as 500 Rupees. But at that price, you get a very dirty place and no safety. Still, if you're looking for a place. To find a couple of good places in Shnongpdeng, however, cross the river, using the suspension bridge and check for Fabian Adventure Camp or a place called Riverside Hot Camping.
Have you visited the Dawki river? How did you like it?
Got questions? Send me a message on Instagram.