Visiting Jodhpur? In this travel blog, I will be sharing all the useful information you need to know – from how to travel from Delhi to Jodhpur to where to stay there to what is the best time to travel.
But before we get into the details, let's talk about my personal travel experience. Honestly speaking, I did not like it very much (you will read below why so) despite it being one of the best places to visit in India — as always referred by many guidebooks. I loved Udaipur and Jaipur a lot though, which I happened to visit during a more recent Delhi to Bangalore road trip. 
If you are not interested in reading my experience, scroll down to a heading that says places to visit in Jodhpur. From there, and further below to the end of this travel blog, you will find useful tips to plan your visit.
Now, let's get started with my experience…
As I alight at Jodhpur railway station, I was greeted by a confusing mob of a few hundred people — with some looking pretty familiar to the town, while others, seemingly as hopeless and confused, as a  tourist in a new city, would be. And I was no different. As I exited the station, I got into the usual gamut of rejecting the constant soliciting of 'Sir Auto', 'Sir Hotel' requests until I walked a few steps away from anyone who could slyly put their touting Hat on me. Crowded, dusty and defiled, as it appeared in the first glace, I realized, this isn't the kind of Jodhpur I was hoping for.
Later in the evening, I found myself already escaping the town's madness and looking for a quiet corner. From the popular sunset point of the Statue of Rao Jodha (a 20-minute walk from my hotel) with a thousand lights twinkling at a distance, I realized it wasn't a bad spot to conclude my first evening in Jodhpur. A constant cool breeze on an early November evening was moreover adding to the experience. But at a distance all I could still hear and feel was people rushing across the town.
Surrounded by a canopy of dust and overwhelmed by uninterrupted honking, a voice inside me repeated again, "This sure wasn't the Jodhpur I was hoping for!"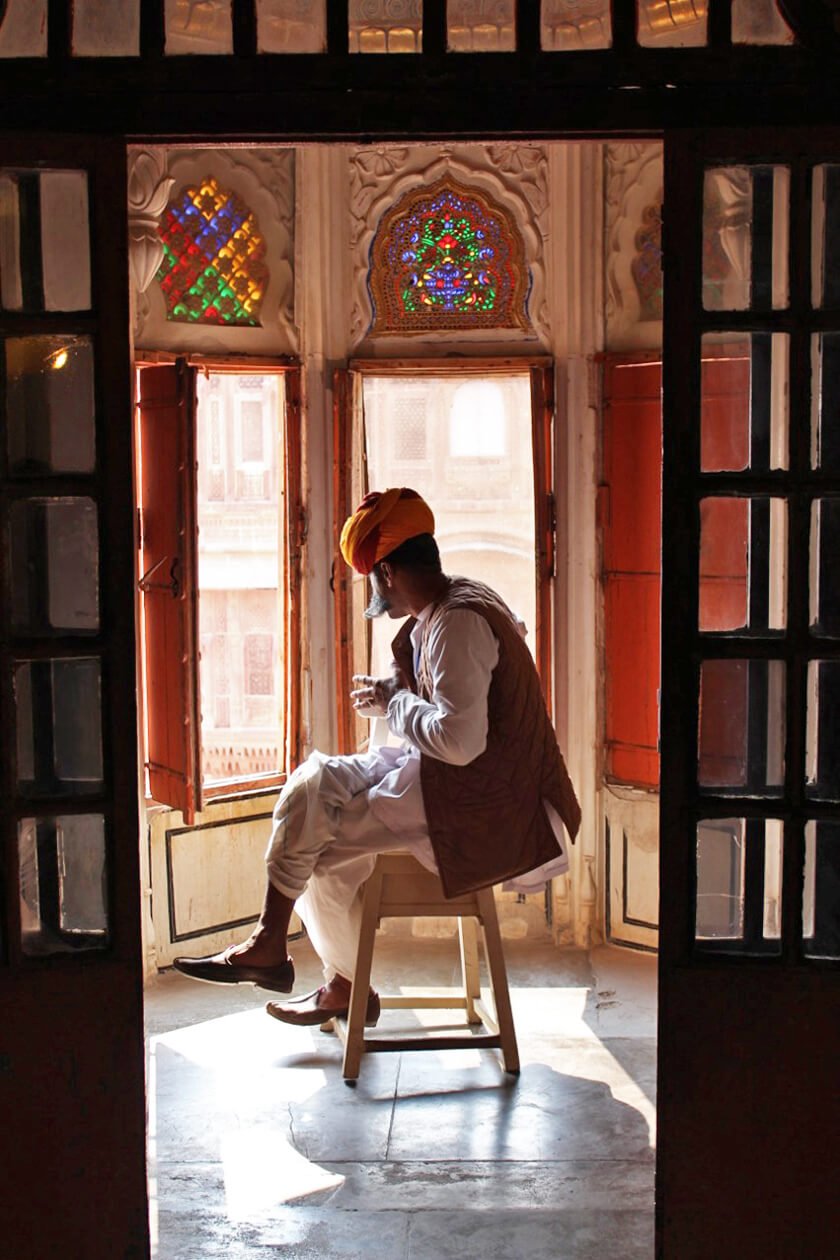 My Jodhpur Tour
I remember how when I came out of Jodhpur railway station I did something very unusual — hiring a taxi. I mean I am one of those people who, when arriving in a new place, prefer travelling in a local (rickety) bus over enjoying the luxury of a taxi. But that's exactly what I was forced to do there.
I ended up in Jodhpur with a false impression, of dreaming of a town just as romantic as I found it on Instagram. What else I dreamed of was a town that still resonated more with history and culture than an ugly transformation of Old to New.
The 10-minute drive from the railway station to my hotel took me through a maze of interconnected and confusing by-lanes, very similar to any bustling north Indian imperial town of today (say Old Ahmedabad or Old Delhi) except for its periodically appearing fading blue buildings. The town was nothing more than a disappointing mix of crowded, bustling and dirty.
For someone not belonging to North India, or say not belonging to India at all, the confusing by-lanes of the city may still hold some interest (and I am sure it does). But for someone like me who grew up in Delhi, the old town of Jodhpur offered nothing new. I mean if I wanted to explore chaotic wild streets and inhale some more dust choking my lungs, I would have done so by repeating my 2 days in Delhi itinerary in my own city, why bother travelling a 12-hour away?
Its historic monuments were poorly looked after. The streets were only dirty and confusing. And everyone in the town was busy adapting to a new modern — slowly killing the Blue Jodhpur we're familiar with.
The Blue Jodhpur Is Slowly Dying
There is no denying the fact that the Blue City of Jodhpur we always loved is slowly dying, with anyone finding a chance to remodel their private property, remodelling it from a boring blue (as I think they find it) to fancy ivory or a striking yellow.
In the month of November of 2019, I found the old town, getting a serious transformation, with one house in every twenty being literally demolished to build something fancier in its place. And that was another saddening factor.
Don't Let Instagram Fool You
So yea, if you're travelling to Jodhpur expecting to be surrounded by contrasting blue buildings, please don't. Though of course, you will find enough blue to fill a frame on Instagram, you cannot fill an entire sight of it, as I rather imagined before actually ending up there.
The old fort of Mehrangarh is also nothing unusual, outside of its few Instagram perfect spots.
Most of the unnamed pieces of old heritage, especially those lying outside of the city wall were, moreover, totally overlooked by the authorities with no restoration work in the process whatsoever —  filled with more plastic and rubbish than you can imagine.
So yea, again, the Jodhpur I found, in reality, was nothing that I had initially pictured in my mind. It could be so much better with all the architectural and cultural heritage it had, but unfortunately, it was not!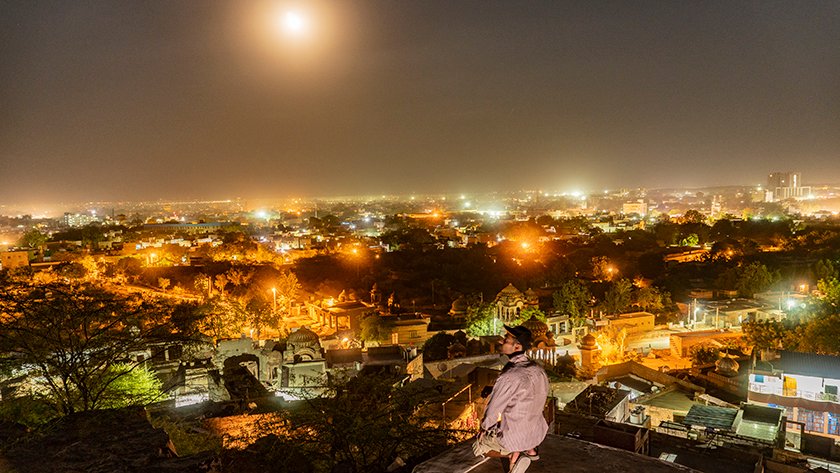 Places to Visit In Jodhpur
Though I have discussed my first impression and the reasons why I didn't like the town, I understand that you may still be planning to visit — given all the hype the city has. And if you do, let's talk about some of the famous places to visit in Jodhpur and make your trip easy.
Jaswant Thada
Jaswant Tada is a royal cenotaph built in white marble. There are a small pond and a cute little garden next to it (popular as a loving point). This structure is just a few minute's downhill walk from the main fort, so there is no need to take a ride if you are backpacking. Visiting Jaswant Thada should be high on the list as it is one of the popular places to visit in Jodhpur.
Mehrangarh Fort
Located in the centre of the town, the Mehrangarh Fort is not just a highlight of Rajasthan but the entire of India. It is one of the largest forts in the country spread perched on top of a 400 feet elevated hill and guarded by huge walls. It is the Mehrangarh Fort that you will see as the cover picture of most travel guidebooks and blogs on Jodhpur.
The fort encloses a museum now exhibits various belongings of the royals.
The palace was built by Rao Jodha in 1459.
Mandore Garden
Located about 10 kilometres from the city centre or Mehrangarh, Mandore Gardens is another popular highlight. The garden contains cenotaphs which are built like traditional Hindu temples, unlike other cenotaphs. For architecture and history lovers, this is one of the top places to visit. The garden also contains a ruined fort and palace.
Umaid Bhawan Palace
Voted as the Best Hotel in the world for many years in a row, Umaid Bhawan Palace is also one of the top places to visit in Jodhpur. There is a lot of history associated with it, which makes it a frequent highlight among day visitors.
Named after the then Maharaja of Jodhpur, Raja Umaid Singh, Umaid Bhawan Palace, is the last of the greatest palaces built in the city. It was built in 1944. Because of its location on Chittar Hill, it is also referred to as the Chittar Palace.
Ghanta Ghar
The Ghanta Ghar is the tallest clock tower in the city which offers a birds-eye view of the city from the top. Since it is surrounded by the busiest and largest marketplace, it is totally worth going and checking up the view.
There were some of the most popular places to visit in Jodhpur. Other things to see and do are:
Flying Fox – for adventure seekers
Kalyana Lake – for a beautiful sunrise
Toorji ka Jhalra – for architecture lovers
Balsamand Lake – more sunrise in Jodhpur
Rao Jodha Desert Rock Park – for nature lovers
Sardar Government Museum – for more history
Guda Bishnoi Village – heritage village experience
Sardar Samand Lake Palace – is more of a royal heritage
Ranisar Padamsar – romantic lake experience
Phalodi Jodhpur – for more architecture
Umaid Heritage Art School – heritage art
Sheesh Mahal – for a feel of royal luxury
Hanwant Mahal – more of architecture
Mahamandir temple – spiritual tourists
Nagaur Fair – for history and art lovers
Sardar Market – for souvenir shopping
Phool Mahal – for architecture lovers
Khejarla Fort – heritage architecture
Marwar Festival – for folk art lovers
Hotels in Jodhpur
Since we are talking about one of India's top holiday destinations here, be assured that when it comes to hotels, there is no shortage. From luxury hotels to budget backpacker hostels, the city has something for everyone.
I remember during my trip to Jodhpur, I saw at least a dozen hostels around, a few dozen boutique hostels and more guest houses and hotels than I can remember.
So yea, one thing is sure, you won't have a hard time finding a few hostels in Jodhpur as per what you're looking for. And speaking of the suggestions, here are some:
Budget Backpacker Hostels
Here are some top-budget backpacker hostels in Jodhpur…
Zostel
Bob Hostel
HosteLaVie
Hostel Raahi
All these hostels are centrally located and have a good ambience. Also, since many people travel to Jaipur too, here's a related article on hostels in Jaipur if you care to see it.
Boutique Hotels
Speaking of the boutique hotels in Jodhpur, here are my top recommendations:
RAAS
Kishen Villa
The Ummed Hotel
Rani Mahal – Old Heritage Haveli
Staying at one of these places will give you a good introduction to local life, with all the modern luxuries.
Luxury Hotels
Here are my top suggestions for luxury hotels in Jodhpur…
RAAS
Indiana Palace
Taj Hari Mahal
The Fern Residency
Fairfield by Marriot
Umaid Bhavan Palace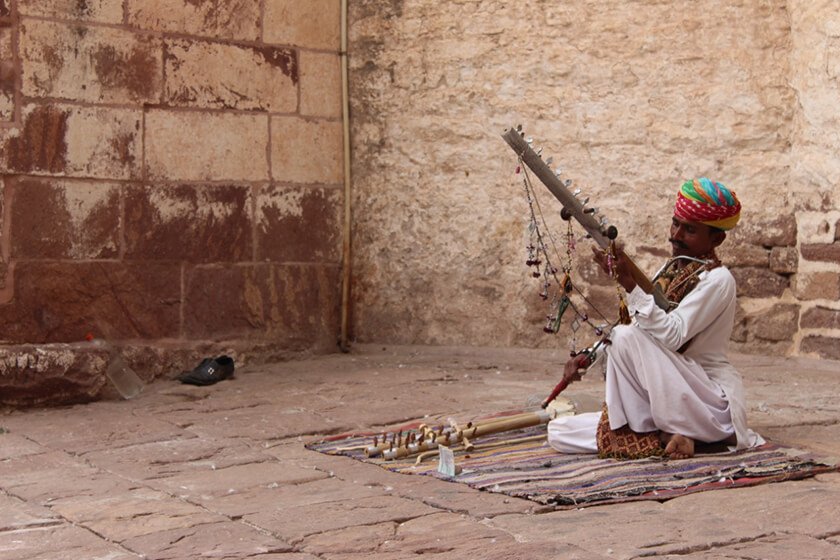 Best Time To Visit Jodhpur
Since Rajasthan is a desert state with tropical weather conditions (hot and humid). Unless you are travelling in extreme luxury in the months of March to June and September to November are too hot to do anything – making them the worst travel months.
The best time to visit Jodhpur, therefore, remains the winter months of December, January and February. This is when the maximum temperature remains around 25 degrees Celcius, giving it the perfect to step outside and explore. But with perfect weather, comes the peak season. If you are one of those people who want to budget travel in India, always looking for cheap travel accommodation in India, then consider travelling during monsoon.
The monsoon months are not too hot and the season is not peak, making them, if not the best, at least moderately good time to visit Jodhpur.
Jaipur to Jodhpur
Since they both are popular trail (that starts from Delhi) many people travel from Jaipur to Jodhpur too. The distance between the two places is around 350 km and it is possible to travel by bus or train very easily.
There are frequent buses from Jaipur bus station that take about 7 hours. You can find both day and overnight buses and use Redbus to book what best suits you. It is possible to travel on a budget on an ordinary bus or travel in luxury for a little more money. It can cost anywhere between 200 to 700 Rupees on the basis of what bus you are travelling with.
Alternatively, you can travel from Jaipur to Jodhpur by train. There are at least a dozen trains every day that connect both destinations. Travel time on a train remains around 6 hours.
Delhi to Jodhpur
If you are coming from Delhi, there are two ways to get there – on a train or in a flight. There are no direct buses from Delhi to Jodhpur, hence we are not going to talk about them. It is moreover a nearly 650km journey so travelling on a bus is a bit of an effort.
Also, check my Delhi to Chitkul guide, this Delhi to Munsiyari road trip, and this discouraging Delhi to Manali blog if you are looking for more suggestions from Delhi.
Delhi to Jodhpur Train
If the aim is to travel on a budget or enjoy the journey, the best way to travel from Delhi to Jodhpur is on a train. There are 5-10 trains every day that connect the two destinations with most of them starting (or ending at) Delhi.
From the old Delhi railway station to Delhi Sarai Rohilla Terminal railway station, you can find trains from Delhi to Jodhpur train pretty much at every train station in Delhi. Book a sleeper class for a budget trip or a 3AC for a bit of comfort. Use IRCTC's website or app to book a train in India.
Delhi to Jodhpur Flight
The quickest and most convenient way to travel is by a Delhi to Jodhpur Flight. You can find a flight for less than 5000 Rupees. The Jodhpur airport is moreover located less than 5km from the city which makes it easy to travel from the airport to the city.
Did you like this travel blog with where to stay, top places to visit and other useful tips about the city of Jodhpur? Do you agree with my experience of not liking the place or did you like it and found me exaggerating my feelings? Let's share your thoughts in the comments below.