Before stating how much I loved Udaipur and suggesting useful travel tips in this blog — from best time to travel, to places to visit, to recommended hotels — let's talk about my previous trip to Rajasthan…
In November 2018, my first visit to Rajasthan happened. I planned a nearly 2-week backpacking trip across Rajasthan covering Jodhpur, Udaipur, Jaisalmer, Ajmer, and Jaipur. I started from New Delhi in a train and chose Jodhpur as my first destination.
But as I reached Jodhpur, I hated it (I now wish that I had travelled to Udaipur first). I hated it for its atmosphere, the overrated attractions, and everything else in between. My dream for a town just as romantic as all those Instagram perfect pictures portrayed was scattered. Instagram, with all those fancy pictures of the Blue city Jodhpur, created a wrong impression in my head (also, read how Instagram lied about Dawki River in Meghalaya too).
I spent the next three days looking for reasons to start liking Jodhpur again, but I couldn't. I was, in fact, so demoralized that I decided to discontinue my Rajasthan adventure. "If Jodhpur is so boring and unworthy how can other destinations in Rajasthan intrigue me?" I remember wondering. And I never travelled to Udaipur or Jaiselmer or any other destination in Rajasthan.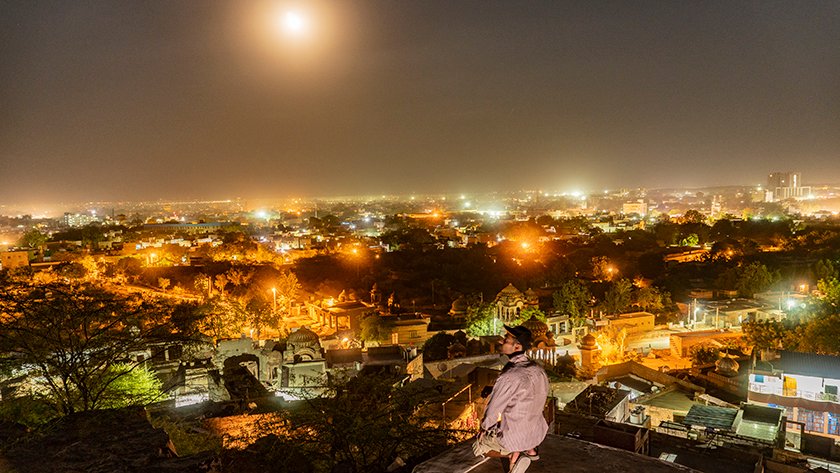 And that was it. Three days later, I booked my return journey to New Delhi, and there has been no introduction to Rajasthan ever since. Read the full experience here: Jodhpur travel blog (it also includes useful travel tips).
But this time, as I planned a Delhi to Bangalore road trip, I ended up in Rajasthan again. And Udaipur happened to be one of the towns two towns I visited (the other town was Jaipur).
I haven't written any articles on Jaipur because I stayed there for only one night and couldn't explore it well.
But from whatever little I've explored, I found Jaipur a beautiful place to visit. I think Jaipur looks more beautiful and charming at night.
During the night, the crowd is less and the old town of Jaipur is all lit up with artificial lights. I have made a Youtube video about it though if you are interested in visual action…
Now let's start with the topic in hand and move forward with the destination we are discussing, and that is…
Udaipur
Before we go ahead, I want to confess that I didn't stay in Udaipur for long but for only three days before continuing further south. But it was enough for me to fall in love with the place.
One reason I loved Udaipur the most was for its relaxing and laid-back vibe that I found missing in Jodhpur. There was some kind of calmness in its air.
Even in the months of December (December and January are the peak seasons for Rajasthan), the city would go absolutely quiet after the wee hours of sunset – with a sense of peacefulness flowing in the air. Just walk around one of the lakes in the town and you will know what I mean.
Other than a place to relax and unwind, I found Udaipur as one of the most romantic cities in India. Though I wish I had a few pictures to justify the statement myself (but since I was vlogging most of the time – on top of having limited time – I don't) if you will Google for those pictures you will know what I mean. From Google images to other travel blogs, you will find enough material soliciting the statement 'romantic'.
The many natural lakes around the town, perfectly beautified with a sunset make love float in the air. And if you're looking for a cheery on a cake, visit one of the tourist highlights and popular places to visit in Udaipur. Lake Pichola, Sajjangarh Palace, and Taj Lake Palace are a few to start with.
And if that doesn't suffice, how about a romantic dinner at one of the lakeside restaurants? Choose a perfect ambience with a perfect candlelight setting and let your story take a modern turn while stepping back in time at the same time.
Here's a youtube video I have published on my Youtube channel, exploring top places to visit in Udaipur…
Udaipur has a multicultural vibe!
I love towns that attract tourists from around the world and offer a multi-cultural experience, while still keeping a strong local taste, and Udaipur fits the description.
Despite a lot of local action, in Udaipur, you find people from around the world – Europeans, Australians, you name it. There are also a lot of Indians, representing different parts of the country. And that's because it has something for everyone. Whether you're holidaying with your loved one or alone as a backpacker, you will find enough to see and do in Udaipur – I am not talking about top places to visit there but much more than that. There isn't much in the town for an adventure buff but for those looking for poetic inspiration, the city is certainly no disappointment.
When it comes to food too, Udaipur doesn't disappoint. From local flavors to places serving international cuisines, it has everything. During my three days there, I tried street food to gourmet cuisines. Hot delicious Kachoris and Samosas, Dal Bhatti Churma, Sumptuous Thalis to rooftop dining and wining – a travel holiday in Udaipur are no less about gaining calories either.
And if you're looking for recommendations on top tourist highlights or what to see in Udaipur, let's talk about that too, in detail!
Places To Visit In Udaipur
No matter what you taste it, you will find enough things to see and do around in Udaipur. From backpackers to honeymooners to family travellers, there is something for everyone – after all, it is one of the top holiday places to visit in India.
Speaking of best places to visit in Udaipur, here's what I suggest…
Lake Pichola
This is the oldest, the largest and the most frequented lakes in the city. The best time to visit Lake Pichola in Udaipur is sunset or sunrise (sunrise for a quiet experience). Visit Lake Pichola to enjoy a romantic scene of lofty palaces, temples and bathing ghats, surrounding a mesmerising lake.
City Palace
This is one of the best architectural marvels in entire Rajasthan. Located by the banks of Lake Pichola, the City Palace in Udaipur is certainly one of the top places to visit. From Rajasthan tourism's website to most travel blogs on Udaipur, you will find humble mentions of City Palace, almost everywhere.
Fateh Sagar Lake
Fateh Sagar Lake is an artificial lake named after Maharana Fateh Singh. It is one of the four prominent lakes and one of the best places to visit in Udaipur. Again, the best time to visit is either early morning (when the crowd is less) or evening sunset.
Sajjangarh Palace
Also known as Monsoon Palace, Sajjangarh Palace in Udaipur is located at a peak Bansdara Mountain as high as about 944 m above the sea level overlooking the famous Pichola Lake. A little climb to the Palace is worth it for panoramic views of the city.
Jag Mandir Palace
Located on the island of Pichola Lake, Jag Mandir Palace offers a beautiful view of the sunset (the best place for sunset in Udaipur). The spacious courtyard of the Jag Mandir Palace with black and white marble tiles is a striking feature that you will find in many guidebooks written about the city. A visit to the Jag Mandir palace, during your trip, is certainly a no-miss.
Other places to visit in Udaipur are…
Badi Lake
Shilpgram
Bada Bazar
Bada Mahal
Ambrai Ghat
Hathi Pol Bazar
Jaisamand Lake
Fateh Sagar Lake
Bagore ki Haveli
Taj Lake Palace
Lakeside ghat
Nehru Garden
Jagdish Temple
Sukhadia Circle
Eklingji Temple
Monsoon Palace
Gulab Bagh and Zoo
Doodh Talai Musical garden
City Palace Vintage Car Museum
Mansapurna Karni Mata Temple
Bagore-ki-Haveli heritage museum
Best Time To Travel Udaipur
Since Rajasthan is a desert state with tropical weather conditions (hot and humid). Unless you are travelling in extreme luxury in the months of March to June and September to November are too hot to do anything – making them the worst travel months.
The best time to visit Udaipur, therefore, remain the winter months of December, January and February. This is when the maximum temperature remains around 25-degree Celcius giving – perfect to step outside and explore. But with perfect weather, comes the peak season. If you are one of those people who want to travel on a cheap budget in India, always looking for cheap travel accommodation in India, then consider travelling during monsoon.
The monsoon months are not too hot and the season is not peak, making them, if not the best, at least moderately good time to visit Udaipur.
How To Travel
Jaipur to Udaipur
Since both these destinations mark for a commonly repeated trail (that starts from Delhi) many people travel from Jaipur to Udaipur too. Having said that, let's briefly talk about that too.
The distance between the two places is around 400 km and it is possible to travel by bus or train very easily.
There are frequent Jaipur to Udaipur buses, leaving from Jaipur bus station. They take about 7:30 hours in total. You can find both day and overnight buses. Use Redbus too book a bus that best suits you. An ordinary bus can cost about 250 Rupees, whereas a luxury bus can cost about 500 to 700 Rupees.
Alternatively, you can travel on a Jaipur to Udaipur train. There are at least a dozen trains every day that connect both the destinations. Travel time in a train remains around 6 hours.
Delhi To Udaipur
If you are coming from Delhi, there are two ways to get there – on a train or on a flight. There are no direct buses from Delhi to Udaipur, hence we are not going to talk about that. It is moreover a nearly 650km journey so travelling on a bus is a bit of an effort.
Also, check my Delhi to Chitkul guide, and my Delhi to Munsiyari road trip if you are looking for more holiday suggestions from Delhi. You can even read my Delhi travel blog if you are a tourist in Delhi.
Delhi to Udaipur Train
If you want to travel in budget and enjoy the scenic beauty of the journey, your best bet to travel from Delhi to Udaipur is on a train. There are nearly 10 trains every day that connect the two destinations Most of these trains, moreover, either start from Delhi or end there. So if you are coming from Delhi, the chances of them running late are quite less.
From old Delhi railway station to Delhi Sarai Rohilla Terminal railway station to New Delhi railway station, you can find Delhi to Udaipur trains pretty much everywhere in Delhi. Book a sleeper class for a budget trip or a 3AC for a bit of comfort. I suggest you use IRCTC's website or their mobile app to book a train.
Delhi to Udaipur Flight
The quickest and most convenient way to travel is by a Delhi to Udaipur flight. You can find a flight for less than 5000 Rupees. The bus station in Udaipur city (located in the city centre) is around 22 km from the airport. And since there are frequent connections between the two destinations, you can easily travel on a bus (or book a taxi for more comfort).
Did you like this travel blog with where to stay, top places to visit and other useful tips about the city of Udaipur? Do you agree with my experience of not liking the place or did you like it and found me exaggerating my feelings? Let's share your thoughts in the comments below.