Before I talk about my first impression of Udaipur and state the reasons why I loved it (well, you've got the answer already) let's talk about my previous visit to Rajasthan…
In November 2018, my first visit to Rajasthan happened. I planned a nearly 2-week backpacking trip across Rajasthan covering the five most popular towns: Jodhpur, Udaipur, Jaisalmer, Ajmer, and Jaipur. I started from New Delhi in a train and chose Jodhpur as my first destination.
But as I reached Jodhpur, I hated it. I hated it for its atmosphere, for its overrated attractions, and for everything else in between. I ended up in Jodhpur with a false impression, of dreaming for a town just as romantic as all those Instagram perfect pictures portrayed. I spent the next three days looking for reasons to start liking Jodhpur again, but I couldn't. I was, in fact, so demoralized that I decided to discontinue my Rajasthan adventure. "If Jodhpur can be so boring and unworthy (it's a total personal statement, and may not apply to you!) how can other destinations in Rajasthan can intrigue me?" I remember wondering.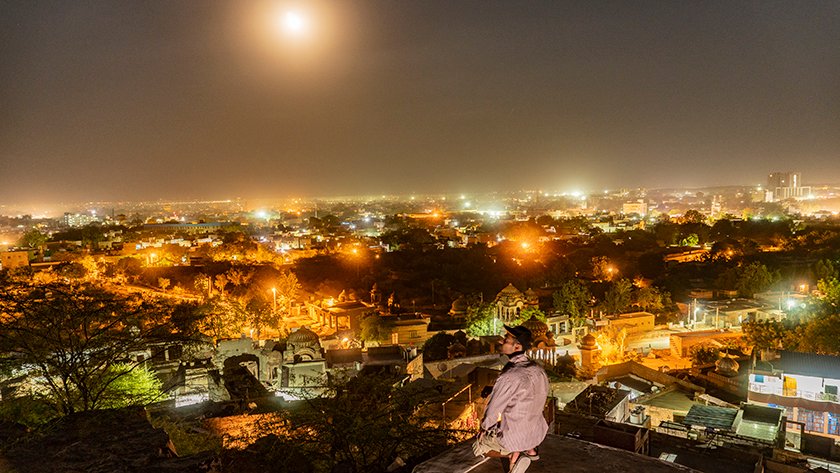 And that was it. Three days later, I booked my return journey to New Delhi, and there has been no introduction to Rajasthan ever since.
Read: Why India's Blue City Jodhpur Couldn't Intrigue Me
But this time, as I planned a Delhi to Bangalore Road Trip, I ended up in Rajasthan again (Jaipur and Udaipur) because I wanted to ride across the western coast of India, and Rajasthan was on the way.
I haven't written any articles on Jaipur because I stayed there for only one night and couldn't explore it well. But from whatever little I've explored, I found Jaipur a beautiful place to visit. I think Jaipur looks more beautiful and charming at night – when the crowd is less and the old town of Jaipur is all lit up with artificial light and comes to life in its more real and conscious form.
My First Impression of Udaipur
Before we go ahead, I want to confess that I didn't stay in Udaipur for long but for only three days before continuing further south. But it was enough for me to fall in love with the place.
One reason I loved Udaipur the most was for its relaxing and laid-back vibe that I found somewhat missing in Jodhpur (even in Jaipur). Though laid back doesn't mean that life on the streets in Udaipur was any less maddening, but there was some kind of calmness in its air.
Even in the months of December (December and January are the peak seasons for Rajasthan), the city would go absolutely quiet after the wee hours of sunset – with a sense of peacefulness flowing in the air. Just walk around one of the lakes in the town and you will know what I mean.
Other than a place to relax and unwind, I found Udaipur as one of the most romantic cities in India. Though I wish I had a few pictures to justify the statement myself (but since I was vlogging most of the time – on top of having limited time – I don't) if you will Google for Udaipur you will know what I mean. From Google images to other travel blogs, you will find enough material soliciting the statement 'romantic'.
The many natural lakes around the town, perfectly beautified with a sunset make love float in Udaipur's air. And if you're looking for a cheery on a cake, visit one of the highlights – Lake Pichola, Sajjangarh Palace, and Taj Lake Palace, for example, to name a few.
And if that doesn't suffice, how about a romantic dinner at one of the lakeside restaurants? Choose a perfect ambiance with a perfect candlelight setting and let your story take a modern turn while stepping back in time at the same time.
A Multi-Cultural Vibe
I love towns that attract tourists from around the world and offer a multi-cultural experience, while still keeping a strong local taste, and Udaipur is certainly one of those places.
Despite a lot of local action, in Udaipur, you find people from around the world – Europeans, Australians, and a lot of Indians, representing different parts of the country. And that's because Udaipur has something for everyone. Whether you're holidaying with your loved one or alone as a backpacker, you will find enough to see and do in Udaipur. There may not be much for an adventure buff (and I believe this is well known) but for others looking for a good time or some inspiration out of its magical sunsets/sunrises and lakes, there's certainly no disappointment.
When it comes to food too, Udaipur doesn't disappoint. From local flavors to places serving international cuisines, Udaipur has everything. During my three days in Udaipur, I tried street food to gourmet cuisines. Hot delicious Kachoris and Samosas, Dal Bhatti Churma, Sumptuous Thalis to rooftop dining and wining – a holiday in Udaipur is no less about gaining calories either.
And if you're looking for recommendations on top tourist highlights or what to see in Udaipur, here are few names to not miss when you're in Udaipur… Jagdish Temple, Bagore-ki-Haveli heritage museum, lakeside ghat, Udaipur city Palace, Monsoon Palace, Lake Pichola, and Jagmandir Island.
Here's a quick Youtube Video I made during my visit to Udaipur:
Have you been to Udaipur? How did you like it?