Got 2 days in Delhi to travel? Read this blog for what to see, where to stay, and some useful travel tips!
There's enough to see and do in Delhi for a tourist. It is a city that is rich in culture and history. After all, there is a reason why it is the Republic of India's capital city.
So visiting Delhi must be high on your list, and if you aren't sure where to start and end your day, this what to See in Delhi in 2 Days guide will set you up for a real Delhi experience.
You may also be interested in reading about these best places to visit near Delhi. If you're looking for a road trip from Delhi, I can suggest Delhi to Munsiyari or Delhi to Chitkul.
2 Days In Delhi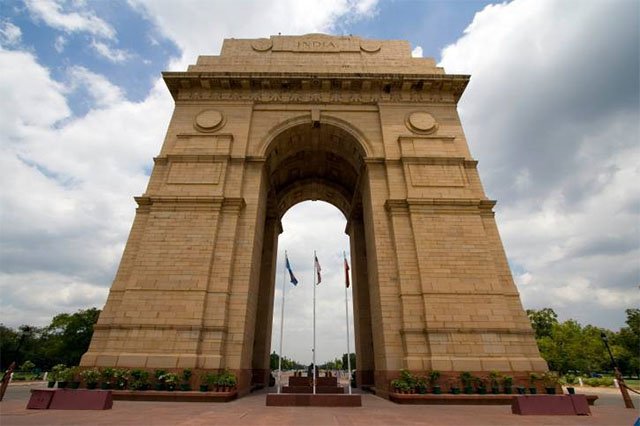 Day 1
Start from the hub of all activity in central Delhi, by taking a metro to Patel Chowk, and then a brief tuktuk ride to the iconic India Gate. This 42-meter structure is the nation's pride with its two columns inscribed with martyred soldiers' names.
There is no visitor or photography fee in and around India Gate. Located on Rajpath and close to the Parliament House, India Gate is the perfect destination to start your Delhi tour, and we are doing just that!
Once done, take a tuktuk to Connaught Place, to squeeze in a quick late-morning stroll. Better known as CP, Connaught Place in Delhi is the shopping and entertainment hub. In case its circular Victorian-style structure, divided into blocks look too confusing, take the help of Google Maps. Also a hub for speciality and multi-cuisine restaurants and fast-food joints, here you will find ample good places to satisfy your stomach, for any budget and preference.
Next in this 2 days in Delhi guide is the notorious local market of Palika Bazar, in CP itself, that I would recommend for your hot afternoon. Palika Bazaar is the shopping haven, for bargain hunters, particularly young students, and backpackers.
If the market action at Palika seems too overwhelming to you, head to the nearby Janpath market, with shops selling from antique, to quirky stuff – all at reasonable rates, again. Even if you are in no mood to shop, it is a treat in itself to stroll by and have a peek.
Head to Saravana Bhavan at Janpath 46, to have some authentic South Indian delicacies. I'd recommend a South Indian thali though.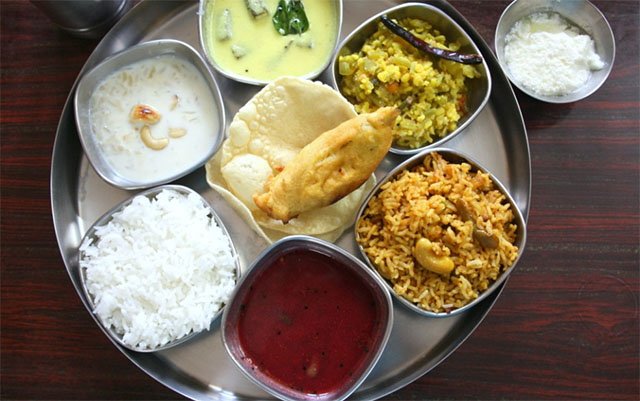 After a filling meal, and some rest, take a wee tuktuk ride and head to Lodhi Gardens in the evening. Spread around four monuments of the Lodhi dynasty – Mohammed Shah's Tomb, Sikander Lodhi's Tomb, Sheesh Gumbad and Bara Gumbad, Lodhi Gardens provides an escape of pure tranquillity from the mad hustle-bustle of the city. It is one of the top historical places to see in Delhi.
Just 15 mins away on foot, or 5 mins by tuktuk, is the elite Khan Market, where you can find high-end food produce, homewares, and accessories. Call it a day while enjoying the late-night stroll at Khan Market and chowing a grub at Khan Chacha's food joint.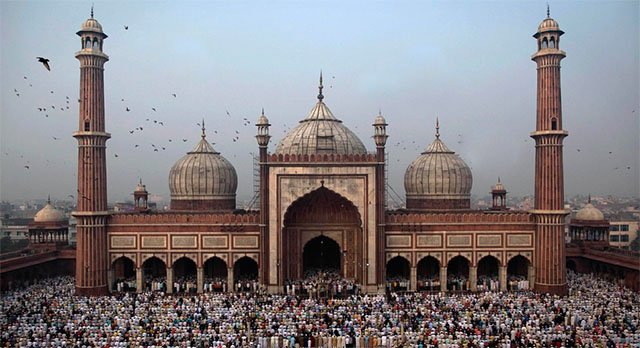 Day 2
Start early by exploring the walled community of Old Delhi. If you've been to Old Ahmedabad, you'd find some similarities between the two cities. To get to Old Delhi, take a metro to Chawri Bazaar. Once there, head to the historic Jama Masjid – India's largest mosque and national identity. Experience the sense of unnatural pleasure and peace inside Jama Masjid, or climb up the minaret for a bird's eye view of the city.
The food culture in Old Delhi, with its Mughal influence, will prove to be extra spicy, sweet and tangy, and might even leave you with the infamous Delhi belly, but that doesn't mean you should give it a miss. If you're a devout meat eater, head straight to Karim's opposite Jama Masjid. Karim's is probably one of the most highlighted food joints in India, and one can see its endorsements by publications like Nat GEO, Lonely Planet and BBC.
Tip: For meat lovers, there's no better time to visit Delhi than Ramazan. Visit Malviya Nagar for some of the most sumptuous food you have ever eaten.
If you're a non-vegetarian, however, visit Chandni Chowk's Paranthe Wali Gali for some mouth-watering paranthas and refreshing lassis!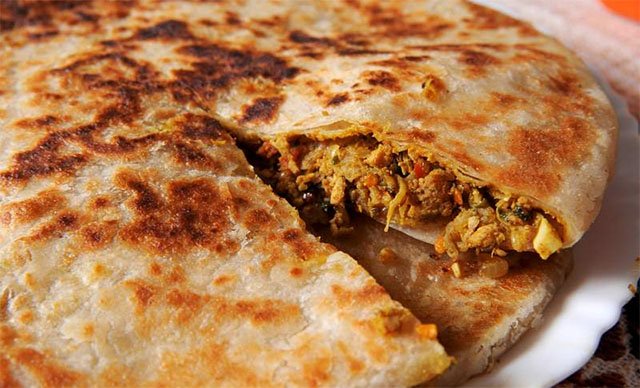 Chandni Chowk is another highlight of markets in India, hence an obvious mention in our 2 days in Delhi blog. A quick walk across the many confusing alleys in Chandni Chowk will only complete your Delhi travels – so don't give it a miss. From apparel to jewellery to hardcore medical books, you can find absolutely anything here.
Next, take a quick rickshaw ride (or walk) to Khari Baoli – which is not only India's but Asia's largest spice market. You will find almost any kind of spices, herbs, tea, rice, and even nuts and dry fruits here, and their quality will always be the best than you can find in any other part of the city.
By the time you will be free, the sun will already be starting to call it the day. But before that happens, head to the Red Fort and see the sunset. The entry fee for Indians in Red Fort is around Rs10 whereas for Foreign Nationals it's Rs. 250, but the sun setting behind one of its pillars makes it priceless.
After dark, head straight to the night food market of Delhi street food at Chandni Chowk again.
The streets lined with sweet sellers and other local Indian snacks will surely make your day better if there was still something left in your craving. If not these, you can always go for a McDonald's Happy Meal.
That was all in this blog on what to see in Delhi in 2 days. If you happen to visit Delhi during October-November or March, do not miss taking part in two very prominent festivals of India: Diwali and Holi. And they are most grand in Delhi, making them a must-try experience here.
Now, let's move forward with our 2 days in Delhi guide and talk about…
Where To Stay In Delhi
Finding a hotel in Delhi can be a daunting task, especially if you've no idea where to stay. Though it offers a wide range of accommodation, in terms of price, I particularly endorse Treebo Hotels in Delhi – for their budget pricing and great services. I tried them in Ahmedabad and in Mysuru, in South India, and I couldn't be happier with my experience.
I also recommend you read this article on top hotels in Delhi for more suggestions.
Useful Travel Tips
Avoid long distances: Long distances and city traffic, in Delhi, can eat up your day. So make sure you pick the perfect route and cover places nearby. Moreover, use the Metro train to save time and money.
Bargain: While experience is the best teacher in this regard, a beginner's rule of thumb is to cut the starting price in half.
Take it easy: If you get caught up and stress about little things, you will miss out on the bigger picture. Delhi is a city of crazy, and you must be ready for it.
If you found this 2 days in Delhi travel guide useful, or have any questions, please leave a comment below. 
Also Read: Lonavala Travel Blog