Planning a trip from Delhi to Chitkul? Looking for tips on how to travel by bus, the best time to travel, what to do there and where to stay in Chitkul? Here's a 3-day Delhi to Chitkul itinerary you can follow and plan your own trip.
---
The first time I visited Delhi to Chitkul it was 4 years ago. I did a 9-day Delhi to Spiti Valley bike trip, of course, solo as most of my journeys have ever been, and couldn't stop myself from visiting Sangla Valley (if you do not know, Chitkul is located in Sangla Valley).
My recent trip, on the other hand, was, from Delhi to Chitkul by bus, and this time I was travelling with a friend. The trip happened in August 2019.
So yea, if you're looking for a similar trip, travelling from Delhi to Chitkul and are looking for a more personal story, with updated news, this travel blog is for you. The suggestions and itinerary will also be valid if you are travelling from someplace on the way, like Shimla or Chandigarh.
If you are driving, I suggest you bifurcated and take Chail to Shimla route during your journey. This is a comparatively more scenic route than the one that bypasses Chail and takes you straight from Delhi to Shimla and further (sing the national highways).
I am also attaching two videos from my Youtube channel that will give you a subtle idea of how the journey will look. These are the vlogs from my recent 20 days in Himachal ride series.
In these vlogs, I am showing the Chail-Shimla route (Barog to Chail ONE VIDEO and Chail to Shimla SECOND VIDEO). They will give you a good idea of how this route is more beautiful than the usual Delhi to Chitkul route that bypasses Chail and uses only the national highways…
You may also be interested in reading my Delhi to Manali blog as Manali is another popular destination people travel in Himachal Pradesh. For a destination in Uttarakhand, read my Delhi to Munsiyari blog. If, however, you are interested in something much longer and want to explore all of India in one drive, read my Delhi to Bangalore road trip blog.
Now, let's continue the topic at hand…
Delhi to Chitkul
Chitkul is a kind of place where you can spend a week and still not get bored. There are temples to visit, treks to explore, local people to click portraits of… in short, something for everyone.
But I understand that not everyone is lucky to spend a week. Most people in Delhi are busy and have only a weekend to spare, hence a 3-day itinerary.
And in short, here's how it's going to look…
Delhi to Chitkul Route Map
With two prominent stops – Chandigarh and Shimla – this is how the entire journey is going to look like. I have also marked Karcham in the map from where you will have to take Sangla road.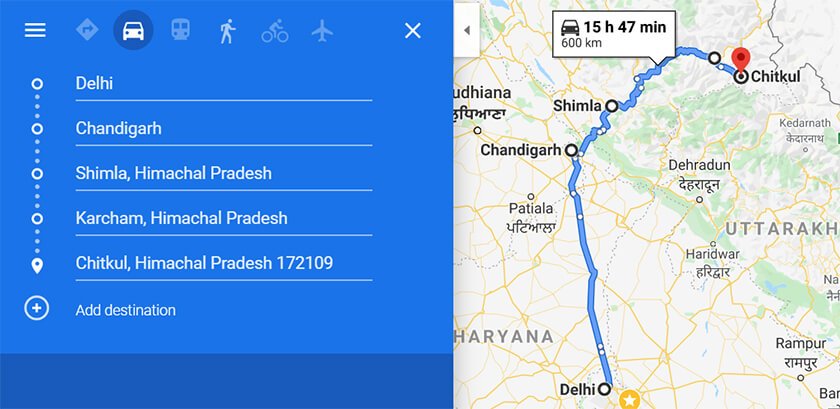 Day 1
You start from Delhi early morning and or the previous night and reach Chitkul tired. You don't have much energy to explore but just relax and wait for Day 2.
Day 2
You explore. And we discuss it later in the article 'HOW' under the heading Things to do in Chitkul.
Day 3
You start your return journey early morning and reach Delhi by night. The trip concludes. A few good memories of Delhi to Chitkul trip beautifully captured.
Now, the important…
How To Travel By Bus And Drive
Because Delhi to Chitkul by train or in a flight makes no sense, we skip that info in this travel blog altogether and start with the drive.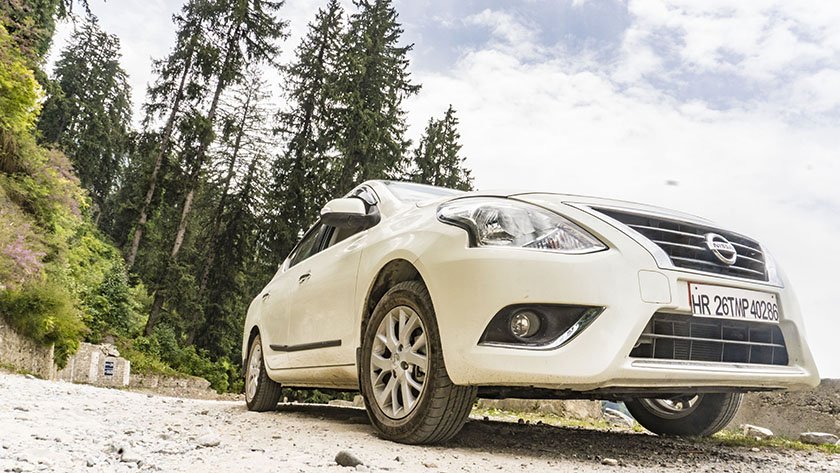 Delhi to Chitkul Drive
The best way to travel from Delhi to Chitkul is in your own car or motorcycle. And that is for two reasons. One, the entire drive from Shimla to Chitkul is very beautiful. For motorcycle lovers, it's another adventure trail in the Himalayas.
I remember during my Spiti Valley bike trip I went over 150km off the route to do Sangla Valley and loved the decision.
Starting Shimla, the route gives you a mix of everything: from green patches to rugged terrains, and you're going to love driving a car or riding a motorcycle.
Another reason for a Delhi to Chitkul road trip is that it is convenient and saves you time. Unless you hire a taxi all the way from Delhi, there is no direct connection to public transport. And for a journey that is over 15 hours, this is a bit of inconvenience.
So yea, for a Delhi or Chandigarh to Chiktul trip, it's better to self-drive. Now, speaking of it, it takes around 16 hours in total (given, you find no traffic in Shimla, and if you did, you're screwed!).
From Delhi, you follow NH 44 and reach Chandigarh in about 4 hours and 30 minutes. Soon after Chandigarh, you pay Green Tax, enter Himachal Pradesh, and start your Himalayan drive. The recommended route takes you from Chandigarh to Solan to Shimla to Rampur to Sarahan to Karcham. From Karcham, you take a right, cross Satluj River and take Sangla-Chitkul Road.
The most beautiful part of your Delhi to Chitkul trip is the 40km stretch starts from Karcham.
Karcham to Chikul (ie. Sangla Valey) is one of the small valleys in the Himalayas. Throughout this 40km valley, you come across 5 overbridges with a river flowing sometimes on your right and sometimes on your left. To add to the melodrama, you have a small stream of water flowing right next to you. Many flat meadows moreover come on the way if are into camping. In short, it's one of those drives in the Himalayas you don't want to miss.
From Chandigarh, you can also change your itinerary a bit and do Chandigarh to Solan to Chail (skip Shimla), then further to Kufri to Rampur to Karcham. This may take an extra hour or two but the route is more scenic and offbeat.
If the drive from Delhi to Chitkul feels a bit long, consider staying in Narkand or Kufri. You can also stay in Rampur if you're looking for a comparatively bigger town.
Traffic in Shimla can be a nightmare during the peak season, so plan accordingly. It sometimes takes over 2 or 3 hours to cross Shimla in peak season.
Delhi to Chitkul Bus
If you don't want to self-drive, and or, travelling solo, the best way to travel is on a bus. The only problem is, it takes about 20 hours to travel from Delhi to Ckitkul by bus.
You can do Delhi to Chitkul by bus journey in 1000-2000 Rupees one side per person, depending on which type of bus you travel with: push-back or ordinary.
Again, there is no direct Delhi to Chitkul bus, and there are three ways to do the journey:
Delhi to Chandigarh + Changirath to Karcham + Karcham to Chitkul
Delhi to Karcham + Karcham to Chitkul
Delhi to Shimla + Shimla to Chitkul
Honestly speaking, the first option makes no sense as it's too tiring to change so many buses. Changing buses moreover means losing time waiting for exchanges. If you take Option 1, you cannot travel from Delhi to Chitkul in a bus in 20 hours.
This leaves us to Option 2 and Option 3, so let's talk about them one at a time…
Delhi to Karcham + Karcham to Chitkul
HRTC operates a semi-deluxe bus from Delhi ISBT Kashmiri Gate to Recongpeo twice daily. Tickets cost about 1200 Rupees. The timing of the buses are 06:15 am 04:00 pm. This is Delhi to Reckong Peo bus in reality and you can get off at Karcham (located 1 hour before Reckong Peo). There are a few ordinary buses too with better timing.
Take a bus or hitchhike from Karcham. If it gets late and you don't find anything, book a hotel in Karcham and stay there for the night. Start to Chitkul early morning tomorrow.
There is a good homestay in Karcham with the name of Kimo Homestay.
Delhi to Shimla + Shimla to Chitkul
If you want to travel on a luxury bus, at least a part of your journey, go for this option. Take the late-night Volvo or sleeper bus from Delhi to Shimla and reach Shimla the following morning around 5 am.
You can get a direct bus from Shimla to Chitkul that leaves every morning at 6 am. This bus costs 500 Rupees and saves you from getting off at Karcham and finding local transport.
The only problem is, unlike Delhi to Reckong Peo bus (which is a semi-luxury push back) this bus is rather an ordinary bus. But I think if you have slept well during Delhi to Shimla journey, travelling in an ordinary bus should be okay.
The best and reliable Delhi to Chitkul bus is by Himachal Roadways. You can also book tickets online using the HRTC website.
Things To Do In Chitkul
If you are one of those people who enjoy small towns with a right in the middle of nowhere kind of setting, you're going to love Chitkul. Located on the far end of Sangla Valley and close to China border, it is also known as the last town of India.
Every morning (I stayed for a week during the second visit) I would create my own trek and explore nearby mountains. Other than that, I would walk around the town, speak to locals and click their portraits.
The town also has a popular 500 years old Mathi temple with images of Shakyamuni Buddha, a wheel of life Mangala and four directional kings on either side of the door.
Chitkul is also believed to be the last point of Kinner Kailash Parikarma. Any pilgrim who does it end their trip by praying at its Mathi Temple.
You can also walk around the many small bylanes and capture the beautiful architecture with houses having either a slate or wooden plank roofs and a Buddhist temple and a small tower in the porch. However, there has been an increased use of tin-roofs lately. Here is a photoblog on Chitkul I wrote during my first visit for more pictures.
So yea, if you have got the idea, things to do in Chitkul are rather ordinary and of interest for an intrepid. In short again, this is what you can do:
Visit Mathi temple
Start a conversation with locals
Walk down the River Bispa
Camp next to river Bispa
Play with kids
Enjoy lunch at one of the rooftop cafes
Sip a tea and enjoy the slow pace of life
Stay in a homestay and enjoy the hospitality
Make a wish with pebble stones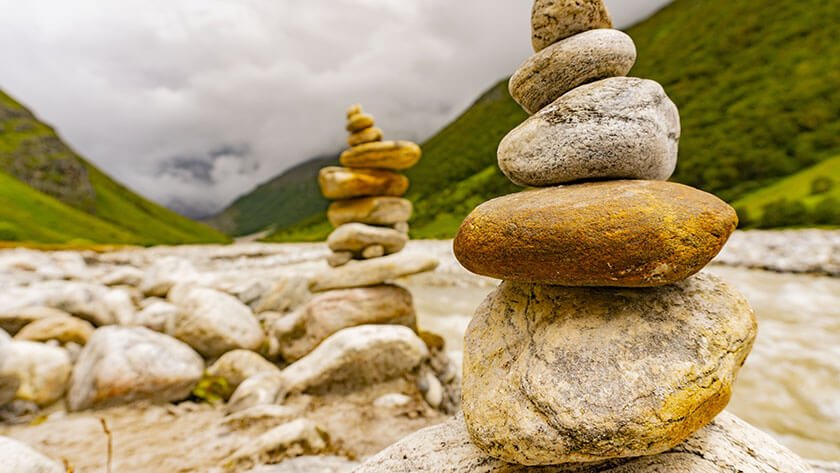 Where To Stay In Chitkul
Speaking of staying in a homestay and enjoying the local hospitality, there are enough homestays to choose from. My vote, however, goes to Vanshika Homestay where I stayed during one of the nights. They charge 900 Rupees per night for a room.
There are quite a few campsites too, the only problem is, most campsites charge on the higher end and offer a glamping experience.
Speaking of the camping, it was possible to pitch your own tent and camp on your own during my Delhi to Chitkul bike trip. But during the last visit, I found the towns getting a little commercialised. There are a few paid campsites with pre-established tents that you can rent or pitch your own and pay money to locals.
So yea, if you are wondering where to stay in Chitkul in a budget, my suggestion will go for either of the homestays or guesthouses.
In about 4 years of time (between my first and last visit in 2015 and 2019 respectively) I have found accommodation in Chitkul becoming fairly expensive. And that is because of soaring tourist inflow. Having said that, when thinking of where to stay in Chiktul, think of how much you want to spend. But then, it doesn't mean you can't save money during your trip. Check this budget travel guide on India and apply some of the tricks on your Delhi to Chitkul trip.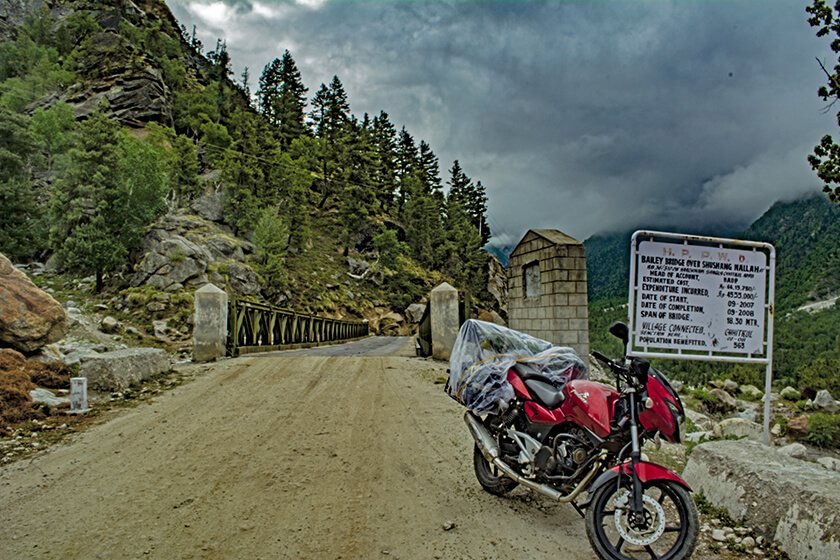 Some Useful Tips
The last ATM you will find is in Sangla village. But there is a high probability that the machine is out of cash. So do not forget to carry enough cash from Delhi or Shimla.
Speaking of phone networks, Airtel and Jio have the best reception. Vodafone works intermittently.
Since it is a small town, you won't find any luxury or high-end cosmetics. From medicines to personal-toiletry, bring everything with you.
Chitkul is a very safe place to travel, even for solo women travellers.
Located at 3500m above sea level, Sangal Valley remains cold throughout the year. Make sure to bring enough woollens and a rain-jacket.
That is all in this Delhi to Chitkul blog. If you found the itinerary and tips useful, or have something to add in the list, please leave a comment below!