Visiting Delhi to Auli? In this travel blog, I will be sharing all the useful information you need to know – from how to travel there to where to stay to what is the best time to travel.
But before we get into the details, let's talk about my personal travel experience highlighting a different side of Auli that is not known to many. Unlike most people (who visit during winter to try snowboarding in India) I travelled during summertime and had a very different experience altogether.
If you are not interested in reading about my experience of being there, scroll down to a heading that says the Best time to visit Auli. From there, and further below to the end of this travel blog (with the heading Delhi to Auli) you will find useful tips to plan your visit.
Now, let's get started!
Delhi to Auli
… my experience!
After a failed solo attempt to Satopanth Lake trek, I was certainly not ready for another follow-the-unknown trail experience. It was time to find a comfortable spot and camp for a few days. Beautiful meadows and a big flat ground were all in my head. And then the wind said "Auli".
Honestly speaking, it became my new favourite among all places to see in Uttarakhand. Not because it offered beautiful landscapes. Neither was I excited about a riveting ski experience.
I travelled to Auli for another reason, to explore another side of it – much more beautiful and less known to its admirers. And I happened to explore it as I reached the town in the month of May.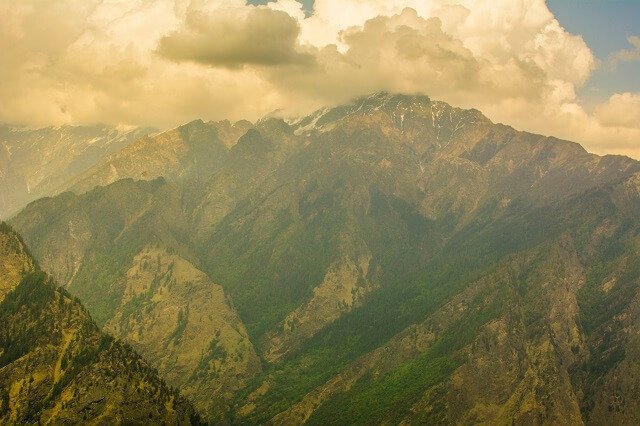 The sun was shining, and the snow was far gone. Each gaze beheld a sight of nothing more than dead and glorious mountains – a few patches of grass, however, gave the entire mountain a greenish tinge. I loved Auli for its placement. Its setting was beholding.
The town gives you two chair cars running parallel to each other. From high-end resorts to a couple of luxury campsites, everything seemed flawlessly placed around its artificial bluish lake.
I did not find Auli a place that backpackers would want to frequent. But then again, this place was not meant for them anyway. It was me who went astray. And I was happy that I did.
Auli is popular as a ski destination, more than anything else. During winter people from across India come here to learn skiing. One can also do a proper ski certification course. But since I didn't visit this place during winter and you may be interested in a ski or a snowboard experience, I have handpicked this article on Skiing in Auli from the internet, for you to know more about the topic.
Auli, during the months of summer, looked different. And the experience was different too. There were almost no tourists. Cable cars were not operating. Local people also seemed lazy, and to be blissfully relaxing. I was happy that I experienced a different side of Auli, as I came across a group of horses busy grazing summer pastures, almost undisturbed.
At an altitude of nearly 3000m above sea level, its naked slopes were flanked by coniferous and oak forests. Auli offered a panoramic view of the Himalayas – with only their top covered in snow as if they were wearing a crown. A blue lake only made it a little more unreal.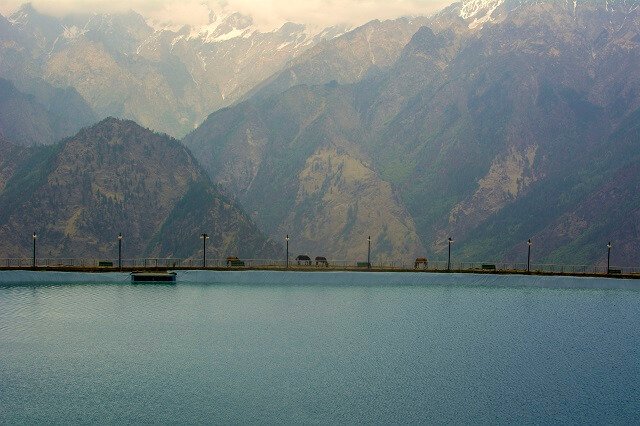 Auli, as I said, is not meant for backpacking. You don't find that vibe here. It took me a couple of hours to explore it through and realising I might want to leave tomorrow. Things looked a little commercialized. Everything was designed for regular tourists – and the size of hotels and resorts only made my point clear. I mean after all, in a place so beautiful as this, there is no need for an Artificial Lake, unless the idea was always to lure tourists.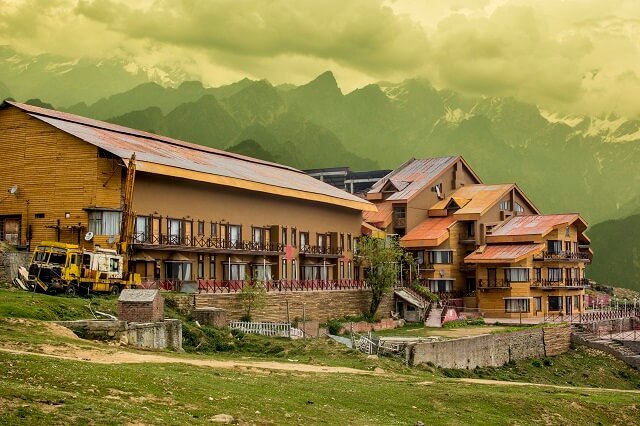 Trekking is the most popular activity in summer in Auli, as it provides a wonderful opportunity to explore the Garhwal Himalayas. Its perfectly positioned meadows – making camping an easy deal in the entire region – complements the idea even more. Locals told me that the trekking business, in recent years, has quickly picked up.
My dinner happened at a local campsite with a group of tour guides who were taking a few teenagers from Mumbai for Gursan to the Auli trek. They were leaving the next morning.
"Simple food is always the best," I remember claiming, as I finished what was served to me on the plate.
And here's a Good Reader tip: If you're on a shoestring budget, Auli isn't a place for you. Because even in summer, when the hotels are the least expensive, you will not find anything for less than 1000 Rupees a night.
In that case, find this guy (Pradeep, he's called, I think) running a shop right opposite to GMVN guest house. He can arrange something cheaper. If nothing helps, ask him about renting tents and sleeping bags and do your own camping.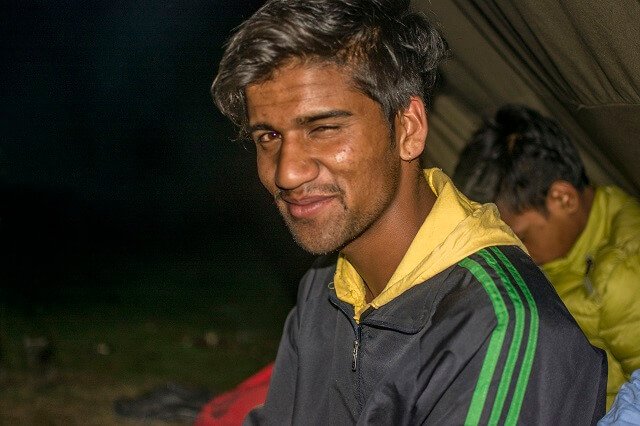 Best Time To Visit Auli
Except for the monsoon, any time is a good time for a Delhi to Auli trip. Just think about what you want to experience and travel accordingly. If the idea is to learn skiing or snowboarding in the Himalayas then visit between December and March. February will be the best time to visit Auli for such an experience though.
If you want to do some trekking and hiking, visit either between April and June or September and November. For camping in Auli too, the best months will be April to June or September to November.
So yea, other than monsoon (when you should not be travelling anywhere in Uttarakhand) entire year is the best time to visit Auli. It all depends on what you want to see.
Where To Stay
When it comes to staying there be rest assured that there is something for everything. If you are one of those people who always look for cheap accommodation in India, you may feel a little disappointed as most places in Auli are expensive ski resorts. Even campsites charge a bit too much.
The only budget accommodation option is an 8-bed dormitory in the GMVN ski resort. You can check the prices (also for ski courses) on GMVN website.
Another option, if you are looking for a cheap hotel is that you stay in Joshimath and travel to Auli from Joshimath.
Hotel Snow Crest, Dream Mountain Resort are a few good places to stay in Joshimath.
Camping In Auli
Though I camped on my own there are many campsites to choose from. Also, if you are visiting between April to June or September to November, camping in Auli will be the best way to explore this place.
Tourist Places Nearby
Auli is very close to Badrinath. Having said that visit Badrinath temple and tick one of the four Char Dham Yatra destinations.
Other than that, if you happen to visit Auli during monsoon, you can also do Valley of Flowers trek.
It is also worth staying and exploring Rishikesh if you are going back (or coming from) that route. Check my Rishikesh Travel blog for tips on what to see and do there. If you are planning to stay there, you can also check these cool hostels in Rishikesh. They are the best place to stay there.
All in all, Auli is a beautiful destination and there are tons of places nearby on your way from Chandigarh or Delhi to Auli. Again, come here any time of the year and you won't regret the idea.
Delhi To Auli
Since there is no railway line north of Rishikesh, and no airport north of Dehradun the very discussion of how to travel from Delhi to Auli on a train or in a flight makes no sense.
Having said that, the two best way to travel is…
By Bus
Unfortunately, there is no direct Delhi to Auli bus. If you are coming on a bus, take a bus from Delhi to Rishikesh and then from Rishikesh to Badrinath. Get off Joshimath (45km before Badrinath) and then take a taxi from there.
Self-Drive
A road trip from Delhi to Auli is an even better option. It is almost 10 hours journey, and the road conditions are mostly great.
Another great road trip from Uttarakhand can be a Delhi to Munsiyari drive.
That's all in this Auli travel blog. If you have more questions you can write me a comment below!