In this blog, I have covered a list of best hostels in Rishikesh, the basis of my experiences.
I've personally stayed at these hostels and recommend them for their customer service and in-house amenities.
Home to many people's spiritual rebirth, Rishikesh is unlike any other Indian town. It is the centre of studying yoga, with temples and ashrams lining the ghats of river Ganga.
I remember the first time I visited this place, it was in 2015. I wasn't looking for hostels in Rishikesh at that time, but Ashrams. Read my experience of staying at Sivananda Ashram In Rishikesh. I also suggest you read the travel blog I have written on top tourist places in Rishikesh for more details on what to see and do there.
But that doesn't mean Rishikesh is all about spirituality or religion. From backpackers to adventurers, the town has something for everyone. Finding accommodation of your taste is no problem here.
You can certainly find some best hostels in Rishikesh. Not to mention, it is one of the top holiday destinations in India,
When it comes to finding good accommodation, however, there's a lot to consider. A few things to consider while choosing hostels in Rishikesh include:
Location: Rishikesh may not be huge, but it's crowded and full of traffic. Having said that, make sure your hostel is located at a central location. Two of the prime locations in the town are Tpovan and Laksham Jhula.
Amenities: If you want more than just free Wifi, be sure you do your research to find the best hostels in Rishikesh that matches your needs.
Staff: The hostels included in this list have friendly staff. A welcoming staff is just as important as a good ambience. Finding good fellow-travellers also matters.
Even if you don't choose one of my favorite and so-called hostels in Rishikesh mentioned below, be sure to look up reviews while booking a hostel online. Your accommodation can make or spoil your experience.
Now let's suggest a few places to stay.
Best Hostels In Rishikesh

The Hosteller
Located in the serene city of Rishikesh, The Hosteller offers three exceptional properties for travellers seeking adventure and spirituality. The Hosteller Rishikesh Tapovan is perfect for those seeking a peaceful stay with easy access to the city's attractions. The Hosteller Rishikesh Upper Tapovan offers breathtaking views of the Ganges River and lush green mountains. Finally, The Hosteller Rishikesh Laxman Jhula, located near the iconic Laxman Jhula bridge, provides an opportunity to experience the vibrant culture and nightlife of Rishikesh. All three properties offer comfortable rooms, excellent facilities, and a community of like-minded travellers.
The Hosteller at a glance:
Central location
Board/Card games
Very friendly environment
In house kitchen with free gas
Known Brand
Beds from INR 500.
Tebaar
Located in Tapovan, Tebaar offers a home-like environment. It has a fully-functioning kitchen with gas to cook and eat.
There are two common areas: a verandah and an open balcony. Tebaar hostel has two dormitories but no private rooms. Thanks to a home-like environment, I give Tebaar hostel spot 1 in this list of hostels in Rishikesh.
Teebar at a glance:
Central location
Board/Card games
Very friendly environment
In house kitchen with free gas
Beds from INR 350.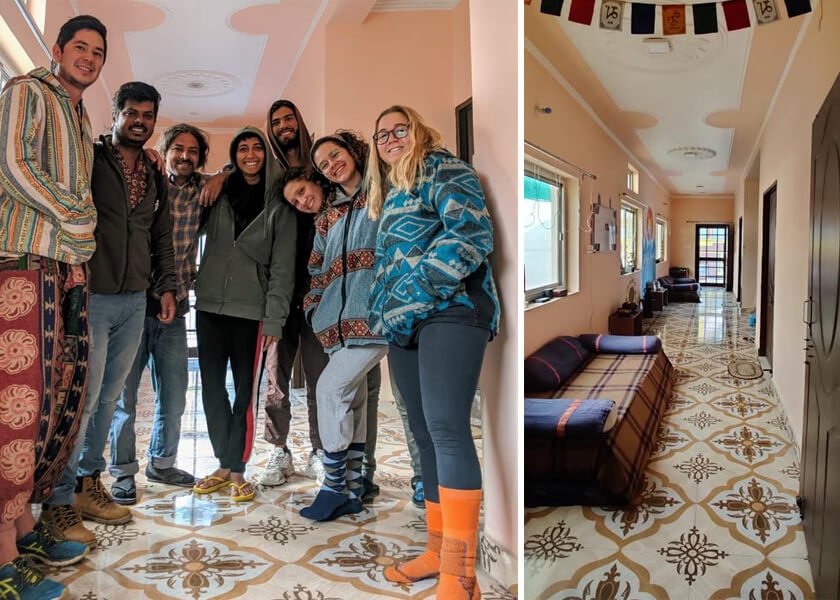 Blue Jay
Located in Tapovan, the Blue Jay Hostel provides a highly social atmosphere. It organises a range of indoor and outdoor activities too. This includes family dinners, painting sessions, live music, and treks and hikes.
Other than this, there are regular group excursions to the nearby village of Yamkeshwar where guests are given local experiences.
There are common sitting rooms inside the hostel premise with books, board games, a foosball table, and more. To make it better, there's also a rooftop cafe for Indian and continental dishes.
Blue Jay Hostel has the most impressive interiors than other places in the town — claiming a well-deserved place in our list of best hostels in Rishikesh.
Blue Jay at a glance:
Terrace with a 360-degree view of Rishikesh
Rooftop Café serving Indian and continental cuisine
Common area with games, books, karaoke, movie, dance sessions
Group excursions to nearby highlights like waterfalls, cafes, caves etc.
Beds from INR 500.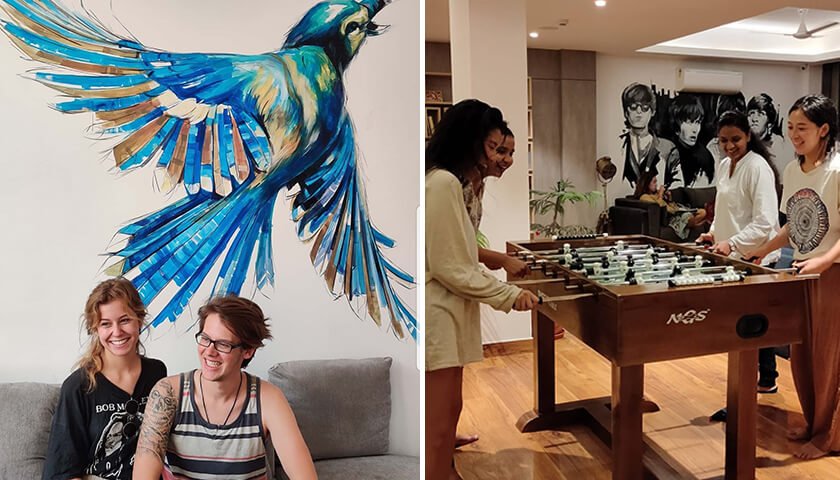 Thira
Buzzing with travellers and locals alike, hostel Thira is located in Tapovan.
It has an open communal kitchen, a big common room, a library section, and of course, free WiFi. For me, the biggest highlight was its big open rooftop, ideal for morning yoga, and hence a mention in this list of hostels in Rishikesh.
Thira at a glance:
Free breakfast
Central Location
Open kitchen for guests
Netflix and live acoustic weekend evenings
Beds from INR 250.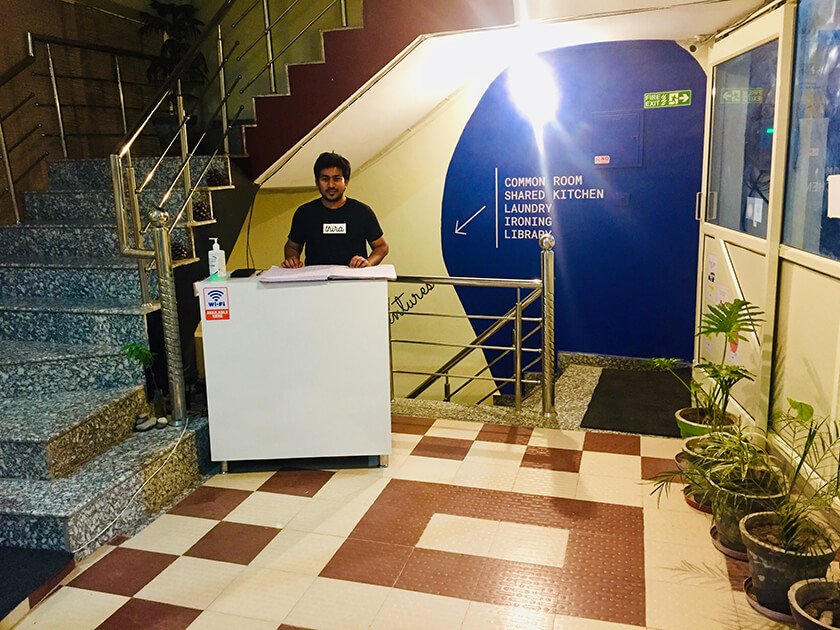 Zostel
Zostel is among a few known names in India. They have their franchise and owned hostels across India and Nepal – in more than 40 cities. From hostels in Delhi to other smaller towns like hostels in Manali, you can find them everywhere.
Among other best hostels in Rishikesh, Zostel too offers a highlight social atmosphere. It is located in the central location of Tapovan and offers many interactive games and common rooms promising a social atmosphere in-house. Here you will find 4-bed mixed and female dorms and 8-bed mixed dorms. Amenities include hot-water, laundry, shower, free parking and other things.
Zostel at a glance:
Central location
Creative and engaging indoors
Popular among Indian backpackers
One of the known names in India with a very high brand value
GoStops
Not as popular as Zostel, GoStops is still a popular name across India. It is located at a very prime location (in Tapovan) just walking distance from Lakshman Jhula.
Gostops is one of the popular hostels in Rishikesh with 10, 6 and 4-bed mixed dorms. It also has a female-only dorm. All dorms are moreover, AC. It also has an in-house restaurant for continental and Indian breakfast. Among a few in-house games include billiards and darts.
The best part about GoStops? The breathtaking view from its rooftop is where you will find guests chilling and befriending people throughout the day.
GoStops at a glance:
Central location
In house restaurant
A very beautiful rooftop area
One of the known hostel chains in India
Beds from INR 499.
You can book all these above-mentioned hostels In Rishikesh on Booking.com!
Some Useful Travel Tips
Avoid visiting Rishikesh during monsoon because rain wreaks havoc on the city.
The best time to visit is between December and February.
The best way to travel from Delhi to Rishikesh is by an overnight bus that takes around 7 hours.
If you're flying, the nearest airport is in Dehradun, located about 1-hour drive from Lakshman Jhula.
The town of Rishikesh is majorly divided into two parts: Ram Jhula and Lakshman Jhula. Ram Jhula is where most Indian tourists stay. Lakshman Jhula, on the other side, is popular among hippie backpackers.
It is allowed to visit any Ashram in the town. Temples also welcome tourists of all religions and nationalities.
When visiting a temple, try to cover your shoulders and knees.
In Rishikesh, you won't get any alcohol or meat shops.
Yoga is the reason why many tourists visit Rishikesh in the first place. Learn some when you're here.
Parmarth Niketan, Anand Prakash Yoga Ashram & Retreats, Omkarananda Patanjala Yoga Kendra, Yoga Niketan Ashram, Swami Dayananda Ashram and Phool Chatti Ashram are some popular Yoga Ashrams.
There are too many monkeys around in the town, so be careful of your belongings.
If you can bargain, you are going to save yourself heaps. Except for booking a bed with these hostels in Rishikesh, you can bargain everywhere else.
Other than hiking, some of the free things to do in Rishikesh include temple-visits, Ganga Aartis, trekking and exploring waterfalls.
In less than 10km from Lakshman Jhula, you can find bungee-jumping, river-rafting, rappelling, adventure campsites, waterfalls, jungle treks, ayurvedic massage centres, and cafes and restaurants with any cuisine in the world.
Adventure Nation, Red Chilli Adventure, White World Expeditions, Jumpin Heights are some popular companies to book a rafting or camping experience.
Do you agree with the above suggestions as best hostels in Rishikesh? Or do you recommend something else?