Looking for a place to stay? Here's a list of best hostels in Manali.
From honeymooners to backpackers, and adventure seekers to those wanting to relax and unwind, Manali is a go-to vacation spot for everyone. It has temples, markets, hot springs, adventure sports, high mountain passes… you name it. Manali's close proximity to New Delhi and easy overnight journey moreover make it a preferred tourist destination over the others.
Since my first visit, which, in fact, took place in 2012, I have been to Manali more times than I can remember. I even started a hospitality business some 15km from Manali town a few years ago and have organised many trekking and camping events there. Having said that, Manali is more familiar to me than my hometown New Delhi. I know Manali no less than the back of my hand.
Read my Manali travel blog for more details on what to see and do there. Other than hostels you can also try camping there as it's among some of the popular destinations in India to do so.
Other than being my favorite, Manali is also one of the most visited and backpacked cities in India. And so, it's filled with hundreds of hostels, hotels, and guesthouses.
With so many places showing up in your search results, how do you know which are the best hostels in Udaipur? I mean, dozens are "top-rated" on Booking.com, right?
There are a lot of things to consider when selecting a hostel in Manali. The top four reasons when picking the best hostel in Manali are:
Price: Just like other popular tourist destinations around the world, the price of hostels in Manali remains a little high throughout the year. Having said that, if you go with a really cheap hostel, you're probably going to get something with smelly bedsheets and poor customer service.
Location: Though Manali as a town may not be very huge, it still matters where you stay. Largely, Manali is made of three towns namely, New Manali, Old Manali, and Vashishth — with New Manali being the center, and Old Manali and Vashisht spread on either side of Old Manali, at 2km and 3km away respectively. Though I personally like Old Manali the most, the hostels listed on this list are in the location preferred by backpackers.
Amenities: Almost all backpacker hostels in Manali offer free Wifi. But if you want more than just free Wifi, be sure you do your research to find the best hostel that matches your needs.
Staff: The hostels included in this list have friendly staff. A welcoming staff is just as much needed to have a good experience, as the hostel's ambience and other fellow-travellers staying with you.
Even if you don't choose to stay at one of the hostels listed below, be sure to look up reviews while booking a hostel online. Ensure that your place has helpful staff and comes with good amnesties! Your hostel can really make or spoil your experience.
Manali — where river Beas merrily chuckles down the narrow gorges, and snowy mountain peaks meet the sky!
Now, let's start with a few suggestions on top hostels in Manali, supported by the reason why I love them…
Best Hostels In Manali
Footloose Camps
If you are someone for whom the very idea of visiting the mountains is staying at a place that defines peace and harmony then I can recommend Footloose Camps. Located only 7km from the Mall road, in the middle of nowhere, Footloose Camps is a (nearly) 100-year-old mudhouse turned into a backpacker hostel.
The entire premise includes 200+ apple trees and in between the tiny mudhouse. The kind of accommodation includes 2 dorm rooms (one is a 2-bed dorm and the other one is a 4-bed dorm) and a private room.
Rest, the pictures will tell…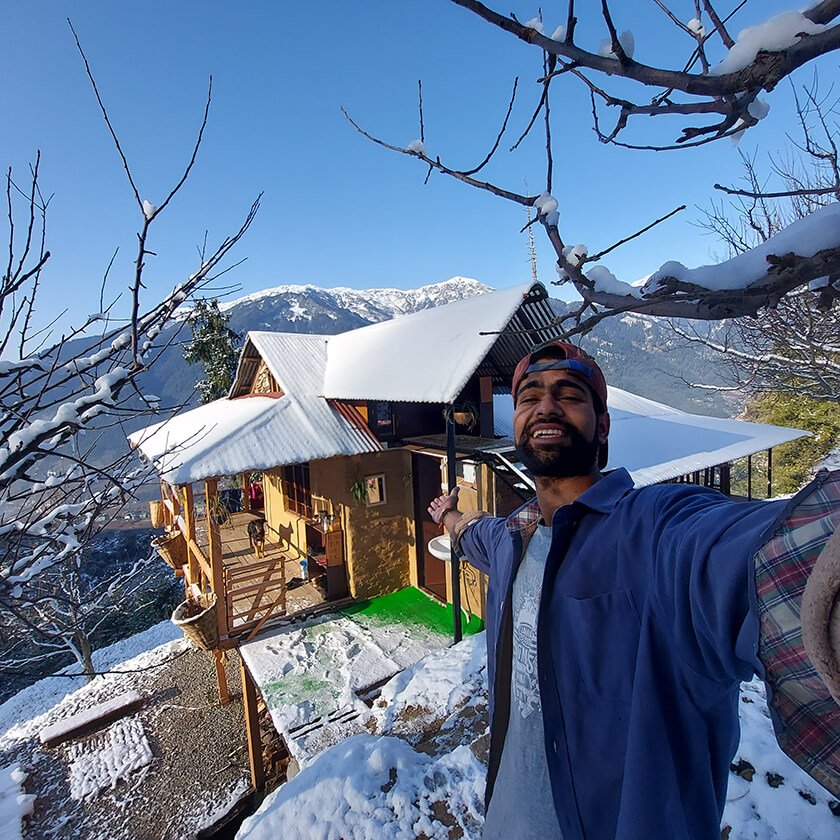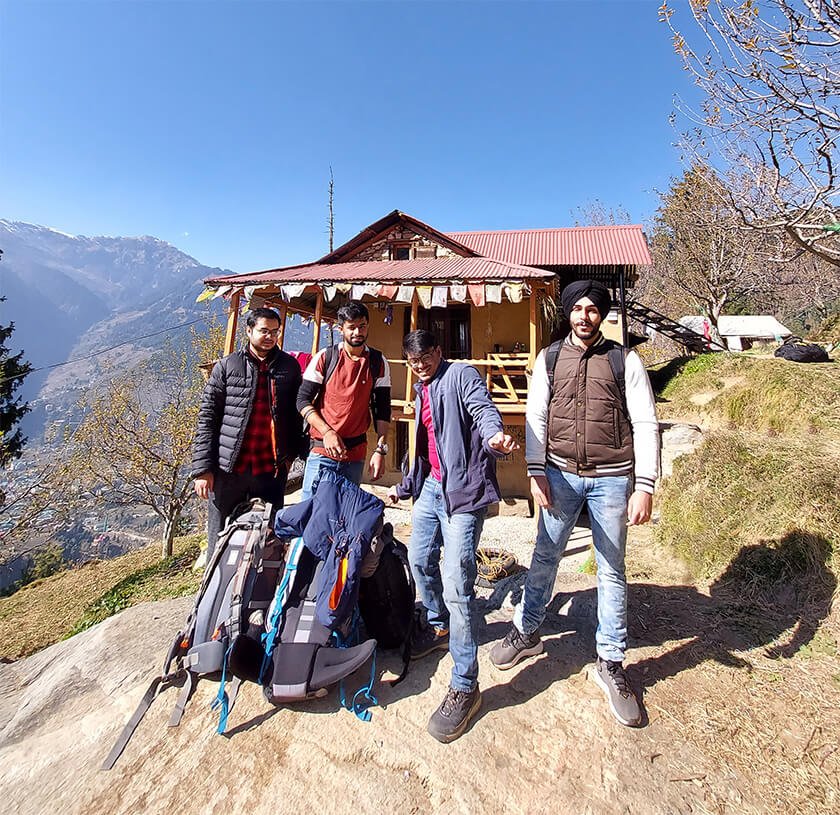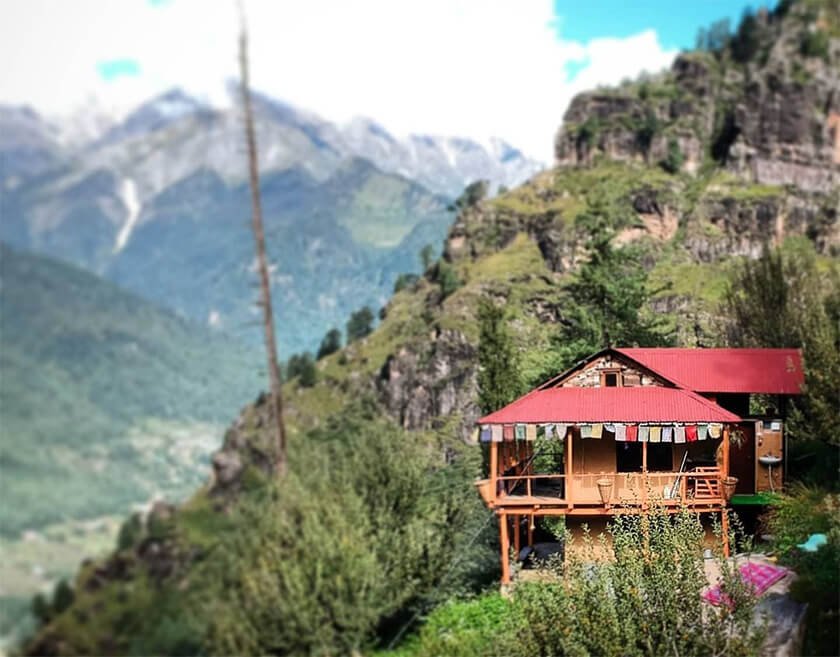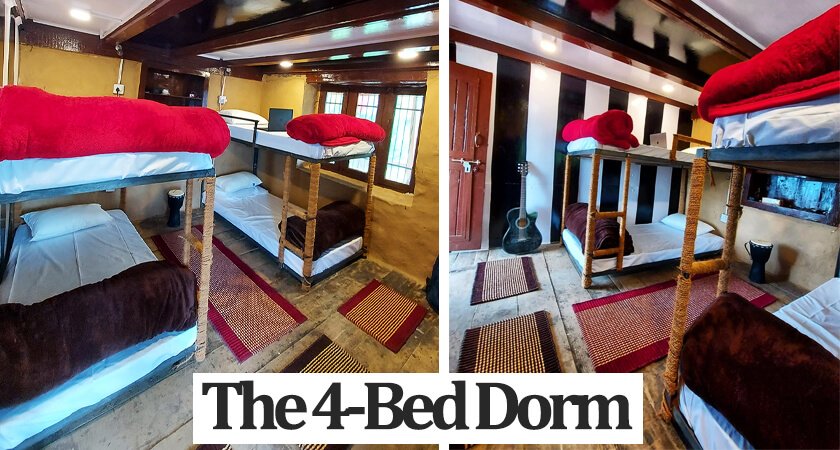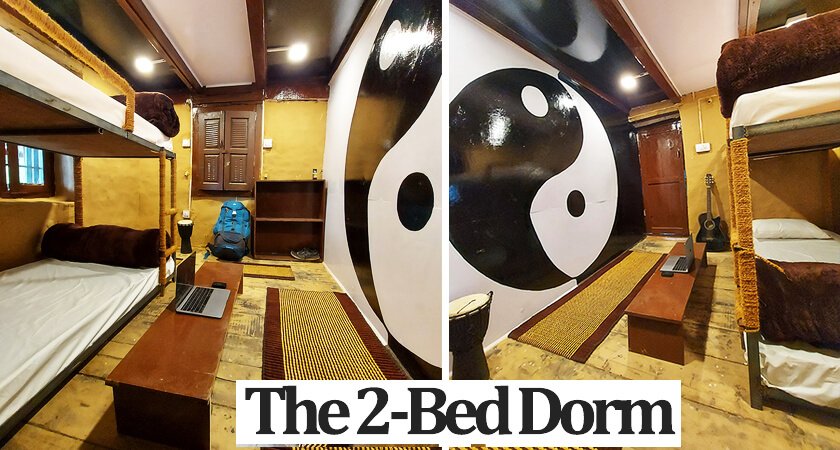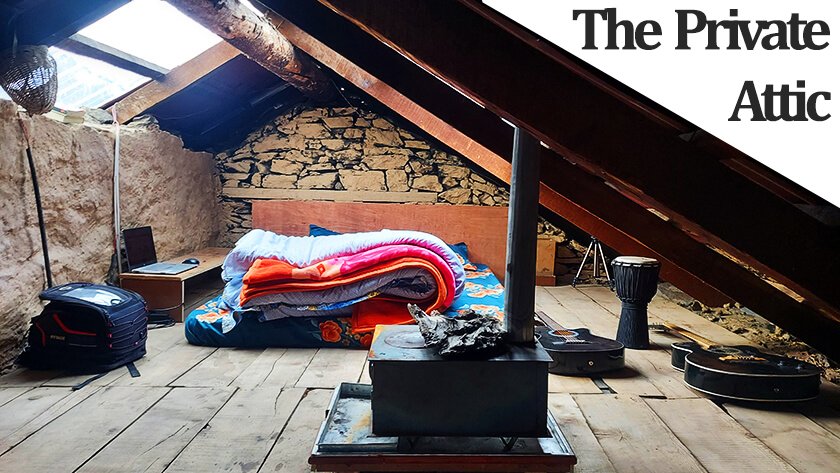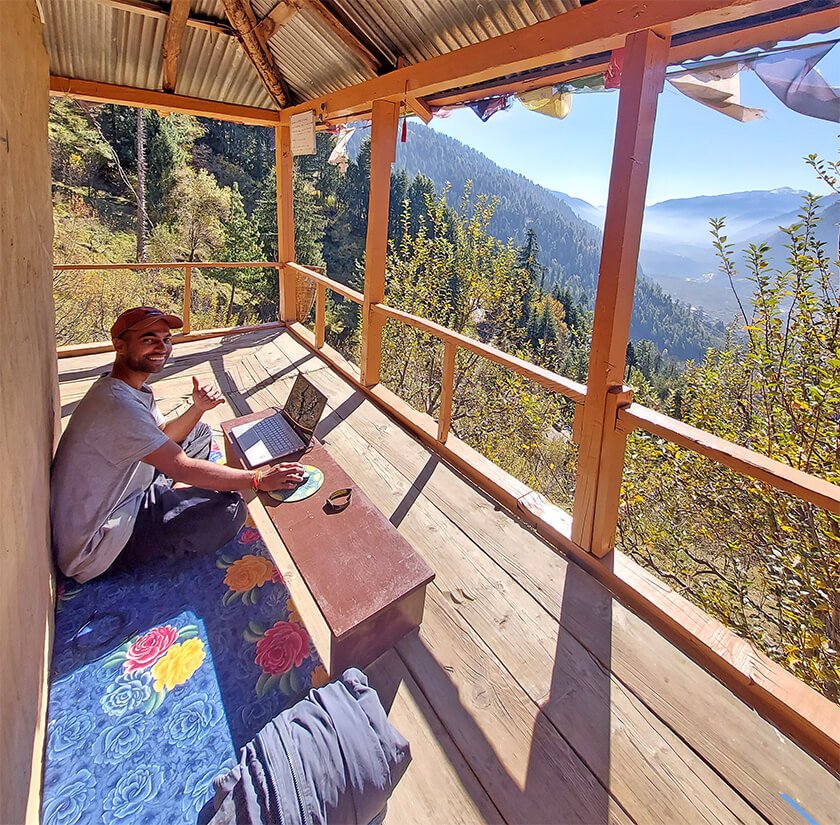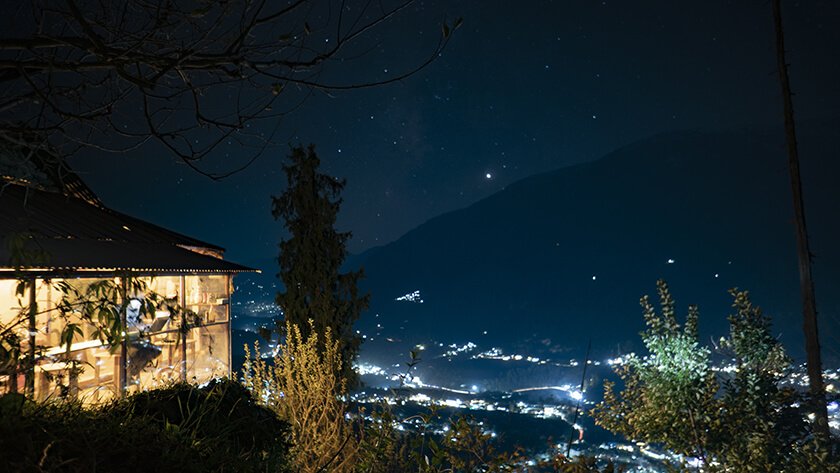 Google Map Location: Click here |  Booking: Whatsapp @8285695030 | More photos: Instagram Channel
Price: INR 1800 per night per person including dinner and breakfast (for dormitory beds). INR 4500 for two people including dinner and breakfast (for private attic). Since it's a very isolated location and there are no cafes around, they only do half-board plans (meaning, dinner and breakfast included).
They also have Igloo stays in winter which is about 7km from the mudhouse. Interested people shall also check the skiing and snowboarding courses they offer. Please note that igloo and winter sports are only available between January and March. Check their website for more: Footloose Camps.
Alt Life Hostel, Manali
Alt Life is located at a central location, only 2.5 km away from Manali Mall Road and 800 meters from Old Manali Bridge. But a central location doesn't mean a crowded one. The hostel is a big villa surrounded by snow-capped mountains, stately deodar trees, amidst apple orchards. In total, the property has nearly 30 beds with open balconies in each dorm for viewing the panoramic scenic beauty all around. The hostel also houses a café and a co-working space that can accommodate up to 70 people.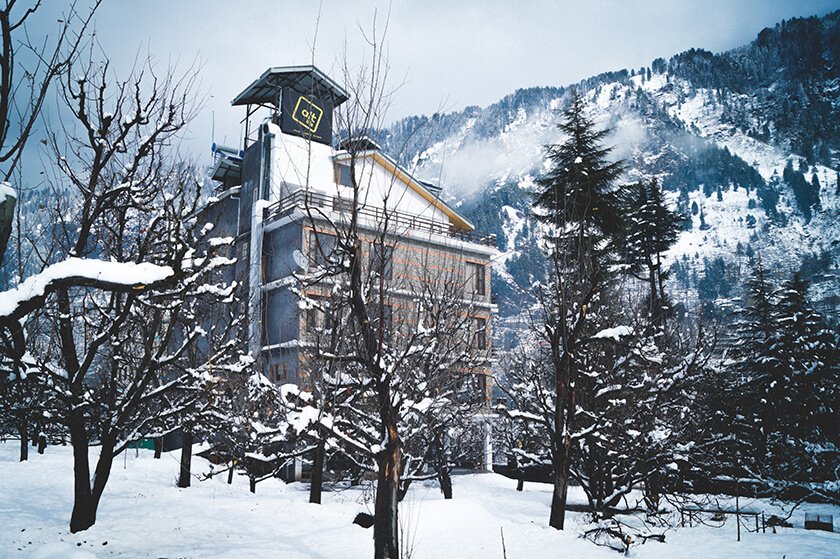 Alt Life Hostel at a glance:
Co-working space
Gated on-site parking
Regular live music events
Apple orchard at the hostel
An inhouse multi-cuisine cafe
A Rooftop Café to chill out with other travellers
Beds from INR 450.
Backpackers Headquarter
Backpacker Headquarters is located near the market in Old Manali. The hostel has an in-house cafe and a roof-top terrace. Tourist spots like Manu Temple and Habimba are within walking distance. The hostel organises regular movie and bonfire nights and thus provides a lively and fun-filled ambiance to its guests.
Backpackers Headquarters at a glance:
Rooftop cafe overlooking river Beas
Heated Common area with board/card games
Access to Netflix, in the common area as well as in private rooms
Situated near the market in old Manali, yet secluded. Great location for people looking for a peaceful location in Manali
Beds from INR 300.
Zostel
Located on Manu Temple road in Old Manali, Zostel has one of the finest locations for a hostel in Manali. And since it is a Zostel, a renowned name, no need to worry about personal safety and basic amenities.
Zostel Manali at a glance:
A lot of open common areas with hammocks to relax
Enough board/card games
A great location
Reliable brand
House of Amigos 
Located in the center of Old Manali, House of Amigos is one of the popular backpacker hostels in the town. The hostel has big communal spaces equipped with board games, a Playstation and a 60 Inch TV along with karaoke. In addition to that, the hostel has a full-fledged bar and a garden area with two beer pong tables. Throughout the day, the hostel organises walking tours, biking tours, and hikes.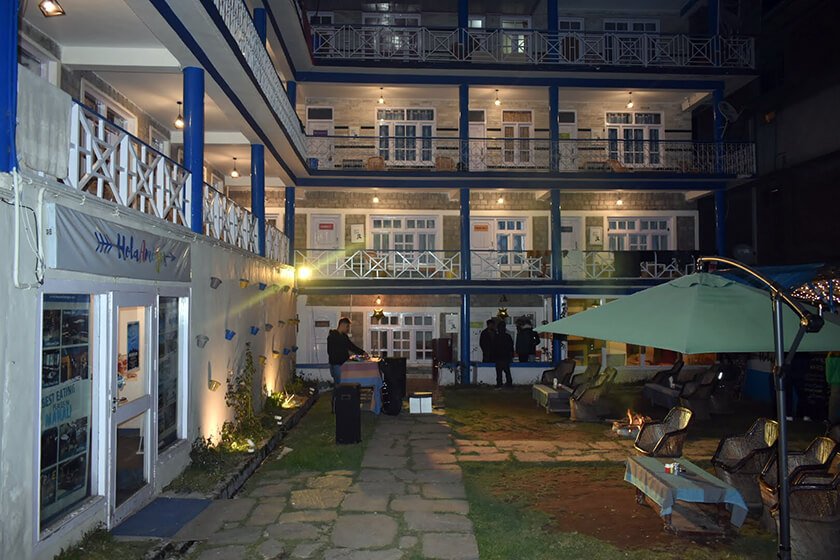 House of Amigos at a glance:
Bonfire every second day with drinking games
Bar on site with 2 Beer pong tables
Common Room with a PS4
Theme based dorms
Beds from INR 250.
Update: HOUSE OF AMIGOS has shut down in the wake of COVID. Starting 2021, they are not operating anymore. The same place is now owned by another hostel chain that I have personally not visited, hence not recommending.
If camping interests you, check this guide on Camping in Manali.
You may be surprised to know that I actually do not suggest a trip to Manali. And this is for many reasons. To give you a few: Manali is crowded, Delhi/Chandigarh to Manali road is in bad shape, there are many better alternatives nearby. I mean despite owning a place myself, 15km from Manali, I have written blogs where I have discourages every idea to visit Manali. Read this Delhi to Manali travel blog.
Yet, if you decided to go ahead and visit, here are a few tips you should keep in mind…
Useful Manali Travel Tips
The best way to reach Manali is on an overnight bus from Delhi or Chandigarh. Buses take around 1000 Rupees per person for luxury a pushback seat.
If you're coming on a train, you will have to get off at Chandigarh and take a bus from Chandigarh to Manali.
Nearest airport from Manali is Bhuntar Airport, however, flights to Bhuntar are always very expensive. It, moreover, doesn't save you much time and effort if you come in a flight all the way to Bhuntar. Flying to Delhi or Chandigarh, and taking a bus is the best way to travel to Manali.
Best time to visit Manali is summer when the temperature outside remains pleasant for most of the time of the day.
But if you want to experience snowfall, the best time to visit Manali for you will be winter.
The main town of Manali remains quite crowded. Old Manali and Vashishth are two comparatively quieter towns near Manali.
A few popular tourist highlights near Manali are Rohtang Pass, Rahla Nalla, Kothi Village, and Hadimba Devi Temple.
There are enough ATMs in Manali main town. They may feel a little crowded, but you should have no problem in finding cash.
Almost all phone networks work fine in Manali.
It is possible to hire a motorcycle in Manali between 500-1500 Rupees.
Mall Road is an ideal place for shopping, but do bargain a lot.
Even if you're visiting Manali in Summer, carry a few warm clothes.
Also Read: 5 Offbeat Destinations Near Manali
Do you agree with the above suggestions as best hostels in Manali? Or do you recommend something else?