Looking for a place to stay in Dharamshala? Here's a list of best hostels in Dharamshala!
The small but beautiful Himalayan town of Dharamshala attracts thousands of tourists every month. But with increasing crowds, the prices are increasing too. The good thing is, however, Dharamshala has a range of budget accommodations. There are enough backpacker hostels in Dharamshala to choose from.
When looking for a hostel in Dharamshala, look for something either in Dharamkot or Mcleodganj. I personally like Dharamkot the most because it is less crowded. Mcleodganj, on the other hand, is where the Buddhist leader Dalai Lama lives.
I have moreover noticed that accommodation in Dharamshala is the most expensive and that around Dharamkot it is the least expensive.
There are over 30 hostels in the Dharamshala region, and with so many hostels around, choosing the best hostel can be tough. I mean, dozens are "top-rated" on Booking.com and HostelWorld, right?
Luckily, I've been visiting Dharamshala regularly and have stayed in many places. There are a lot of things to consider when selecting a hostel in Dharamshala, and these includes:
Price: The price of hostels in Dharamshala can remain high throughout the year. Having said that, if you go with a really cheap hostel, you're probably going to get a shitty place.
Location: Dharamshala is basically made of three towns namely, Dharamshala, Mcleodganj & Dharamkot. Consider Dharamshala as the main town and Dharamkot and Mcleodganj as suburbs. I personally like Dharamkot the most. The hostels listed on this list are in central locations.
Amenities: Almost all backpacker hostels in Dharamshala offer free Wifi. But if you want more than just free Wifi, be sure you do your research to find the best hostel.
Staff: The hostels included in this list have friendly staff. A welcoming staff helps in having a good experience just as much as the hostel's ambience.
Even if you don't choose to stay at one of the hostels listed below, be sure to look up reviews while booking a hostel online. Your hostel can really make or spoil your experience.
If you are a backpacker exploring the best tourist places in Himachal Pradesh, I suggest you take a look at my detailed Himachal Pradesh Travel Guide. In this guide, I have talked about popular destinations, the best time to travel, expenses and many other things in great detail. Also, like many travellers, if you are visiting Manali, you may be interested in my hostels in Manali blog too. Just like this blog, I have covered my tried and tested places in Manali in that blog. This travel guide on Manali is also a useful resource.
Now, let's start with a few suggestions on top hostels in Dharamshala, supported by the reason why I love them…
Best Hostels In Dharamshala
The Bunker
The Bunker offers a laid-back and relaxed environment. It is located at a quiet corner in Dharamkot, thus ensuring a peaceful experience.
The Bunker is a great option for solo travellers to hang out and meet fellow-travellers. It has a big garden area and a bonfire space to chill around. The hostel is run by two full-time travellers who are now running a hostel and thus sharing their love for travelling.

The Bunker at a glance:
Serene surroundings and a peaceful ambience
Lots of open and community spaces to hang around
Close to nature, the forest is just 5-minute walk away
Close to hiking trails – almost all trails run from in front of 

the

 hostel
Beds from INR 350.
Triangle Folks
Triangle Folks Hostel is located in Bhagsunag which is a quiet neighborhood between Mcleodganj and Dharamkot. The hostel has 4 bed-dormitories with an en-suite washroom.
Other than dorms, the hostel has private rooms that come with a personal balcony and mountain view. The hostel offers a common outdoor patio. It also has an in-house kitchen that serves Himachali and other cuisines.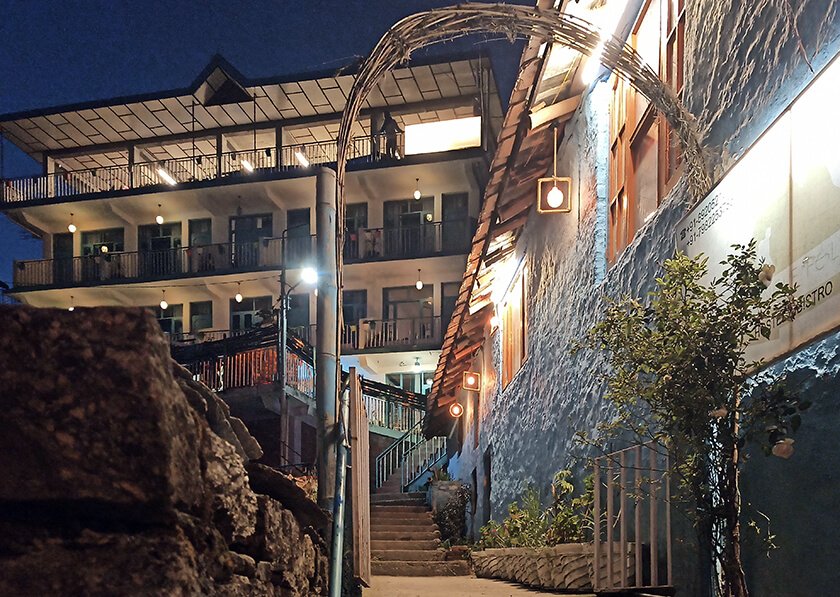 Triangle Folks at a glance:
Private rooms with a personal balcony

Cozy & Comfortable Customized 4 bed-dormitories

In-house kitchen which also serves Local (Himachali) Cuisine

Outdoor Patio serves as a common area for social gatherings, events and bonfire nights.
Beds from INR 350.
Alt Life
The Alt Life Hostel is located in Dharamkot. It comes with 4 private rooms and 8 dorms. The property is equipped with a cafe and a co-working space. There's a travel desk in the hostel for all local information. The property also has a garden restaurant, a lounge, a community kitchen to cook, a library, and an exclusive Yoga area.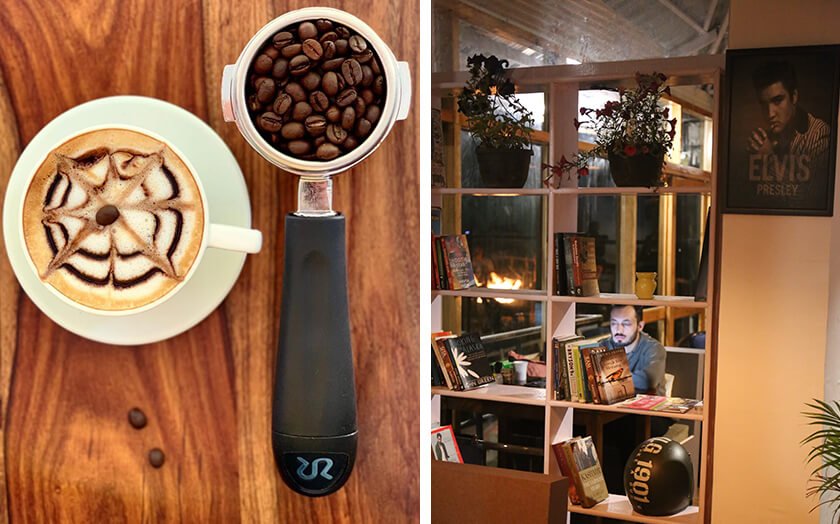 Alt Life at a glance:
A communal kitchen
Outdoor patio for bonfire
A café and co-working space
Yoga area with free mats to use
An inhouse library with a good collection of travel books
Beds from INR 450.
Dharamshala Travel Tips
The best way to get to Dharamshala is on an overnight bus from Delhi or Chandigarh. Buses take around 1000 Rupees per person for luxury a pushback seat.
If you're coming on a train, you will have to get off at Chandigarh and take a bus from Chandigarh to Dharamshala.
Nearest airport from Dharamshala is Kangra Gaggal Airport, located 20km from Dharamshala.
Best time to visit Dharamshala is summer when the temperature outside remains pleasant for most of the time of the day. Winter, on the other hand, remains too cold for Dharamshala.
A few things to do in Dharamshala are: trekking to Triund, visiting Tsuglagkhang Complex, taking yoga classes, shopping at Main Square, getting a Tibetan massage.
If you love hiking, in particular, you can trek to Kareri Lake, Naddi Dharamshala, BhagsuNag Waterfall, and of course, Triund.
If you're a foodie, try Tibetan Kitchen, Tibet Cafe, Lungta Japanese and some street momos.
Most people who visit Dharamshala come to get a spiritual experience. If you're here for the same reason, you can try a meditation course at Tushita Meditation Center or get enrolled at Vipassana Meditation Center.
Walking around Dharamshala is also a great way to interact with the monks and understand their way of life.
Some of the important things to carry for a trip to Dharamshala include a rain jacket, comfortable walking shoes, a headlamp, full-sleeve shirts and full-pants (for temple visits), and some books to read.
Dharamshala is certainly a place for solo travellers.
There's no need to worry about personal safety, however, be careful about tourist touts.
Also, read this blog on Mcleodganj Dharamshala to read more about how I liked it and some useful travel tips.
Do you agree with the above suggestions as best hostels in Dharamshala? Or do you recommend something else?
You can book all these above mentioned Best Hostels In Dharamshala on Booking.com!