This blog is a list of the best hostels in Jibhi, the basis of my experiences. I've personally stayed at all these places and recommend them for their customer service and in-house amenities, over other available options.
---
But before I go ahead with the list, I want to mention a homestay and make an exception — Bunny's Cottage, located near Rashala Village, 1km from the main market in Jibhi.
I happened to stay at Bunny's Cottage in February 2021 and totally loved the place. Operated by Pooja with her 9-year-old son Bunny, this place offers an ideal home-like experience, very safe and peaceful too. Think of it as a real homestay where the host stays with you on the property. So even if you are looking for hostels in Jibhi, I suggest you guys check out this place too. Camping is also possible here.
There are two rooms in total, with a garden area, a common room with traditional bukhari and an inhouse kitchen. Other than the ambience and a great host, food is another highlight with the menu including delicacies like Siddu, Litti Chokha and more. An inhouse pizzeria will soon be the highlight of the place too.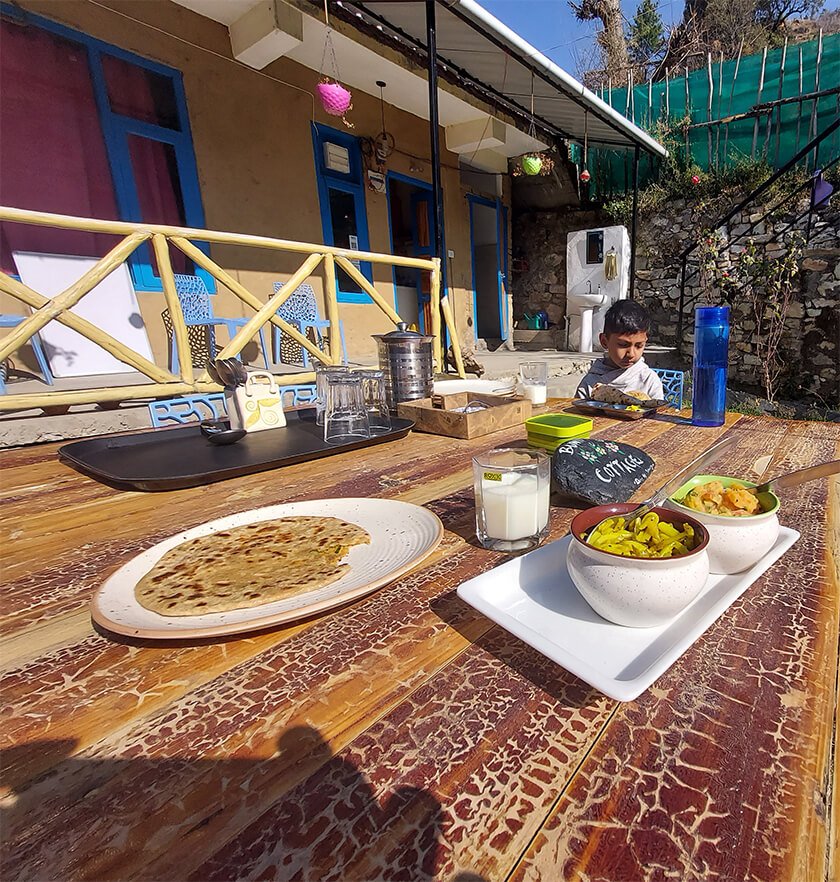 Now let's get started and discuss the hostels…
---
Located in Banjar Valley, Jibhi is an emerging destination in Himachal Pradesh, with a number of the best hostels in Jibhi to choose from. The town is quiet, beautiful and not too far from Delhi. The nearest high mountain pass of Jalori is only 12 km away. Jalori Pass sits over 3000m above sea level. For many people in Delhi, Banjar Valley is becoming a preferred destination over a Delhi to Manali journey.
Since my first visit, which took place in August 2019, I have revisited and stayed at some of the best hostels in Jibhi a few times. Of course, there aren't many accommodation options around but whatever we have, it is expensive. Despite having a much lower percentage of tourists, hostels here are much more expensive than backpacker hostels in Manali or say, hostels in Dharamshala that have much more crowds.
Having said that, Jibhi certainly hasn't established itself as a budget backpacking destination.
You may want to check my useful budget travel tips for India blog if you are a budget traveller as it may help you save more money while travelling in Jibhi. Also, read these tips on finding cheap accommodation in India for more useful suggestions.
Jibhi — the unexplored Himachal Pradesh!
There are things to consider when finding a good hostel, to make sure you stay at one of the best hostels in Jibhi, and these are:
Price: Since hotels in Jibhi are generally priced at the higher end, it is important that you make sure they are worth the price tag. There is nothing cheap out there but the hostels mentioned below offer value for money.
Location: Though Jibhi is a small town, the hostels mentioned below offer a better location than those not enlisted here.
Amenities: Almost all backpacker hostels in Jibhi offer free Wifi. But if you want more than just free Wifi, be sure you do your research to find the best hostels in Jibhi that match your needs.
Staff: The hostels included in this list have friendly staff. A welcoming staff is just as much needed to have a good experience, as the hostel's ambience and other fellow-travellers staying with you.
Even if you don't choose to stay at one of the best hostels in Jibhi listed below, be sure to look up reviews while booking something online. Ensure that your place has helpful staff and comes with good amnesties! Your hostel can really make or spoil your experience.
To help you with a few suggestions on top hostels in Jibhi, here are some…
Best Hostels To Stay In Jibhi
The Hidden Burrow
The hidden Burrow is one of its kind and India's first treehouse hostel with trunk and branches of the trees passing through dorms and rooms. Located in Jibhi, these treehouses are nestled among a few local houses on the sunny side of a hill away from the crowd. The hostel also has Plum, Apricot, Walnut, and Apple trees on its premises. The place is ideal for those who want a peaceful holiday experience. So yea, the Hidden Burrow gets the first position in my list of best hostels in Jibhi.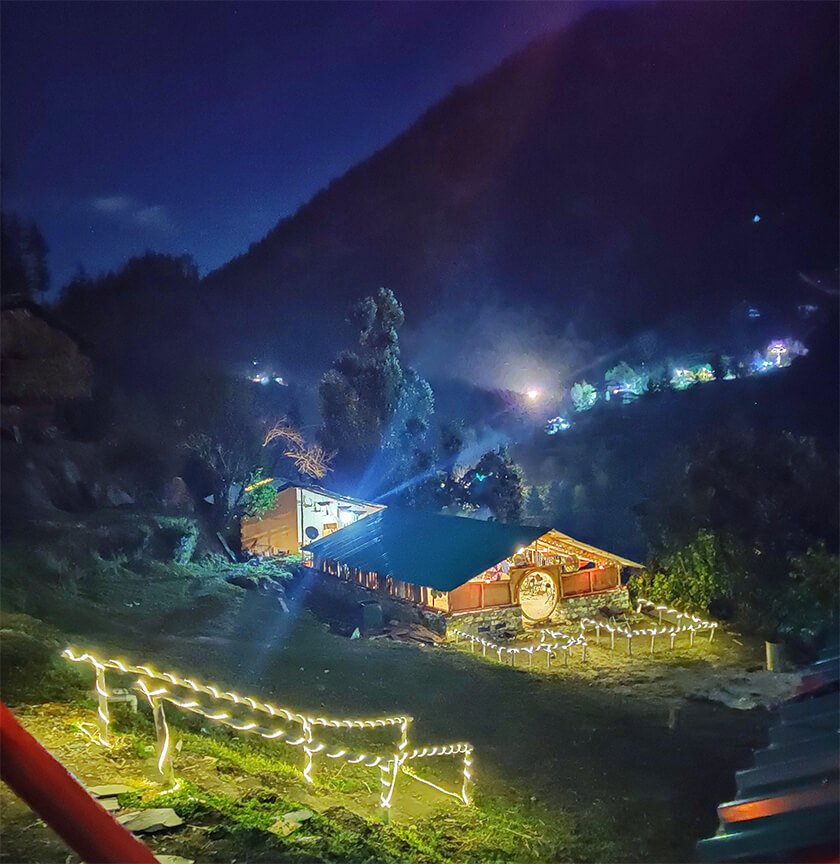 The Hidden Burrow at a glance:
An in-

house

Hobbit cafe
India's 1st

treehouse

 hostel
The river is just 2minutes walk
In-house pool table and board/card games
Beds from INR 500.
The Hostalgic
The Hostalgic is located only 500m from the city centre, yet far enough from the crowd. There is an inhouse cafe (with a fixed menu, but guests are welcome to ask for things not mentioned in the menu) in the hostel and a lot of card games — allowing solo travellers an ambience to mingle and make friends.
The Hostalgic is one of the best hostels in Jibhi if you're a yoga buff. It organises regular yoga and meditation sessions for its guests and throws weekend evening parties too.
A cozy indoor cafe
Weekend parties on-site
Fresh home-grown organic fruits
Free yoga and meditation sessions (if you are into Yoga, check my Sivananda Ashram blog that, according to me, is the best place to learn it across India).
Community work: where guests can help local kids in studies and get exclusive discounts
Beds from INR 300.
You can book all these above mentioned Best Hostels In Jibhi on Booking.com!
Some Travel Tips
The best way to get to Jibhi is by bus. There are regular overnight buses from Delhi to Aut that take almost 10 hours. Get off at Aut (tunnel) and take another bus.
Jibhi is a small town. You can come on a bus or a train and easily walk around and explore. No need to have a private vehicle.
But that doesn't mean Jibhi isn't worth driving to. You're going to love driving because Delhi-Jibhi route (via Jalori Pass) is no less heaven.
It is a small town with no regular highlights, making it a much less frequented compared to most tourist destinations in Himachal Pradesh. If you like peace and serenity, you're going to love it here. Having said that, don't visit this town for regular highlights, visit to relax and unwind.
The best time to visit is Summer when the weather remains pleasant to stay outdoors. Winter, on the other side, is too cold for Jibhi.
If you want to see Jibhi fully covered with greenery and flowers then visit during the spring season.
Few popular highlights in and around Jibhi are Chehni Fort, Shringi Rishi Temple, Jibhi waterfall, Jalori Pass, and Serolsar Lake.
Speaking of the network, Jio and Airtel work absolutely fine here. Vodafone may come and go.
Though there are ATMs around, most of the time they're out of cash. Get yourself some money from Manali or Kullu or Delhi.
Do you agree with the above names as the best hostels in Jibhi? Or do you recommend something else?