Looking for a place to stay in Goa? Here's my list of best hostels in Goa.
When it comes to destinations like Goa, writing a travel guide becomes literally challenging. I mean there is so much to see and do in Goa that compiling it all in a list is a tough task. Compiling a list of the best hostels in Goa is no easy job either, for there are so many of them. Staying and experiencing them all is moreover impossible.
But just like most Indians, I have also been to Goa a few times, and have stayed at many hostels. I have stayed in North Goa, South Goa and even in central and Old Goa. Honestly speaking, I like South Goa the most. But for someone who is looking for budget hostels, parties, and more backpacker action, North Goa is the place to be.
Here's more on Choosing A Beach In Goa.
You may also be interested in seeing my Youtube video where I have shown the offbeat side of the city…
Now, when it comes to choosing a hostel in Goa there are a lot of things to consider when selecting a hostel. A few of them are:
Location: Because different parts of Goa are so different from each other, you pretty much shape your entire experience the minute you choose your hostel. If you're looking for a quiet holiday, beaches like Kakolem, Patnem and Agonda beach may suit your taste. For something more happening, however, visit Palolem. If you want to party, Arambol and Anjuna can be good options.
Price: In Goa, you only get what you pay for. Rent a cheap place and you won't get much.
Amenities: Almost all backpacker hostels in Goa offer free Wifi. But if you want more than just free Wifi, be sure you do your research to find the best hostel that matches your needs.
Staff: The hostels included in this list have friendly staff. A welcoming staff is just as important as the hostel's ambience and friendly fellow-roomies.
Even if you don't choose one of the hostels listed below, be sure to look up reviews while booking a hostel online. This will ensure that you end up at a place where the bed is value for money. Your hostel can actually make or spoil your experience in Goa.
Goa… of blue skies, white-sand beaches, and emerald seas!
Now, let's start with a few suggestions on top hostels in Goa, supported by the reason why I love them…
Best Hostels In Goa
Red Door Hostel
Red Door hostel is located at 5 min walk from Anjuna Beach — known for its Hippie and psychedelic vibes. It is set in a traditional Portuguese house with clean and spacious dorm rooms. It also has a huge garden and an in-house bar and Pizzeria. Do yoga, mingle with fellow-travellers, cook a meal, read a book, create art on hostel's walls and play board games. Red Door hostel is known for its relaxed & funky vibes by day, but by night, it turns into a complete party house.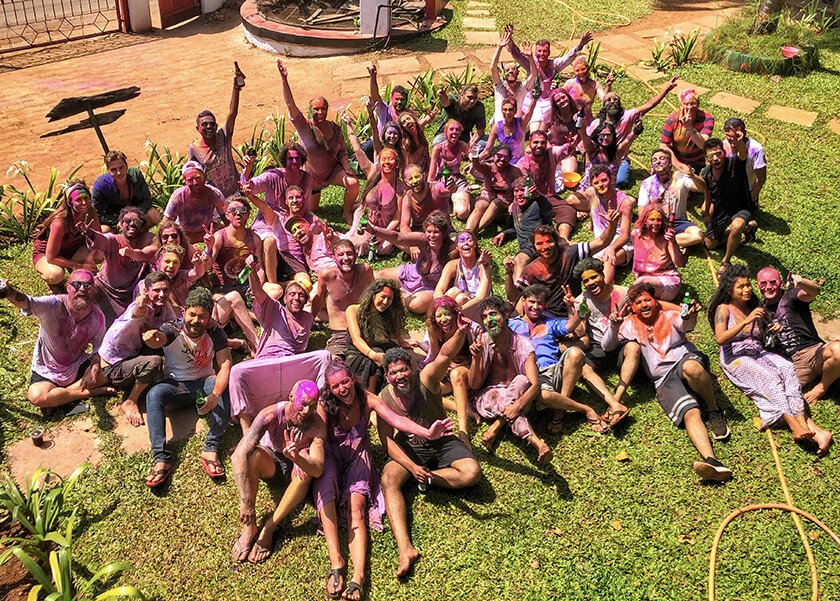 Red Door Hostel at a Glance:
In-house pizzeria
In-house TV room
A great party hostel
In-house bar with events every night
Huge garden for meeting and partying fellow travellers
Beds from INR 350.
Cohostel Goa
Cohostel is located just-off the Calangute Beach, with close proximity to Candolim and Baga beach. The hostel is a heritage Portuguese-styled Villa with a large verandah, a garden, and enough parking space. Speaking of common spaces, however, there's a badminton court, a big garden with a hammock, and a well-stocked indoor library. The hostel also organises regular pub-crawls, beach walks and indoor activities like pink-pong nights, board game nights and more.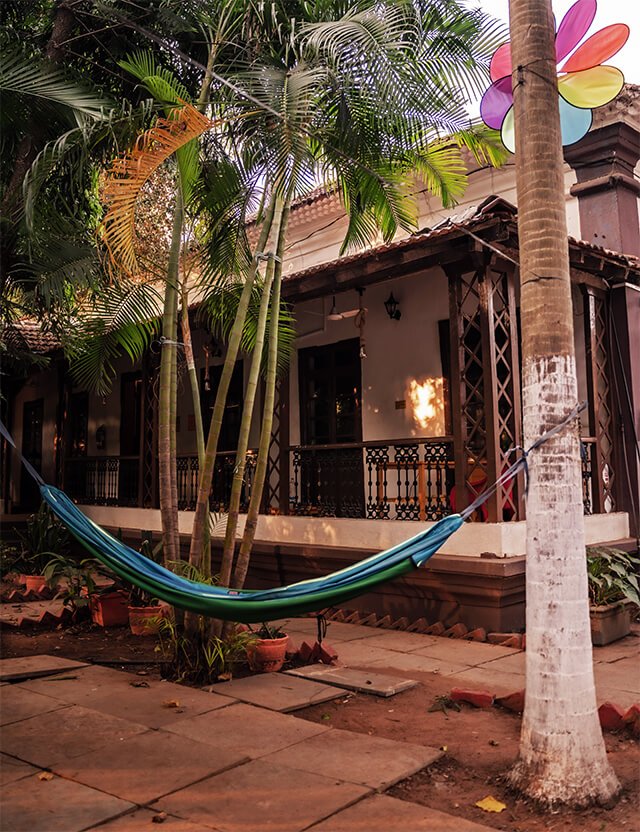 Board Games
Walking distance to the beach
Outdoor patio with a Badminton area
Hammocks with a well-stocked library
Beds from INR 350.
Piggy Hostel Arambol
Located right in front of the beach of Arambol, Piggy Hostel is for the beach lovers. The hostel has a common room overlooking the sea with a foosball table, carrom board, dining and cooking facilities. Other than this, the hostel also provides free yoga classes and treks to local highlights like the sweet water lake near Arambol.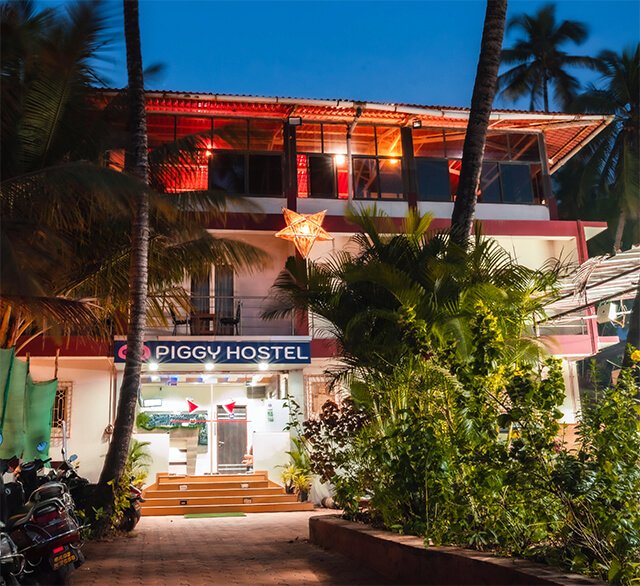 Piggy Hostel at a glance:
Free yoga classes for hostel guests
Great ambience to meet new people
2 min walk to the beach (beachfront)
Local Goan restaurant with Bar on site
Huge common room overlooking the sea.
Beds from INR 400.
The Nest By Hostelogy
Located in the village of Anjuna, The Nest by Hostelogy is for those who are looking for a peaceful and a non-party-like experience in North Goa. It is a renovated 180 years old Portuguese villa, with AC, Non-AC private rooms, camping tents and dorm rooms (female only and mixed). Just ten minutes away from the hostel, are Vagator and Anjuna beach.
The Nest by Hostelogy at a glance:
Inhouse library.
Yoga classes during season time
Budget-friendly non-party hostel in North Goa
Renovated 180 years old Portuguese villa turned into a hostel.
Some Useful Goa Travel Tips
The best way to reach Goa is by flight. Flights to Goa remain pretty decent price from most big cities in India like Delhi and Mumbai. It is only during the peak winter season when the price of flights shoot up.
Another way to get to Goa is on a train. There are regular trains to Goa from across India.
The best season to visit Goa is between January and March. This is when the temperature is not too harsh. For the rest of the year, Goa remains too hot and humid.
But January to March also marks for peak tourist months in Goa. So if you want to avoid the crowd and still not visit during extreme heat, the monsoon season will be the ideal time for you.
Goa is massive, with over 50 beaches divided across three territories: North Goa, South Goa and Central Goa. Do some research before you come to Goa to make sure you end up staying in the right neighborhood.
North Goa is a party place, south Goa is more laid back, central Goa is more history and culture, so choose smartly.
Do not just stick to popular beaches, explore the offbeat, and you will appreciate Goa a lot more.
In Goa, you will find a fusion of Portuguese, Brazilian, Arabic, French, African, Konkan, Chinese, Malaysian and Malabar cuisine, so try them all.
There's a good chance you'll be invited to beach parties and raves. Stay away from them. Stay away from drugs. Goa police is real.
The best way to explore Goa is on a two-wheeler.
Other than beaches and beer, there are a lot of yoga retreats in Goa. Do more than just sticking to the sea and sand.
For some reason prices for most things including alcohol, petrol remains comparatively lower in Goa than the neighboring states.
Goa is a very safe place to travel, even for solo women travellers. The only thing, however, is that you will have to be careful about tourist touts.
If you can, try bargaining while shopping.
Read this Goa Travel Guide for more tips on Goa
Have you stayed at one of the hostels mentioned above during your visit to Goa? How was your stay? Share in comments below!