Looking for best beaches in Goa, that is quiet and secluded too? This travel blog is for you!
Goa is big. In fact, massive. And depending on which part of Goa you end up staying, you pretty much shape your entire Goan experience. You can perceive it as chilled-out ambient heaven or something completely opposite of it.
If I were to describe my initial few days in Calangute, North Goa, in one sentence, I would agree with what lonely planet has written in their guidebook "crowded beaches and upbeat nightlife." It is a part of Goa where the beaches meet the bazaars. '
But that wouldn't make any sense, if I think of my last few days at Kakolem Beach, in South Goa.
Why so?
Because the entire (Kakolem) beach had only one tourist lodge, one restaurant, and the nearest market was some 5 kilometers away. It turned out to be one of the quiet beaches in Goa.
The point here is, Goa can be confusing, and can give you a completely different experience depending on where you stayed.
So how to choose one of the best beaches in Goa? How to decide where to stay in Goa and get what you want? Well, the best way to do that is by understanding the everlasting conundrum of North Goa vs South Goa.
Useful: If you're looking for some recommended hostels, check my Best Hostels In Goa blog, for some tried and tested places.
Best Quiet Beaches In Goa
Now, to understand where can we find the best quiet beaches in Goa, let's first understand the difference between North Goa vs South Goa.
If generally speaking, South Goa beaches are calm, quiet and secluded. Most places here are moreover newly developed. Whereas North Goa is a lot densely populated and action-packed.
In simple terms, North Goa vs South Goa = Crowded vs Quiet
Go to North, if you're looking for the best nightlife, moon beach raves, hippie-run crazy markets, and a lot of noise. South, on the contrary, is quiet and mainly interests those who want to listen to the sound of waves.
Though you can find some quiet beaches in the north Goa as well – including the most popular Vagator Beach, located in the northern end of Goa, the problem with north Goa is that you don't find a series of quiet beaches there, unlike in the south of Goa, and this limits your movement.
So if the idea is to have a long peaceful holiday experience in Goa, and explore the ocean of tranquillity, I would recommend you stay in the south part. It is in the South that you will find some of the best beaches in Goa as per your taste.
Other than beaches, visit South Goa to find crumbling old forts, peaceful villages, palm-fringed paddy fields, and whitewashed Portuguese churches. In my experience, scooter riders were moreover much fun on the empty streets in South Goa, as compared to the bustling and crazy streets in north Goa.
Please note: This article was written in 2017. During my recent trip to Goa in 2020, I found South Goa getting a little crowded too. Unlike last time when I found no hostels around in the south of Goa, this time, I could find many of them around. But even today, South Goa is comparatively quieter.
Here's a video, from my Youtube channel, for some visuals and drone shots of Goa I shot in January 2020:
South Goa is big and houses a number of best beaches in Goa under its territory (more than 20, I think). Though most of them, including the most frequented Palolem and Agonda, can give you a perfectly quiet experience, if you're looking for something romantic and want to stay away from any kind of tourist activity, then look no further than Cola or Kakolem beach.
Out of all the beaches I've seen in Goa – particularly in the south Goa – no other beach felt as secluded, and tranquil, as Cola beach and Kakolem beach. What's better is, where at Cola beach you will find only two beach-side resorts, at Kakolem you'll find just one – giving you the impression that you more or less own the entire beach.
Stay at Kakolem beach to relax, unwind and listen to the music of the waves. In my experience, Kakolen was certainly one of the quiet beaches in Goa.
But then again, if you're travelling solo, the seclusion can feel a little punishing at time.
I remember my stay at Palm Discoveries – the only hotel in Kakolem beach – and how I felt so bored in just two days. Everyone around me was a honeymoon couple. Though it was peaceful and calm, and the beach was amazingly clean, it was just too isolated for a solo traveller like me.
So, for a little more action, and a tiny night market to wander around, head to someplace else. I can recommend Agonda Beach, for I stayed there for almost a fortnight, and never even once did I find it disappointing in any way.
I also suggest you read my Goa Travel Guide for more tips on what to see and do there. Also, check these Goa Travel Tips for some quirky and useful ideas.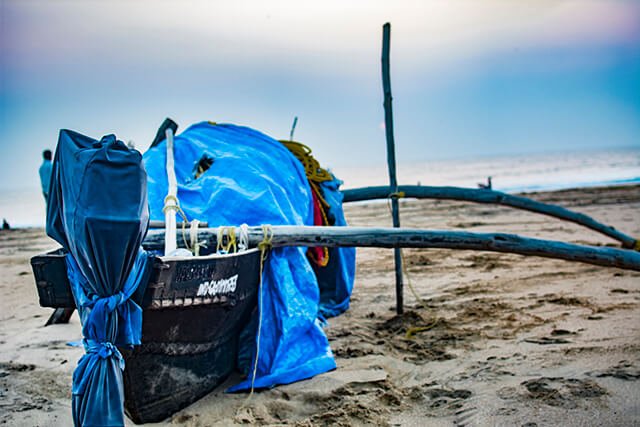 Let's find out more about my few recommended quiet beaches in South Goa…
This is what to expect:
Not So Calm, Secluded Beaches
Patnem Beach: Patnem beach is quite similar to Palolem beach in the north, but also much smaller and with less crowd. I'd say, it is a quiet and friendly alternative to Palolem and is a little cheaper too. Though you can find some people partying (subtly) and playing musical instruments in the night, the main attractions at Patnem are just lazing on the beach and swimming. I'd particularly recommend Patnem if you're looking for yoga classes in Goa.
Palolem Beach: More suitable for backpackers who are looking for some action, still not so much hippie or party scene as in north Goa beaches like Arambol. Here you will find colorful and affordable beach huts (much affordable than Agonda and Cola) and plenty of shacks to spend your evenings.
Varca and Cavellosim Beach: Varca and Cavellosim lie (almost) next to each other, and are very identical. They probably have the best of a scenic stretch of quiet beaches in South Goa that cater to upmarket guests in luxury resorts. Other than pampering yourself in one of the many luxury resorts here, you can visit them to experience some hardcore water sports — including windsurfing, jet skiing, and parasailing.
Agonda Beach: Recently developed, the beach is long and wide enough (much larger than many beaches in the south) to have a secluded and quiet beach in Goa kind of experience. Here you will also find many budget accommodation options if you don't mind staying a little off of the beach. Beach huts can be a little expensive here, but a stay in one of them is recommended. Honestly speaking, Agonda beach turned out to be one of the best beaches in Goa for me.
Tip: I stayed in a beach-hut called Sonho do Mar, which came with an attached bathroom, a nice and cosy bed and plenty of room to move around. Situated right next to the beach, the ocean was only 10 steps from my hut. From the balcony, there was a clear view of the Arabian Sea at all times. You can also check The Hosteller in Goa. 
Quiet Beaches In Goa
Cola Beach: Visit Cola beach for a fancy candlelit dinner, with violin being played in the background, long romantic walks along the coastline, and swimming in the freshwater lagoon right after a swim in the sea. The entire beach has two operational resorts, with the third one in the making. Hands down, this is one of the most secluded and calm beaches in Goa.
Kakolem Beach: Possibly the most isolated beach in Goa I've ever seen, with a hotel. The entire beach has only one hotel. Just like Cola, I would recommend Kakolem for honeymooners or families only.
---
South Goa is located on a stretch of over 50 kilometers (from south to north), and to best commute from one beach to the other is by renting a scooter, or a bicycle — if you don't mind riding uphill.
I would recommend you rent a scooter and bargain it for 250 Rupees a day or even less if you're renting it for more than 1 week. For fuel, go to the nearest petrol pump, rather than getting the tank filled in the town from local shops — who sell petrol in plastic bottles at an overpriced rate of Rupees 20 extra per litre!
And yea, booze in Goa is super cheap, so do not waste your chance being sober.
That's all in this travel blog on the best beaches in Goa. If you have more suggestions/recommendations, please leave a comment below.
You may also be interested in reading my Hot Air Balloon experience.