Manas National Park, Assam: where ex-poachers are the wildlife conservationists!
Just like I admire the idea of exploring new places and watching beautiful sunsets, I admire meeting inspiring people and places too. A village transforming itself into India's greenest village and setting an example for the rest of the country, a community teaching a better and happier way of living, an individual preaching hope in life – and there are other examples that I came across during all these years of travelling but didn't mention on my blog.
One such story, I recently came across was during my recent trip to Bodoland as I visited Manas National Park (also known as Manas wildlife sanctuary).
'Poachers turned wildlife conservationists' can be the title of the story, where a bunch of poachers are the protagonist's heroes. They gave up poaching and dedicated their lives to conserving wildlife. And in the process, transformed not just their life but the entire National Park.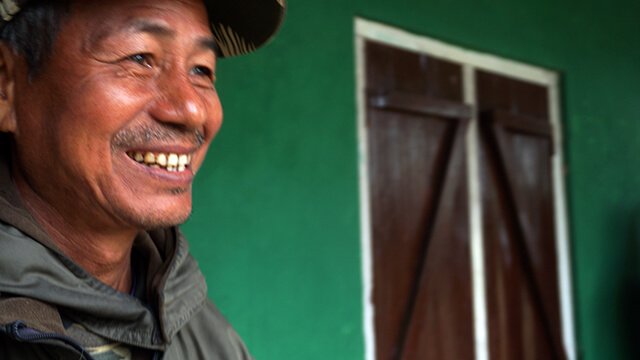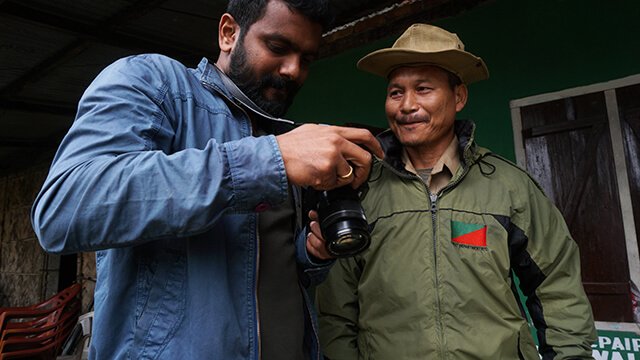 Hey, wait, I see another angle to the story… where poachers turning into wildlife conservationists is certainly exemplary, what is more exemplary, and worth appreciating, is the society accepting the idea and letting those poachers start another life. And because who understands animal behaviour better than those who once hunted them, it did the wildlife a big favour.
So let's perhaps start with the story of…
Manas National Park
To most tourists, it may look like just another wildlife safari park where tourists enjoy a jeep safari, spot some wild animals and talk about it on social media. But if you try to dig a little deeper through its skin, you see stories far more worth exploring than just the wildlife.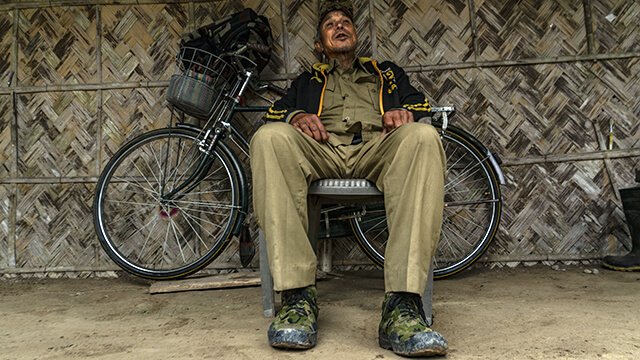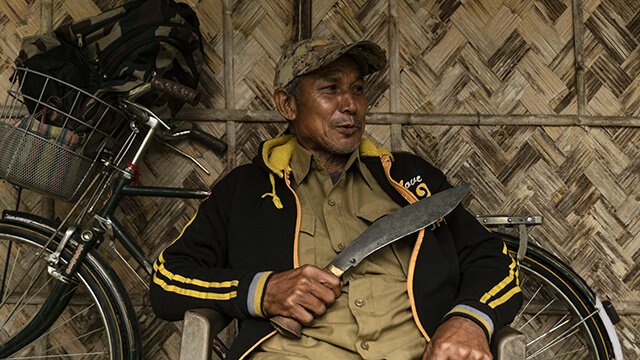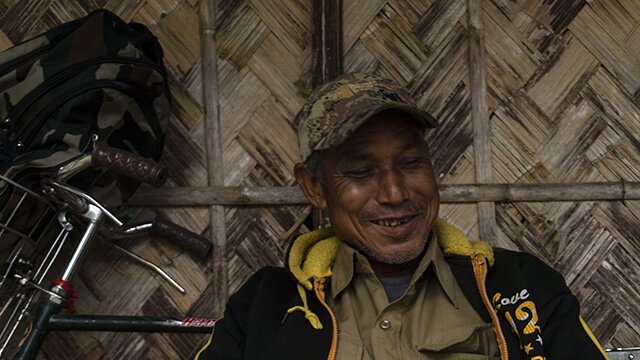 Until 2003 Bodoland was going through an armed insurgency. During this time, wildlife inside the park rapidly dwindled due to killing and poaching. In 1990, there were between 85-100 rhinos in the park, but not a single rhino was traced in the next survey in 2001. So when the peace agreement was signed and Bodoland Territorial Council was formed (in 2003) Manas National Park was put on the list of World Heritage in Danger.
In 2006, the process of relocation (from Kaziranga National Park) of wild animals and improving the state of the national park began. Today, the park has around 45 rhinos and 9 tigers.
Where conservation authorities have certainly helped and made Manas wildlife sanctuary what it is today, the biggest contribution came from the local community. Women also took just as much of the lead as men. People realise that this is their own dry deciduous forest and they must preserve it. Women decided that they would no longer cook bush meat.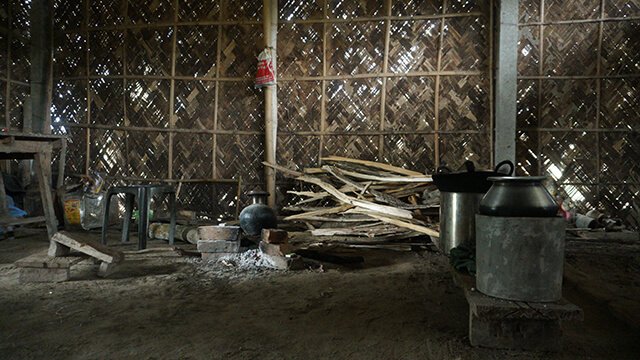 Beyond Manas wildlife sanctuary in Bodoland: Bodoland Travel Guide.
The Story of Local Heroes
During our 2-day stay in Manas National Park, we visited Buddeswar and other ex-poachers. Buddeshwar, now a popular face with mentions in almost every local newspaper and magazine, had lost one arm in an encounter with a wild boar. With whatever's left of him, he now saves the wildlife.
The reasons for Buddeswar to quit poaching, however, were socio-political. Poaching was too risky during the armed insurgency period in Bodoland. Police would pick up any young man with possession of a gun on the pretext of being an insurgent. At the time of insurgency, Buddeswar stopped poaching and moved to Bhutan in search of work. When the insurgency stopped and BTC came into power, Buddeswar returned to India. His new life started a new life as a wildlife conservationist.
For the past 15+ years now, the 45-year-old Buddeswar begins each day briefing fellow volunteers, attempting baby steps in saving the wildlife in and around Manas National Park. And well, if it's not for those like him, the wildlife reserve will lose all its inhabitants to other poachers and human intervention.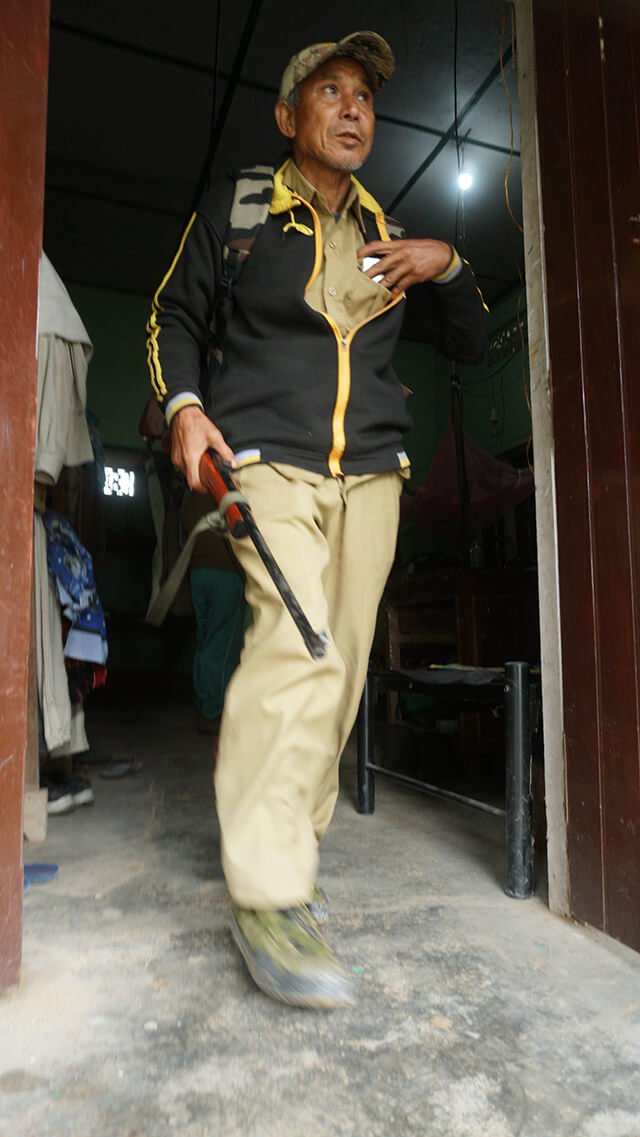 Manas is the true example of the importance of involving the local people in conservation efforts.
I mean think about it this way… who can better understand a crime (well, crime is a harsh word to use here anymore but it does justice to the statement) than those who were actually once doing it? And even more respectful here is the acceptance of the idea by society and local communities.
Is Manas Wildlife Sanctuary Worth Visiting?
Any visit to Manas wildlife sanctuary – even if it's the shortest safari available – guarantees rhino spotting. And if you are looking for flora and fauna, species of amphibians, reserved forest land area, and other useful information, you can google more about it, or check out park's dedicated website.
And before you do that, I want to tell you that its mentions are certainly exemplary, given it is a UNESCO World Heritage Site and a Tiger and Elephant Reserve.
Geographically speaking, Manas National Park shares a border with Royal Manas National Park in Bhutan. Both national parks are well-known for their rare and endangered wildlife. This includes the wild water buffalo, the golden langur, the Assam roofed turtle, the pygmy hog, and the hispid hare. In total, you can find nearly 55 species of mammals, including many endangered species like clouded leopards in the semi-evergreen forests of the park. The park also includes a major tributary of the Brahmaputra River called the Manas River.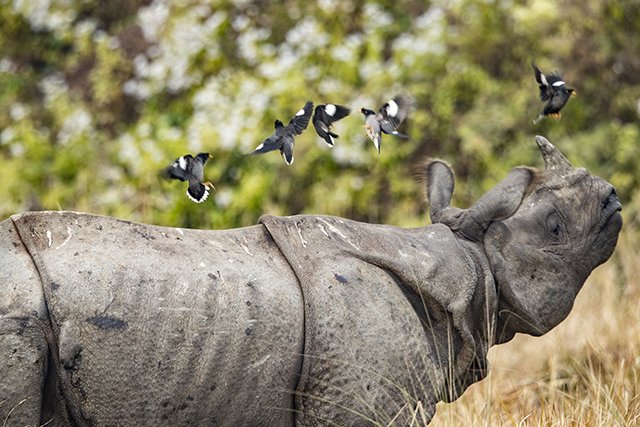 Travel Tips For Manas National Park
The park remains closed to visitors from June to September.
The park remains open during the fall, winter, and spring months.
The ideal time to visit is between November and April, which guarantees more wildlife spotting.
Except for during peak winter months, Bodoland can feel quite humid, with a sub-tropical climate, so pack accordingly.
Bring insect repellent. Mosquitos in Assam are no joke!
Located nearly 150km from Guwahati, Manas National Park can be visited from Guwahati on a day trip (how-to travel details are covered next in this travel blog).
The best way to experience Manas wildlife sanctuary, however, is by staying near the park.
I stayed at Smiling Tuskar Elephant Resort in Manas. I can recommend the place.
The park also includes a major tributary of Brahmputra river where you can do adventure sports like river rafting.
You will need to get permits to enter the park. For Indian residents, the entry ticket costs 200 rupees per person for a full day. For non-Indians, however, the full-day entry fee is 2,000 rupees.
Jeep safaris at the Park start at 9 a.m. and conclude at noon. Evening safaris begin at 2 p.m and last until 5 p.m
Also see: Some Manas National Park Pictures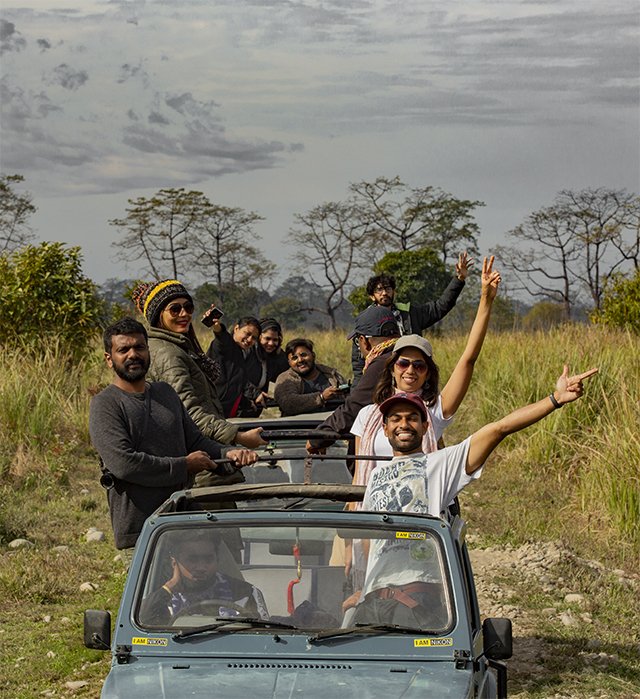 How To Travel Manas National Park
By Air
Since the nearest airport of Guwahati is less than 150km away, it makes a perfect sense to travel by air. Flights to Guwahati are always at a very good price from all major cities like Delhi and Bangalore. So catch a flight to Guwahati and then hire a taxi. If driving on your own, you can Google Map navigate for Bansbari which is the entry gate to the park and follow the directions.
By Train
By train. The nearest train station is Barpeta Road Railway Station, which is only about 40km from the entry gate of the park. Most trains from Delhi, however, bypass Barpeta Road Railway station and stop only at Guwahati railway station. So you can either go to Guwahati and then take a bus or a train from there, or you can get off at Bongaigaon or Siliguri and take a local train from there.
By Road
Unfortunately, there are no direct buses from Guwahati to Manas National Park which leaves you to only one option if you want to travel by road, and that is taking a taxi. There are many local taxi services in Guwahati to take. Manas is about 150 km away from Guwahati which takes about 5 hours for any road journey. National Highway 27 adjoins Barpeta Road to Bansbari which is the entry point to the Park.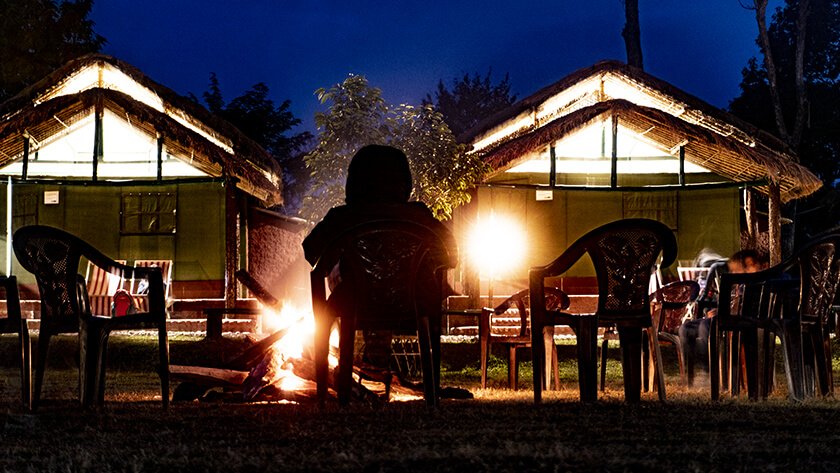 Where To Stay In Manas National Park
As I said above, I stayed at a place called Smiling Tuskers Elephant Camp and can certainly suggest the same place. The place has adopted two elephants whom you can play with or go for a walk (of course, a mahout accompanies you). You can even help in bathing or feeing them. For families visiting Mana, Smiling Tuskers is a great place to stay. The camp is moreover located only a few km away from the entry gate of the national park which makes it easy to wake up and access real early in the morning.
The have Non AC tents with attached washrooms. All meals included in the INR 3500 Rupees per night tariff (please check online for the updated price though). They also organise activities like elephant ride and jeep safari.
Other than Smiling Tusker Elephant Camp, other places to stay near Manas National Park include Birina Tourist Lodge, Sikhiri Cottages and Musa Jungle Retreat, among others.
What Is The Best Time To Visit Manas National Park
Since the park remains closed to visitors from June to September there is no point in visiting during that time. As most wildlife centuries across India, the national park remains open during the fall, winter and spring months only.
Speaking of how many days to stay there, however, a 3D/3N stay is enough to enjoy a relaxing holiday and spot some wildlife. Spend one full-day for jeep safari (or half-day jeep and half-day elephant safari) and enjoy the evenings for leisure.
If you are staying at Smiling Tuskers (I am sure other places organise it too) you can also book a cultural show or a local dance performance. Some people also try river rafting in manas river, which is a major tributary of Brahmaputra.
Other Popular Tourist Activities
Other than Jeep safari and elephant safari and spotting more than 20 endangered species of birds and animals there are few other things you can do in Manas National Park. This includes…
River Rafting
Since the park premise includes a major tributary of Brahmaputra river it is also possible to river raft. The total length of the river rafting is about 40km making it a lovely experience. What else makes the experience lovely, and equally memorable, is the ide of rafting on the deep azure waters inside a real national park.
Tea Plantation Visit
The sanctuary is also home to many tea gardens that you can explore. If you happen to stay in Smiling Tuskers, you can find a tea garden right next to the property. If, however, you are staying at someplace else, visit the popular Fatemabad Tea Estate located next to Bansbari Lodge.
Exploring Local Bodo Villages
There are also many local Bodo villages in Manas area to explore, other than exploring the picturesque landscapes all around. So if you happen to own a car or something, just drive around and enjoy the beauty of Bodoland.
If you are visiting Bodoland during the new year, don't miss the annual fest of Dwijing Festival.
And now, here's an All Drone Shots video of the national park and other places in Bodoland I released on my youtube channel:
If you found this blog on Manas National Park useful, or have something to add, please share it in the comments below!
Disclaimer: I visited Bodoland on a media trip organised every year to bring travel journalists and bloggers to Bodoland. Though my trip was sponsored, all suggestions and recommendations are solely mines. I only recommend what I personally try and find worth appreciating. Read more about the trip and stories by other bloggers on the official website here: Bodoland Ambassadors.
Some of the pictures used in the article belong to Jimmy Kamballur, who was the official photographer of Bodoland Ambassadors Season 2. You can get in touch with him on Instagram.