Visiting Bodoland in Assam? Read This Bodoland Travel Guide and get answers to all your questions!
Exploring offbeat places remains my biggest fascination. And when those destinations are rich in culture, history and natural beauty too, things become even more interesting. Bodoland, for me, was one such place.
I happened to visit Bodoland to attend a 12-day cultural fest called Dwijing Festival. Other than the festival, visiting a couple of wildlife sanctuaries and a few local villages, was on agenda. All in all, the trip was a good introduction to the lives of indigenous communities in Bodoland, Assam. Here's more on My First Impression of Bodoland.
And out of my nearly 5-day trip (three days at Dwijing Festival and two days at Manas National Park) here's what I recommend you see and do in Bodoland, Assam…
What To See And Do In Bodoland, Assam
Dwijing Festival, Bongaigaon
Dwijing Festival is an annual river festival celebrated for 12 days (from 27 December to 7 January) on the banks of the Aie River near the Hagrama Bridge in Bongaigaon. The idea of the festival is to give an introduction to Bodoland and bring all its unique colors and stories into one place.
The festival acts as a wonderful platform for those who want to know a bit about Bodoland but are not sure where to start.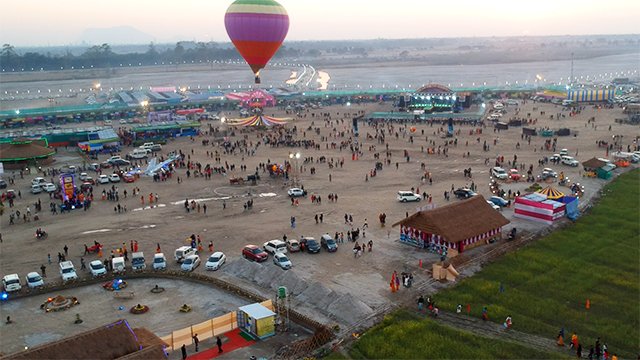 Think of the Hornbill Festival in Nagaland, that's what Dwijing Festival is for Bodoland, in Assam.
At the festival ground, expect cultural dance/music performances, local games, adventure activities, art exhibitions, and a lot of food. To make it even more interesting, celebrities like Mika & Vishal Shekhar are also invited every year.
All in all, Dwijing Festival acts as a stage to introduce Bodoland and mark its presence on the world map. The vibes of the festival are alluring. It acts as a venue to bring local Bodos and tourists together in one place.
In 2019-2020 (27 Dec to 7 Jan) Dwijing Festival ran its fourth edition. If you're wondering what to see in Bodoland in Assam, and Dwijing Festival is happening, you should not miss it.
From Guwahati, the site of the Dwijing Festival is located some four hours' drive away. Read more, here: Dwijing Festival.
Manas National Park
Located in the Himalayan foothills, Manas is a UNESCO Natural World Heritage site, a tiger/elephant reserve and a biosphere reserve.
By definition, Manas National Park is among the highest population density areas for one-horned rhinoceros in the world (with Pobitora wildlife sanctuary, in Assam, leading the title) almost guaranteeing a sure-shot sight of a rhino to those visiting the park.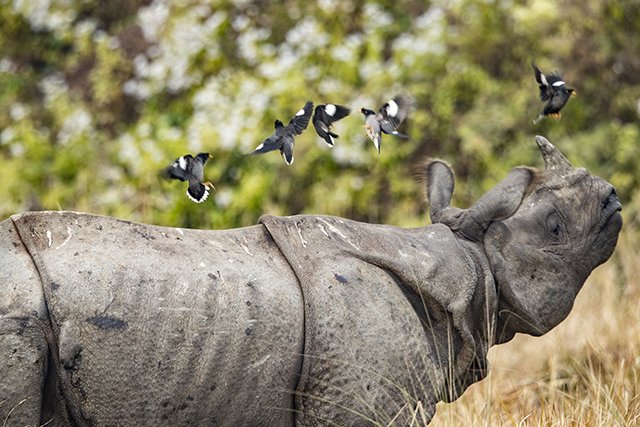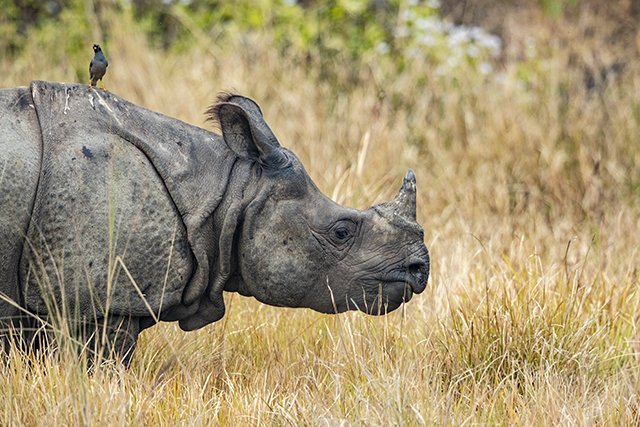 Other than rhinos and tigers, Manas National Park is known for its rare and endangered wildlife, including the wild water buffalo, the golden langur monkey, the Assam roofed turtle, the pygmy hog, and the hispid hare. In total, Manas provides habitat for 22 of India's most endangered species of mammals.
It is possible to do a jeep safari, or an elephant-back ride and explore the park. We did both!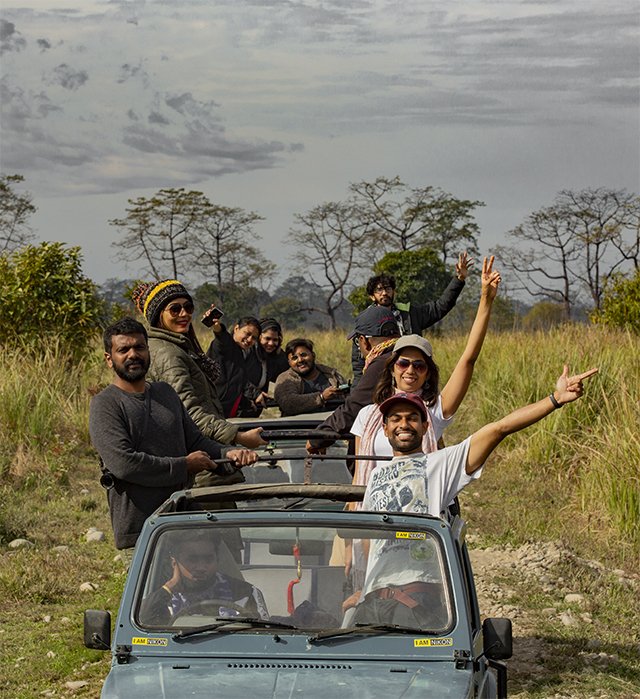 Manas National Park extends itself into Bhutan where it is known as the Royal Manas National Park.
There are a few places to stay near Manas National Park, and we happened to stay at Smiling Tusker Elephant Camp. It's called an Elephant Camp because they have adopted two orphan elephants named Jaymala and Ratnamala. It is possible to feed and walk with the elephants along with the tea gardens.
You can even watch and help the mahouts bathe the elephants in a stream nearby.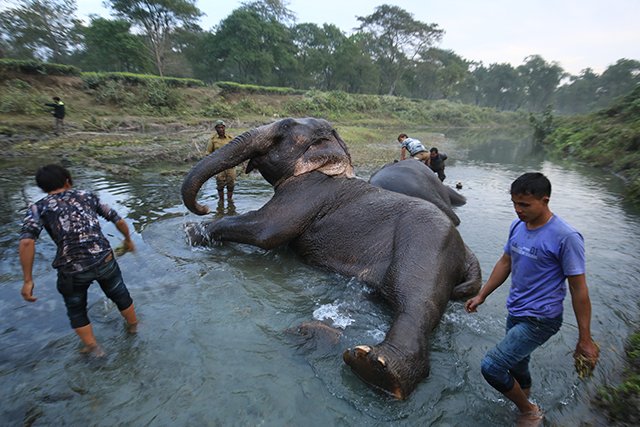 From Guwahati, Manas National Park is located nearly three hours' drive away.
Kalamati
An extension of Manas National Park in the west, Kalamati is named after its black soil content. It is at this point that wild animals come to lick the salty black soil of Kalamati Hills, and that's why the name 'Kalamati'.
Kalamati literally translates to BLACK SOIL (black for 'kala' and Soil for 'mati'). But it's not the black soil that's the motivating part to visit this place.
The motivating part is, however, the landscape – a white riverbed, a silently flowing river Kanamakra and an extended landscape that marks the beginning of the foothills of Bhutan.
It is at Kalamati that the Kanamakra River divides India and Bhutan. Cross the river and you literally step onto Bhutanese land. But be advised that it's not legally allowed.
For anyone visiting Bodoland, and particularly the Dwijing festival, Kalamati makes for a great destination to enjoy a peaceful and open landscape and see Bhutan from a not-very-common entry point.
If you will Google search for Kalamati, you will possibly be redirected to some other location, so here's a pinned location to make it easy for you to locate Kalamati: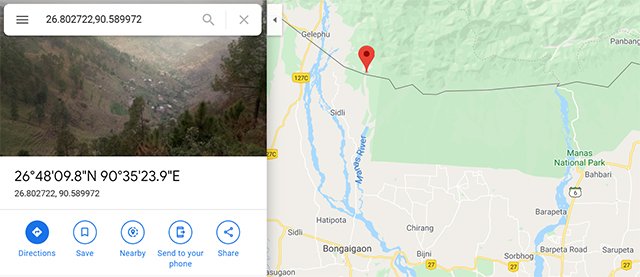 To get to Kalamati, you will need to have your own vehicle, with prior permission from Forest Range Office Amteka Range, Koila-Moila. The entry point for Kalamati starts from Koila-Moila Bazar.
Visiting A Bodo Village
The highlight of my entire time in Bodoland remains the Bodo village of Nangdorbari.
To have a similar experience, you don't need to find Nangdorbari but any village in Bodoland will do. And that's for a simple reason – the people!
People in Bodoland are kind and welcoming. Talk to them, laugh with them, or get some selfies clicked, you will certainly enjoy the interaction. Since tourists in Bodoland are rare, it is possible that people may appear a bit reluctant to your presence, but that will be out of pure shyness.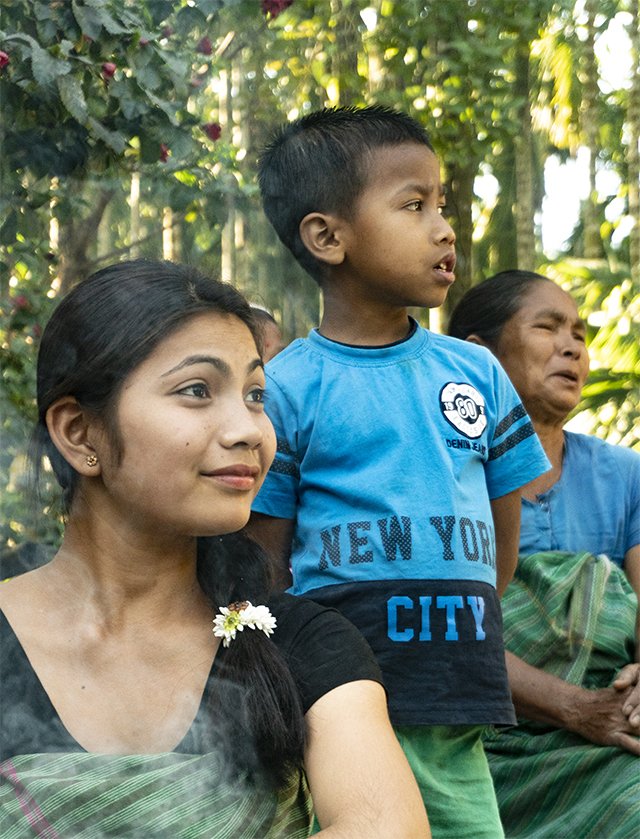 During our trip, we visited a few villages around Bodoland and wherever we went, it wasn't just the host family meeting us (or let's be honest with the word 'SEEING' us) but the entire village… giving an experience that is rare to find nowadays.
It is possible to venture into anyone's house in Bodoland (with a smile) and explore their day-to-day life. In Nangdorbari, for example, other than tasting local food, which included things I can never explain, other than a very basic composition they're made of, we explored local fishing and weaving techniques.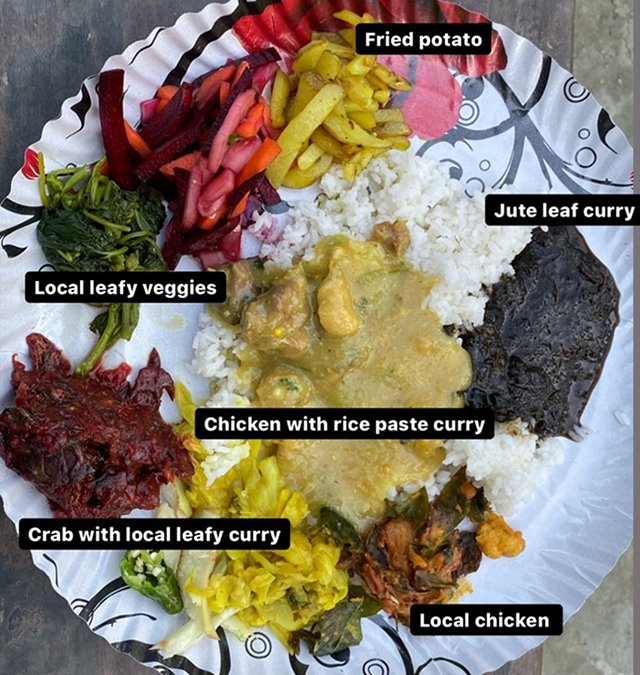 Since life in Bodo villages revolves around basic livelihood, most families can be seen weaving, fishing, and busy in their fields.
If you are looking for more pictures of food and village life, check my Bodoland Pictures article.
Bodoland, Assam: A New Destination In Making
For most Indian travellers, Northeast India remains a mystery. Anything beyond Shillong, Gangtok, and Guwahati makes most of us doubt our plan. How to go there? Where to stay? Would it be safe to travel? Do they even speak our language? People have all kind of doubts.
Under such affairs, if someone introduces a region that is fairly unknown (even to an intrepid like me, forget seasonal travellers) things become even more complicated. And Bodoland, in Assam, is one such region.
Before my visit to Bodoland, which happened in December 2019, I had no idea about its existence either. Though I knew that Manas National Park and Pobitora Wildlife Sanctuary as two different destinations, I didn't know they're a part of Bodoland – a new and upcoming tourist destination in Assam.
At this stage tourism in Bodoland is at its very early stage of tourism – something how tourism in popular places in Meghalaya might have been some 5 years ago.
During my Media Trip To Bodoland, I found that Assam tourism and local NGOs like Rootbridge Foundation are working together to develop and publicize tourism in Bodoland. Since tourism can create a positive impact on society — by creating more rural livelihood and employment — their presence is crucial. It moreover ensures the conservation of the traditional culture and natural resources in the area.
So yea, you may not find the best of the infrastructure and comfy hotel rooms everywhere in Bodoland. But that's not what travelling in Northeast India is all about, anyway.
And speaking of the safety, be rest assured that Bodoland is as safe as Goa or someplace else!
Disclaimer: I visited Bodoland on a media trip organised every year to bring travel journalists and bloggers to Bodoland. Though my trip was sponsored, all suggestions and recommendations are solely mines. I only recommend what I personally try and find worth appreciating. Read more about it on their website: Bodoland Ambassadors.
Some of the pictures used in the article belong to Jimmy Kamballur. He was the official photographer of Bodoland Ambassadors Season 2. You can get in touch with him on Instagram.