I carefully chose to spend a bigger portion of my time in Goa on a three-kilometre stretch of sand known as Agonda Beach. And Sonho do Mar, which offers cosy beach huts became my home for almost a fortnight.
Compared to a few other beaches in the south, Agonda beach turned out to be a little touristy. It looked more like an island in Bali than it did a part of India, with a majority of Western Europeans claiming the beach. It housed a diverse mix of tourists – independent travellers, elderly couples and families – which, I think, helped create a pleasant atmosphere. It was certainly not a wild party place but was certainly not a boring, nothing-to-do destination either.
What made it even more perfect was the fact that the kind of tourists that visited Agonda beach were not interested in moon beach raves, and late night parties. During my entire time at Agonda beach, the beach went amazingly quiet right after midnight. I could hear sea waves the entire night, just as clearly as the chirping of birds, before sunrise.
[Recommended Read: How To Choose A Perfect Beach In Goa For Your Holiday]
Unlike the dead quiet beaches of Cola and Kakolem that are more suitable for honeymoon couples, Agonda beach seemed ideal for any type of traveller – except for those who want to party all night and get dirty.
Accommodation At Agonda Beach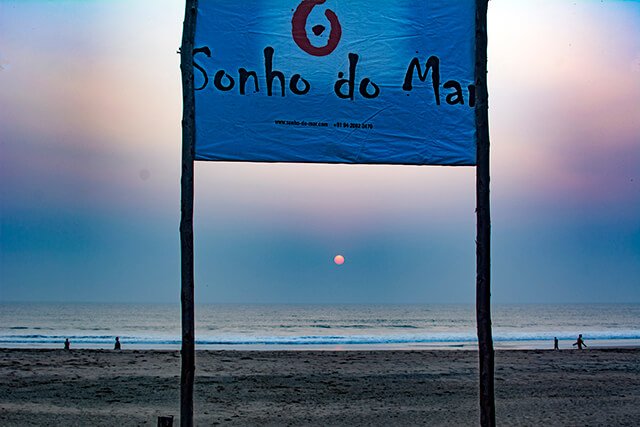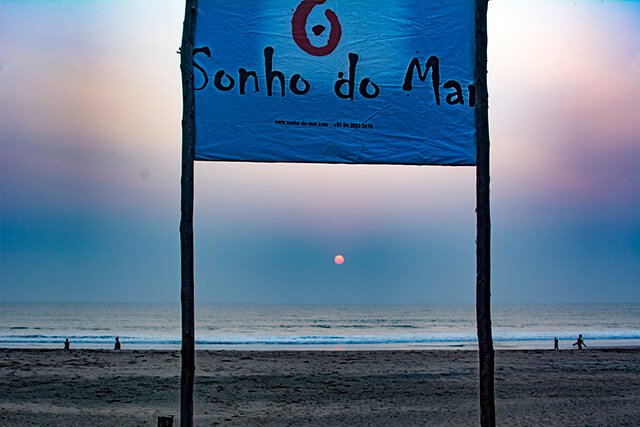 I found Agonda relatively inexpensive, something that surprised me, considering its beautiful beach, the time of year I was travelling, and a large number of vacationers who visit south Goa.
I rented a basic hut right on the beach, at Sonho do Mar, with an attached bathroom, a nice and cozy bed and plenty of room to move around. As soon as I left the hut and walked down a few steps, I was right on the beach. About 10 steps from my bed and I could already feel the sea waves over my feet. From the balcony, there was a clear view of the Arabian Sea, at all times.
The hut cost 2000 Rupees per night and you share it with one person and the cost comes down to 1000 Rupees per head – not a poor bargain, for a place that was located right over one of the most serene beaches in Goa. And if it still feels expensive, you can stay in Agonda for something much cheaper – a guest house perhaps. A standard room, right next to the beach can cost you around 1100 Rupees – again, split it between two, and you won't be disappointed. I even met a traveller who was staying in a simple, clean room in a small house, with his own bathroom, for only 700 rupees per night. Though he wasn't staying in one of the beach-side huts, he was still about only a two-minute walk from the beach.
Where To Eat At Agonda Beach
As for food, I must admit that it took me a few days to find the inexpensive options and at first, I thought that I was going to spend a lot of money on meals. The dozens of restaurants that line the beach were definitely expensive by my standard, with meals costing about 200 – 500 Rupees.
But it turned out that there are a couple of cheaper places on the main Bazaar road, such as Little Plaintain South Indian Restaurant and On The Way Café, that offered great food – starting as low as 80 Rupees for a Fish Thali. Expect to pay between 100 and 150 Rupees for something fancier. If you go out of Agonda beach, you should well be able to find places that serve more traditional and pathetically cheaper tradition Goan food. There you can even get your hands on a cheap 20 Rupees Vada-Pav and 10 Rupees milk tea.
My Daily Routine At Agonda Beach
During my entire 12-day stay I repeated a daily ritual of waking up at 9 in the morning and then walking down a few meters down the main bazaar, to eat a cheaper breakfast. Then I'd head back to my place, take a morning swim in the beach for an hour to 45 minutes. Once done, I'd take the scooter out, which I'd rented on a bargain of 250 Rupees per day, and explore the nearby beaches.
I'd eat my lunch and late evening snacks somewhere on the way, before coming back to Agonda beach for dinner. I'd enjoy a drink or two with other travellers in one of the beach bars near my hut or at my own place Sonho do Mar – which would cost me 90-120 Rupees for a bottle of beer.
Travellers Tip
I think South Goa is all about having a relaxing time by the beach. And if the idea is experiencing Goa on a super-cheap budget, I'd not suggest you come to south Goa at first place. But if you're travelling with another person, and can afford between 1500 to 2000 Rupees per day (including everything) – which should not be a problem for a few days of holiday in Goa – skip the crowds of the north and head straight to south. Here are a few things I'd particularly advice, for a better experience:
Stay at a beach hut: I'd recommend staying at one of the many beach-huts, to get a real holiday-in-Goa experience. You would also not find many of these in North Goa. The sound of the ocean you get to hear, during the night, makes it all worth it.
Save on food: If you're eating all your meals at your beach hut or one of the restaurants located on the beach, it can consume a significant portion of your budget. So be smart about it. Try to find places in the main bazaar that look less fancy. They will always have cheaper menus. Booze, on the other side, is relatively super cheap in Goa, irrespective of the place you're drinking.
Rent a scooter: Since Goa is massive in size, exploring it without having a conveyance at your disposal, is quite a tall order. So I advise renting a scooter, or a bicycle if you don't mind pedalling uphill. From Agonda beach, you can spend a day or two discovering other beaches lying in its south. This includes popular Palolem and Patnem. Other than that, spend an evening at Cola beach (this was, by far, the most romantic, but also very quiet, isolated, and sometimes boring – should you wish to stay here). Explore Cabo De Rama, a crumbling old fort and the many colourful villages and palm-fringed paddy fields on the way. A peaceful drive in the perfectly curved roads of South Goa is definitely a no miss.
Planning your trip to Goa better with my GOA TRAVEL GUIDE