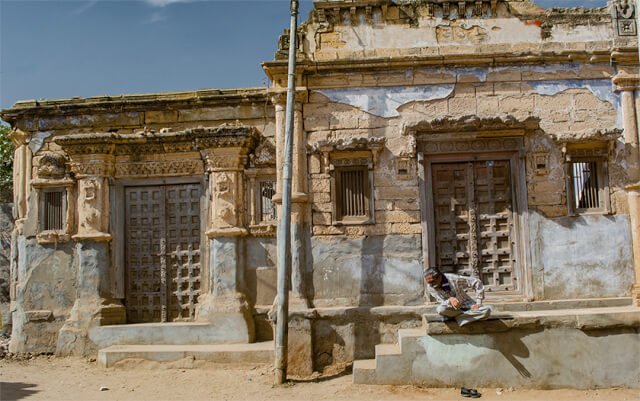 Kutch has always been known for its wealth of culture, handicrafts and artforms. It produces some of the world's most unusual textile products, as well as intricately crafted metal works. In the book, Kachchh: The Last Frontier, author Tejinder Singh sums it up well: "The intricate embroidery stems from the Kutchi lifestyle… One can see the influences of the Cretan stitch of Greece, surface interlacing stitches from Armenia and the French tambourine techniques. It is a reflection of their lifestyle… of camels, peacocks, parrots, flowers, trees and women churning milk. Each pattern tells a story."
So when you're on a holiday in Kutch, one thing that you really shouldn't miss is exploring a few local art forms. And the best way to do that is by visiting the villages. As you pass through various artisan villages of the indigenous tribes that inhabit the district of Kutch, you find a striking contradiction. But one needs days to explore them all, or perhaps weeks. So those with only a limited time in hand, can take a drive along the dusty road, and explore the humble village of Nirona.
Located around 40 km north of Bhuj, Nirona village is where you can find three very unique local art forms — one of which even made its way to The White House. Yes, I'm talking about the popular Rogan art, a legacy art form that has been taken forward, for the past 300 years, by the Khatri family of Nirona.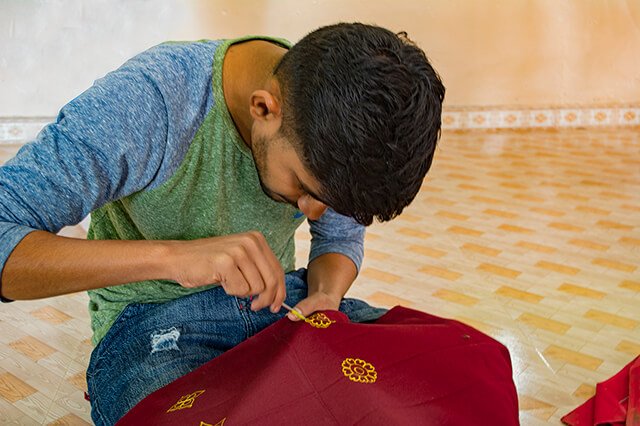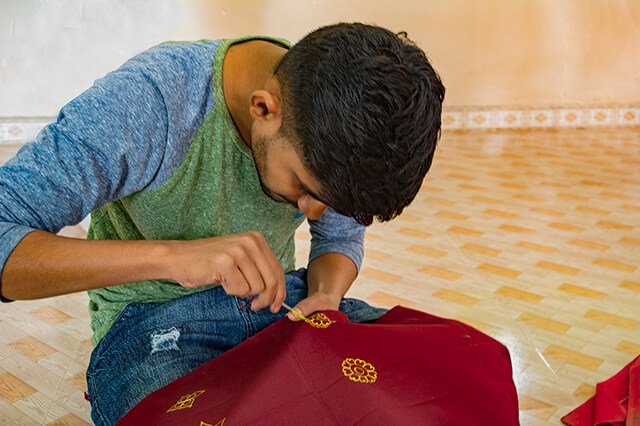 Resembling the characteristics of embroidery, Rogan art is when you paint on fabric using a thick brightly coloured castor seed oil (castor is commonly grown in the Kutch region of Gujarat). To prepare the paint, castor oil is heated for more than 12 hours till it catches fire. It is then mixed with cold water and vibrant color to give a thick residue called rogan. The artist then uses a six-inch thick-metal needle to paint with a fine thread of rogan on a piece of cloth. Even the simplest design takes days to complete.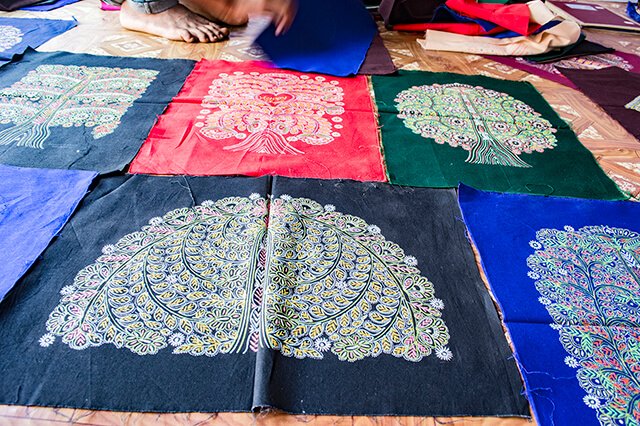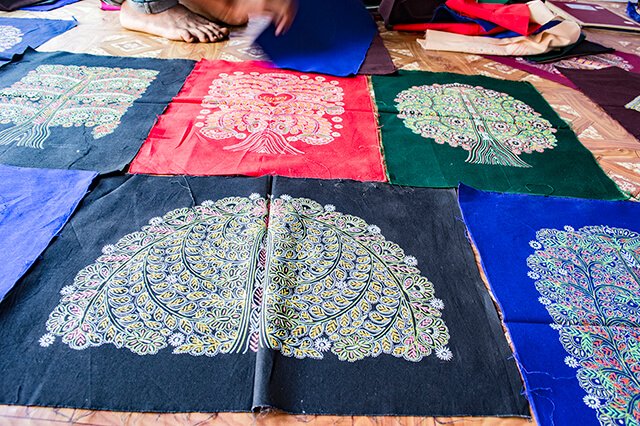 The Khatri family, in Nirona village, gives you a free demo, before showcasing a variety of different rogan fabrics, should you wish to make a purchase. Simply walk in or call them in advance to book an appointment, Khatri family welcomes all. You can call Abdulgafur D. Khatri at +91 98257 53955, or Jumma D. Khatri at +91 96013 24275.
Next in the list is The Luhars of Nirona, and their popular Copper Bell art. Preserving it for the last 10 or so generations, many families in Nirona get their livelihood totally out of this. Copper Bell art has mainly originated from Sindh, and even today many villages around the border area inside India and Pakistan make it.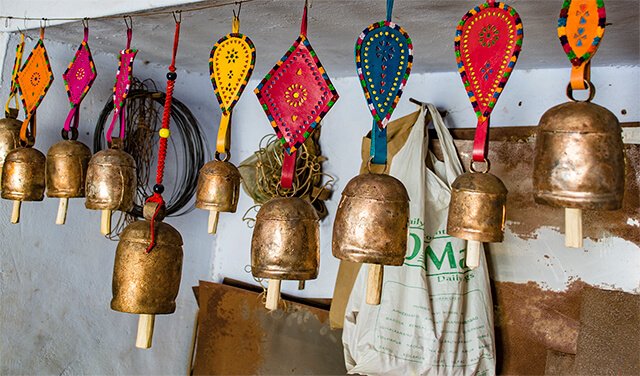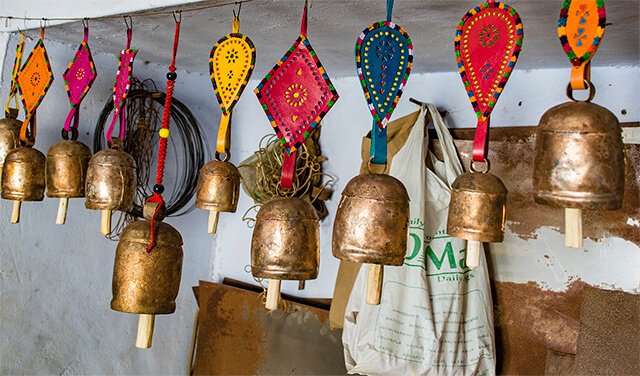 Just like Khatri family of rogan art, if you visit any Copper Bell artist in Nirona, he will show you how it was done. I ended up at Lohar Haji Saddiq's shop in Nirona and was given a small demo of making a bell from scratch right in front of my eyes. The ease and finesse with which his hammer moved created a musical masterpiece that uses no welding joints but a unique interlocking system was impressive.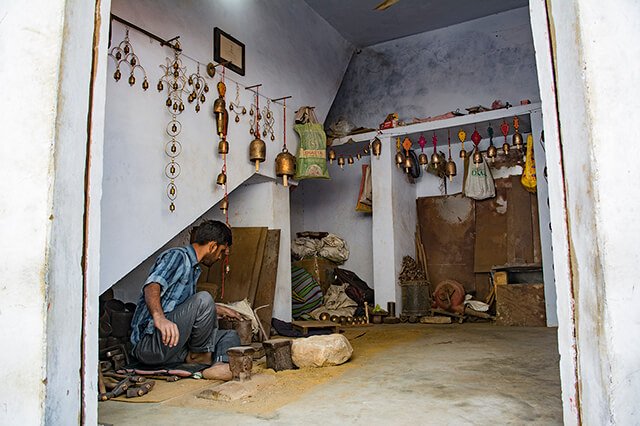 You can get in touch with the Luhars of Nirona at +91 97248 81026 and address the person as Ali Jaji Lohar. He will personally come to escort you to his workshop and even give you a demo.
Once done with Copper Bell, I moved to familiarize myself with the art of Lacquer. Practised by a semi-nomadic tribe called Wada, in the Banni area in and around the villages of Nirona and Bhirandiayara, Lacquer art turned out to be yet another distinction. I was told that the art and the tribe practising it is the original migrants from beyond Sindh, before partition.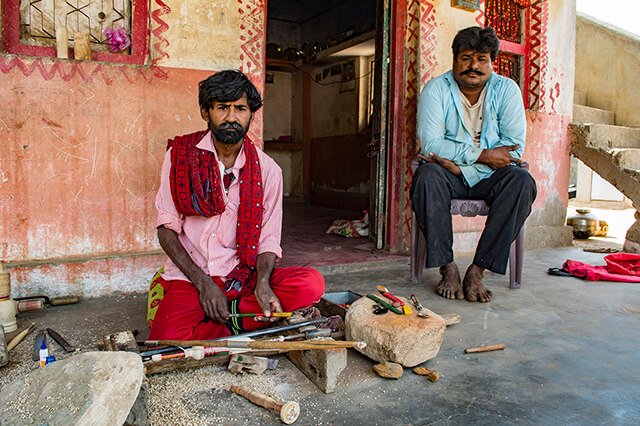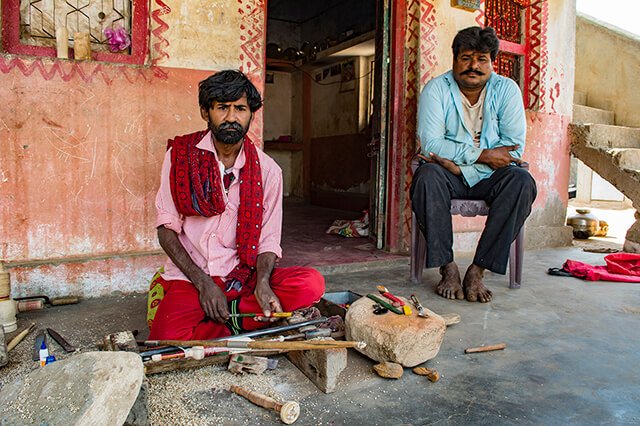 Obtained from the sap of the Rhus Tree which changes colour from white to brown upon exposure to air, Lacquer is a simple reflection of Zigzag patterns creating waves of colors mixing with one another and adorning simplest of the products like wooden spoons, bread rolling pins, containers, toys, utensils etc.
If the lacquer work starts to lose its sheen, just apply some oil on it and it will look as new.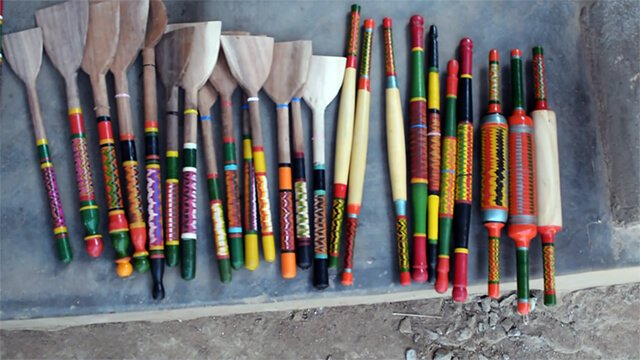 It's a shame that visiting the local villages of Kutchi art isn't on most people's travel list when visiting Kutch, but I totally recommend it. I mean the experience of shopping local art after seeing how it was done with all the effort and dedication put behind it simply takes the shopping experience to the next level. It moreover helps local people sustain and continue preparing such legacy art forms.
Update: I just found out that a few online retailers are selling the same sized copper bell that I bought from Nirona, at a whopping 650 Rupees. Whereas the amount I paid in Nirona was only 150 Rupees.
Further Reading: A Backpacker's Guide To Travel In Kutch | Why Kutch's Highlighted Rann Utsav Couldn't Intrigue Me