This 2-day Jakarta itinerary is all you need to travel there and make the most of your little time in Jakarta.
When it comes to the popular tourist destinations in Indonesia, Jakarta, despite being the capital city, holds no place — not even among the top 5 destinations in the country. (Search on Google and you won't find many blogs suggesting a Jakarta travel itinerary either).
But with most international flights first landing at Soekarno-Hatta Airport, many people, before making it to their original destination, end up in Jakarta.
So, if you too end up in Jakarta, and decided to travel around, follow this 2-Day Jakarta Itinerary. This short but interesting Jakarta travel itinerary will make you cover most of the popular tourist highlights.
Also, if you are travelling from India to Jakarta, you may be interested in reading my review of Cathay Pacific economy class. If, however, you are not an economy class flier, check this review of Singapore Airlines' business class experience. Though I have travelled with many international airlines from India to Southeast Asia, including Flyscoot, Air Asia, Malindo Air, and others, it is Cathay Pacific and Singapore Airlines that remain my favorites.
Now let's continue with our Jakarta travel itinerary blog and see what this popular Asia destination for Indians, has to offer…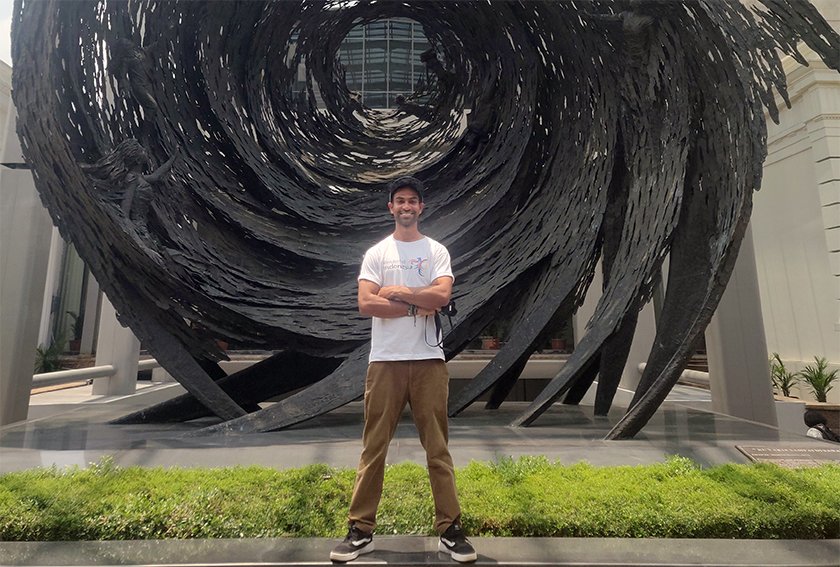 2-Day Jakarta Travel Itinerary
During my recent blog trip with Indonesia Tourism, I ended up following this Jakarta travel itinerary exploring the town for 4 days. And as I did, I realized that it was actually a beautiful place and had much more to offer than what most people expect. It is much more than a bustling metropolis. There are theme parks, temples, shopping malls, museums and even a cluster of gorgeous islands located just a one-hour speedboat ride away.
So out of many different experiences, these are a few handpicked ones I would recommend you fit into your Jakarta itinerary.
Note: I recommend you stay for at least 2 days and complete this Jakarta travel itinerary so that when you go back to your country you can tell your friends that you have seen a bit of the town and a part of the thousand islands. For a suggestion, Manhattan Hotel Jakarta is a great place to stay (we will speak about it later in the article).
Also Read: My First Impression Of Indonesia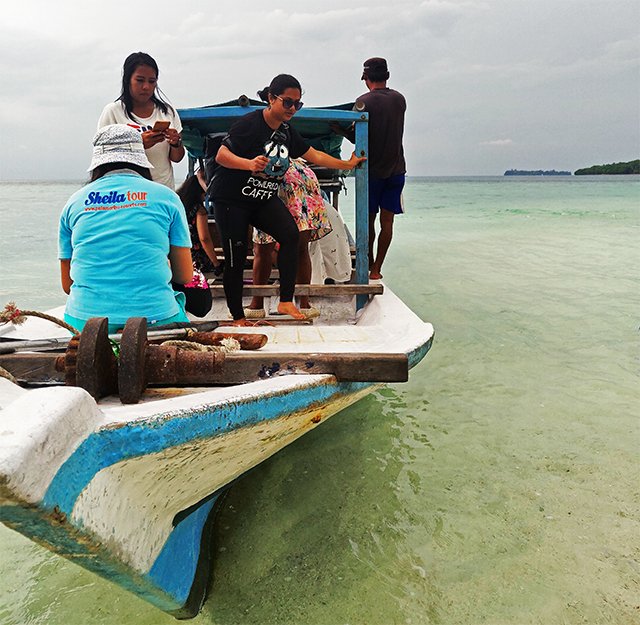 Day 1 Jakarta Itinerary
Spend The Entire Day At The Thousand Islands
I know it is only natural to feel tempted to explore the town as you arrive there and not escape from it, I always prefer a slow and relaxing first day in a new country, and that's what a trip to the islands can offer you: a moment to relax and unwind. So we start our Jakarta itinerary with an island visit.
For those who don't know, the Thousand Islands is basically a cluster of nearly 350 islands stretching 45 km north into the Java Sea.  Out of these nearly 350 islands, over 30 islands are privately owned, with many of them now having a resort (or building one) and catering to tourists. The rest of the islands are either uninhabited or being used for fishing.
Now, there are quite a few options in the Thousand Islands for a day trip from Jakarta (or for spending a night on the island there) but if I were to suggest a place, I can suggest the island of Pulau Macan. Privately owned, like other islands in the Thousand Islands, the Pulau Macan island is a tiny one-hectare island perfect for those who are looking for a quick escape.
For those who like a bit of movement, there is also enough to see and do on the island, including kayaking or a stand-up paddle-boarding; playing in-house games like table tennis or chess, or doing nothing but eating amazing tropical food and relaxing on hammock the entire day. It is also possible to get a snorkel and explore some amazing coral life located no more than 20 feet from the island.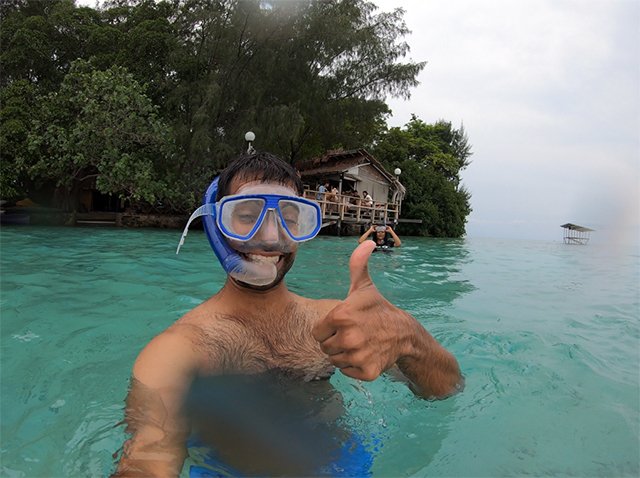 It is also possible to spend a night on the island or do a day trip, and since you're short on time, I suggest a day trip to Pulau Macan.
To get to Pulau Macan, get to Ancol Marina from Pier number 17 at around 8 in the morning and you can book a speedboat right then and there. Alternatively, book a speedboat or a bigger Yacht online. The journey to Pulau Macan takes between 1.5 to 2 hours on one side as you sail through most of the Thousand Islands region.
If you book through an agent, as we did (with Sheila Tours) you get a return boat journey, a few snacks on the boat, a buffet lunch at the island and free use of the kayak and snorkel, which I found was a pretty good deal for a price of 1,000,000 Indonesian Rupiah per person (nearly USD 70) on weekends, and a little less during weekdays.
Enjoy some amazing home-cooked meals of rice, seafood, vegetables, and fruits and spend most of the time of the day relaxing and exploring the island life in Indonesia before you head back to Jakarta. Once you are back, make your day evening special with some seafood at Jimbaran restaurant in Ancol.
Dinner At Jimbaran Restaurant In Ancol
Though for a vegetarian and the usual meat-eaters, Jimbaran is not much of a place of interest, if you're a seafood lover, you are going to love the place. But personally speaking, it wasn't the seafood or any other delicacy that I loved Jimbaran so much, but the ambience.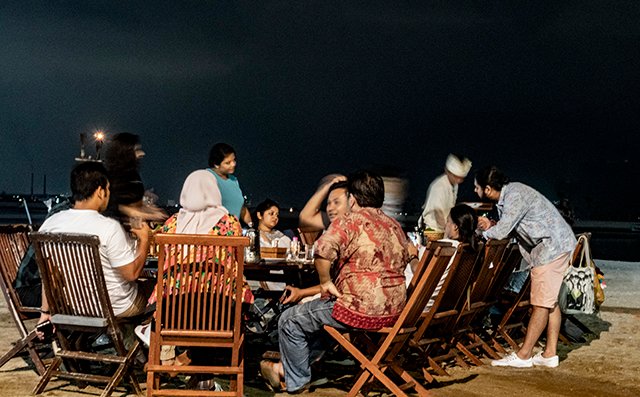 Think of it as a superb dining experience while watching the sunset on a white sandy beach. Jimbaran is one of the rare places in Indonesia (and they have a restaurant in Bali too) which provides you with this wonderful opportunity.
What makes the experience better is some music and traditional live performances.
Day 2 Jakarta Itinerary
Start With A Tour Of National Museum
Despite not being a big fan of museums, I personally feel that museums are an important places to visit because they help us understand a country's history and people better. And that's why I suggest visiting the National Museum of Indonesia. Filled with sculptures and reminisces of Hinduism and Buddhism, the museum gives an in-depth introduction to Indonesia's true past.
Unlike other museums, the National Museum of Jakarta appeared fairly small and it was possible to scan thoroughly in just a couple of hours. But despite its size, the museum held an impressive collection of stone Hindu-Buddhist artwork, ancient gold artefacts, some ancient ceramics and even a selection of fossils and ceremonial weaponry. To gain a good insight into Indonesia's past, there is no finer place to visit.
Next Up, The Neighbourhood Of Kota Tua
I know it may sound a little unreal, but the sprawling metropolis of Jakarta — which is home to nearly 30 million people today — was once only confined to the tiny boundaries of Kota Tua. Yes, I am talking about the time of the Dutch rule in Indonesia, or the time of Batavia. So Kota Tua may just be a historical center of today's sprawling Jakarta, but back in the day, it was the original Jakarta.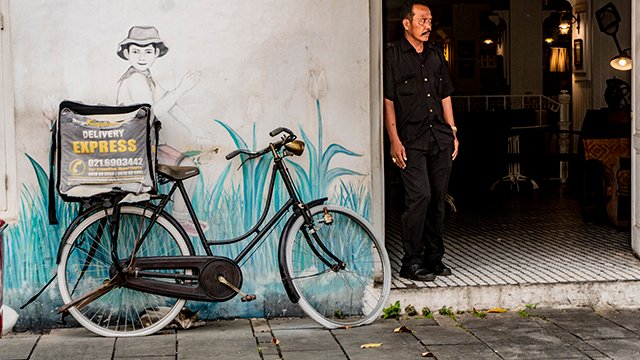 When you're walking around the streets in Kota Tua, you will be taken back in time, quite literally — with old Dutch-style buildings and newly restored museums looking all fancy and vibrant. It's possible to spend a day in Kota Tua and not get bored, however, those who are short on time should be able to explore it all and get a few Instagram-worthy pictures in an hour or two.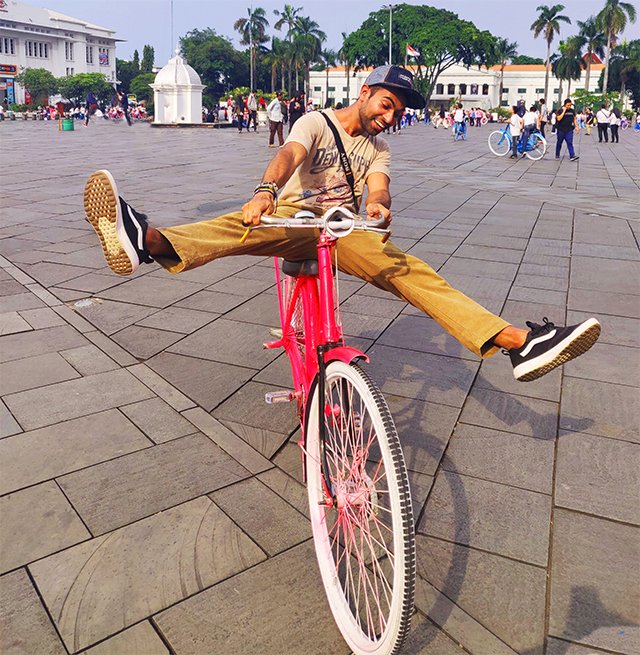 The brightest attraction on the square is going to be those pink and yellow old-school bikes that are available to rent and cruise around the central square.
Lunch At Cafe Batavia
Once done with exploring Kota Tua, head to the iconic Cafe Batavia, which is no less a historic highlight. Housed in an 1830s building, this two-storeyed resto-bar offers a colonial ambience complemented with original-dutch East Indian cuisine. So when you're in Jakarta, and Kota Tua in particular, lunch at Cafe Batavia is a must.
Again, as an uninterested foodie, I will not talk much about the food, but the ambience. With its tall slatted windows and period colonial-style furniture, Cafe Batavia will certainly carry you back to the splendour of colonial days.
Once done, and if you've some more time to spare, visit the Jakarta History Museum located right across from Cafe Batavia. Built in the 17th century as the Town hall in the Dutch VOC colonial era, the History of Jakarta Museum is a place where you can observe artefacts found when Jakarta was still called Sunda Kelapa, also the agreement in stone between the Kingdom of Sunda with the Portuguese.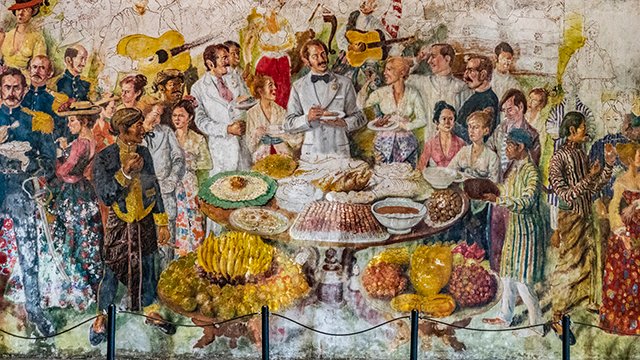 A quick stroll inside the museum and exploring painted is totally worth it.
Next Up, Shopping At Thamrin City Trade Mall
You visit Southeast Asia and not the street shop… Not possible! Though as the name suggests, Thamrin City Trade Mall is not an open street market but a massive brick-and-mortar setup, the idea is similar to any street/canopy market where local cheap products are available in abundance and you need to spot what you fancy and later bargain.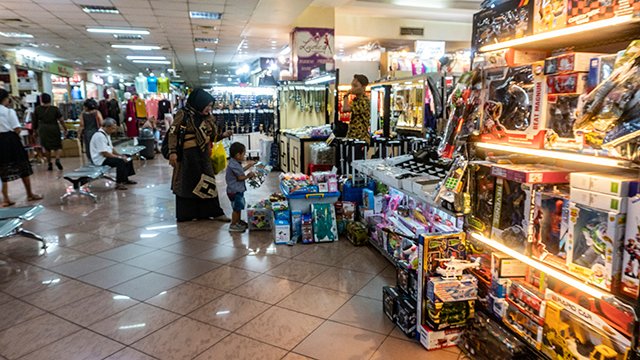 The entire place is overwhelmingly massive, with everything, from clothes to electronics to food on display. Thamrin City Mall is also well-known for selling a lot of local products, particularly Batik clothes, at reasonable rates.
You will certainly need at least two hours to explore (just a tiny bit of) the place.
Dinner At Social House, Grand Indonesia
From the outside, Social House may not look like much, but walk in and you'll find the entire locale pretty photogenic and of course, social! For some reason, it reminded me of those cool cafes we have in Europe where people would come for a casual and some fine dining experience at the same time.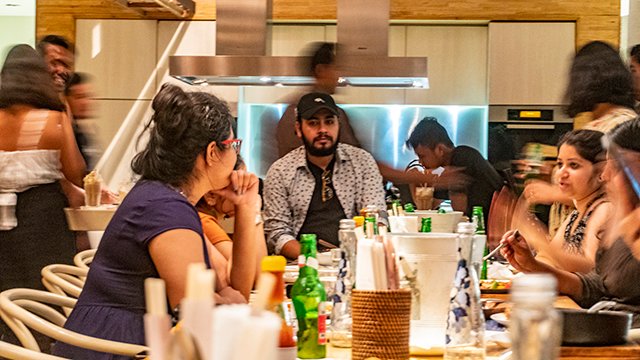 If you're looking for a cosy and comfortable place for a family or friends gathering, there cannot be a better place. Their all-day menu serves extensive options of Asian and Western favorites, including sushi, pizza, pasta, tapas, and Wagyu beef burger.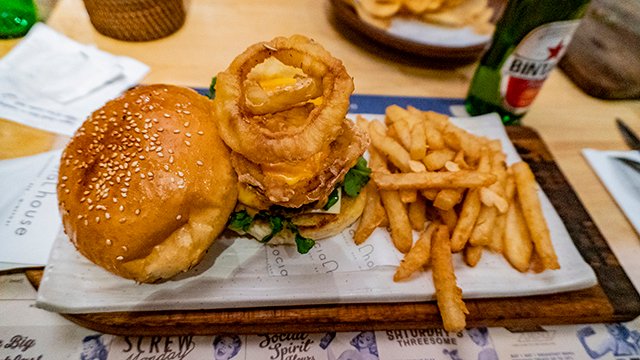 For drinks to go with your meal, there is a good selection of cocktails, wine and a selection of beers!
Where To Stay: Manhattan Hotel Jakarta
Of course, just like any popular expat city in Southeast Asia Jakarta too has no dearth of accommodation options. From backpacker hostels to something more sophisticated, one can find it all here. But if I were to suggest a place from my experience, I can certainly vouch for the Manhattan Hotel Jakarta. This is where I stayed throughout my time in the city.
Speaking of my room, which didn't qualify as one of the superior rooms they had, was clean, tidy and equipped with the standard furniture and amenity, including a bathtub with a view.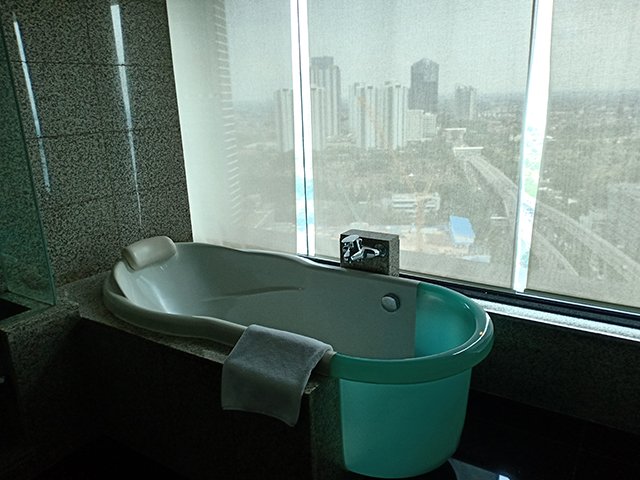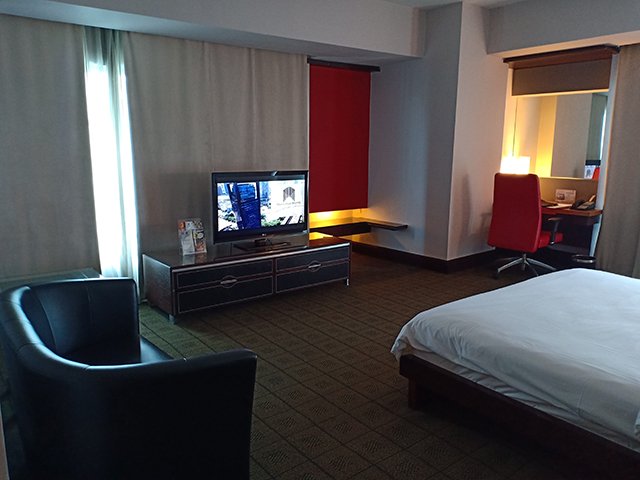 Speaking of the facilities offered by Manhattan Hotel Jakarta, guests can use a gym, swimming pool, sauna and steam all for free.
The hotel also serves a great buffet breakfast including an array of food, dessert, and fruits. But one thing I loved about the hotel the most was its strategic location. Located just next to Kuningan City Mall, the location of Manhattan Hotel, without any doubt, felt like living right in the middle of the city.
Have you been to Jakarta? Do you have anything to add to this Jakarta travel itinerary?
---
Disclaimer: I visited Indonesia on a blog trip with Indonesia Tourism and Malindo Air. While my trip and experiences were sponsored by them, all recommendations provided above are solely mine. I only recommend what I personally try, and find worth appreciating.