Sitting at the patio of the Sunset Beach Hut, a sustainably built eco-resort in Pulau Macan Island, that I first realized there's more to Indonesia than I ever knew. Here, only the distant sound of the ocean's gentle waves kept me company, blissfully far from the honeymooners and sunbathers who often flock to Indonesia. It had been only a few minutes that I had started reading the book (about life on the Indonesian Islands) and I was already being pulled away from the world, into sweet oblivion. Soothing Gamelan music coming from a distance from a recorded tape was moreover adding to the charm. "Life here is good," said a voice inside me, yet, sadly, it won't be long that I will already be bidding farewell to Pulau Macan, that, with every passing moment, appeared less like a usual island to me and more like an exception —  a place, where heaven meets the earth!
I remember the moment I stepped on Pulau Macan island I knew that my first blog on Indonesia is going to be on Pulau Macan. And no, the idea wasn't to add it in one of those 'Top Places To See In Indonesia' listicles that I've recently started doing on my blog, but a full-fledged dedicated story talking about more things from the island than one can find on a day trip.
So before we move forward, let me tell you that we stayed on Pulau Macan island for only about 5 hours as we did a day trip from Jakarta. The journey took less than 2 hours from the mainland to the island, on a Yacht, which, nonetheless, was a treat to the eyes — with the sea periodically changing its shade from an impressive blue to a magical green. Occasional islands also kept appearing at a distance.
It is also possible to spend a few nights in one of the many private sea huts on the island (it has a total occupancy of over 40 guests at any given time) and that's what I will recommend. But even if not, a day-trip to Pulau Macan from Jakarta is totally worth it, and may just end up being your highlights in Indonesia as it happened to be mine.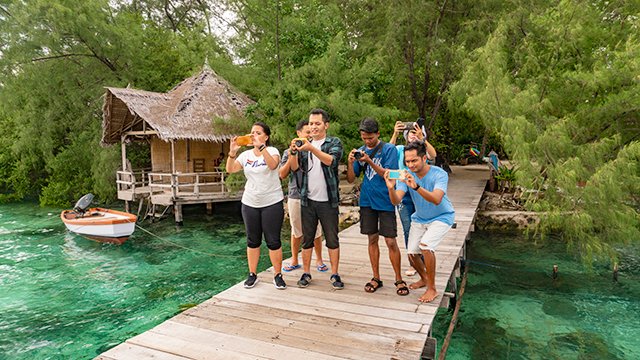 Pulau Macan Island: An Introduction
Located within the thousand island cluster on the north coast of Jakarta, Pulau Macan, just like most of the islands within the thousand islands, is privately owned. And its owner owns two islands — one, where the beach huts, the restaurant and everything else of daily need are located (the one is known as Pulau Macan) and the other with no construction and no life (fondly known as the 'little island). Please note that Pilau Macan Island is also known as the Tiger Island.
Where Pulau Macan offers an ideal escape from the bustling Jakarta metropolis, while still not being totally detached from civilization, as you find a few other people working (and holidaying) on the island, the little island, on the other side, is a deserted piece of land with no life around. It's possible to walk between the two islands (or take an in-house boat) as both are connected with in-land (walkable) sea, though I didn't walk it as I was short in time and had other things of priority —  clicking crazy pictures for my Instagram.
Also Read: Why I Loved Indonesia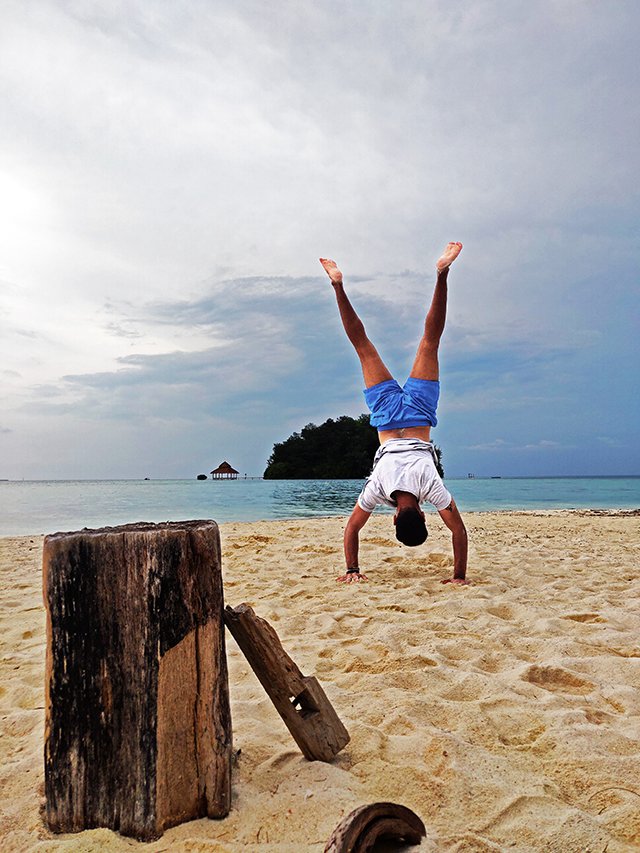 In the picture: Doing the handstand at the little island, with Pulau Macan in the background
Things To Do At Pulau Macan
For a person like me, Pulau Macan offers an ideal escape from life, a place that offers enough cozy corners to relax, unwind and just be!
For an intrepid, however, the island offers more than one can imagine. One can hire a touring kayak or a stand-up paddle-board; play in-house games like table tennis, chess or volleyball; or do nothing but eat amazing tropical food and relax on a hammock the entire day. It is also possible to borrow a snorkel and explore some amazing coral life located no more than 20 feet from the island (just be careful of stepping on a puffer-fish as there're quite a few).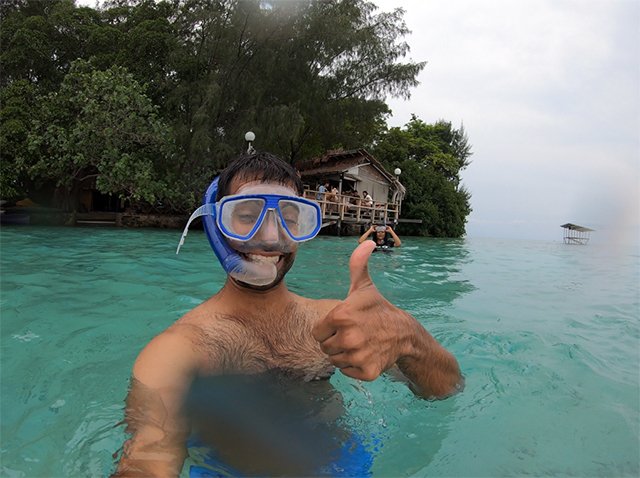 Those who are into a more serious adventure will be happy to know that the island even organizes scuba diving for its guests.
What To Expect If You're Staying At Pulau Macan
Pulau Macan (as I was told) is the only self-sufficient environment-friendly resort in the entire thousand island clutter — meaning, you won't be treated with luxury when you're there. But then again, in a place like that, that's surrounded with nothing but fresh air and unworldly views, you anyway do not need an aircon or other things to keep you entertained.
There is electricity available on the island, however only in the evening or in the daytime by request. From the solar-powered energy, rainwater showers and a firm belief of using limited resources, the resort certainly stays true to its philosophy of eco-tourism.
They serve an amazing home-cooked meal of rice, seafood, vegetables and fruits on both lunch and dinner buffet; meanwhile, things like bread and jam and Nutella are available the whole day free of charge. Coffee and tea lovers' area also kept equally entertained throughout the day. The island even has a small in-house bar that maintains a supply of fresh coconuts, superfood smoothies, beers, wines, spirits, and cocktails.
They have a total of 6 different sea huts and 5 eco-cabins, all costing between USD 150 to USD 250 per person per night.
It is wonderful to see how all the cabins and huts are built facing straight to the crystal clear water, offering some of the most breathtaking sunset views ever, straight from your bed. The rooms barely have walls and, doors but it's possible to roll the bamboo curtain down to cover the room (but why would you even want to do that?)
Jakarta To Pulau Macan
Since we were a big group, we had our own private Yacht (booked by a company called Sheila Tour). But if you're on your own, there are daily boats that leave to Pulau Macan and to other islands in the thousand islands area. The standard departure point for most islands is at the Ancol Marina from Pier number 17. The boats stop at Pulau Macan and a few other islands on the way and the trip takes 1.5-2.5 hours depending on the number of stops.
The daily departure time from Marina's in Jakarta is around 8 o'clock in the morning, while the departure from the island back to Jakarta is around 2 pm. Boat services often don't leave after 4 pm because of high tides, and with it, increasing safety issues.
Also Read: My 2 Days Jakarta Travel Itinerary
---
Disclaimer: I visited Pulau Macan and Indonesia on a blog trip with Indonesia Tourism and Malindo Air. While my trip and experiences were sponsored by them, all recommendations provided above are solely mine. I only recommend what I personally try, and find worth appreciating.