Flying with Flyscoot? Wondering how good are they? Read my India to Gold Coast Scoot Airlines experience, and find out. But before you do that, I want to tell you that I was invited by the airlines to experience them and do a review (positive or negative, regardless!). So here we go…
Why Flyscoot
Do you know what is that one thing that has always curbed me (and I think most people reading this article fall into the same category) from travelling abroad? It's Flights. Because I never had enough money to invest in hefty airfares. You plan a one-week holiday to Australia and you end up losing just as much cash in just flying from India to Australia, as in everything else put together.
I remember how last year when I planned a one-month backpacking trip in and around Perth in Western Australia (and I planned Perth because flights to Perth were the cheapest from India) I couldn't visit Sydney and Melbourne because flights to both cities would have cost me a fortune. So, expensive airfares have curbed me much from travelling in life.
And unlike planning a Europe trip from India, where you always find a cheap deal, with Australia such is not the reality, especially if you're planning for the eastern coast of Australia.
Flights from India to the eastern Australian states like Queensland have always been unbearably expensive — but not so anymore!
A trip to the Gold Coast is made easy with Flyscoot.
My Gold Coast Scoot Airlines Experience
Considering the long journey of over 4 hours from Hyderabad to Singapore and around 7 to 8 hours from Singapore to Gold Coast, a return flight with FlyScoot of around 30,000 Rupees from Hyderabad in India to the Gold Coast (yes, that's correct if you book about 40 days in advance) is a real bargain.
Though my ticket cost a bit more, for it was booked only a week in advance and one leg of the journey was booked in Business Class, the total journey still cost much less than what other full-service airlines were charging for the same days.


For a more valid comparison, I also researched other low-frills airlines like Air Asia prices and full-service airlines like Cathay Pacific Economy Class and I found that their prices were more expensive than FlyScoot. Air Asia, moreover, was flying from Singapore to Brisbane and not to the Gold Coast, helping me save another 50 dollars that I would have otherwise spent on airport transfers had I landed in Brisbane.
So yea, if the idea is to travel from India to the Gold Coast, in Australia, on the cheapest fare possible, Scoot Airlines is the best bet. The savings mount up even more when you're buying tickets for the whole family.
And if you are travelling to the Gold Coast, you may be interested in reading my Gold Coast Itinerary.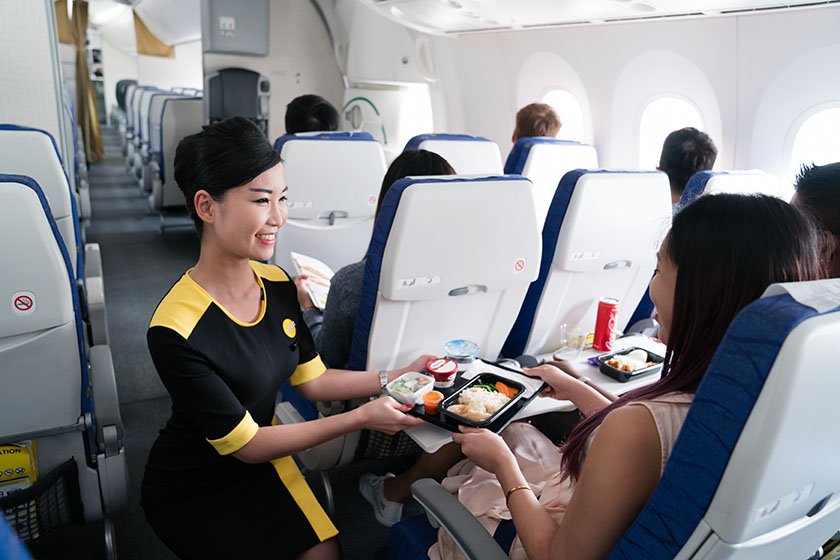 About Flyscoot
Before anything, let me tell you that Scoot Airlines is a no-frills airline, meaning you have to pay for any extra service you ask for while flying with them — from extra baggage (other than the cabin baggage) to food to in-flight entertainment, and even a pillow. And when I say no-frills rest assured that it has no glamorous waiting rooms or dazzling flight interiors.
But for the price it allows you to travel to such long-distance(s), it offers the best value for money in its class. And to build a sudden assurance, let me tell you that Scoot Airlines is owned by the renowned Singapore Airlines — known for its trust and loyal customer base.
In India, FlyScoot operates from  6 cities including Hyderabad, Bangaluru, Chennai, Kochi, Trichy Amritsar, and Lucknow.
On a long-haul flight, airports like Singapore can really make your layover a bit more entertaining, and that's exactly what's going to happen when you will be flying with FlyScoot, as all their flights from India to the Gold Coast have a stopover at Singapore's Jewel Changi Airport. But as I said, it's something to feel happy about than to be worried about. From food to entertainment to wandering around little India and picking up a sensational curry, at Changi Airport options are endless.
If you're a little tired and don't mind spending a few extra dollars, you can always choose one of the transit hotels to spend your stopover, just like I did, and still, keep track of your aircraft from the window (not really!).


You can even join a free Singapore Tour from the airport if your stopover is six to eight hours and see the sights with no effort or cost — now that's what I call covering one more country, without having to pay for anything.
Had I not told you that FlyScoot is going to look after your expenses?
FlyScoot: Economy vs Business Class
I tried both the economy and the business class with FlyScoot and enjoyed both for what they offered for a different price, and that is value for money!
If your personal comfort is more important than the price then choose FlyScoot business class, which is not going to cost you more than an economy seat on a full-service airline. You may still have to pay extra for things like food, drinks, blankets and eye masks but you will get a business class-sized seat with a reasonable recline and a footrest to actually feel comfortable and even get some sleep. Business-class passengers also enjoy complimentary perks such as welcome drinks, ScootTV, and in-seat power plugs to charge their gadgets and check-in baggage.


In economy class, the leg space was (naturally) a little limited, but still enough. And if you want more space, you can always upgrade for front rows and the ones near the Emergency Exit for a little price. The economy class in the Dreamliner can be expected to be a bit more spacious than in an Airbus. The seats, on both the panes, were still cushioned and comfortable enough.
Please note that FlyScoot's Airbus has no business class. I travelled in business class in FlyScoot's Dreamliner!
Speaking of the in-flight entertainment, they have no screens installed on their seats but you can download their FlyScoot App (on Android as well as on an iPhone) and enjoy watching movies and TV series. Those wanting to stay away from digital screens can read its in-flight magazine. They also have some in-flight shopping to feel excited about – again at competitive prices than one can imagine.
Verdict: Would I like to fly with FlyScoot again? 'Hell Yes!'
Disclaimer: I was on a blog trip to the Gold Coast with FlyScoot and Queensland Tourism. Though my trip was sponsored, all experiences and recommendations are solely mines. I only recommend what I personally experience and find worth appreciating.