In March 2019 Singapore's Jewel Changi airport won the best airport in the world title for the seventh year in a row. That was before Changi Airport had 'The Jewel' — its architectural marvel. Now, after its opening, I wonder how many other airports in the world is going to get that title, at least, in the foreseeable future.
And it is that crazy, the reputation of Changi Airport with The Jewel, is going to be!
Every country is good with something, they all have their unique strong point. Some are good in arts, some with technology, while others, in preserving a rich cultural or traditional heritage.
For example, when I think of Japan, the first thing that comes to my mind is how they have maintained a perfect harmony between the old and the new-age culture. When I think of Germany, I think of fast cars and Audi and Mercedes Benz museum. Similarly, Paris is fashion. Switzerland is nature and destinations on alps like Mount Titlis. Peru is beautiful landscapes. India is an amalgamation of cultures and traditions and backwaters of Kerala. And Singapore, yes… the country of the topic is 'creating inspiring indoors'.
Every time I visit Singapore – or well, you actually don't need to step out of its Changi airport to figure that – I wonder how Singapore has created an entire world inside its state of art buildings. From gaming arenas to walking with penguins in an aquarium – you can find it all in Singapore.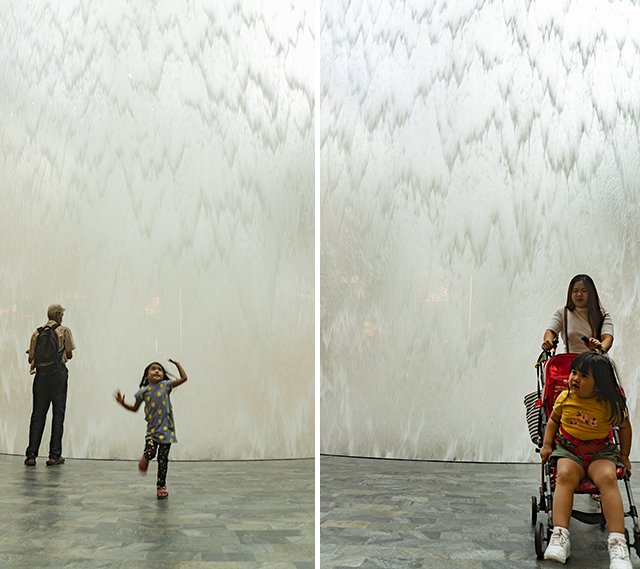 And I think it happened because of Singapore's tiny geographic area. When Singaporeans realised they do not have many different landscapes as some of the other big countries in the world do, they said: "no problem, we have the technology, and just enough space to build a few 70-floor building".
Want to see ice and falling snow? Let's create it indoors.
Want a waterfall? Here's another one!
Fact: Do you know that the Rain Vortex At Changi Airport is the world's tallest indoor waterfall? It is a whopping 40 Metres High.
Changi Airport is a tourist destination in itself. Featuring a host of ultimate things-to-do, this airport promises endless fun for visitors. But earlier in 2019, Singapore Changi Airport opened its most recent attractions: The Jewel – a massive display of awe-inspiring architecture and design (in the form of a circular dome) that has its own amusement park and a drool-worthy waterfall as the centrepiece.
The waterfall centrepiece that falls from the dome is officially known as the HSBC Rain Vortex. At 40 metres high it's the world's tallest indoor waterfall.
I spent a day wandering around and looking for the best viewing point of the vortex in the Changi Jewel airport. At first, I thought it will only be turned on intermittently but it was on for 24 hours a day. I was shocked when in the night, rather than looking like a little more lifeless, it became more colourful and magical. Starting 7 in the evening, there is a light show at the vortex almost every half an hour which is certainly a thing to not miss.
I happened to visit Jewel Changi Airport and Jewel for my connecting flight to Luang Prabang.
The Vortex is surrounded by many trails that moreover offer travellers a great way to stretch legs.
And then, the waterfall isn't what the Jewel is only popular for. There are other things to see and do there, including a canopy park, canopy bridge, nets, maze and slides.
Getting To The Jewel, Changi Airport
Though located inside the Changi airport, Jewel is technically outside out it. Meaning, if you are just transiting through Changi airport you will have to clear the immigration to be actually able to access the Jewel. While that would normally be a hassle at most airports, at Changi, crossing the immigration is a swift process that takes no more than a few minutes.
Those who are already in Singapore can also visit the Jewel without having to actually go into the airport. Just catch an MRT and get off at Changi MRT station.
Also Read: My Business Class Experience With Singapore Airlines
The main entrance to Jewel Changi airport is from Terminal, with special bridges from Terminal 2 and 3. One can also take the sky train between Terminal 2 and 3 for quick access to the Jewel.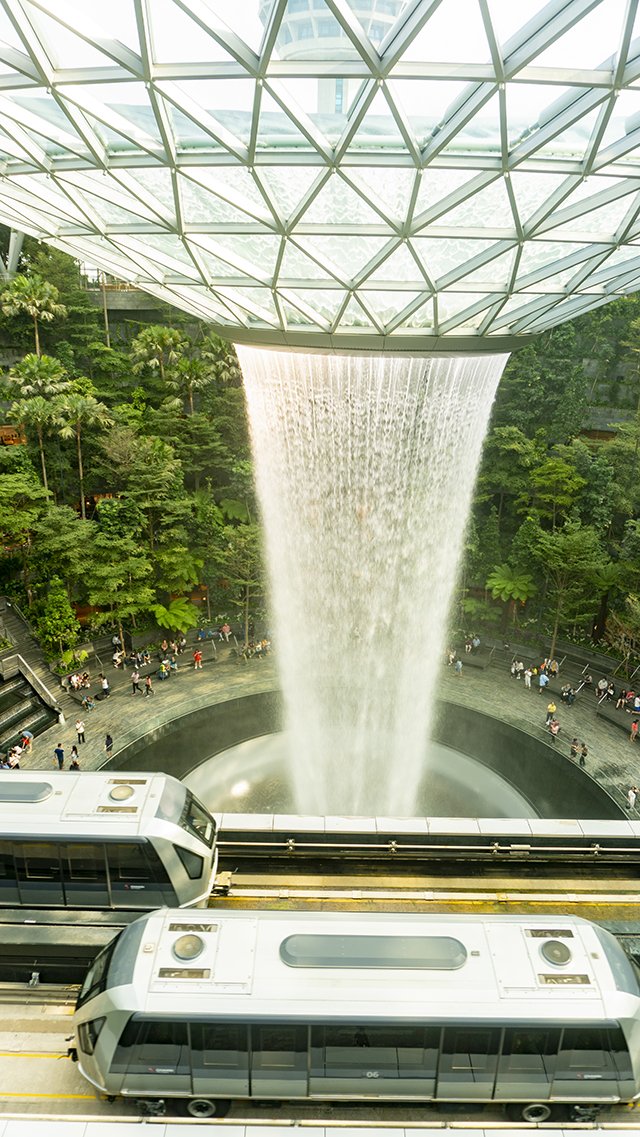 Where To Stay At Jewel Changi Airport?
During my recent trip to Laos, I had a one-night layover in Changi where I was booked a room in the Jewel at YotelAir. So, if you're having a long layover and don't want to spend it at the airport (though one can easily spend a day at Changi and not get bored) I recommend you stay at YotelAir.
They also rent short term rooms, so you could have a wander around and rest between long connections.
Have you been to the Jewel Changi airport? How did you like it?