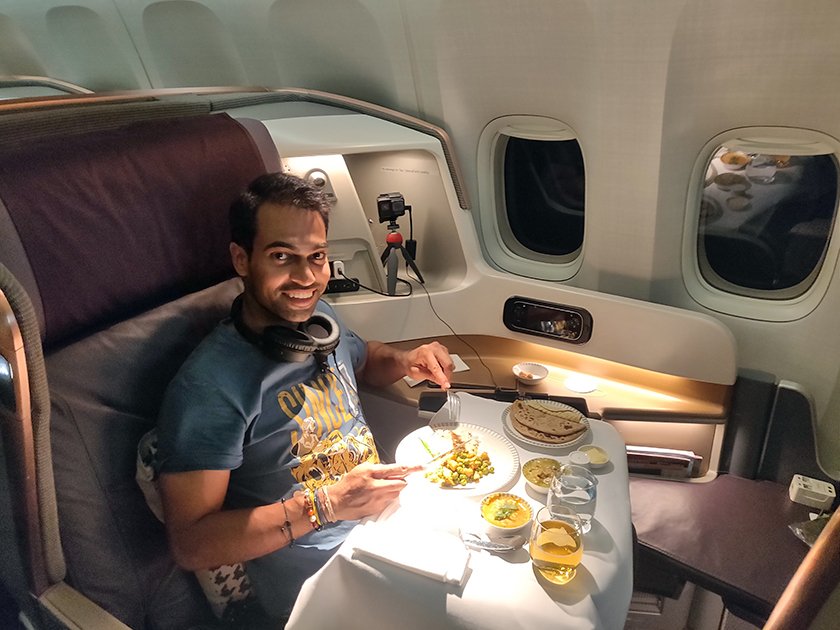 I won't describe myself as a budget or a luxury traveler. I think, at this moment, I am somewhere in the middle – focusing more on the value of experiences than their price tag. So, when folks at Singapore Airlines offered me an upgrade to business class, I was like "umm… okay!"
I mean I don't really care if I am flying in a business class or economy. As long as the person sitting next to me doesn't literally possess the sharing arm-rest and burp right on my face because they think it's okay to do so, I am good with the economy class too. Air travel, in fact, is the least of the things I look forward to enjoying. It is nothing but a mere mode of transportation for me.
So yea, when folks at Singapore Airlines offered me an upgrade to business class, I didn't really care. But as I grabbed my boarding pass and moved towards immigration, I realized that we're talking about Singapore Airline here, that is, in fact, one of the most acclaimed airlines in the world. With that thought, I got a little excited, but only to see if flying in business class with them can actually change my animosity towards air-travel.
Disclaimer: This is not a sponsored post. Though my flight from India-Singapore was sponsored by Singapore Air, they never asked me to do a blogpost for them. I was, in fact, actually given only an economy class ticket, which was later upgraded to business class (at the airport) because of the availability.
From The Beginning
My journey started with the usual practice of getting to the airport 3 hours before the flight departure time and standing in a long queue of economy check-in counter only to later find out (at the check-in desk) that I was upgraded to the business class. Had I known it earlier, I would have arrived at the airport 2 hours before the flight departure, used the express business-class check-in counter and spent whatever little time was left in between for a quick beer and some free munchies at Singapore Airline's business class lounge KrisFlyer (which I anyway did for a much longer time, so no complaints!).
Singapore Airlines Business Class Lounge
Anywhere that serves me free beer is going to be a winner, so I was immediately impressed by Singapore Airline's lounge. There was also loads of food to order, free wifi to ostentatiously brag about my location on Facebook and read a whole selection of magazines.
To be honest, I didn't quite like Singapore Airlines Business Class Lounge at New Delhi Airport for the simple fact that every time I wanted something, I had to call someone to bring it for me (kind of makes it uncomfortable after two beers). At Changi Airport, it was a self-service and better selection of food.
But in any case, time passed too quickly at the airport lounge in New Delhi, and before I knew it my flight was called… just like at the check-in counter, business class boarding was swift and easy. I was initially a little sad about leaving the business class lounge, but as soon as I boarded the flight and was asked if I want to eat or drink something (before even the flight took off) things became normal again!
The Inflight Experience
My Singapore Airlines Boeing 777-300ER had a 1-2-1 layout providing direct aisle access. The food was tasty and plentiful, the drinks flowed freely and the entertainment was so good I almost forgot to test my lie-flat bed.
There was a whole lot selection of movies and TV programs that my 18-inch entertainment screen proudly telecasted with a pair of noise-cancellation headphones.
About the seat, the Boeing 777-300 ER had the older-style manually flip the seat forward kind, to fully reveal the bed. But given the kind of in-flight assistance and customer service that never felt like an inconvenience. The seat was big enough and comfortable to snooze on.
Overall, the 5-hour flight from Delhi to Singapore felt nothing different than spending 5 hours in a premium lounge, except for the fact that here the walking area was one straight line, unlike in the premium lounge that felt like one big playground.
Also Read: My Cathay Pacific Economy Class Experience
Singapore Airlines Business Class – Is It Worth It?
Since business class travel can cost up to three times the cost of the economy class travel, the question of whether or not it's worth it depends on your circumstances. I won't fly business if, let's say, it's only a three hours flight. But for flights that last over five hours or so, and especially if it's an overnight flight, then yes, I would definitely opt for business whenever my budget allows me to.
There isn't a better way to get to your destination fully rested than by opting for a flat-bed – and that's what you get in business class, at least in Singapore Airlines business class.
So yea, if you will ask me if it was worth flying business class with Singapore Airlines and if the experience made me stop loathing air-travel anymore the answer to both the questions will be AN UNBOUBTUFUL YES! (to be honest, they won my heart when I was asked for a drink before even the flight took off. Well, I have my weak points!).
And if it's the cost that's putting you off from flying business class, you can always subscribe to the airline's newsletter and follow them on social media to keep an eye on temporary sales!
Happy Flying!
Photo Credits: Some of the pictures are taken from Singapore Airline's Multimedia Library!