Looking for Cathay Pacific economy class review? This is my India to Hong Kong experience on a Press Trip invitation.
Off late I've started noticing the little dissimilarities that different flight operators offer.
It is possible that two flight careers have the same price for a similar seat but the experience of flying with them — right from the check-in counter to in-flight experience to baggage collection — is vaguely different. Flying Cathay Pacific economy class may feel totally different from flying economy class with Air Asia.
So this time as I was contacted by Cathay Pacific to do a Cathay Pacific economy class review for their India-Hong Kong operations, I thought, why not! I would never miss a chance of reviewing new airlines, even if it's for economy class.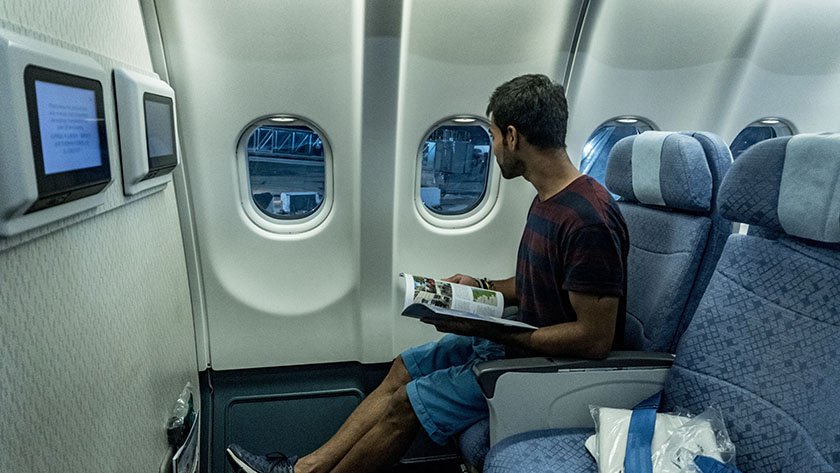 Though unlike one of my previous airline collaborations with Flysoot from India to Gold Coast where I was particularly asked to write a blog post for them. this time there were no deliverables involved. If I didn't like flying in Cathay Pacific economy class, I was free to not write about it. S
But they offered such amazing experiences that I couldn't stop myself and ended up writing a very good Cathay Pacific economy class review.
So here we go…
My India to HK Cathay Pacific Economy Class Review
My flight from India to Hong Kong was from Kolkata, with the premium full-service regional airline Cathay Dragon. It was an Airbus A320 with 156 Economy class seats and 8 business class seats.
Being a terrible sleeper on flights, I was a bit disappointed when I figured that I'll be travelling in an Airbus and not a long-haul Boeing. I personally like seating in a Boeing as it's comparatively better and more comfortable. At that time, I had already decided that this Cathay Pacific economy class review is not going to help the company. But it turned out that Cathay Dragon's Airbus wasn't bad at all. I could easily sleep on the flight and stretch and fold my legs whenever wanted. The leg space in Cathay Dragon's Airbus was certainly impressive.
I was moreover provided with pillows, a pretty decent size meal table, and a sheet to prevent the midnight chill. As a blogger with a laptop, I had ample room to write and work. A bigger tray table solved my purpose of placing the laptop or reading the inflight magazine.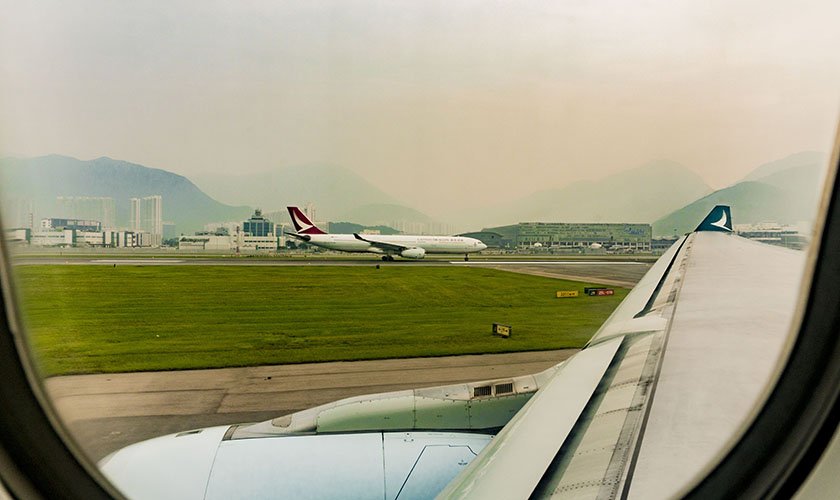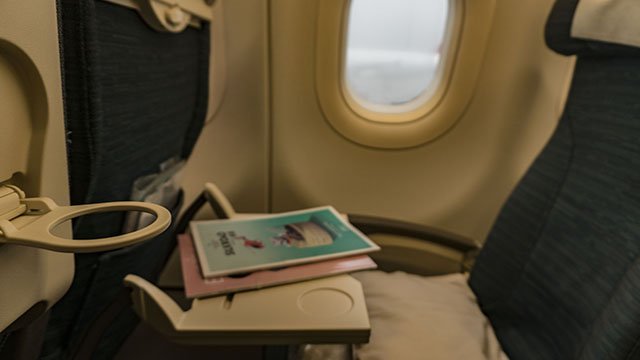 The seating was certainly comfortable.
But how about other things?
Well, below is a rundown on the features and a step-by-step Cathay Pacific economy class review. Here's what I experienced…
Check-in Process
Some flight carriers are known for their cheap airfares. Such flights are often popular among backpackers and budget travellers. For your information, Cathay Pacific isn't one of them. So the first thing to do in this Cathay pacific economy class review is that we are not talking about a budget airline here.
It is not your regular low-frills airlines where you need to pay for a cup of water, or where the ground staff snaps on you. I have travelled with enough low-frills airlines and honestly speaking I don't mind them. If my flight is for just a few hours, I don't mind flying with anyone. But if it's for 5 hours or more, I need something superior.
Cathay Pacific isn't a budget flight carrier and is, by no means, a low-frills airline. Having said that, even flying in the Cathay Pacific economy class may cost a bit more than your budget flight carrier's premium economy. But what it offers at that price is class and premium customer service. And you start experiencing so as soon as you check in.
As I arrived at the check-in counter in Kolkata my eyes lit up at the fact that there was just a handful of people in the check-in queue. This made my check-in process quick and easy. The ground staff even cross-checked my online immigration form for any mistakes. I know how last-minute immigration hazards can haunt me, and I was saved here. Well, I never expected an airline staff to be so caring. And now that they're, they deserve an applause in this Cathay Pacific economy class review.
In-Flight Food
For some reason, I usually find airline meals to be uninspiringly small in quantity. For this reason, I have always appreciated Air India (the only thing I like about them, unfortunately).
But with Cathay Pacific, I noticed the difference in quantity (in both of their flights: Kolkata-Hong Kong and Hong Kong-Delhi) plus the additional snack choices such as the fresh fruit platter, the cheese and crackers, and dessert were good value add-ons.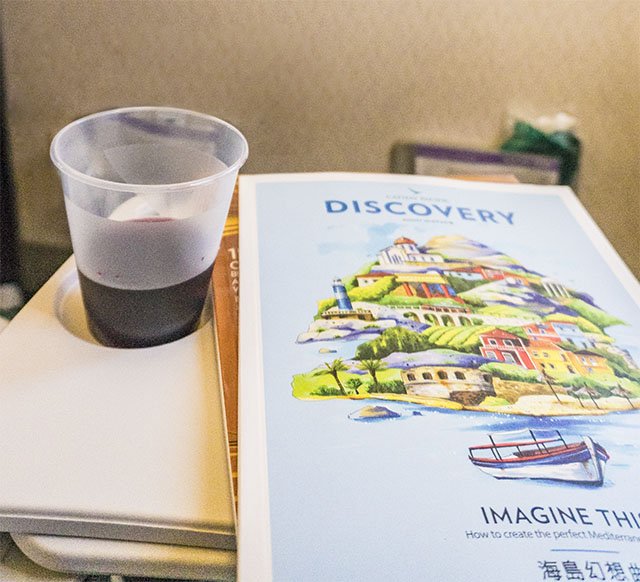 The beverage selection was pretty decent too, and as always, I decided to go for a choice of quality red wine, which was available throughout the flight, as was the beer.
In-Flight Entertainment
Since I often find it hard to sleep on a flight, in-flight entertainment is my usual rescue plan — and a fairly limited number of songs on my phone often fail to keep me entertained for a long. Hence, in-flight entertainment is a must.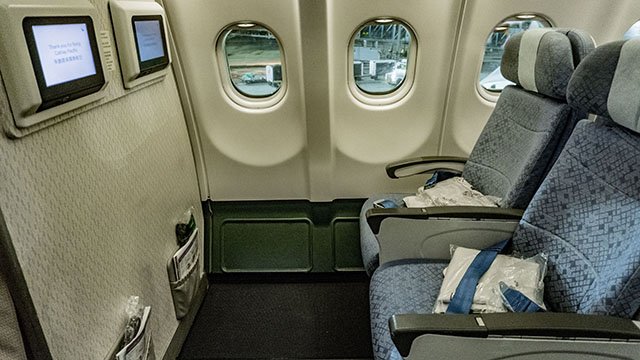 Though my Hong Kong-Delhi Cathay Pacific flight offered a 10.6 widescreen personal TV (as you may see in the picture above), Cathay Dragon had no LEDs. But what it rather had was an in-house Android and iPhone app that let you stream movies, TV shows, Cartoons, play games and so much more. 
So another +1 in this Cathay Pacific economy class review for the in-flight entertainment system.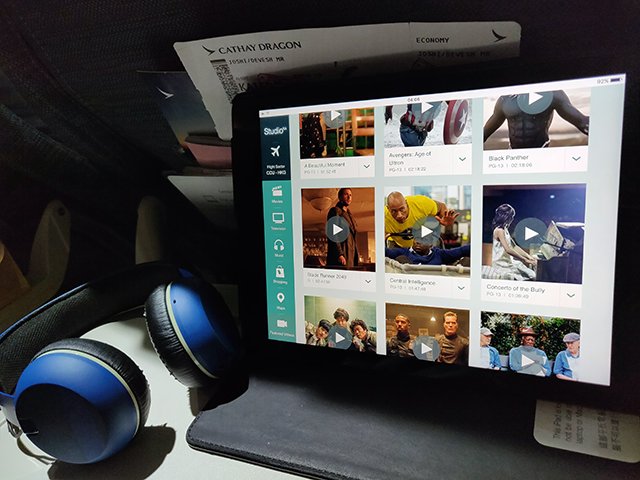 Simply connect your phone, tablet or laptop to the in-flight WiFi network once the aircraft has ascended past a certain limit and stream away.
Customer Service
I can't remember when did I last receive poor service in an aircraft. I mean no matter what, I am not very demanding, and the Cathay Pacific premium experience was no different.
The flight attendants were friendly, attentive, prompt with their service and always smiling.
Cathay Pacific Economy Class Review: Final Conclusion
I found flying with Cathay Pacific a very good value for money. It is certainly worth booking Cathay Pacific economy class for more money than in a low-frills airline. If you're flying long distances and overnight travelling with them is a good idea.
Will I consider travelling with Cathay Pacific again? Hell yes!
In fact, Cathay Pacific is my new favourite!
Also Read: A 3-Day Travel Itinerary For Hong Kong
Hope you found my Cathay Pacific Economy Class Review. If you think I've missed something that people need to know, please share it in the comments below.