When an invitation by Cathay Pacific airlines landed in my inbox to experience and explore Hong Kong with them I knew what was next: a few sleepless nights of obsessive research and excitement. More research though, as I had to create my own itinerary and go about my holiday in Hong Kong as I find it fancy.
With only five days in hand, to travel this attraction loaded-city (despite its small size, Hong Kong can be overwhelming) I jam-packed my days with as much as possible. I planned on trying the strange and popular food, going on hikes, exploring street markets and doing whatever else was suggested by other travel blogs out there, keeping in mind the most important thing: a limited time of 5 days!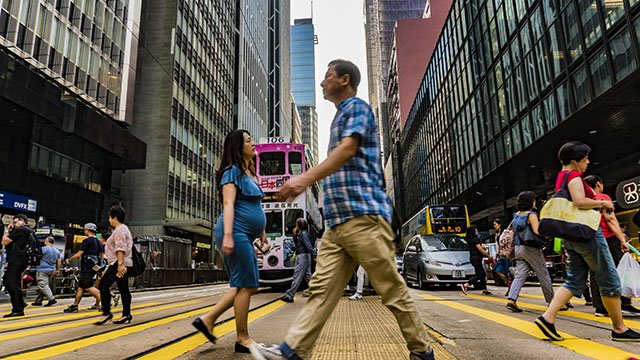 So out of those 5-day dedicated strolling in Hong Kong, I've created an ideal Hong Kong travel guide for people with an even shorter time in hand.
Three Day Travel Itinerary For Hong Kong
Arriving In Hong Kong
After a 4 hour flight from Kolkata, I arrived in Hong Kong at 7:50 in the morning — a perfect time to dump my bags in the hotel and start exploring the city. Thanks to comfortable seating in the blissful economy class of Cathay Dragon I was well-rested. Though a couple of hours of a nap would have been amazing, Hong Kong felt too promising to be wasting any time.
Read about my experience with Cathay Pacific — the flag carrier of Hong Kong and why I recommend it.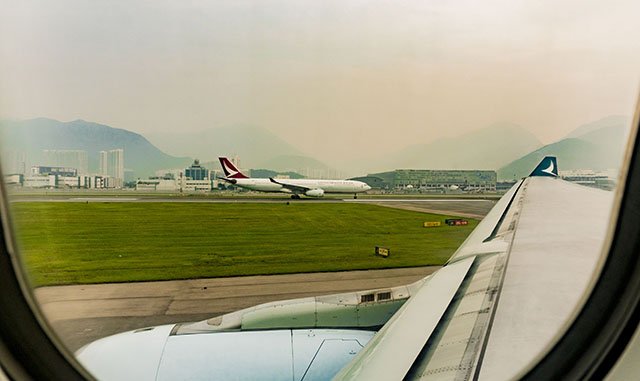 Between Hong Kong airport and Hong City, MTR Airport Express remains the most comfortable and time-efficient way to travel. Though if you're travelling on a budget, you may want to take a bus, which costs less than half of what the metro costs with an Octopus Card. (Airport Metro fare: 100 HKD | Airport Bus fare: 33 HKD with Octopus Card). Speaking of the Octopus Card, it is a smart card for making electronic payments in online or offline systems in Hong Kong. It can be used for all public transportation in Hong Kong, for paying for museums and other tourist attractions, as well as for paying bills at many restaurants and supermarkets. So as soon as you land in Hong Kong, buy an Octopus Card or get one online
to make your travels much quicker and cheaper in Hong Kong.
Day 1: What To Do In Hong Kong (The Mainland)
Eat Dim Sum
I arrived in Hong Kong around 8 in the morning, and with the Airport Express, it took me less than an hour to get to my hotel. After quickly dumping my bags in the hotel (you may want to check BP International, where I stayed for its central location and good in-house services) it was time to eat something. Now as my first meal in a new country has to be something local, in Hong Kong, it was Dim Sum. Finding a restaurant serving Dim Sum isn't hard in Hong Kong and a full meal (including a few different items) doesn't cost more than 100 HKD per person.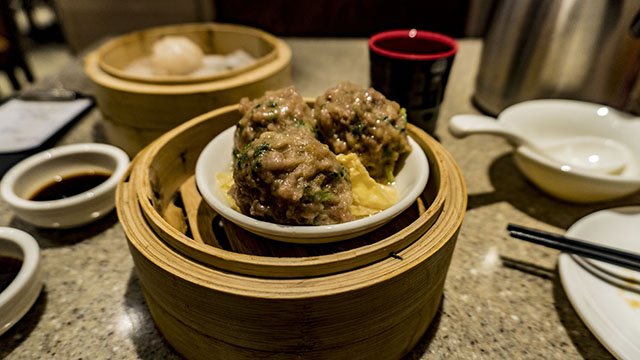 With some Dim Sum tasting and a happy stomach, it was time to start exploring Hong Kong. (Other must-try foods in Hong Kong are Egg waffles, pineapple buns, milk tea, egg tarts, dan dan noodles, wonton noodles, and pork bun).
Hong Kong Museum Of History
To understand a place, it's important to understand its history and that's exactly what museums are for.  Though I am, not a big fan of museums, Hong Kong's Museum of History is totally recommended. It provides an excellent overview of the county's past with exhibitions relating to social history, ethnography and much more. It can take up to 4 hours to explore it thoroughly, however, a quick scan is possible in less than an hour and a half.
The admission fee is HKD 10m, and free on Wednesdays.
The Street Markets In Mong Kok
Although Hong Kong's shopping and eating have adopted a more western approach with big malls and brick and mortar shops stealing the show, if examined properly, you will still find street lanes here and there. The most impressive and biggest (as far as I found out) are the street markets are the Mong Kok region. From 10 in the morning until midnight Mong Kok street markets offer a frenetic atmosphere, with colorful sights and sounds of the city.
Temple Street Night Market is a particular highlight in Mong Kok with a mix of curios, fortune tellers and food stands, creating more confusion than you can handle on your first day in Hong Kong. Foodies will particularly like exploring the area's street food stalls, tea houses and casual eateries here. For women looking for shopping, the Ladies Market (With bargain clothing and accessories) can be a total jackpot.
Tsim Sha Tsui Promenade
If anything, Hong Kong happens to be a night city where as soon as the sun sets down, the skyscrapers on Hong Kong Island come to life. So as soon as the sun sets down, head to the waterfront of Tsim Sha Tsui and take in the breathtaking skyline view of Hong Kong Island.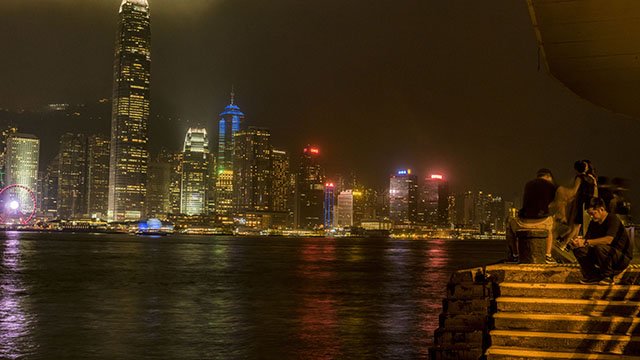 While you're here, make sure to visit the Avenue of Stars, Hong Kong's answer to the Hollywood "Walk of Fame," where you can see the stars of Chinese and Western film alike. There are shops, restaurants, and, at night, a large outdoor market serving traditional Cantonese food alongside knockoffs and souvenirs. Come ready to haggle.
Day2: What To Do In Hong Kong (Hong Kong Island)
Take The Star Ferry
The best way to get across the harbour from Kowloon Island to Hong Kong Island is via the Star Ferry, which showcases a fantastic view of the city skyline for only 2.70 HKD (or even less with an Octopus Card).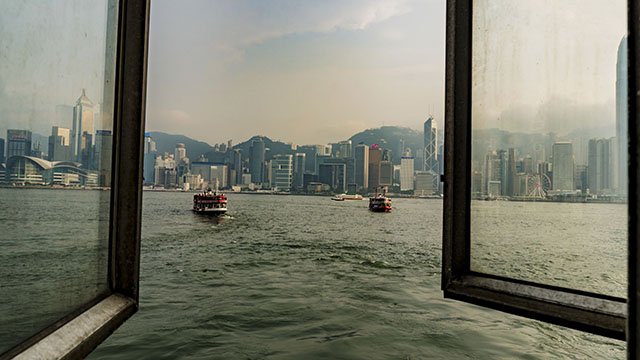 One of my favourite activities to do while in Hong Kong, the Star Ferry also gives good vantage points for clicking pictures of Hong Kong's skyline.
Climb The Dragon's Back
For a city that is often regarded as one of the densely populated places on earth, it's hard to imagine that it may have an equal share of green spaces and nature walks. On the outskirts, almost every corner in Hong Kong has a day hiking point that offers periodic views of Hong Kong's elegant skyline and beautiful coastal scenery. And among all the hikes, Dragon's Back remains the most popular, with mentions in pretty much every guidebook.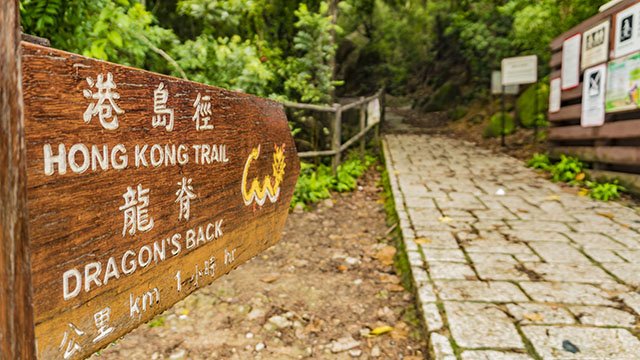 A short hop from the bustle of Hong Kong East, the trail provides stunning views of Shek O, Tai Long Wan, Stanley, Tai Tam, and the South China Sea. Just remember to carry your swimsuit as the hike concludes on a beautiful beach.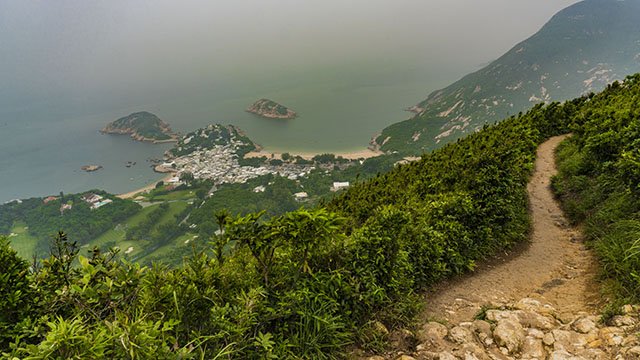 To get to the starting point, however, catch the MTR and get off at Shau Kei Wan Station Exit A to Shau Kei Wan Bus Terminal. Take the minibus (with the sign "Shek O") or bus 9 and alight at To Tei Wan at Shek O Road from where the hike starts. With an approximate 9 km walk, it can take up to 4.5 hours to complete the entire Dragon's Back trail.
Visit Victoria Peak Using The Peak Tram
At 1700 feet Victoria Peak offers spectacular 180-degree views of the skyscrapers of Victoria Harbor, Kowloon, and the surrounding hills — one of the must-visit points in Hong Kong and possibly the best spot to capture Hong Kong's impressive skyline.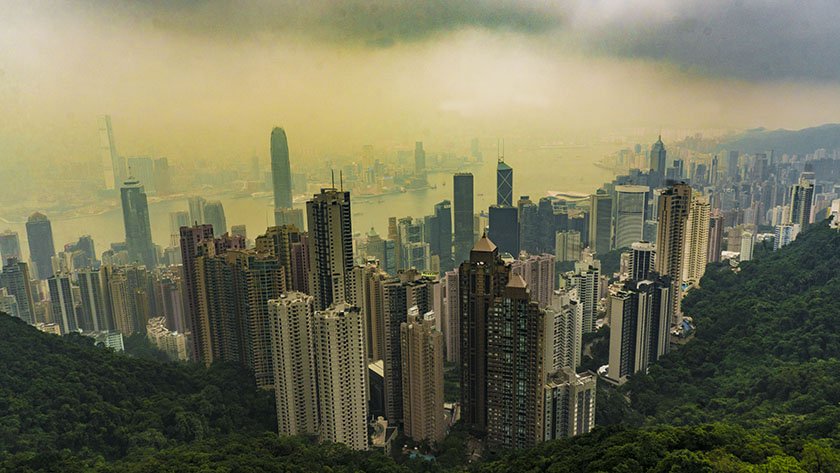 Though the peak is accessible on a bus (which is moreover a much cheaper deal, bus fare: around 10 HKD | Peak Tram: around 40 HKD) going on a ride up to Victoria Peak by the Peak Tram is a recommended experience. Imagine sitting or standing on a tram at an almost 45° angle while the view is fast changing from a mountain trail to magnanimous apartment buildings of Hong Kong Island — that's the 10 minute Peak Tram ride in a nutshell.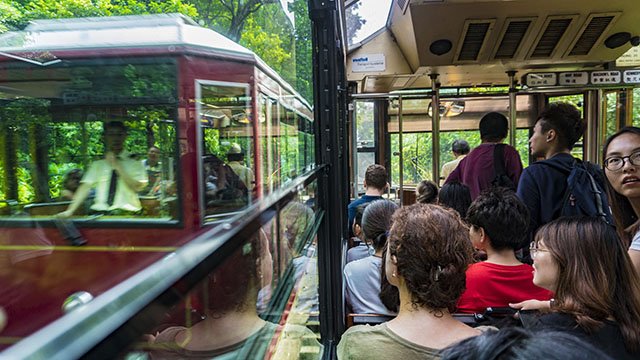 I highly recommend purchasing the SkyPass online
 to save the time to queue up for the tickets though.
At the top, if you have bought the SkyPass, head to the Sky Terrace 428 observatory to get a Panoramic View of the cityscape. Otherwise, you can also get a great view of the city right outside the tower.
The best time to visit the Victoria peak is, of course, either during the early hours of dawn or after dusk.
Day3: What To Do In Hong Kong (Hong Kong Island)
A Junk Boat Ride
A very unique and entertaining thing to do in Hong Kong is sailing through one of those classic boats with a large sail you might have seen in pirate movies. It's possible to hire an entire junk boat (for big groups) or joining a group sail on full-day and half-day trips. Aqua Luna, for example, is one of the popular Junk Boats in Hong Kong that I cruised with around the Victoria Harbor all the way to Stanley town.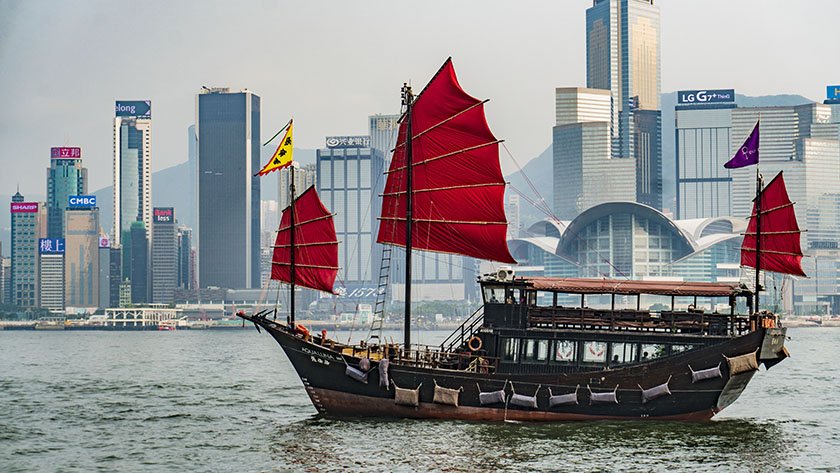 Aqua Luna also offers a few night tours and even a food tour, if you're interested in something different.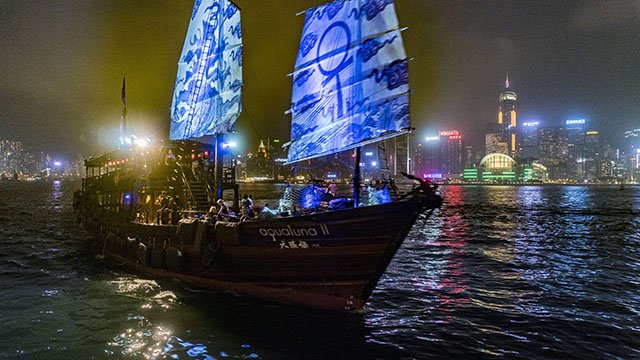 Other Junk Boat operators in Hong Kong are Island Junks, Saffron Cruises, and Hong Kong Junks.
Explore The Town of Stanley
Since I only booked a single journey from Hong Kong Victoria Harbour to Stanley, I spared a good share of the day exploring the sleepy town of Stanley with beautiful beaches and viewpoints. If you're not taking the cruise (or are taking a night cruise instead) the bus from the Central Station to Stanley is a great option too. Just remember to sit on the upper deck and you will be treated with a beautiful coastline along the way.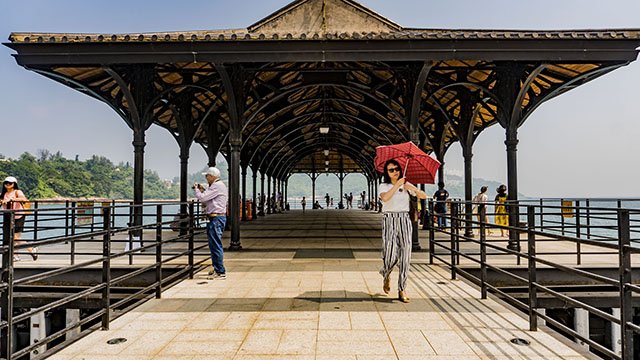 A popular area to live in, Stanley is known for its relaxed lifestyle and family-friendly destinations. Take a stroll along its Promenade and eat at one of the many street cafes and restaurants or relax at the Stanley beach. The popular Blake Pier is a good point to click some pictures while in Stanley.
Walk Along with The Central & Western Promenade On Hong Kong Island
Since the original charm of visiting Hong Kong for any tourist is exploring the impressive skyline in Hong Kong island, a walk along the central and western promenade on the island is a must-do during one of the evenings. Start your walk from Admiralty station towards the coast and further to the piers.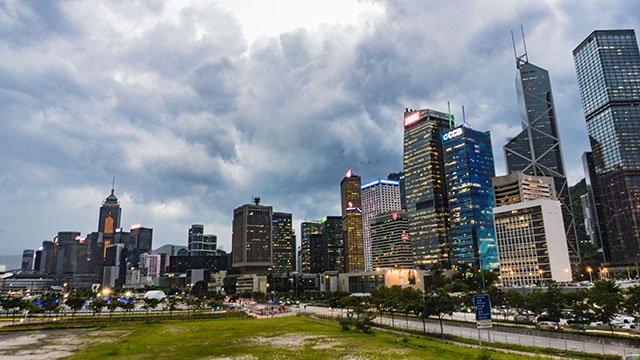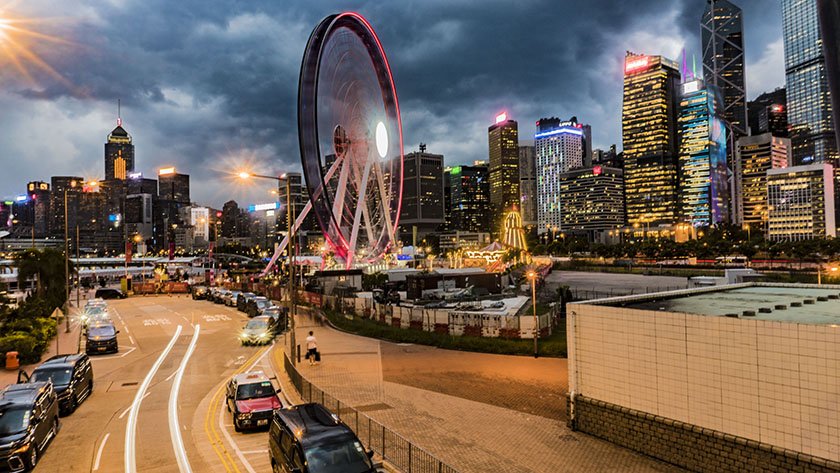 Some of the best pictures of Hong Kong skyline that I managed to capture was at  Central & Western Promenade only.
Visit The Iconic Quarry Bay
The by-now iconic apartment buildings of Quarry Bay, in the Eastern District of Hong Kong Island, is a must-see too, during the wee hours of the night. I went there during the day and again at nighttime, and I preferred my night photos.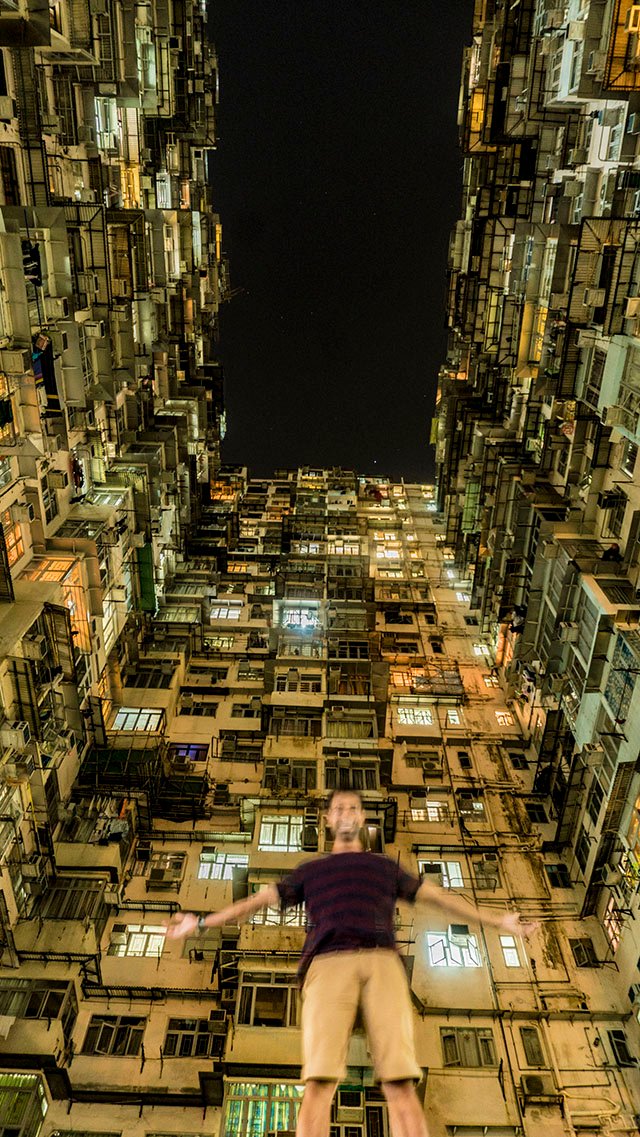 Make sure to bring a tripod and an L bracket, so you can easily turn your camera upwards for long-exposure shots.
---
As I said earlier, in Hong Kong, with its eight million people, there are countless things to see and do. And one could fill weeks exploring Hong Kong's many islands, markets, restaurants, sights, and nightlife and still not see it all. Though impossible to condense a city so vast into three-days, this Hong Kong itinerary is the best I could think of after my visit.
Have you been to Hong Kong or stay there? What would you add in the itinerary?
Also Read: Why Hong Kong Is An Ideal Travel Destination