Here are my top favorite personally shot Europe pictures and photos…
Europe is a long, long way away. It takes tiresome hours to fly to. Getting there and travelling is, moreover, more expensive than many people can afford. And if any will is still left, the super-cheap all-inclusive packages to Bali and Indonesia, costing just as much as a return flight ticket to Europe does, make it even more discouraging. So why even bother travelling there at all?
Well, let us count the reasons for these beautiful Europe photos.
My Favorite Europe Pictures and Photos
Europe For Neoclassical Architecture
The revival of Classical architecture during the 18th and early 19 centuries defines Europe photos. In every big city and smaller town, you can find an elegant piece of architecture characterised either by the grandeur of scale, or something just as magnificent. Take St. Stephen's Basilica in Budapest, for example, which looks both reviving and ancient. With its 100-meter high dome, it represents neoclassical and period architecture. The architecture certainly makes for some of the best Europe pictures.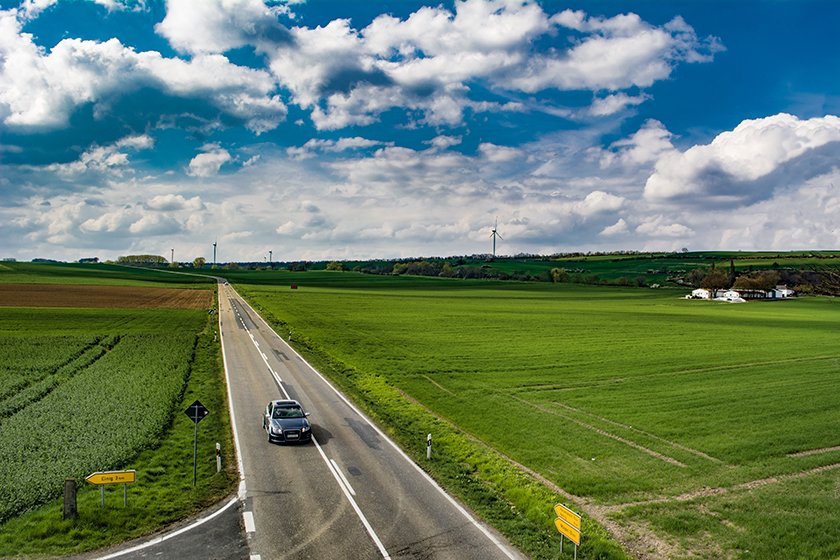 Europe For Beautiful Drives
Whether driving with a purpose or for recreation, if you're behind the wheel in Europe you'll inevitably be treated with nature and beauty. From grassy patches to terraced vineyards to wheat farms — there will always be a lot of green and yellow around you. No wonder, a road trip in Europe gives some of the best Europe pictures.
Speaking of my favourite road trip experience in Europe, I loved my Germany Romantic Road trip the most.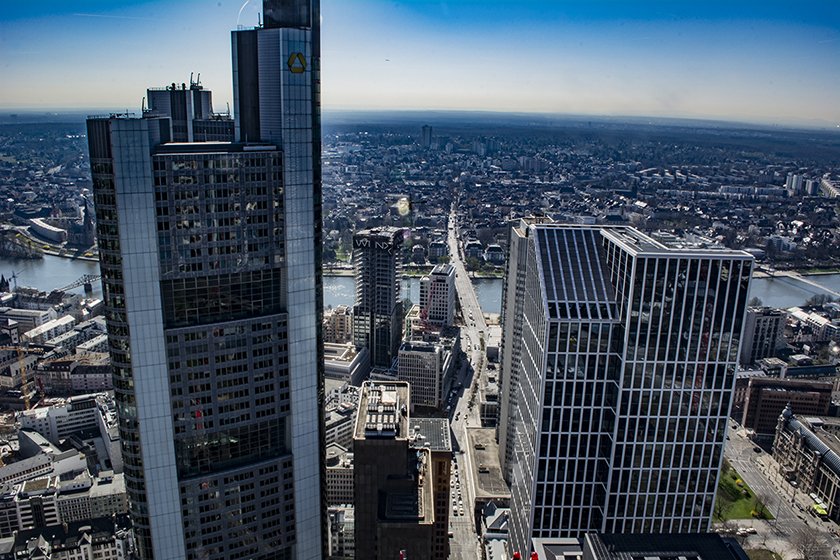 Europe For Charming Cities And Their Birdseye Views
With almost every city offering its own version of the birds-eye view, it's difficult to say which one is your favourite. But for some, however, including me, the view from the top of the "Main Tower", overlooking the streets and neighbouring skyline in Frankfurt, can be one of the best.
Here's my Frankfurt travel blog with more Europe photos and pictures of the skyline.
Europe For Graffiti Areas
Where graffiti, in many places, appear as an act of vandalism, in Ljubljana's Metelkova District, it does not. Here, Graffiti is considered a creative art form. With its several weird and wonderful buildings, standing still, almost harmoniously, for you to marvel at, for hours, Metelkova city was once a sad and prominent area acting as military Barracks. But not anymore, at least not in these Europe pictures!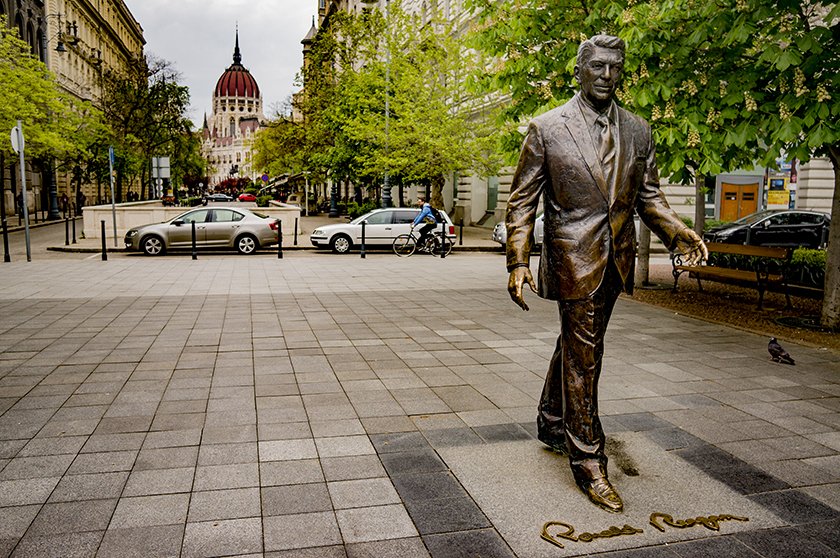 Europe For History And Stories
Europe photos are always full of history. And each city, through its own art and public attractions, tells stories. For example, this statue of US president Ronald Regan at Liberty Square, in Budapest, speaks highly of the respect and tribute to the man that many Hungarians consider as, even today, an important person for ending communist rule in their country.
Related Read: Budapest In Pictures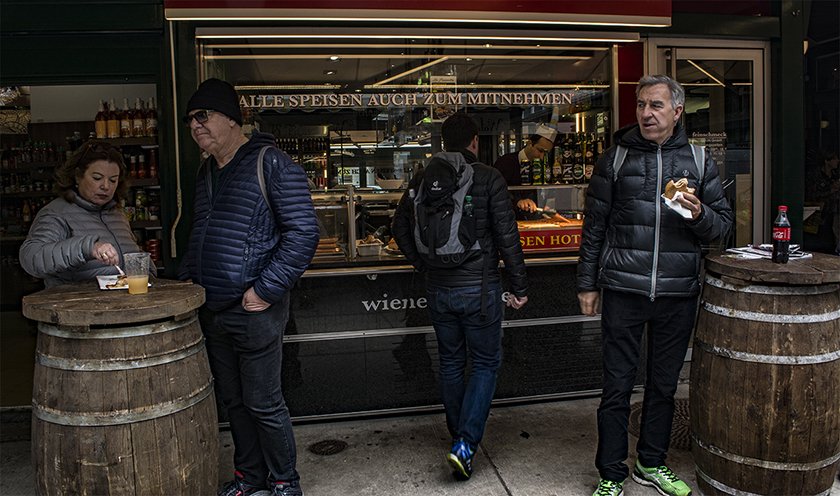 Europe For Street Food
Though street food is often considered a thing of the East — or of Asia, to be particular — some cities in Europe are not ready to give away the title so easily. Vienna, for example, is definitely one among them. And all the credit goes to Viennese sausage stands, known as Würstelstand, which are more in number than anything else in the city. These sausage stands that look like an integral part of the Viennese cityscape, have always been a true Viennese culinary trademark too.
So if want to complete your Vienna visit to your satisfaction, make sure to eat at one of these sausage stands. Street and food photos also make for interesting Europe pictures.
If you're visiting Vienna, check my tips on what to see & do in Vienna.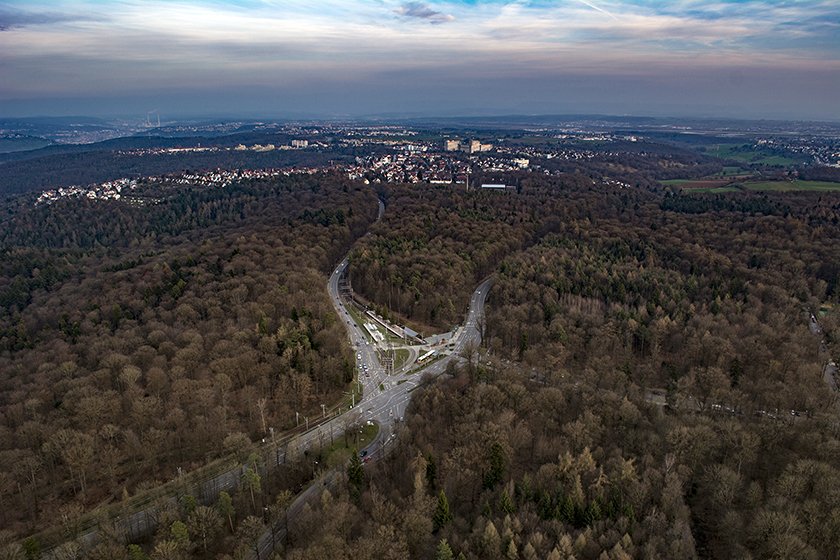 Europe For Scenic Landscapes
One thing that makes the Europe photos look beautiful is the equal share of green spaces and concrete on the continent. And this nearly Ariel view from the observation deck of the 216.61 m high Television Tower, in Stuttgart, Germany portrays that beautifully.
If you are visiting Stuttgart, check out this Stuttgart Travel Guide.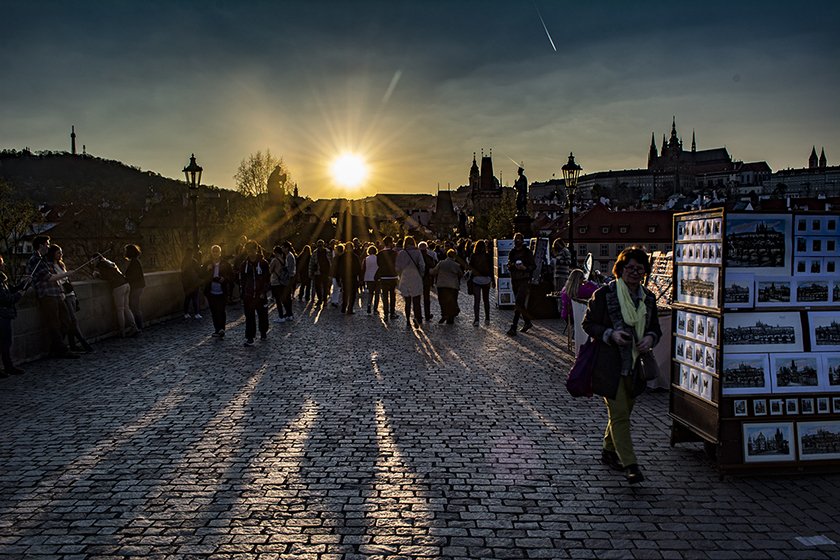 Europe For Cobblestone Streets And Sunsets
European Cobblestone streets add to a romantic sunset/sunrise experience. But beautiful among all, are the streets in Prague, and in Prague, the popular Charles Bridge. With its army of tourists squeezing through a gauntlet of hawkers, the Charles bridge looks just as beautiful as something staged does. If you want to experience the bridge at its most atmospheric, try to visit it at dawn.
If you are visiting Prague check out my one-day in Prague guide for some useful tips.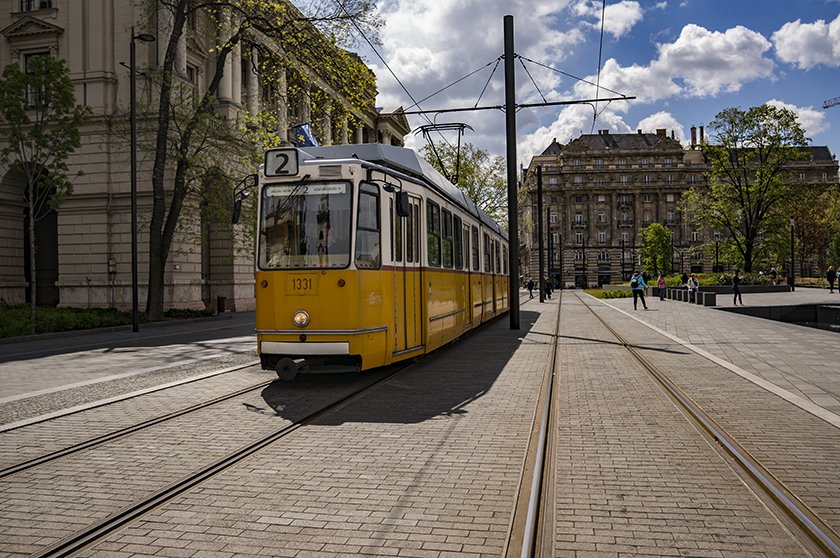 Europe For The Love For Trams
No other place in the world can beat the beauty of trams than how they look in Europe pictures. In many cities like Prague and Budapest, a tram ride can just be the highlight of your trip, and if not, it will surely prove to be an ideal way of exploring the city. Tram number 2 in Budapest, for example, takes the entire river route from one side of Pest to the other — while taking you across city highlights like the Parliament, the chain bridge, and the market hall.
Also Read: What To See In Budapest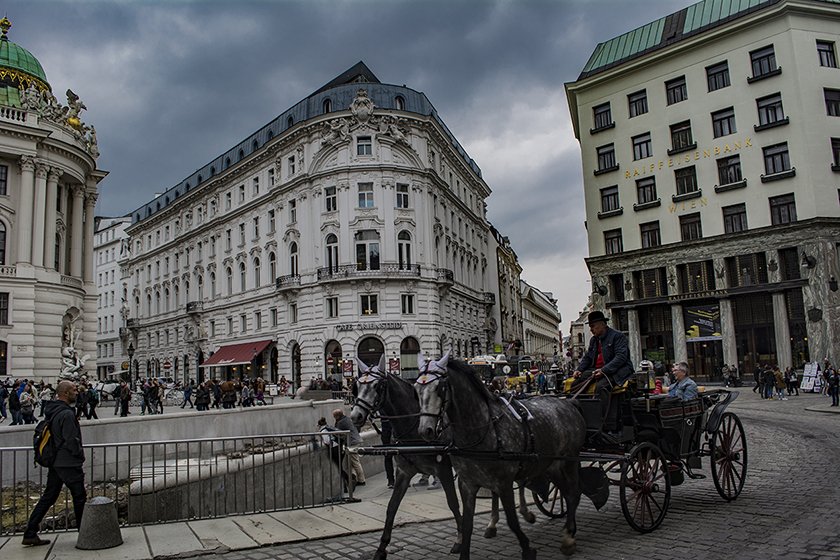 Europe Takes You Back In Time
It's amazing how the many historical cities and the Europe photos of them take you back in time. A horse-coach ride in Vienna, for example, can be the best way to experience a sense of nostalgia. The baroque-style architecture in the background will moreover add to the charm and give you some beautiful memories in terms of beautiful Europe pictures. Do not miss a coach ride if you ever visited Vienna.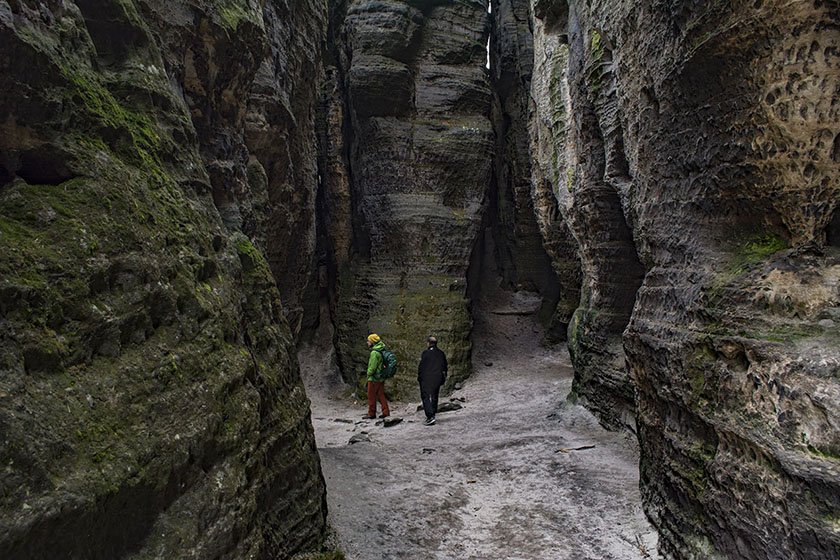 Europe For Unbelievable Landscapes
The huge diversity of natural scenery in Europe also never fails to surprise the tourist. From rugged Scottish Highlands with glens and lochs to Norway's fabulous fjords, seemingly chipped to jagged perfection by giants, you can find anything and everything here. Take Bohemian and Saxon Sandstone Park in the Czech Republic as an example. An unreal sandstone formation carved by hundreds of thousands of years of continuous erosion, that still looks more powerful than anything around them, there's no similar landscape anywhere else in the world.
More on the topic here: Bohemian & Saxon Switzerland Park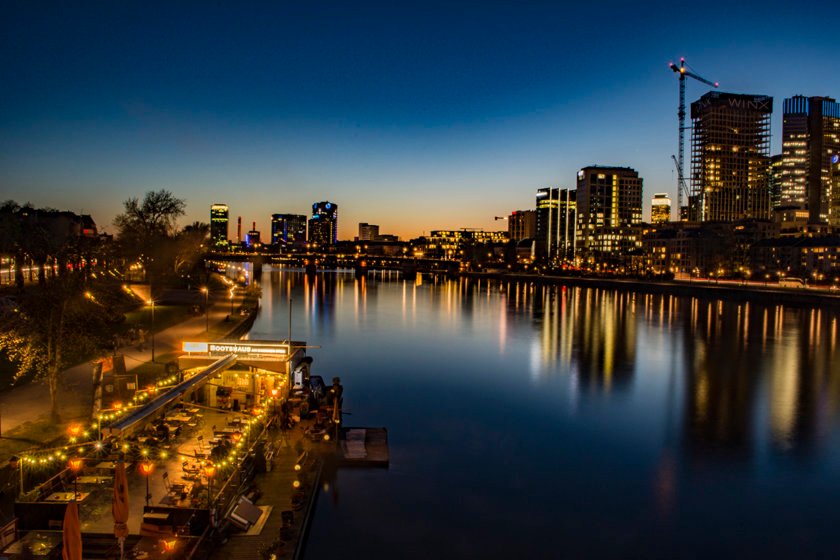 Europe For Romantic Riversides
One thing I totally adore about the most popular European cities, including Basel, Budapest, Zurich, and Prague, among others, is their beautiful riverside. Each city defines its charm by defining how beautiful its Riverside looks. And they all excel in it, almost equally in giving beautiful Europe photos and pictures. But when it comes to the riverside of Frankfurt, perfectly beautified with a dark blue river and an impressive skyline with a glow, things become even more blissful. A vibrant outdoor eating and drinking culture around the river makes Frankfurt Riverside its visitors' top pick.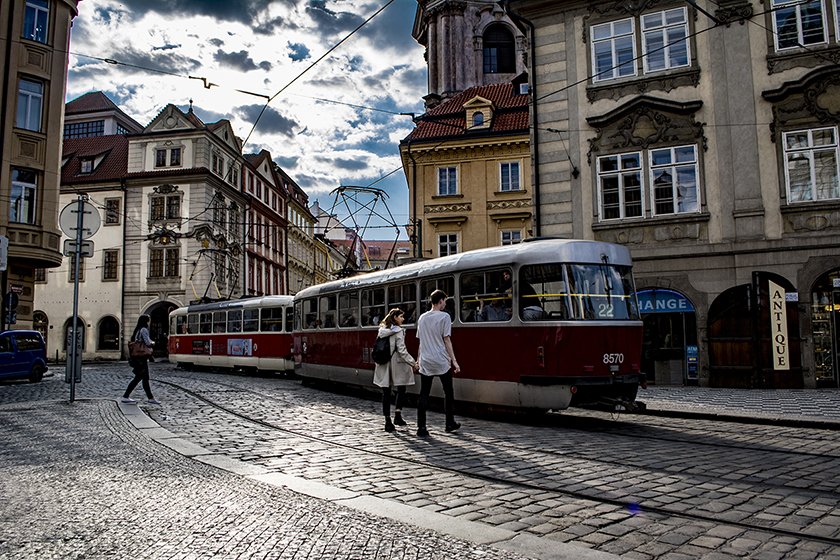 Europe And Its Storybook Towns
The many romantic streets in Europe, beautified with ancient boulevards, famous thoroughfares, and cobblestones, are ripe for exploring. But if you're keen on upping the cuteness quota, look no further than the romantic streets of Prague.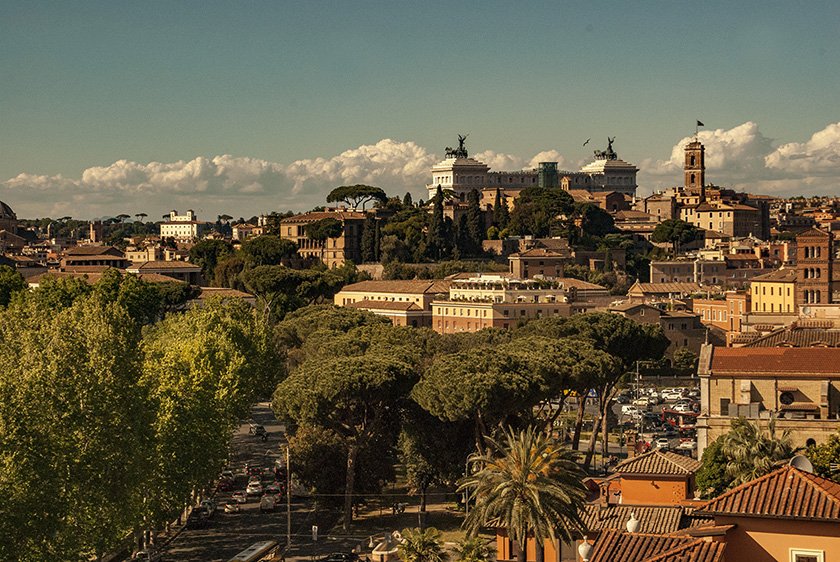 Europe For Its Eternal And Ancient Cities
Other than quaint, adorable streets that dominate the towns in Europe are the long-lost history. And no place can be better to experience than Rome. After all, Rome is a result of 3000 years of ad hoc urban development. In Rome, where ancient icons, such as the Colosseum, Roman Forum and Pantheon testify to their historical role; the many Italian stone pine, cover the city in its own penetrable green, and add an eternal flourish to the city's captivating looks.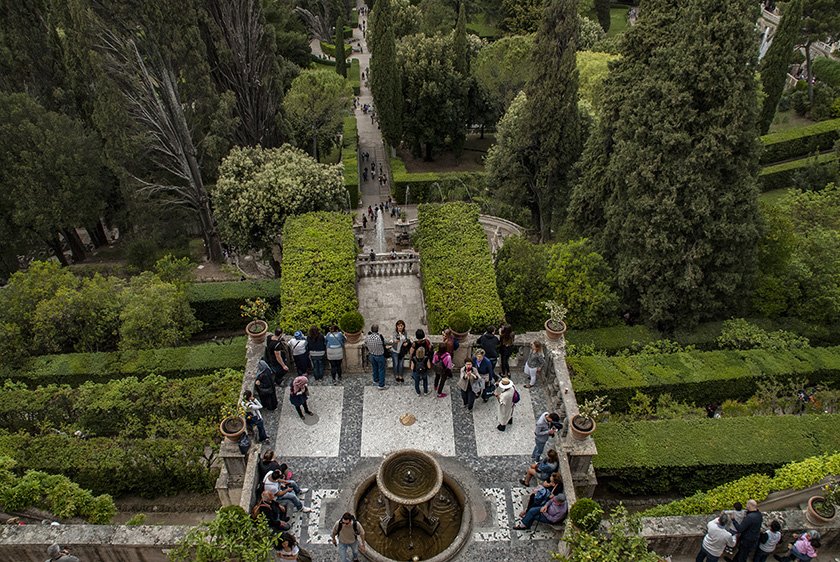 Europe For Money And Power And Beauty
European history is full of modest families that rose to become one of the most powerful and gracious of their time. And the Renaissance period in Rome testifies to the statement. The gardens of Villa d'este, a 16th-century Renaissance villa, famous for its landscaped gardens and lavish fountains, are still the most beautiful and beloved highlight of Italy.
Like these personally clicked photos of Europe pictures? You can also follow me on Instagram and see more of my Travel Photos. I can be found on Youtube for travel videos.