Before I visited the graffiti street art area of Metelkova Ljubljana, I didn't know that this Slovenian Capital has some of the world's most impressive artwork.
I have seen a few other graffiti areas in the world, including the popular street art in Perth and the Georgetown Penang street art, but the scene in Metelkova Ljubljana was quite different. Here, everything was a lot more intense.
Other than street art, Ljubljana happened to be the tiniest capital town I had ever seen in life (even tinier than Thimpu I think). It also happens to be one of Europe's greenest and most liveable cities. With a rich riverside café culture, an exceptionally peaceful vibe, and an old-world European charm, Ljubljana turned out to be one of those rare towns I would like to revisit any day.
[Confession: I love Ljubljana more than most European cities I have been to, whether it was my short 24 hours in Zurich stay or a comparatively longer 3 days in Munich stay]
The overwhelming charm and a chilled-out vibe of Ljubljana Old Town enchanted me just as much as it enchants other visitors, wanting them to revisit again and again.
Other than the cute side, however, there was an entirely different side to the city as well — yes, I am talking about the shabby, but respected graffiti street art area of the Ljubljana Metelkova district.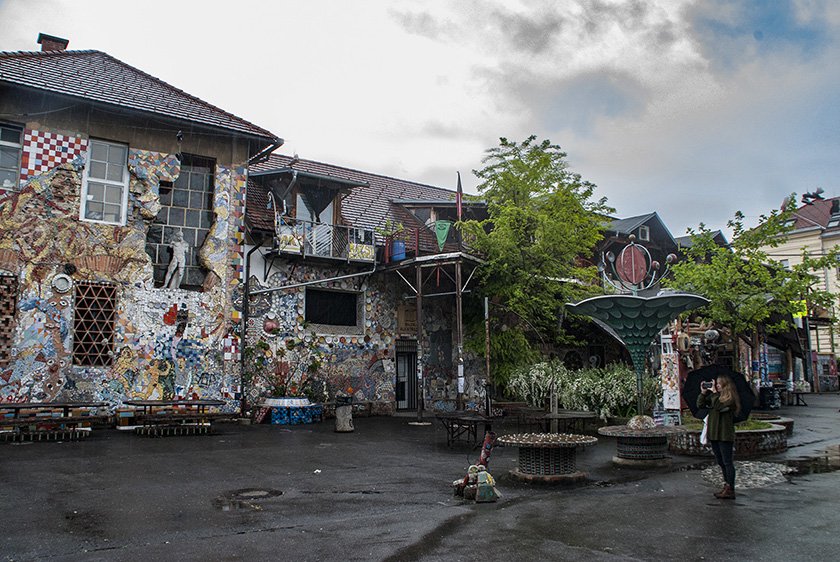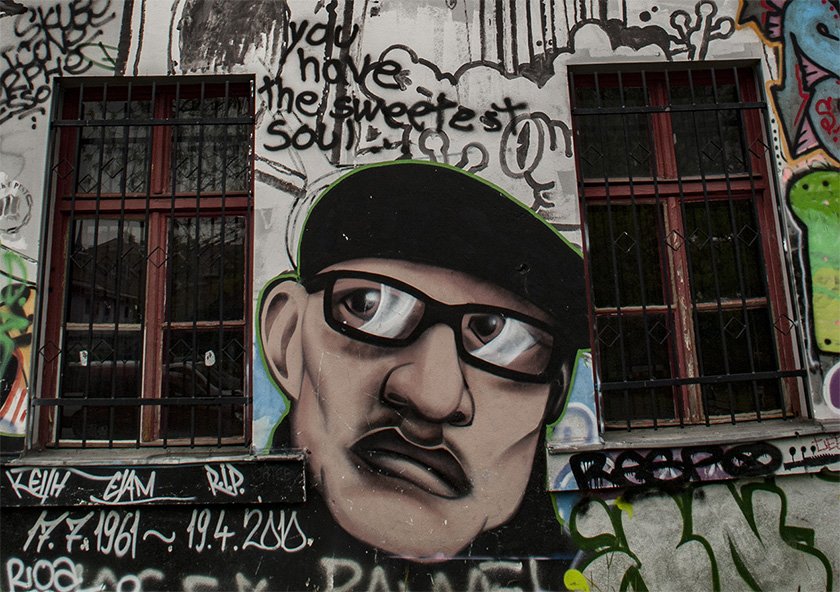 Where graffiti in many places is considered and even appears to be, a symbol of vandalism, in the Ljubljana Metelkova graffiti area the case was rather the opposite.
Here it looked more like an art form. The many weird and wonderfully placed buildings were at a standstill, almost harmoniously.
But there's more to Metelkova Ljubljana district than its strange street art. I was told by a local guide that in reality, Metelkova district is a non-residential squat for artists and activists with some artists actually living there.
What's more interesting is that this moreover has no legal status, Meaning, people who live here don't pay taxes and can sell alcohol without a license.
Also, read my Ljubljana Travel blog for more on what to see and do there. You may also be interested in reading these Slovenia travel tips if you want to behave as a savvy tourist while travelling in Slovenia, or the Ljubljana Metelkova graffiti street art area.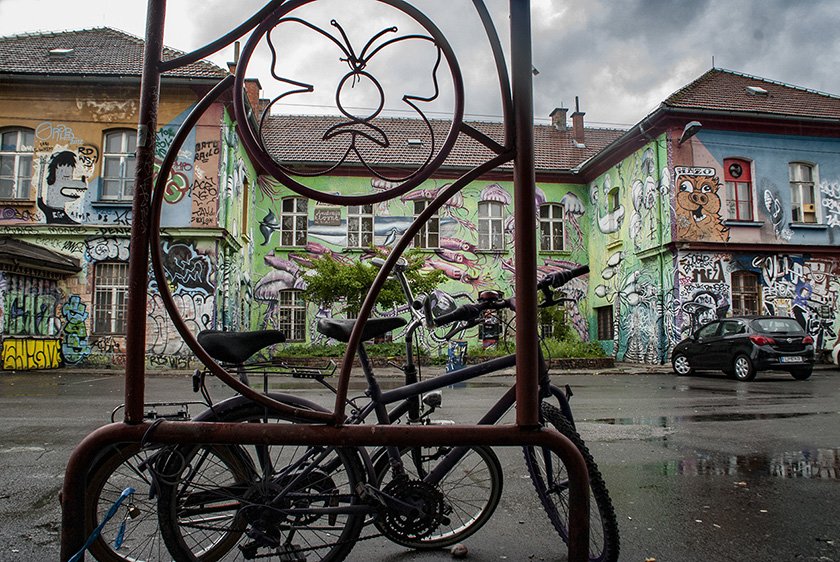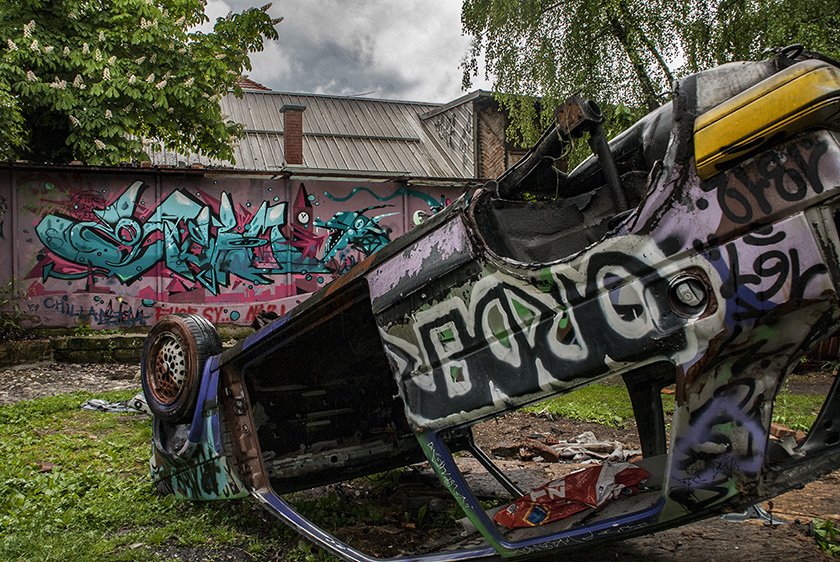 This autonomous city within a city which now houses artists' studios, galleries and bars once included buildings that were barracks of the Yugoslavian army. And that's when the story of the Metelkova district started — during the oppressive colonial times.
In the late 19th century, and during the Austro-Hungarian Empire, Metelkova acted as a stronghold of the army of the authoritarian Socialist Federal Republic of Yugoslavia.
When Slovenia got its independence later in 1991, and the army barracks in Metelkova were destroyed, activists and local artists petitioned the government to use the site creatively, instead of turning it into a commercial property. But when it didn't work out peacefully and the government still tried to acquire the land, citizens took things into their hands and forcefully declared it an autonomous zone. And that's how the story of graffiti street art in the Ljubljana Metelkova district began!
Now, every year, Metelkova hosts over 1,500 events inside its occupied premises, catering to a wide spectrum of cultures and ideas.
Literature evenings, theatre performances and jazz concerts showcase Ljubljana's and Slovenia's willingness to accept global ideas.
Speaking of Slovenia again, you may also want to do a Lake Bled tour from Ljubljana. So don't forget to read that travel blog. It includes my personal experiences 🙂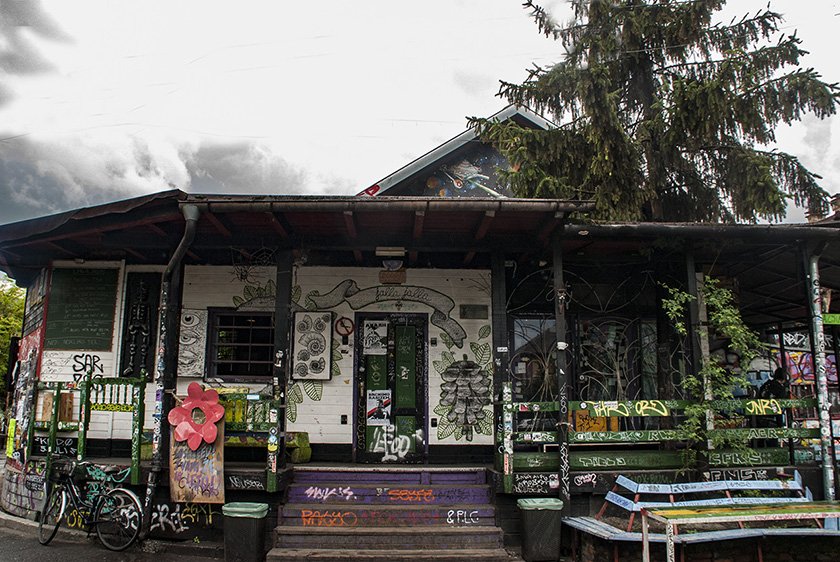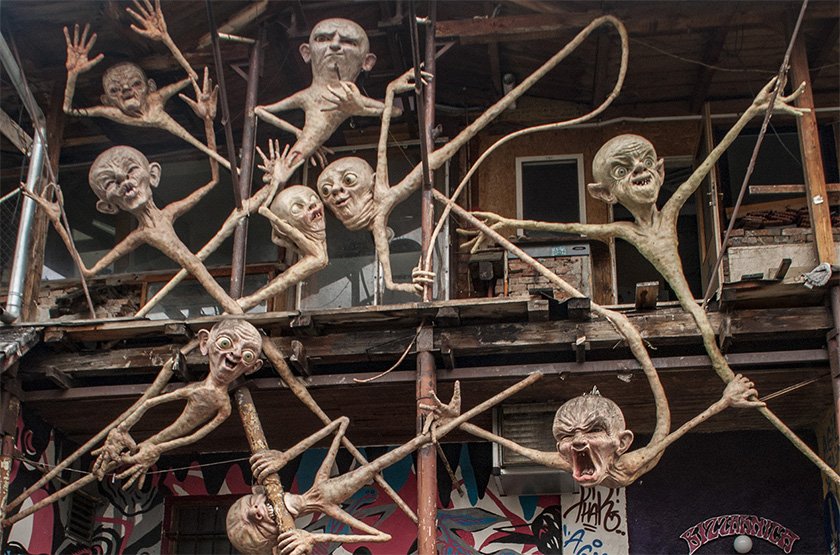 That's all in this travel blog about Metelkova Ljubljana graffiti street art.
I will briefly speak about where to stay in Ljubljana too, but before that, I want to tell you that the Merelkova district is located around 2.5 km from the city center. And since there are high chances you will be staying somewhere in the city center, there are two ways to get there:
You take a city bus. It takes less than 5 Euros for a return ticket and about 2 minutes on the bus to get there from the city centre.
An alternate way to get there is on foot. I walked from my hostel in Ljubljana to Metelkova District and it took me less than 20 minutes. The walk is moreover quite interesting. So yea, save your 5 dollars by walking and use them to pay for the Watchtower and the Chapel of St George entry fee in Ljubljana Castle.
Where To Stay In Ljubljana
I can recommend Vila Veselova Hostel, which is a traditional villa designed over 100 years ago by the architect Ciril Metod Koch.
Located right next to the heart of the city, the hostel, with its architecture and hospitality, represented the soul of Ljubljana — modern and traditional, at the same time.