Before I start with this Slovenia Ljubljana travel blog, I would like to confess that prior to my visit to Slovenia I knew very little about this country, but my first impression of Slovenia changed it all.
Other than vaguely being aware of it as a part of Central Europe, I knew nothing more about Slovenia. And to my guilt, my heart was always more drawn to the neighbouring countries of Italy, Austria, and Croatia — as is often the case with a majority of tourists travelling that part of Europe.
Perhaps that's why, while crafting the itinerary, I gave Ljubljana (the only town in Slovenia where I stayed) no more than four days, out of which I even planned a day out and visited Ljubljana to Lake Bled Castle and Postojna Cave.
Ljubljana Travel Blog
But after clicking a few beautiful Budapest photos and pictures, as I left Hungary and inched my way towards Slovenia, I realised that I was only going west, and to a place that looked far more organized and reformed than what I had initially thought of. I realised that Slovenia was nothing much like Central Europe — neither by its geographic location nor by its appearance. Public areas were well looked after, private homes seemed posher, everything felt in order and well-behaving.
And speaking of its capital, let's talk about it in this Ljubljana travel blog.
There is no doubt that Ljubljana is one of the smallest capital cities you will find in Europe, but what it lacks in size it makes up for in beauty.
Ljubljana, after all, means "beloved" in a literal translation, and it doesn't take long to understand that well and fall under its charm.
Read any Ljubljana travel blog and you will get nothing but hints of how much the blogger loved visiting the place.
A Paradise For Nature Lovers
Slovenia is a paradise for nature lovers, and no less so in Ljubljana, the capital city, than in the rest of the country. With less than 300,000 inhabitants and more green spaces in the city than there are houses, Ljubljana promises a healthy stay for its visitors.
Speaking of some mind-blowing figures, around 46% of the city's total area is covered by native forests, with over 70% of the land claimed by green spaces.
You can read more about green spaces in Ljubljana on the tourism website.
The drinking water in Slovenia is among the purest in Europe and even the world, and tourists can use the freshwater fountains found throughout the city to quench their thirst. There are moreover frequent electric-powered karts called 'kavalirs' that offer free transport around the old town, which is otherwise closed to traffic. The city's bike-sharing system, which boasts a network of 220km (136mi) of managed bike routes, is also one of the best in the entire continent.
Perhaps I'll sum up by stating — Ljubljana is The European Green Capital, as declared in 2016.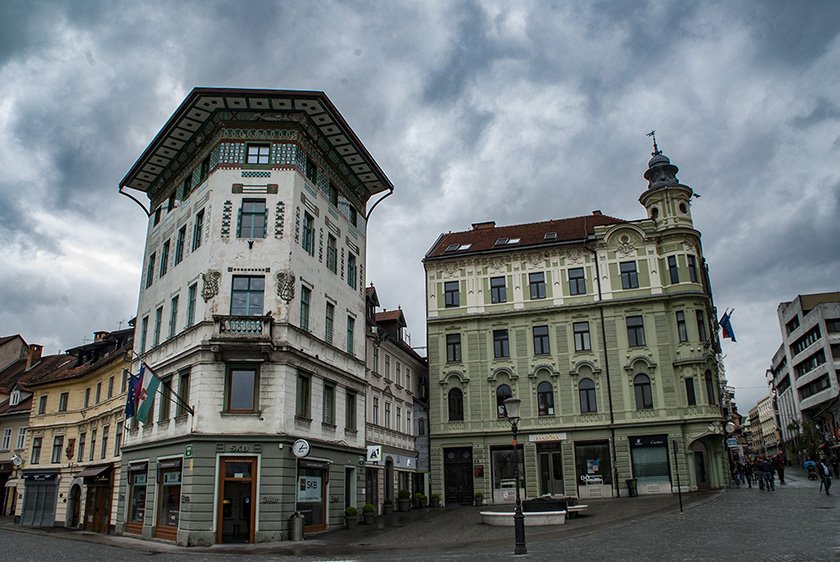 An Old World European Charm

The old town of Ljubljana is an atmospheric web of cobbled streets and colorful buildings topped with terracotta tiled roofs. A few churches spire in the center, with a castle perched on a hilltop looking down on you. And flowing through the middle is the emerald green River Ljubljanica, with its 17 crisscrossed bridges, including Plečnik's Triple Bridge and one dedicated to the symbol of the city – the dragon.
The entire old town of Ljubljana is moreover a no-traffic zone, which further adds to its old town charm, taking you back in time, effortlessly easily.
Want to know where did I love the old town the most in Europe? In Rothenburg Ob Der Tauber that I happened to revisit during my Germany Romantic Road trip.
Ljubljana Riverside
One thing I totally adore about most of the popular European cities I have personally visited, including Basel, Budapest, and Prague, among others, was their beautiful riverside. Each city defines its charm by defining how beautiful its riverside can be. And they all excelled in it, almost equally.
But when it comes to the Ljubljana riverside, even sipping on a cup of coffee or a pint of lager becomes far more pleasurable. For some reason, I found that the Ljubljana riverside was the best among all riversides I explored in Europe. Read my Frankfurt travel guide and you will read the humble mentions of it in that blog.
Lined with beautiful, old buildings in pastel colours, overlooked by the castle, the Ljubljana riverside promises a romantic time — a vibrant outdoor eating and drinking culture moreover adds to the charm. So yea, if I were to suggest one place in this Ljubljana travel blog where you should be spending most of your time, it is this.
A Small Town Vibe

From the day I arrived at the train station in Ljubljana and during the time I stayed in the town, there was never a time I felt a need for taking public transport to go somewhere. Walk from the hostel to the city center — 5 minutes, walk from one corner of the city to the other — 15! And that sums up life in Ljubljana — simple and old town-ish, but in a beautiful way.
Right across the street, from the place where I was staying (at Hostel Vila Veselova), was the Japanese embassy, and a few blocks away, American and British. Almost every day, I'd walk up to the castle with a beer in one hand, and come back after midnight and the town would seem just as safer as an ideal town should. And life in Ljubljana pulses in that spirit. Only a bit of morning and afternoon rush against silent intervals throughout the day.
No wonder, the town enchants with its balance, proudly stomping in the rhythm and temperament of European capitals.
Where Did I Stay In Ljubljana
I stayed in Vila Veselova Hostel, which is a traditional villa designed over 100 years ago by the architect Ciril Metod Koch. Located right next to the heart of the city, the hostel, with its architecture and hospitality, represented the soul of Ljubljana — modern, yet traditional at the same time.
Want to add anything to this Ljubljana travel blog, leave a comment below.