Read this travel blog and find out what to see in Budapest!
Home to world-famous artists, mouth-watering food, and above all, cheap beer, travelling Budapest is one of the top destinations in Europe.
I personally loved Budapest over the other neighbouring capital towns of Ljubljana (in its west) Prague and Vienna (in its north) for the value of money it offers.
When I visited Budapest, my initial plan was to stay for three nights, but the city had so much to offer and at such a good price that I ended up staying for a week. But I understand that not everyone will have a week to spare.
So if you're in there for only a few days, this Budapest travel blog with tips on what to see there will help you cover most of the tourist highlights.
Also Read: Cost of travelling in Budapest
Budapest Travel Blog
Invest In A City Card
Since you're in there for a short time and want to visit as many places, on a fast track, as possible, I would suggest you invest in a 48 or a 72-hour Budapest Card — which gives you free (or a discounted) entry to many attractions/museums, unlimited free travel on public transport, and even a couple of free guided walking tours. In short, it makes your travel much more convenient, quicker and hassle-free.
You can buy your city card at the airport, at the tourist information center in the city centre in Pest, as well as on Budapest Tourism's official website.
Where To Stay

And travel blog will suggest that Budapest is massive in size and depending on which part of the city you stay in, you more or less shape your entire experience. The city is broadly divided into two equal halves — Buda and Pest, by the ever-blissful Dunabe river running through the middle. Pest is comparatively more vibrant and backpacking friendly, whereas Buda, on the other side, is quieter and non-touristy.
Now, before I start with what to see in Budapest in this travel blog, I suggest you make Pest your base, for Pest has a better accommodation scene and a more backpacking-friendly environment.
Moreover, most of the tourist attractions — right from the City Opera House to the Parliament, and the many open markets — are situated in Pest. So if you are wondering where to stay in Budapest, I, in this travel blog, suggest you stay at Pest.
I can moreover recommend Avenue Hostel, located only a 10-minute walk (or 2 metro stations) away from the center, for its lively environment and great value for money. I spent 7 nights in Avenue hostel and my stay couldn't been any better.
Also read this forum page on Lonelyplanet for where to stay in Budapest, for more suggestions.
What To See And Do In Budapest
Budapest Walking Tour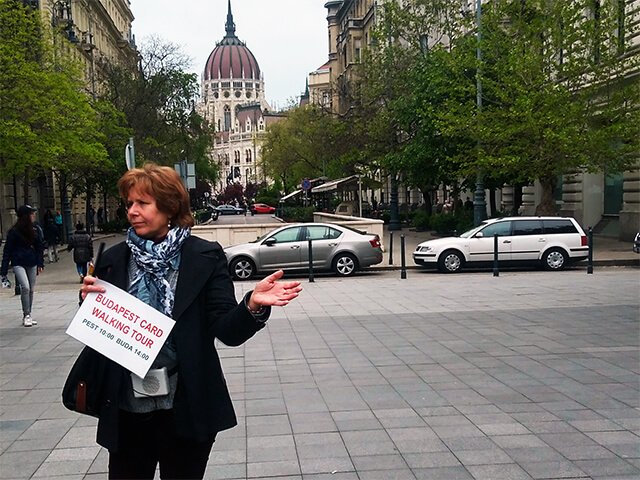 Hungary at large, have a long history associated with it. A guided Budapest walking tour is the best way to understand its rich history. So before anything, start with a guided tour of Budapest.
With your Budapest Card, you get two free English guided tours, on either side of the river — one tour to understand Buda, and one, to understand Pest.
The walking tour in Pest starts at 10 in the morning, every day, and takes you through major places of interest, including the Inner City Parish Church, St Stephen's Basilica, Old-street Market Hall, and the Parliament. You do not need to do any registration, but only show up at the meeting point in the city center with your City Card.
A walking tour in Buda, on the other hand, starts at 2 in the afternoon and takes you through the highlights in Buda, including the castle. It is moreover possible to do both tours in one day and is moreover convenient to do so, as after finishing your morning tour, you can leave with your morning tour guide to the starting point of the Pest guided tour.
So if you are wondering what to do in Budapest, this travel blog suggests you forget everything and do a walking tour.
Please note that without your Budapest City Card, the tours cost 3000 HUF each.
Best Budapest Museums
With over twenty museums, across the city, choosing the best museum and the most worthy among all can be tough, especially when you're bound with time. But out of all the museums I had visited, I can recommend the Hungarian National Museum (which is free of charge with your Budapest Card, or 2600 HUF without it).
Being Hungary's first and most prominent museum, it takes you back to the time of the Carpathian Basin's history — from prehistoric times until the regime change. The many exhibitions inside moreover showcase world-renowned archaeological artefacts, along with priceless treasures of Hungarian art and history. In less than three hours, you understand Hungary's dramatic regime shifts, its role in European society, and the long continuous history it has been associated with.
You read any travel blog on Budapest and you will read common mentions of visiting the National Museum. It is one of the must-sees in the town.
Other than the National Museum, Hungarian National Gallery is also worth visiting, for it provides the largest collection of Hungarian art, documenting the transformation and the development of Hungarian art — from the foundation of the state to today.
If time permits, visit the Underground Railway Museum too. Since Budapest is home to a UNESCO underground railway line, it's fascinating to see a memorial and learn about how Budapest, and moreover Europe at large, got its first underground train system back in 1896. At an exhibit, in the Underground Railway Museum, you can explore the original tunnel section, three vintage compartments of the railway, artefacts, documents, photos, and models tracing the history of the underground, from its construction to today.
Budapest Metro
The city of Budapest is home to one of the ancient and most artistic metro systems in the world. And among other UNESCO heritage sites on the banks of Dunabe, the metro lines of M1 and M4 are also on the UNESCO heritage list. Having said that, one of the activities you should be planning when you're here is: the METRO CRAWL.
It is moreover a very offbeat thing to do. So if you are thinking about what to do in Budapest and 'offbeat' is what you have in mind, this travel blog suggests you a metro crawl.
Two of my favorite stations that I definitely recommend you to visit are the M4 metro line Szent Gellert Ter and Fovam Ter. Read my UNESCO Budapest Metro guide for more details.
Gellert Hill And Liberty Statue
The 45-foot tall statue of a woman holding a palm leaf overhead, at Gellert Hill, may just be representing peace, but for tourists and the many photographers, the place has its own distinguished charm. From the citadel, and the many viewpoints, around the Liberty Statue, one can get stunning views over the Danube and the city below.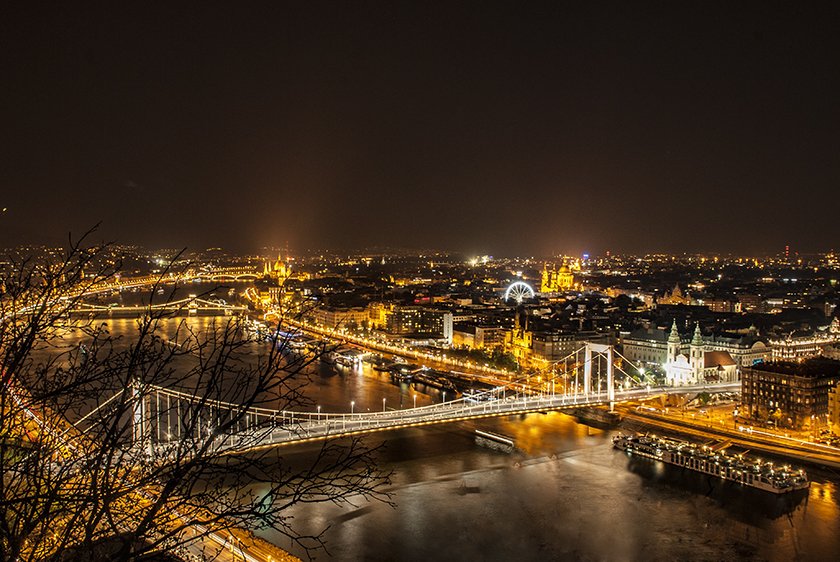 While the Gellert Hill and the liberty statue can be visited throughout the day, and only takes a short 15-minute (but very steep) hike, from the nearest Szent Gellert Ter metro station, the best time to visit is after sunset, when the entire city glows with a sparkling yellow. Carry a few beers from the nearest supermarket, find a perfect viewpoint, click some beautiful Budapest pictures if you have a travel blog, and enjoy the most beautiful sights of the entire city.
The hike is moreover well paved, well lit, and suitable for all ages and athletic abilities.
During my stay in Budapest, I made it a daily ritual to walk up the hill after 9 in the night (when the place was most peaceful), have a few beers on the Gellert hill — sometimes with other friends and sometimes alone — and return before 11, to catch the last metro to my hostel.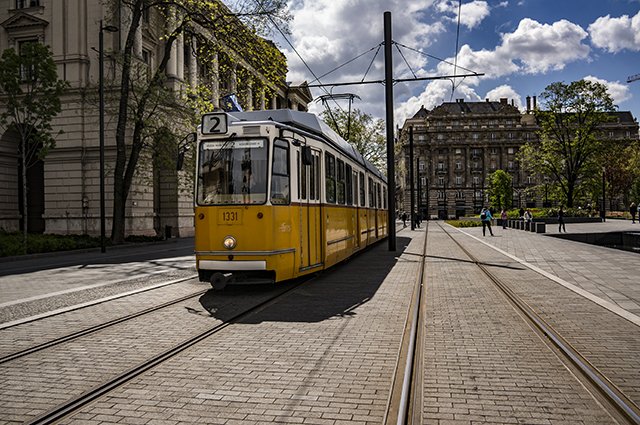 Take A Ride On Tram No2
It may sound funny but this might just be a highlight of your trip, and even if not, it will surely prove to be an ideal way of exploring the city. Tram number 2 takes the entire river route from one side of Pest to the other — while taking you across sights like the Parliament, the chain bridge, and the market hall, among others. So buy a full-day public transport pass (if you already don't have the City Pass), hop in the tram no 2, relax, and explore the city while on the go!
That's all in this travel blog on what to see in Budapest. Now, moving forward, let's talk about what to eat in Budapest.
But before we do that, I want to share a few other similar destination guides in Europe. All these blogs are meant for those who are short on time: Prague In One Day with useful budget tips, 6 hours in Berlin suiting those who are transiting through the city and 24 Hours In Zurich.
What To Eat In Budapest
The Great Market Hall
A culinary Hungarian special, Lángos is a big pancake with different ingredients on top. And to get the best Lángos in town, head to the Great Market Hall situated in Pest, right next to the river Danube. The Great Market Hall is also the best place to shop for some souvenirs. But be prepared to bargain for the price.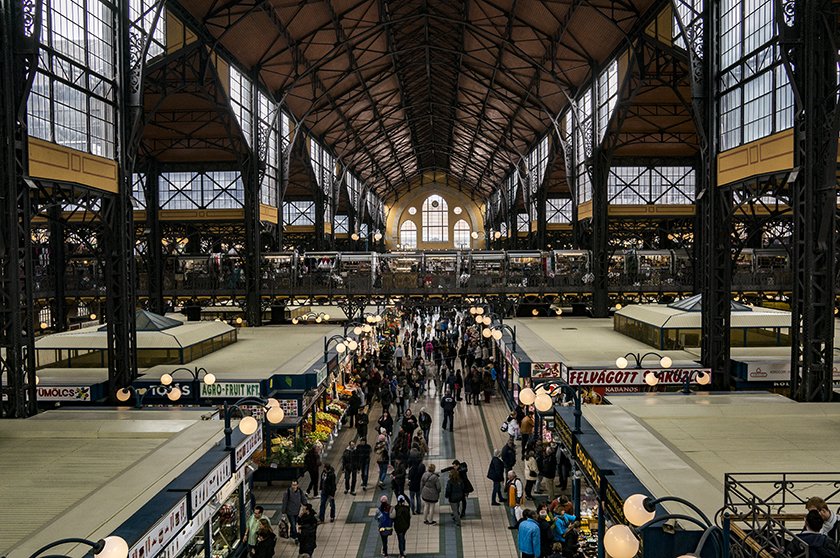 Budapest Ruin Bars For Drinks
You read any travel blog on Budapest, seeking tips on what to see there and what to eat and you will find a mention of ruin bars.
Out of the many ruin bars, my favourite turned out to be Szimpla Kert — the first and original ruin bar in Budapest opened in 2001. It's one of the biggest ruin bars and still the most popular. Here you'll find a large open courtyard, a top floor filled with eclectic furniture, cocktail bars, music, and even an old, stripped-down Trabant (a communist car) to have a drink in.
You can also buy and smoke a Sheesha inside.
Check this blog for more suggestions on Ruin Bars in Budapest.
Gulyás At Trombitas
During my one week in Budapest, and among all the places where I had eaten and written about on my travel blog, Trombitas Kiralyi Sorozo turned out to be the most local restaurant. Located in Buda, and away from any tourist activity, Trombitas can always be only found full of local Hungarians chowing down a grub, or sipping a Hungarian beer. If you'll visit Trombitas, I'll personally recommend trying the traditional Goulash soup.
Known to most as "goulash," this popular soup is a Hungarian original, containing chunks of beef, potatoes, and vegetables, plus plenty of paprika and spices.
Budapest is also a very good place to travel with family. During my trip, I saw more families there than there were solo travellers.
Disclaimer: I wrote this post in participation with Budapest Tourism. Though my tour in the city was partly hosted, all the recommendations and ideas are solely personal. I only recommend what I personally experience and find worth appreciating.
If you have more tips on what to see in Budapest or what to eat there that I can add to this travel blog, please leave a comment below.