Looking for a Berlin travel guide? In this blog, you will read how to make the most of your 6 hours in Berlin. From top tourist destinations to other useful tips, this travel guide on Berlin is all you need! So let's get started…
Berlin is one of those few European towns that nobody should miss, especially if someone's visiting Germany. There is art, history, culture, nightlife, an old town charm, and fancy pubs — in short, something for everyone. In fact, there is so much to travel for in Berlin that you at least need a few days to explore it all.
During my recent blogging trip with German Tourism, I ended up having less than 6 hours in the town (and hence this 6 hours Berlin travel guide), before I had a flight to catch up to India. The good thing was, I had a Germany Tourism official travelling with me, who, before leaving, not only helped me locate a locker in the central train station in Berlin, and buy a day pass for the public transport to save me time but also created a personalised travel guide on Berlin to cover some tourist highlights on a fast track.
In less than 6 hours, I covered most of the highlights that Berlin had to offer. Though of course I still only skimmed through its skin and didn't see any of the landmarks from inside, I can at least say that I know Berlin, even though not so thoroughly.
So if you too are bounded with time and are going to travel to Berlin for only a few hours, here's your quick Berlin travel guide to know the city better!
Berlin In 6 Hours
Again, if you have only 6 hours in Berlin, I suggest you explore the following highlights:
The central station, or Hauptbahnhof
Parliament Building
River Spree walk
Brandenburg Gate
Jewish Memorial
East Side Gallery
The Wall Museum
Note: If you're looking for an offbeat tourist destination near Berlin, I can suggest you the town of Ruegen. Read more about it here: Ruegen Travel Guide.
Now, let's continue about each one of the Berlin tourist highlights I've mentioned above in detail…
Visit The Central Train Station (Hauptbahnhof): Unless you've already deposited your luggage at the airport, or are visiting the town during a flight layover and have nothing to carry, you've every reason to visit the central station in Berlin.
And even if you don't have to use the locker, there are a couple of reasons to visit it anyway. One, it is at the central train station where your airport shuttle service drops/picks you up, from the town; and two, Berlin central train station is an attraction in itself.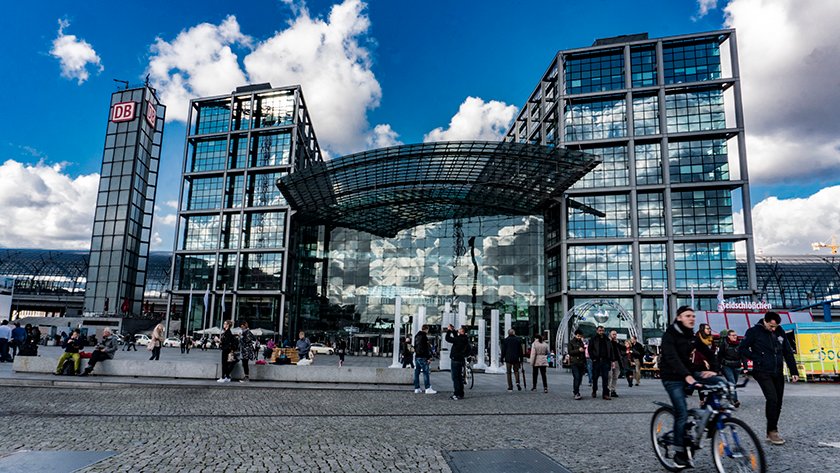 Its huge and thundering building is one of Europe's mightiest, and perhaps the most elegant too.
With several levels of tracks serving over a thousand trains a day, a vast shopping mall of commercial activity, and a creative architectural marvel, a quick stroll on its different levels — particularly the second floor, from where you get decent panoramic views over the city — is a must.
And last but not the least, you will need to visit the station to take a train to your next destination to complete the second tourist highlight in this Berlin travel guide, which is The East Side Gallery.
Visit the East Side Gallery: From the central train station, take any train going towards Ostreuz (a popular intersection) and get off at Ostbahnhof. From Ostbahnhof, walk towards the East Side Gallery, alongside the Spree river, and back.
The 1.2 km stretch of the East Side gallery will take you to the most popular highlight in Berlin — The Berlin Wall. It is on this stretch, where among the other graffiti art murals, you will also find the popular painting from the '90s called "My God, Help Me to Survive This Deadly Love" — the socialist fraternal kiss.
Slowly walk all the way to The Wall Museum and back, understanding how things would have looked in the past, before the collapse of the Berlin Wall — with two identical-looking parts of the city (having no difference in culture and people either) being hopelessly separated from each other.
Walking along this one-mile stretch of the East Side Gallery, moreover let you explore the new-age "industrial" look of Berlin, with massive tech and IT buildings slowly taking over the city.
Walk back to Ostbahnof and take any train going towards the central station.
Exploring Historic Monuments Across The River Spree: Once you're back at the central station, take the exit towards Washingtonplatz (the opposite exit from where the airport shuttle leaves) and cross the river Spree.
Now, first on the list is the Parliament Building or Reichstag. 
You will definitely have not enough time to take a guided tour inside the parliament, however, if you think you can spare an extra 30-45 minutes, visit the Reichstag dome for great views of the city. It is free to access but you need to book your place in advance.
Next on the list is Brandenburg Gate for a quick photo op. A symbol of Berlin and German division during the Cold War, Brandenburg Gate is now a national symbol of peace and unity and a mandatory stop for anyone visiting Berlin.
Click a few good pictures of yourself with Brandenburg Gate in the background, or perhaps add a royal horse-drawn carriage as an additional subject and make your picture exciting to another level.
I concluded my Berlin travel guide visiting only the above-mentioned places in nearly five hours, before making it to the central station, collecting my luggage, and catching the airport shuttle, which takes nearly 15 to 20 minutes to get to the airport, depending upon the time of the day. If it's busy on the roads, keep another 10-15 minutes of buffer time to avoid any disaster.
---
And a bonus: If you think you've another half an hour or so in hand, five minutes walk from Brandenburg Gate is the powerful Jewish Memorial, which definitely is worth a visit. Try to enter the underground museum here (also free entry), it is well worth your while.
And last but not least, Berlin is Germany's capital and the largest city in the country with one of the most turbulent histories of any European capital. There is a lot of history and art to uncover here. Where the new-age "industrial" look of the city is slowly taking over the historic part of it, Berlin, at least for now, has maintained its old-town charm.
Among all the other big towns I've explored in Germany so far, including Stuttgart and Frankfurt, Berlin remains one of the most fun, coolest and diverse towns. There's a constant sense of motion here!
I also loved Stuttgart a lot. Read my other travel blog on Top things to do in Stuttgart.
Got more tips for this 6 hours in Berlin travel guide? Please share in the comments below!
If you have longer than 6 hours, you should also consider renting a car in Germany. For example, I did this during my 7-day road trip across the Romantic Road.
Disclaimer: I visited Berlin during a blog trip with Germany Tourism. While my trip to Germany was sponsored, all suggestions mentioned here are solely personal.