Planning a road trip along the Romantic Road in Germany? Looking for a route map and an itinerary? This one week trip itinerary is all you need…
Last year, while backpacking in the Bavaria region in Germany, I got introduced to Germany's most beautiful holiday route: The Romantic Road.
It all happened while I was travelling in Rothenburg Ob Der Tauber in 2018. As I visited the Tourist Information Centre in Rothenburg, to pick some reading material on the town, I figured that it's not just one but many such picturesque fairy-tale towns as Rothenburg, and they're located on a nearly 400km trail called The Romantic Road.
"You should do the entire Romantic Road in Germany if visiting similar small medieval towns is your thing," I remember being told as I picked a brochure that read 'Medieval Germany' at the tourist information centre in Rothenburg.
At that time I paid no interest in what the lady at the reception desk told me. But as I got back to my hotel and looked at the brochure, I came across the same term again "The Romantic Road".
Naturally Intrigued, I Googled more about the subject and found that Romantic Road, in fact, is Germany's most picturesque and top-rated Holiday Route.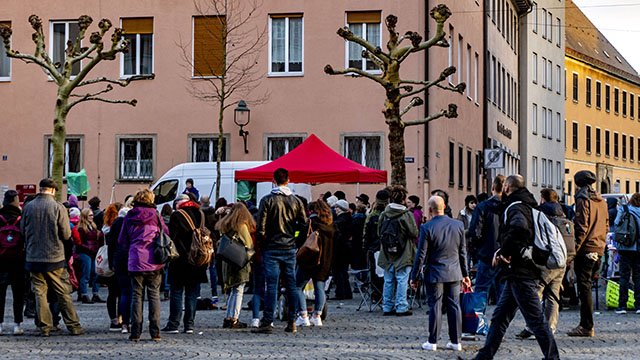 Fast Forwarding One Year Later…
1 year later, I planned another trip to Germany, but this time it was a bit more specific. The itinerary was well-defined, for I knew where I was going. On Agenda, was a dedicated road trip to Romantic Road, Germany.
I hired a car from Frankfurt Airport and covered the entire trail(though not staying or visiting all the towns on the Romantic Road but travelling from its north to south end!) over a period of 7 Days and 6 Nights. And it turned out to be the most memorable visit to Germany I ever had.
For those who don't know, I've been to Germany four times in the previous three years, and the Romantic Road remains my favorite! Now, let's get to the topic at hand:
Romantic Road Trip Itinerary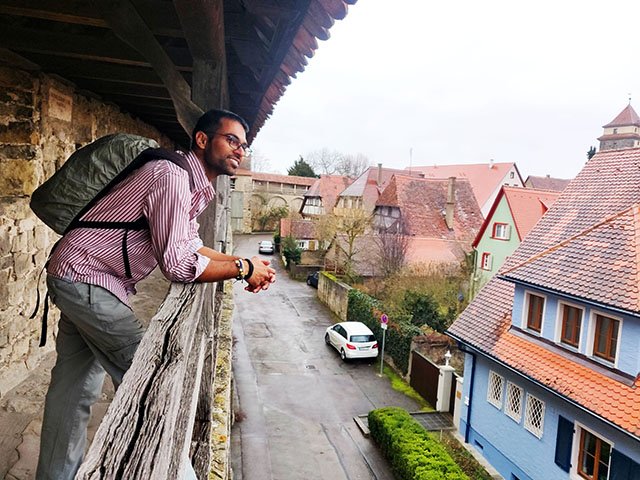 Romantic Road Germany: An Introduction
Running from the River Main to the Alps, the name the Romantic Road offers a landscape that changes from river valleys to fertile agricultural lands, forest to dramatic mountain scenery. And that's not all. A journey along the Romantic Road offers more than the beautiful countryside.
Here you will find 30 German towns that not only define Germany's but entire Europe's history, art and culture. Some of the towns you will find are as old as 15 b.c, with architectural buildings surviving since the 15th century, or older.
No wonder, a Romantic Road road trip brings about the fascination and a sense of being transported back in time.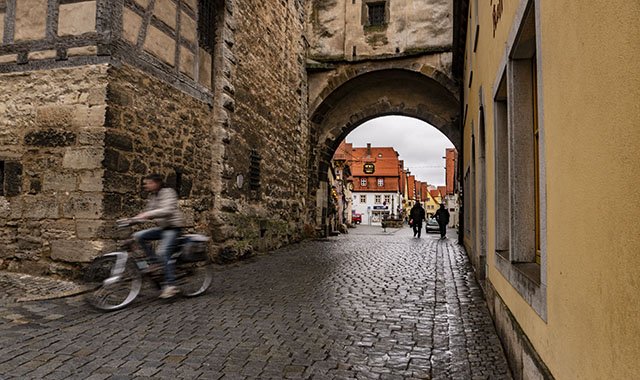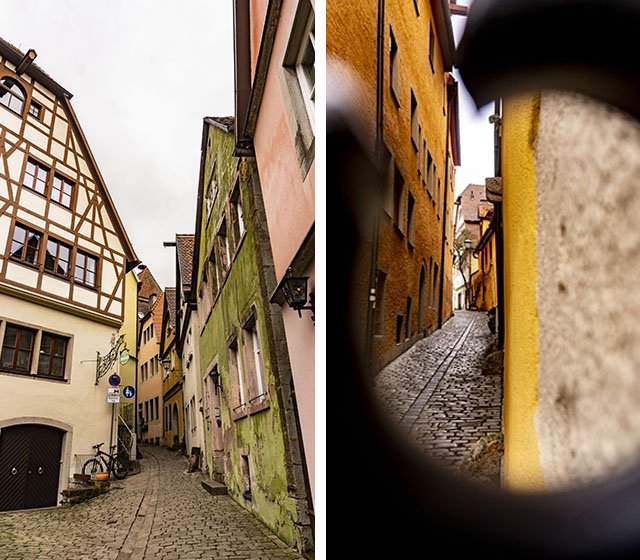 Romantic Road Route map
The route starts from Wurzburg in the north (about 120km from Frankfurt) and runs straight south of the country towards the Alps, before concluding itself in the town of Fussen (the border town to Switzerland).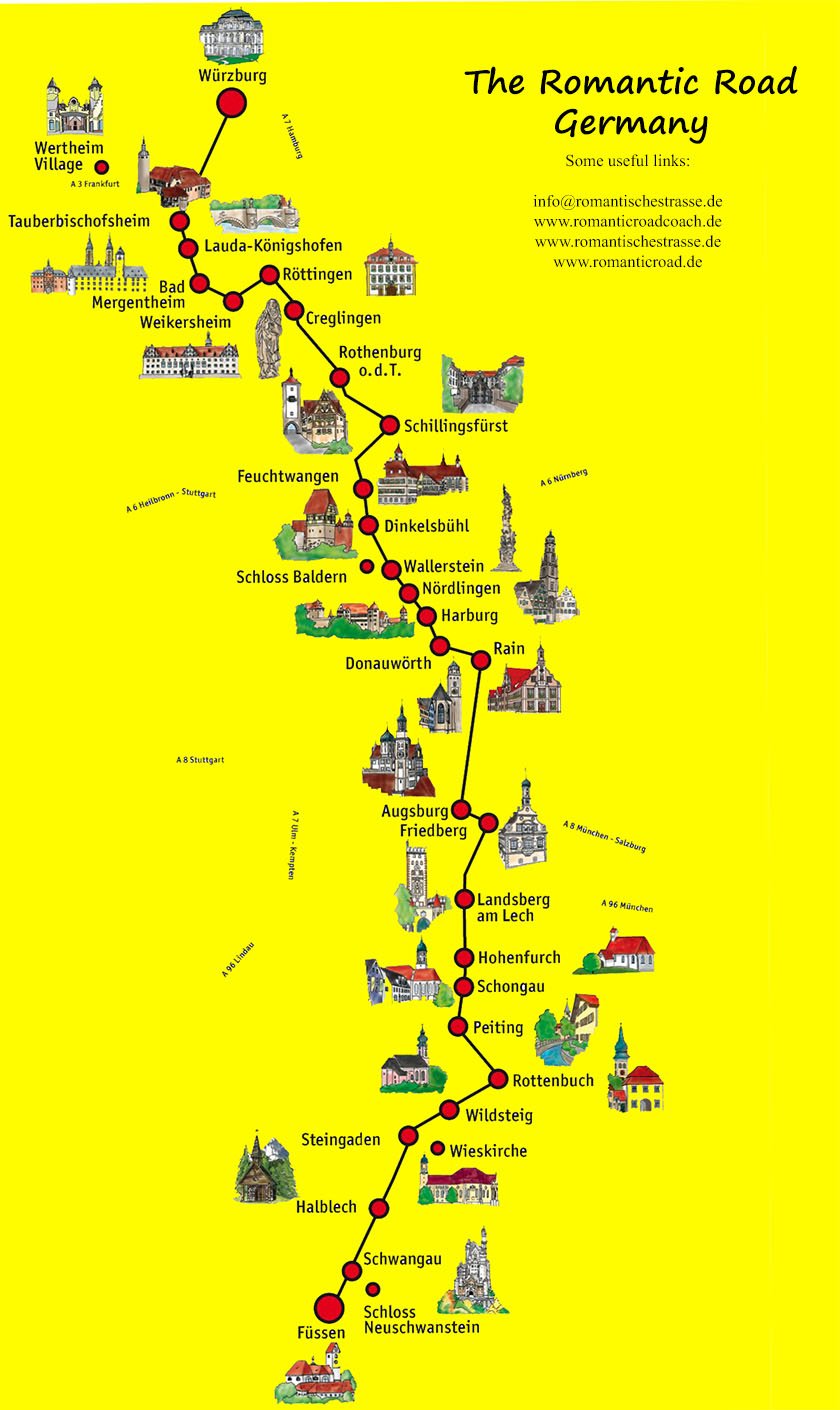 How Do I Recommend Exploring The Romantic Road
There are actually three ways of doing this trip…
The Romantic Road drive: it is by far the quickest and most convenient way (we will talk more about it following my 7Day/6Night journey below!)
The D9 Long-distance Cycle Trail Romantic Road: It runs from Wurzburg to Fussen, covering a total of 460km and running parallel to the Romantic Road road-trip on little-used side roads, local link roads, and tracks through consolidated farmland and forest. There are short sections too that are ideally suited for short-stay and weekend visitors too. From April to October, there is a coach service that follows this Romantic Road itinerary and accepts bicycles on the advanced reservation. So you can use it to cover individual stages of the route or to return to the starting point of the journey. Check romanticroadcoach.de for more information about the coach and the Romantic Road bike trail.
Long-distance Walking Trail Romantic Road: Starting in Wurzburg and ending in Fussen, the Walking trail covers a distance of nearly 500km. Just like the cycling trail, the walking trail is also signposted all the way to make it easy for those who dared to walk its 500km long trail. Details for the entire route as well as of the stops for each stage can be downloaded from the internet both as a map and in GPS data format at romantischestrasse.de
I believe cycling is a great way to see more of the German countryside and its beauty if only, you have the time and the fitness level for it (given, you will be driving over 30km every day while enjoying the landscapes and clicking pictures at the same time).
I would have, myself, done a bicycle ride had I done this Romantic Road itinerary between April and October. And this is for two obvious reasons: pleasant and more favorable weather, and the availability of the Romantic Road Coach.
But since I was short on time and wanted to do the entire journey — starting from River Main to the Alps — a road trip was the only way. Additionally, a road trip was more comfortable and could be done in the month of March when the weather was still too cold and periodic rain was still quite prevalent.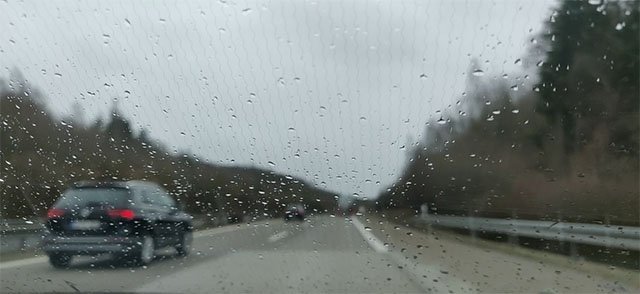 So yea, the basis on how much time you have and what you want, driving or cycling, both are great options. Walking, on the other hand, is going to take just a little more time, can be boring and will take you to the same route as cycling would others do.
One Week Itinerary For The Romantic Road Trip
If you're starting the journey from the northern end i.e. Wurzburg, Frankfurt airport is going to be the nearest and most convenient for you.
Frankfurt Airport is one of the busiest and most resourceful airports in entire Europe. And when it comes to renting a car, there is no better place. You will find pretty much every rental company at Frankfurt's Terminal 2 including the popular ones like Sixt or the unheard-of ones like Buchbinder (though I do not recommend them, given my experience). So if you want to compare prices and rent a car on the spot you can do it all in one place.
However, it is always a better idea to book one online than to do it directly because of the higher prices. Moreover, just like flights, the closer (to your pickup date) you book your car, the more expensive it is going to be. It is advised to book a car at least 7 days in advance. Read these useful Tips On Renting A Car In Europe for more. Also, check these useful road trip food tips.
Day 1: Frankfurt to Wurzburg (120 km | 1.5 hours)
Frankfurt to Wurzburg is an easy 1.5-hour drive via the A3 Autobahn. To be honest, the route doesn't offer anything great and is more or less just a highway drive.
If you haven't been to Frankfurt before, a quick stopover at the old town of Altstadt is totally worth it. Head to the Eiserner Steg pedestrian bridge and catch the beautiful views of Frankfurt Skyline. A stroll along the Frankfurt Main Riverside is quite a highlighted thing too. Here's a detailed travel Guide on Frankfurt that I have written earlier.
The town of Wurzburg is a charming little town with interesting architecture and a special atmosphere.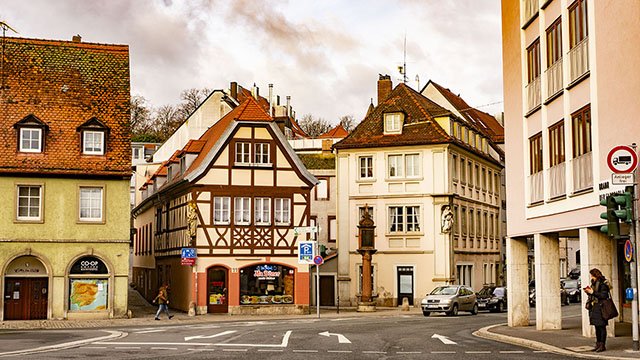 Visit the Marienberg Fortress, which sits atop the hill across from the old town, explore the baroque-style Residence Palace, and walk the 16th-century Old Main Bridge (Alte Mainbrucke in German) across the Main River, there is so much to see in this little town.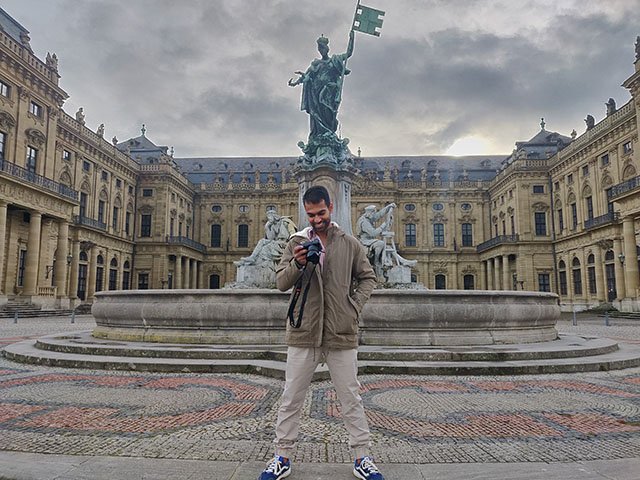 And to spend the night, I recommend where I stayed in Wurzburg, GHOTEL Hotel & Living which is located very close to the Residence Palace and the old town. Its high-rise building moreover gives sweeping views over the city.
Day 2: Wurzburg to Rothenburg Ob Der Tauber (64 km | 40 minutes)
Wurzburg to Rothenburg, again, is a very short drive, and a not-so-interesting one, given you will be driving pretty much over a highway for most of your drive, but the town of Rothenburg Ob Der Tauber will make it up to you.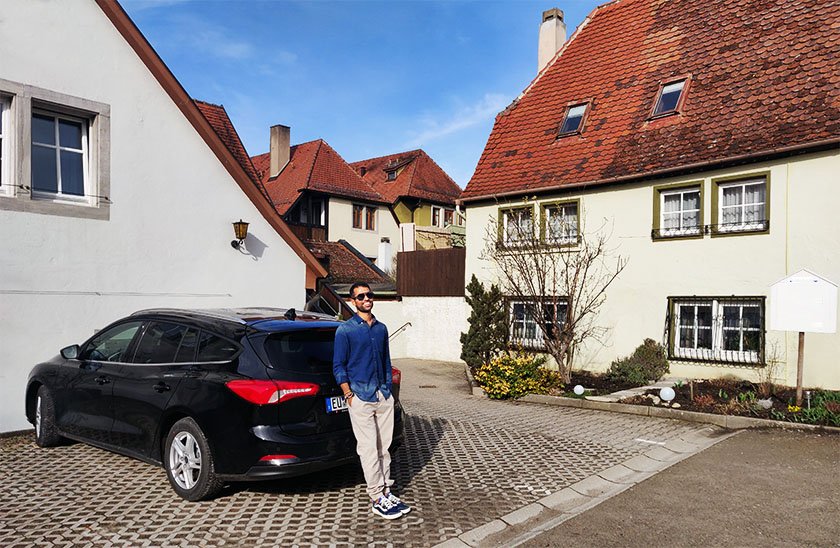 Rothenburg Ob Der Tauber remains one of the most visited towns on the Romantic Road, in Germany. I have personally visited Rothenburg twice in the previous still couldn't get over its beauty. From architecturally restored houses to a completely intact medieval town wall, everything about this cute little town spoke of nothing but a hint of medieval well-preserved history.
In short, if Europe, for you, is all about cobblestone streets, small alleyways and street cafes, Rothenburg is going to prove you right.
Visit the Käthe Wohlfahrt Christmas Store, eat a Schneeball, visit the medieval crime museum and do the tower trail. These four things will complete your Rothenburg visit. And here's a complete Rothenburg Ob Der Tauber Travel Itinerary, if you're looking for more tips.
Day 3: Rothenburg Ob Der Tauber to Nordlingen (85 km | 1 hour)
Rothenburg to Nordlingen is another short drive of only 1km but the drive starts getting a little better from here as you're not on the highway all the time. Additionally, to make it better, you can avoid the A1 and take B25 which runs pretty much parallel to A1. This route will moreover take you to the town of Dinkelsbühl, which is another destination on the Romantic Road and a very picturesque one. I took B25 as my route but skipped the town of Dinkelsbühl.
Speaking of Nordlingen, however, the town is medieval looking with its old town still surrounded by a city wall, just like it might have been back in the days, making it one of the only three towns in Germany (Nordlingen, Rothenburg, and Dinkelsbühl) that still have a 100% intact town wall, giving it a medieval charm.
What's more interesting is that Nordlingen is actually located in a crater caused by a meteorite that hit about 15 million years ago making it one rare town, not just in Germany but the entire world.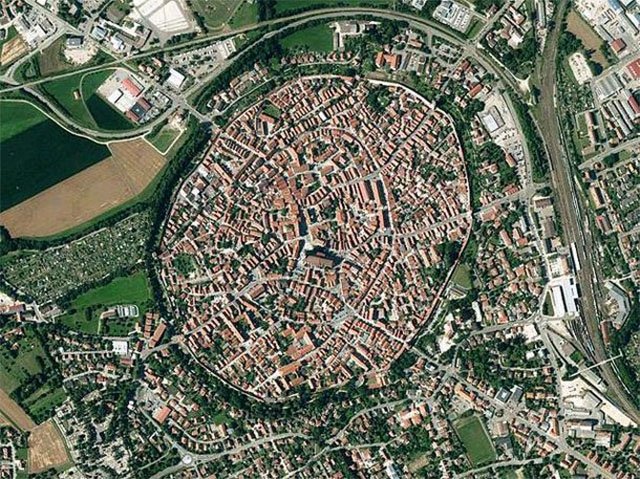 Upon first glance, Nördlingen actually draws hints of a typical German town. It has a city wall surrounding it. At its epicentre sits a towering church dominating the skyline. The church is perfectly alibied with red pitched roofs of hundreds of timber-frame houses and shops. The entire vibe of the place is quite unlikely, making Nordlingen a must-do on this Romantic Road road-trip itinerary.
Read more about Nordlingen here: Nordlingen Travel Guide
Day 4: Nordlingen to Augsburg (75 km | 1 hour)
Nordlingen to Augsburg is from where the drive will start becoming a little picturesque as you will no longer be driving on a highway but country roads taking you through small towns and villages.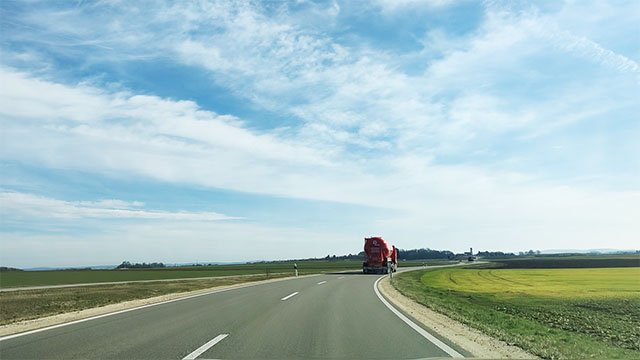 Augsburg, as a town, is one of the oldest in Germany, with its foundation dating back to 15 bc. Statistically speaking, Augsburg is Bavaria's third-biggest town, but when you're there you don't feel it that big.
To me, Augsburg felt like one of those places that still holds that old European charm from yesteryear where an intriguing blend of history, culture, and art is still prevalent; where trams still chase each other on cobblestone streets; and where there are more people walking on streets than cars.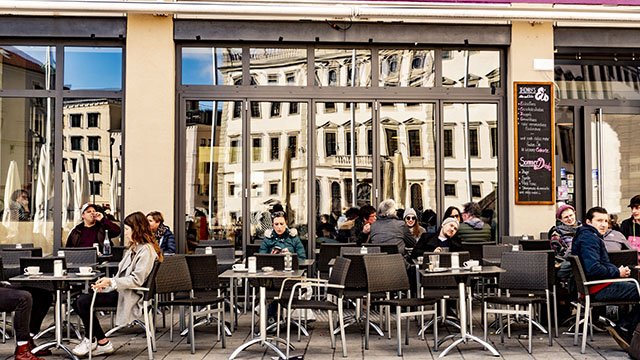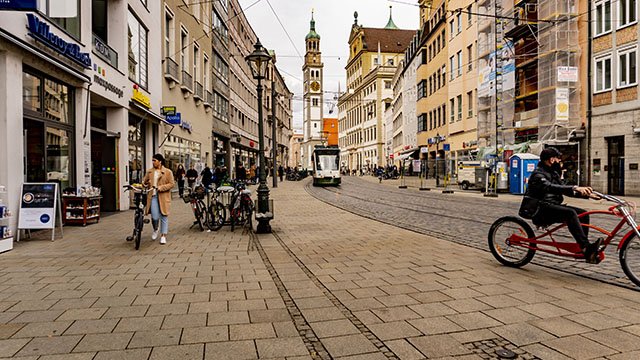 Here's more on Augsburg: Augsburg Travel Guide
Day 5: Augsburg To Schongau (66 km | 50 minutes)
From Augsburg, the more your drive south, the more picturesque the journey gets. Between Augsburg and Schongau, you get patches of highland, with beautiful farmlands running on either side. However the closer you get to Schongau the journey starts getting a little hilly. In the town of Schongau, you see the Alps erecting at a distance.
Schongau is popular among tourists for its well-maintained medieval Stadtmauer. Funnily, for years this fortification defence wall protected villagers by keeping people out & now it's the reason for wanting to get in.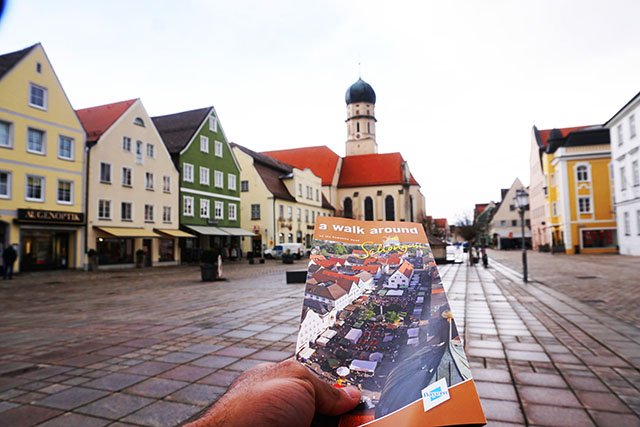 Two more remnants of the Middle Ages are the 15th-century Schloss Schongau and the 18th-century Polizeidienerturm (or Police Servant Tower).
Unlike other stops on this Romantic Road Road-trip itinerary, Schongau proves to be a little weakling in terms of the tourist attractions it offers. But the entire small-town vibe that it has makes Schongau one of the must-sees.
Day 6: Schongau To Fussen to Hohenschwangau (37km | 40 minutes)
Schongau to Fussen will take you to the most beautiful part of the journey with the Alps coming nearer at every kilometer. The drive is going to be the shortest, making it easy to cover more than one highlights on the Romantic Road in a day.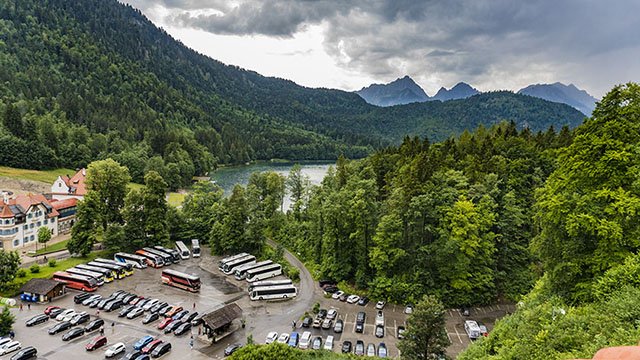 Make Fussen your base and do a day trip to Hohenschwangau and Schloss Neuschwanstein.
Fussen's old town is a blend of brightly coloured buildings, adorned with frescoes.  The typical Bavarian architecture and cobblestoned streets give the town an old-world charm.
The highlighted thing to do in Fussen, however, remains the royal castles of Hohenschwangau and Neuschwanstein, related to King Ludwig II of Bavaria. 
Set on the foothills of the Alps, it's hard to visit Hohenschwangau and Neuschwanstein without conjuring up thoughts of fairy tales and royal musings. You can find the castle of Hohenschwangau on many brochures highlighting tourism in Germany, and when you see it in reality, you understand the reason why!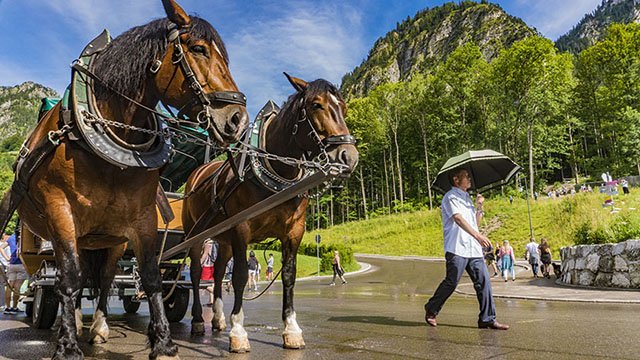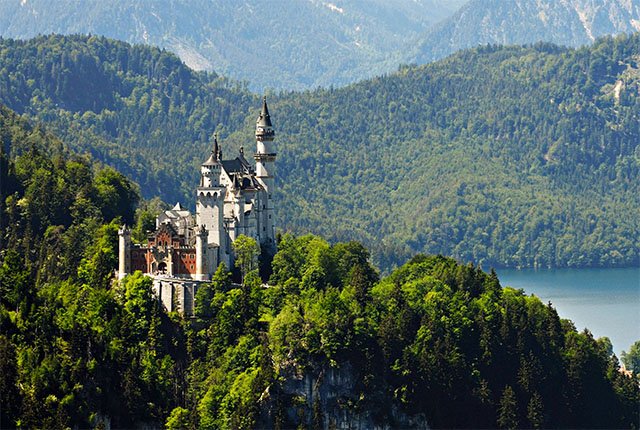 Day 7: Fussen To Frankfurt (420 km | 5 hours) & fly back!
Following the A7 and A3, drive back to Frankfurt. Your Romantic Road road trip has sadly come to an end!
Tip: If you are from another country like I was and planning a road trip to Germany then you need an International Driving Permit (IDP) to be eligible to drive in Germany. Check out the International Driver's Association for more on this topic.
Conclusion: Romantic Road Is Beautiful
This Romantic Road itinerary may not be talking about the entire of Germany but it's certainly worth doing. In picturesque towns, the fairytale setting on this route is no less a perfect honeymoon package. I think throughout my 5 years of full-time travelling I haven't come across any other trail so beautiful as the Romantic Road. 
Let's just conclude the article now saying that The Romantic Road is located in the Bavaria region in Germany. And you need to visit it!
Do you agree with this Romantic Road itinerary? Would you add anything to the list? Let's share in the comments below!
Disclaimer: I did the Romantic Road Road-Trip during a blog-trip with Germany Tourism. While my visit was sponsored, all recommendations are solely mine. I only recommend what I personally try and find worth appreciating.