Planning to rent a car in Europe, and doing it for the first time? Read these useful tips.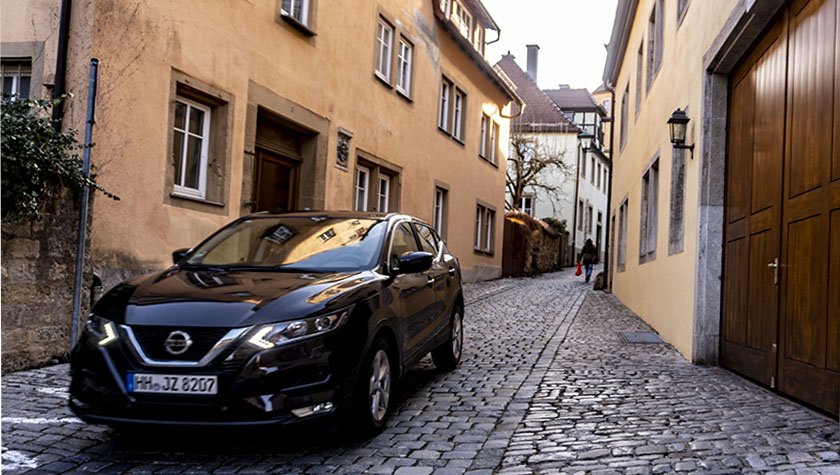 During my recent blog trip with Germany Tourism, I ticked off a major bucket list thing — hiring a car and doing a road trip in Europe. Though I understand it was a short one, and a part of me wanted to ride a motorbike than driving a car, I think the fact that it was my first time ever attempt for solo driving/riding in Europe, and that too on the wrong side of the road (according to my Indian disposition) driving a car felt like a safer plan.
So if are just as helpless as I was before the trip, renting a car in Europe from India (or some other country overseas) for the first time ever, this article will help you answer your questions.
The Hidden Costs: My Experience Of Renting A Car In Europe
Driving around in Europe is indeed a great experience. But there's more to the deal than just a great experience. Thanks to hidden costs that you figure out at the reception desk before your dealer hand-over the keys, renting a car in Europe can actually kick your butts (and wallet).
I remember when I booked myself a car, sitting in the cozy corner of my apartment in New Delhi, drinking a cold beer, I was so happy that I found an unbelievably cheap deal. According to the payment invoice, I booked a Ford Fiesta for 7 days for just 125 EUR in total (some 9500 Rupees). And then 3 days later, I flew to Germany, and the reception desk happened. I presented the invoice at the reception desk of Buchbinder Car Rental at Frankfurt airport and I was told that there are an additional 40 EUR taxes that are not mentioned in the invoice. To make it worse, I was told that my agreement includes no insurance and has an 800 EUR excess fee, meaning, a single scratch on the car would make me liable for 800 EUR straight. Another scratch, and another 800 EUR penalty. On top of that, they will hold 1200 EUR from my credit card as a security deposit (nearly one lakh Indian Rupees).
Though I understand, I was liable for any damage done to the car, the very explanation of paying 800 EUR straight (which they would cut from my security deposit I assumed) for even a minor scratch on the car's body put me in a vulnerable situation. And what was the solution? To get my car insured for an extra EUR 140.
Well, that's the kind of hidden costs your car rental company can smartly trick you in. They make you feel so vulnerable (at least Buchbinder Car Rentals at Frankfurt Airport did that to me) that you find no other escape but doing what you're being told.
In the end, I paid an additional EUR 180 (140 EUR insurance and some 40 EUR of taxes) when my rental invoice, at the time of online booking, said, I have to only pay EUR 125 at the reception desk.
But all that said, hiring a car has its own perks. And when you're travelling in a continent like Europe, with beautiful countryside drives, the perks become even better. It gives you greater freedom on your travels, allowing you to visit remote and beautiful locations that public transport would not be able to take you (or may take you if you're prepared to take three buses, two trains and walk for another 45 minutes, in the end, to get to your place).
Having said that, renting a car, even if you're as inexperienced as I was, or you're coming from a country like India where car laws and driving habits are quite different, does not have to be a nightmare. Just read ahead and learn from my experience.
Also Read: Europe Budget Travel Tips
Renting A Car In Europe: Top Tips
Choosing A Company
After my bad experience with Buchbinder, I shared about it in a couple of Facebook groups and asked people if they had a similar experience while renting a car in Europe, and I figured that Buchbinder wasn't a popular choice, after all. Major rental car companies in Europe, as I was suggested, include Avis, Hertz, Budget, Europcar, and Sixt. A little research on Quora only assured the fact.
Avis, Hertz, Budget, Europcar, and Sixt, are the top players in Europe, and are most people's first choice, basis on who is giving the best deal at the time of booking. And since they're big and reputed, the chances of them ripping you off with hidden costs are moreover less.
To find the best deal, however, it's a wise idea to check a price comparison website. AutoEurope.com, for example, is a great resource for finding out the best rates comparing all the major players under one window. It's something similar to what Kayak or Skyscanner does for flight comparison.
The Driver's Age
Some of the rental companies charge a higher fee if the driver is younger than 25 years in age, at the time of car hire. Though the legal age of driving is much younger, and you need to be only 21 to be able to rent a car in Europe, the rental companies charge a little extra if you're young. So make sure you look into the company's younger driver policy.
The Number Of People That Are Going To Be Driving The Car
Another strange thing that I never expected can add a difference to the cost of your rental agreement is 'the number of people that are going to be driving the rented car'. For example, if you're a squad of 4 friends renting a car, but only one person is going to be driving throughout the trip, it's fine. But if you told them (at the reception desk or while booking online) that there are 3 drivers out of 4, you will be charged 5-20 Euros extra for every extra driver. Strange, but true! Such a thing doesn't exist while renting a car in India, or elsewhere in Asia.
The Number Of Countries You're Driving To
Where border-less Europe remains a valid reality in every other transportation method, whether you're flying or taking a bus or a train, when it comes to a rented car, you pay an extra fee for every country you travel to. In fact, some rental companies don't even allow you to take the car to certain countries. So make sure you check your car rental company's policy or perhaps contact their customer service to tell them what all countries you'll be travelling to and if allowed, how much it's going to cost you extra. Compare the cost with a few companies and find the best deal.
How Many Kilometres You're Going To Drive
Unless your rental agreement says that you have 'unlimited kilometres', you are only allowed to do a limited distance (usually less than 250km a day) every day, or you pay the fine when you return the car. So double-check with your company on their policy, especially if you have a long trip/distance planned.
You May Not Need An International License, But Get Yourself One
When you go to pick up your car you are asked for a valid Driving License. You will be happy to know that most countries in Europe allow you to drive with your home-country license (eg in my case, they allowed me to drive on my Indian driving license without asking for any sort of international driving permit) but they can still potentially ask to see your International Drivers Permit (IDP), particularly if your home Driving License is not in English. So get yourself an IDP.
It is moreover important to know that an IDP does not replace your Driver's License but only supplements it. You may not be asked to show your IDP when picking up your rental car in these countries (as was the case with me in Germany) but it's still a good idea to have one just in case.
Dealing With Expensive Insurance
Lawfully, every car rental agreement in European Union countries comes with a 'reduction of liability' insurance under which any damages to you or other vehicles, during an accident, is covered. It doesn't matter how cheap your rental agreement was, or whether you unchecked all boxes (particularly the insurance ones), if you're renting a car, your car rental company is providing you with this third party 'reduction of liability' insurance. It's mandatory by law.
Now, what your car rental company will most likely try to trick you in, is provide a cover for your car, which is often around EUR 20 per day, as was the case with mine, adding EUR 140 in my rental agreement for a 7-day period. Standing at the reception desk with a long queue behind me, forcing me to act fast, and with no experience of how to deal with the situation and avoid the insurance, I did as I was told and ended up bleeding EUR 140. But there are quite a few ways to actually avoid it, and still have your own car insured (for free, or at a much lower price).
Many credit cards offer car rental insurance. Check if one of your credit cards has that too. Use that credit card to make the payment for the car rental, and you are taken care of. If not, there are quite a few third-party insurance companies in Europe that provide full or partial coverage of your car, at a much lower price. Eg, iCarHireInsurance.com is a great option (PS: I am not being paid to advertise them!) that I later checked and found, was giving me the same insurance that Buchbinder gave (for 140 EUR) at a mere price of EUR 35. Though it's true that it was a third party insurance company and any damages had to be first paid out of my own pocket first before I could claim the money back from iCarHireInsurance. But that was only if I had to use the insurance at all, which is often very unlikely. The difference between the two similar insurance was huge!
Key Takeaways:
Don't use Buchbinder, from my personal experience. Try to stick to reliable and bigger companies like Avis, Hertz, Budget, Europcar, and Sixt.
Use comparison websites like AutoEurope.com
Read the company rental policy for any extra fee for young drivers, number of km per day restriction and country restrictions (if you're visiting multiple countries).
Find a way to save on additional protection of your car insurance if you can.
Also Read: Germany's Most Beautiful Route: The Romantic Road