If I am going to fly across continents, I will always be wanting to make the most of it and landing at the best of all destinations. So as I decided to backpack across Europe for nearly two months, exploring eight countries in total, I used it to my advantage by starting the journey from one of the most beautiful countries in Europe. Yes, I am talking about Switzerland. And in Switzerland, the hub of all activities and cultural treats: the town of Zurich!
As I stepped out into the Zurich airport and headed to have my first couch-surfing experience ever, I was more skeptical than ever. I had the impression that it would feel sterile and bounded with punctuality and rules, but it wasn't anything like that. My 48 hours in Zurich went just as smooth and happening as I wanted it to be. My Couchsurfing host turned out to be one of the amazing people I've met in my life.
So before I go crazy and end up writing a 2000 word essay on my First Couchsurfing Experience and about the friendly Swiss locals, I'll return to the topic at hand and share some of my favorite spots from around Zurich (For now, you can watch my Youtube video about my couchsurfing experience).
As time permitted, I'd only one dedicated day to explore and experience Zurich as best I could, as I thoughtfully spared the other day (I stayed in Zurich for two days) to explore the beautiful Swiss Alps by doing a day trip to Mount Titlis.
So if you too are a little bound with time and are struggling with the idea of what to do to complete your visit to Zurich, then read ahead. Here are my favorite moments, and some suggestions, on what to see in Zurich if you've only 24 hours.
Start With The Landesmuseum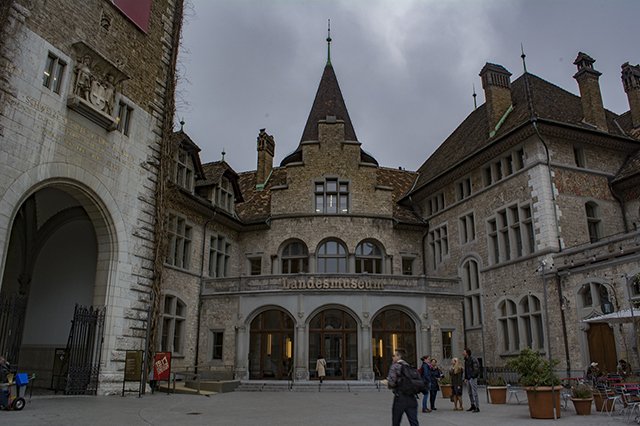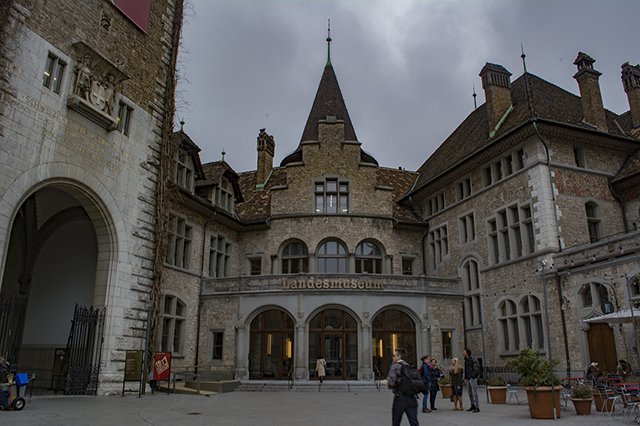 Because it's very likely that you will be starting your tour from the central train station, make Landesmuseum (or Swiss National Museum) your first stop, as it's located only a few steps away from the central train. Starting your tour with a museum is moreover a good idea as this helps you learn a bit about the cultural and modern history of the city.
With over 820,000 exhibits presented in an interesting way, the Landesmuseum gives you a fresh perspective and a clear idea of Zurich's origin and achievements, as we know them today. Once done, start with exploring the colourful old town of Altstadt.
The Colorful Old Town Of Altstadt
Unlike the boring monotonous buildings that I ended up watching for two years in the United Kingdom (I'm not talking about the countryside but the big southern English towns where I concluded my studies) the architecture in Zurich turned out to be much more vibrant and enthralling.
Like all great cities, Zurich was colorful. And amongst its dreary skies, and well-driven roads, the town surprised me with a different color, everywhere. I just had to look.
The best among all was, however, the streets in the old town of Altstadt, and in Altstadt, Augustinergasse street. Walking through this historic part of the town and exploring the narrow cobbled streets is definitely a highlight.
Walk uphill to Lindenhof park, the most ancient part of the city, where Zurich's first few buildings (as we know them today) were constructed — back in the 19th century. Just stroll through its streets in a romantically beguiling fashion, or take the Zurich City Walk Tour (for CHF 25), for an in-depth experience.
See the Chagall Windows
Fraumnster Church in Old Town Zurich is home to five world-famous Chagall windows. Created by a Russian-French artist, these magnificent stained glass windows bath the chapel in a rainbow of light and a moment of interrupted awe. Each window located in the choir depicted a different Christian Story.
Grab A Drink At One Of The City's Panoramic Bars
If you think Zurich has enough to offer from down its street, brace yourself. Because it gets better as you climb high and probe the bird's view. High above the rooftops, where the noise of the city is far away and sometimes a slight breeze blows, you get to marvel at the Zurich's beautiful architecture and a conduit of ever impressive tram-lines.
Though there are dozens of rooftop cafes to explore Zurich with a birds-eye view, the place I ended up having my beer with my Couchsurfing host Marianne, was called Jules Verne Panorama Bar. It cost us 8 CHF to get a pint of beer, and 16 CHF for two, with great views over the city.
Claim The City Boundaries In A Tram
One of the best and quickest way to explore a city (any city, in any continent), when you have little time and no agenda, is by making yourself comfortable in your favorite mode of public transport and go to the end of the line. And when it comes to Zurich, trams are the best way to do that.
As people hop-in and hop-off, you slowly explore the town and its surrounding suburbs — getting a closer look at the city's everyday life, and culture. Start your journey in any direction from the main station, and get to the other side of the town, take the same tram back or the train, to make it quicker.
Drink from a Water Fountain, And Capture It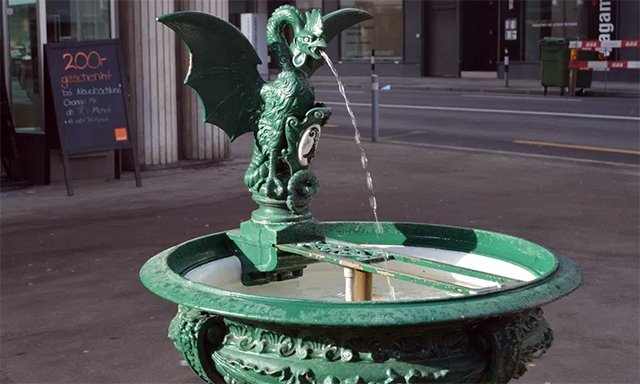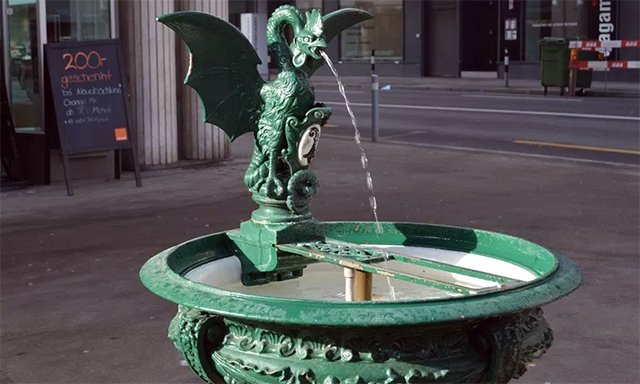 One of the most cultural things about Zurich is its unique drinking water fountains that are spread all over the city of Zurich. An estimated figure says that over 1200 such fountains can be found across the city, most of which spill drinkable water 24 hours a day.
So when in Zurich, there is no need to purchase bottled water, just stick your reusable bottle under one of the flowing spouts and drink from an iconic Swiss fountain.
Save Your Time Using Zurich City Card
If you're in Zurich for a limited short time, and are going to be travelling in public transport one of the easiest and quickest way to save time (and moreover money) is by investing in a 24 or 72 hour city card, that offer you a free travel in all public transport and a free or a discounted access to most of the tourist attractions, including many museums.
Though the city lets you hire free bikes at all major stations, it's just too much of a hassle to locate (and moreover drop) the bike at their desired station. So invest in a Zurich card, skip the lines and all confusion, and get going!
Also Read: What To See In Stuttgart | Berlin In 6 Hours