Before I go ahead and discuss Keylong to Kargil route via Shinkula Pass, I want to bring to your notice that though this article was originally written in 2020, I have updated it with latest route details for 2023. Many patches that were underconstruction in 2020 have now been reconstructed by the Border Road Organisation.

Back in 2020, the descent from Shinkula Pass to Kurgiakh village was very risky, in 2023, that has been improved. From Darch to Shinkula Pass, BRO has built a perfect road that even scooters can attempt. Once you reach Shinkula Pass and start your descent towards Kurgiakh or Purne the road conditions deteriorate.
Here are two videos that will give you a good idea of Shinkula Pass road (journey date: June 2023) from Manali…
For a more detailed journey, watch my original circuit videos (attempted in the year 2020)…
Thanks to the Border Road Organisation, Manali to Leh highway is no adventure anymore. The (nearly) 450km stretch of the road (that connects Manali to Leh, via Keylong) remains so perfect throughout the season that Formula 1 circuits around the world can take shame from it (just like many other routes in the Himalayas like Delhi to Manali road that is now a 6-lane highway).
So what should adventure/thrill-seekers do if they're heading that way?
My suggestion…
Do Keylong to Kargil, via Shinkula Pass, and explore some of the most isolated villages, unforgiving dirt roads, and deadly river crossings – all bundled in an epic 5-day epic road adventure!
Shinkula Pass: Keylong To Kargil via Zanskar Itinearary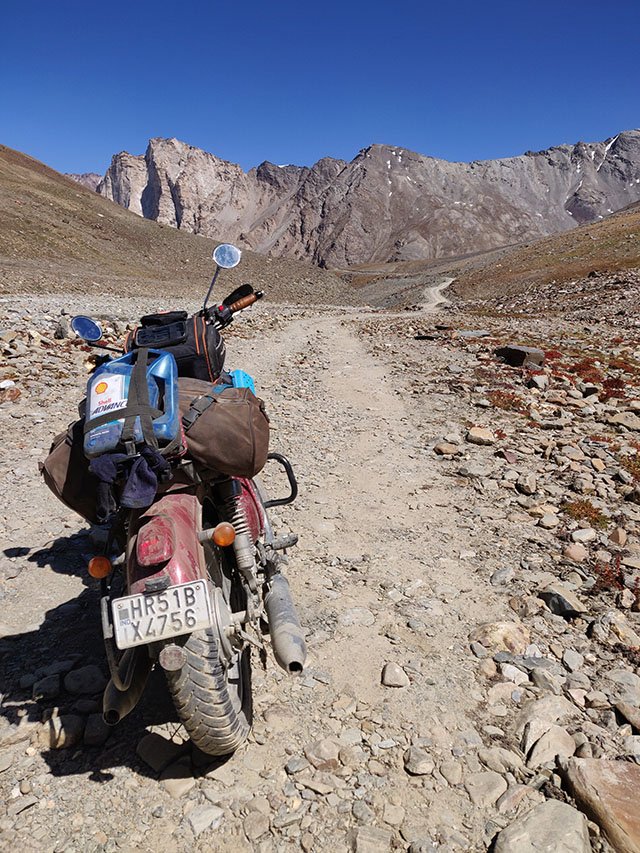 Shinkula Pass: Itinerary & Route map
Before Shinkula Pass, it was only possible to drive into Zanskar from Kargil, do until about halfway to Keylong, and return to Kargil following the same route.
But in 2019, the Indian Border Road Organisation opened a new circuit for better connectivity to the Zanskar region in an effort to find a shorter way between Keylong and Kargil for the Indian Army. And as a consequence (they better take it as a consequence) they have got the Indian biking community and travellers to deal with.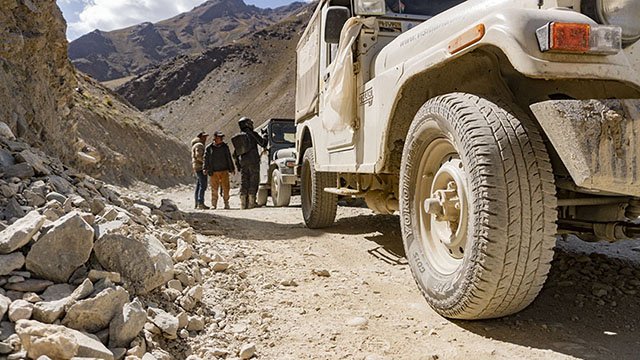 At 16,580 feet above sea level, Shinkula Pass connects the Zanskar region to Keylong. It is only via Shinkula Pass that one can now drive/ride all the way from Keylong to Kargil (or vice-versa) and do a one-way trip into the Zanskar region.
Getting confused? Let's actually start with a map and get our bearings right!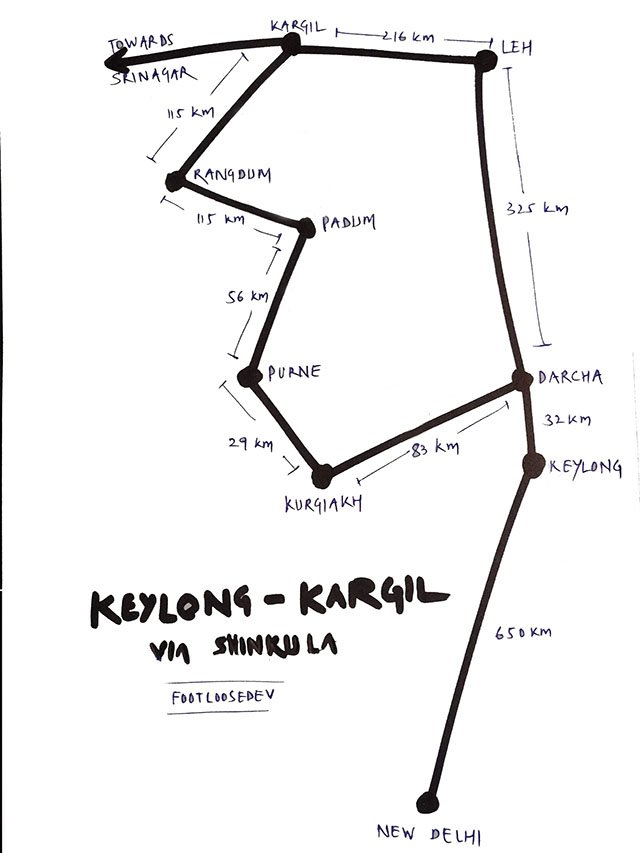 If you look at the entire circuit on a map, you will see it makes a loop. If you are coming from Manali, the loop starts from Keylong, goes into Zanskar, and opens in Kargil, before it goes to Leh, and returns to Kargil. The road runs very parallel to Keylong-Leh, giving almost similar landscapes (just far more oblivious).
Also read: Tips for a motorcycle trip in the Himalayas 
Shinkula Pass: An Introduction to Zanskar
If I think of an adventure road trip in the Indian Himalayas, there are a few routes that first come to my mind. And this includes Spiti Valley, a trip from Leh to Nubra Valley, and Bhairagah to Killar via Sach Pass trip, among others. I think of these names not because of the bad roads or the river crossings they offer, but because of the desertedness of these places.
Places like Spiti Valley and Nubra offer some of the isolated corners of the world, with almost no help to find around if you're stuck in the middle of the circuit. I remember when I did a solo motorcycle trip from Delhi to Spiti Valley, how it was common for me to keep riding for hours and not see any life around throughout my trip.
But this time, as I rode from Keylong to Kargil and came across all the adventure and different landscapes on the way, including the Shinkula Pass, I realised how this route now tops my list of adventure motorcycle trails in the Indian Himalayas.
Where Leh Keylong to Leh takes only a day to drive, this, almost parallel running road (Keylong to Kargil) can take a minimum of 5 days – and that too, when you're driving every day, pretty much dedicatedly.
Here the route takes you through not only river crossings but forces you right on a riverbed. For about 20km near Kurgiakh, you are crisscrossing the river Kurgiakh to find a connecting road. There is only one petrol station in Padum (quite unreliable for it has only one pump costing about 88 Rs per litre) in the entire route, with almost no help to be found on the way.
If you are wondering which bike did I this trip on it was Jawa 42 bike. In my experience, any bike that has good horsepower and torque can do this stretch – because there are quite a few steep uphill stretches on Shinkula Pass road (as you start from Keylong). You can also see some photos of the trip in this Jawa Ladakh pictures blog.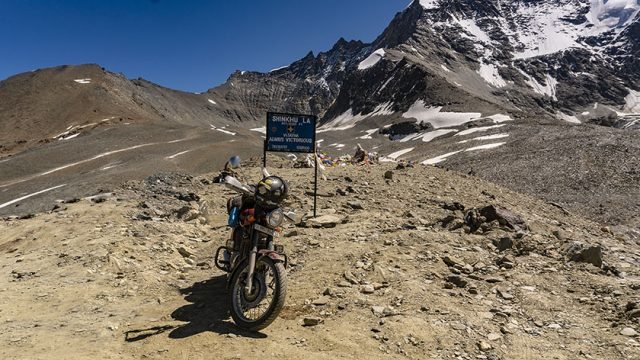 Keylong to Kargil via Shinkula Pass: Itinerary
Day 1: Keylong to Kurgiakh, via Shinkula Pass (83km | 10 hours)
Start Early. Carry some food. Check your brakes… are three quick pieces of advice I will give for day 1. As you leave from Keylong, pass the border security checkpoint at Darcha (32 km from Keylong) the road to Zanskar bifurcates to the left, directing towards a place called CHIKKA or CHIKA.
From Chika to Shinkula Pass (about 40 km from Darcha) the route inclines from 3300m above sea level in Darcha to over 5000m above sea level at Shinkula Pass. From Shinkula, the descent starts and takes you to 3500m above sea level in less than 10km, so make sure you check your brakes before you start descending.
Darcha to Kurgiakh is the toughest part of the journey, for there is literally nothing on the way – no villages, no food, and no help whatsoever.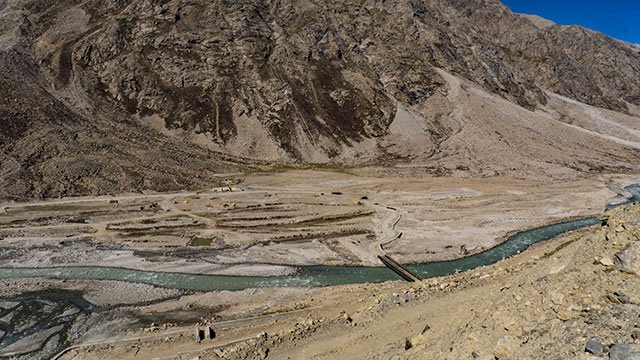 Day 2: Kurgiakh to Purne, Zanskar (29km | 3 hours)
Kurgiakh to Purne is an easy drive and takes less than 3 hours (with a few short breaks on the way, of course) making it possible to drive further to Padum the same day if you're in a hurry. But be known that if you didn't give Purne a day, you will miss the most beautiful highlight of the journey – Phugtal Monastery.
Built around a cave, Phugtal monastery remains one of the world's most isolated monasteries that are still be reached only by foot. Purne is the last stop from where the trek to Phugtal starts. The trek may take about 2 hours on each side.
Tip: It's better to hire a guide in Purne if you're on your own. I tried the trek on my own and couldn't reach Phugtal because of confusing directions.
Day 3: Purne to Padum, Zanskar (56km | 5 hours)
Purne to Padum can be 7 hour's drive with a few steep uphill and downhill stretches. The route gives almost no water crossings and stays on one side of the valley for most of the time.
Padum has the only petrol station on the entire Keylong-Kargil route, so make sure to top up. I, however, recommend carrying fuel for the entire route because of two reasons: one, petrol in Padum is overpriced, and two, the station may have no petrol.
Just like the rest of the route since you've left Darcha on Day 1, expect no tar and just drive on a dirt track today as well.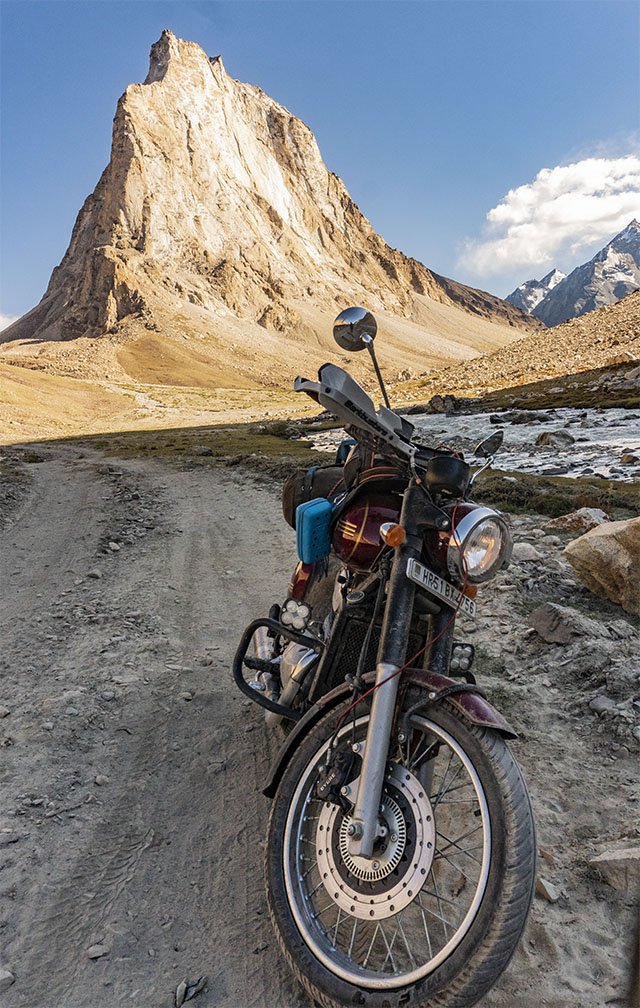 Day 4: Padum to Rangdum, Zanskar (115km | 7 hours)
Padum to Rangum will take you to the largest glacier in the Ladakh region: Drang-Drung glacier and the mountain pass of PensiLa (located at 4,700m above sea level). The route, again, has no hints of tar but only a dirt road.
For the first 40km, as you will leave Padum, you will find small villages (with a village called Skygam being one the biggest, having a couple of homestays too) to eat and relax. Once you start your ascend for PensiLa (the last 50km to Rangdum) there is nothing to be found.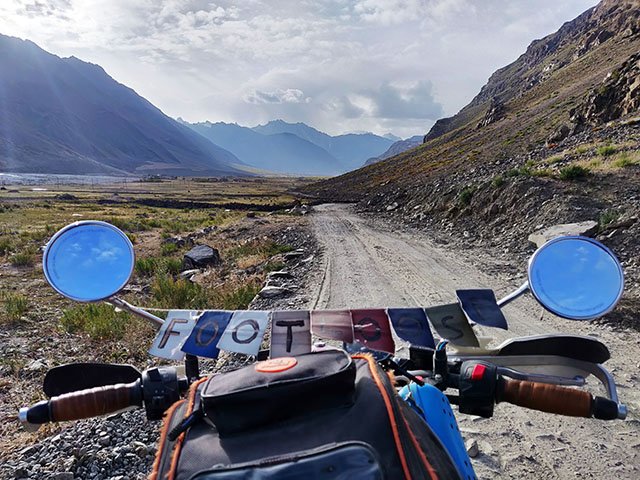 Day 5: Rangdum to Kargil (115km | 5 hours)
As you start from Rangdum, driving for about 55km, you reach a police checkpoint in a town called Panokhar. From Panokar to Kargil, is a 60km stretch of proper asphalt – though pretty narrow, well maintained. As you leave Panokhar and drive towards Kargil, you will slowly leave dry mountains and enter into a comparatively greener valley, giving the impression that you're entering Kashmir. Panokhar to Kargil may remain the most enjoyable ride of the entire journey.
It is possible to do Rangdum to Leh (or to Lamayuru) in a day, but that may take about 10-12 hours of constant driving. Stay in Kargil for some rest. If you're willing to do more km, you can go to Lamayuru and stay there. Lamayuru is a small Buddhist town located almost midway to Kargil and Leh.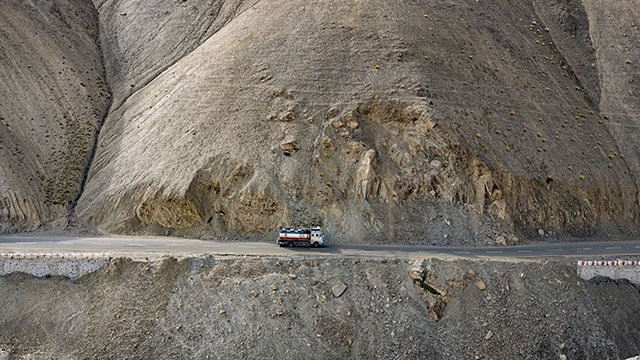 Practical Tips For Shinkula Pass Zanskar Road Trip
You do not need any special pass/permission or pay any taxes to access this route, as you otherwise do for Rohtang Pass or Nubra Valley etc. Update: After the inauguration of the Atal Tunnel, tourists, now, no longer need to access Rohtang Pass and hence no need to obtain Rohtang Pass Permit. Please check my Manali to Lahaul Valley via Atal Tunnel blog for more details about the route.
Kurgiakh and Purne are small towns with only a few homestays to choose from. Almost all places here have dry toilets with basic amenities and food. There is no electricity or phone reception in Kurgiakh and Purne.
You will only find electricity in Padum and Rangdum in the entire Keylong-Kargil Zanskar route.
Padum is the biggest town with the only petrol station. In Padum, it is possible to find some internet and make a few calls. Rangdum, again, has no phone reception or any petrol filling stations, but it feels a little more accessible than Kurgiakh and Purne.
Carry the basic spare parts and tools. There are no automobile repair shops anywhere, except for in Padum.
It is possible to cut short the above suggested 5-day itinerary and do it in 3 days (Darcha-Kurgiakh-Padum-Kargil) but it will feel too hectic, forcing you to drive throughout the day, every day.
Taken on September 2019, this phone number belongs to a local resident of Kurgiakh, who also happens to own a homestay there. Since Keylong-Kurgiakh is the diciest part of the journey, with river crossings making it impossible to complete the circuit, it will be a good idea to call him, ask for the current road conditions and then plan your journey. Once you have reached Kurgiakh, there should be no problem in completing the circuit all the way to Kargil. Here's the person's phone number: TSENGA 9469188103. Alternatively, you can also contact the security checkpoint in Darcha and confirm the current road conditions.
And now, the video of the toughest day of our ride…

Have you done Shinkula Pass or been to Zanskar by any other route? Comments are waiting for you!
Recommended Read: 14 of the Best Riding Jackets in India to buy online