This is my Leh to Nubra Valley budget travel guide. In this article, you will find how I did a 4-day journey across Nubra Valley for under 2000 Rupees. And this includes food, accommodation,  transportation and other miscellaneous costs. So let's get started…
Leh To Nubra Valley
Home to contrasting cultures, and beautiful landscapes, Nubra Valley remains a popular highlight for travellers visiting Leh and Ladakh. [If you are travelling from Delhi, you want to read the Best Ways To Travel From Delhi To Leh]
Leh to Nubra Valley is quite a popular trail among motorbikes in India. And this is because of the world's highest motorable pass of KhardungLa. It's from a few motorbiker friends that even I first heard about Nubra Valley. Naturally intrigued, I decided to visit Nubra Valley, but with a little distinction.
I decided to not stay in hotels and rather do camping in Nubra Valley throughout my journey. I also thought I will hitchhike and only take public transport unless necessary. This was to save money and complete my Leh to Nubra Valley journey under a strict budget. And in the end, I successfully travelled across Nubra Valley for 4 days for less than 2000 Rupees.
So, if you too are planning something similar, and want to travel Nubra Valley on a budget, this ideal Camping+Hitchhiking budget travel guide is for you. But before that, let's understand…
The RouteMap to Follow
Leh to Nubra Valley journey starts with the highest motorable pass of Khardungla. Once you cross it, you reach the town of Khalsar (Leh to Khalsar is around 100km and some 3 hours away). From Khalsar, the road divides into two parts. One part goes to Warshi, and the other goes to Tuktuk. It is from Khalsar, that the Nubra Valley begins.
Here's the Leh to Nubra Valley route-map for a better idea: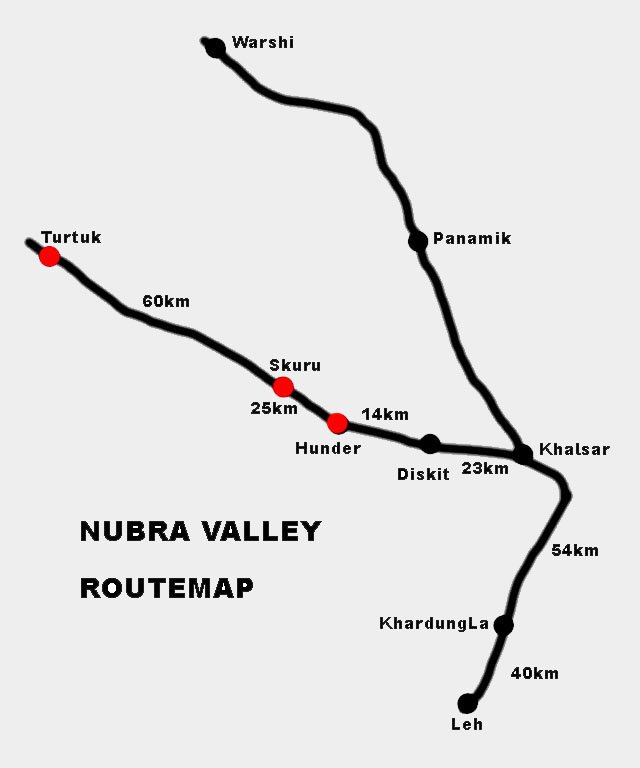 Leh to Khalsar to Turtuk route is more frequently taken. Very few tourists go to Warshi.
I did not cover Khalsar to Warsi route and did only Khalsar to Turtuk. Throughout my trip, I took one bus ride (from Leh to Skuru on Day 1) followed by at least 10 free lifts (that took me from Skuru to Turtuk to back to Leh). I hitchhiked in local taxis, Army Trucks, and Delivery Vans. So let's start with…
Leh To Nubra Valley Budget Travel Tips
My journey from Leh to Nubra Valley started with a bus ride (the only bus ride I took in the entire trip) that took me from Leh to Hunder and further to the village of Skuru. This took me less than.
There were two reasons why I took the bus from Leh to Skuru: 1) people are a little reluctant to give a lift in Leh as there are enough buses and taxis available, and 2) I wanted to pass KhardungLa in comfort. Because I feel a little dizzy on high mountain passes, I didn't want to take any chances, hence took a bus.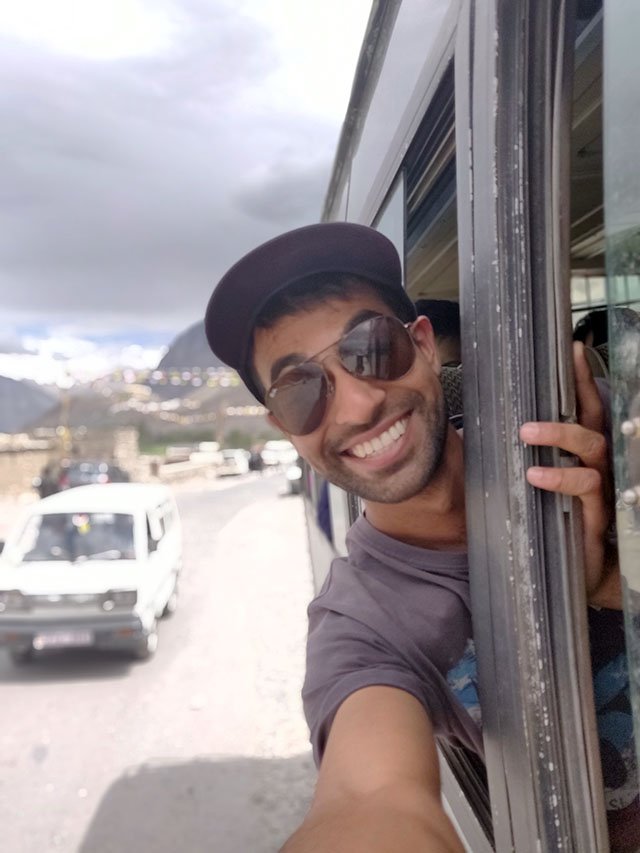 ---
Tip: There is a daily bus service (except on Sundays) from Leh to Nubra Valley that starts from Leh at 7 am and reaches Skuru at 2:30 pm. Skuru is the last destination for this bus. If you want to travel further, you will need to take another bus from Skuru at around 2:30 pm. This bus starts from Hunder (see the above map) at 2 pm. So what you can also do is get off your Leh to Skuru bus at Hunder, and catch it from its point of origin. Hunder to Skuru takes around 100 Rupees.
---
Since I was in no hurry and wanted to camp on Night 1, I found a beautiful spot in Skuru and stayed there.
Technically, Skuru is the last Buddhist town on Leh to Turtuk route. It has no tourist facilities except for a grocery store and a monastery. There are enough open spaces in Skuru to find a place for the camp. Locals are moreover quite helpful to strangers if anyone wants to camp in their town (unlike in Turtuk, which we will talk about later in the article).
Here's a photo of my campsite in Turtuk…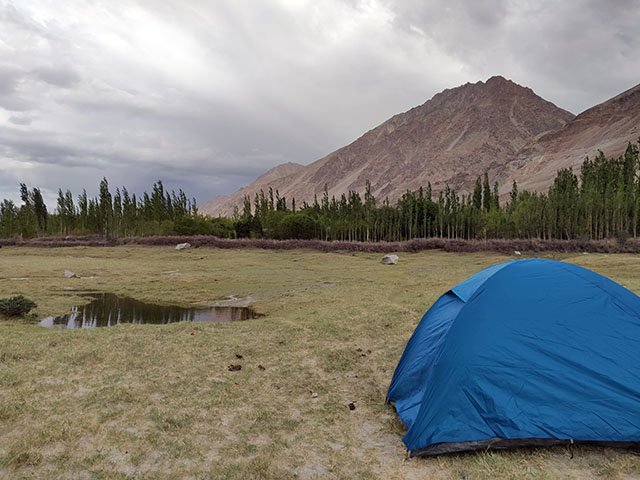 Leh to Nubra Valley day 2 began with hitchhiking, as I happened to find a ride in an Indian Army Truck.
Remember, Army Trucks in Nubra Valley are fairly modest to hitchhikers, maybe because public transport is rare, or perhaps for some other reason. And their frequent movement makes it easy to find a lift and hitchhike.
I found 2 army trucks, back to back, and did my Skuru to Turtuk journey in about 4 hours. Money spent on transportation on day 2: Zero!
My second-day destination happened to be the town of Turktuk.
Now, Turtuk, despite being one of the most charming places I've seen in the Himalayas, turned out to be disappointing. And that's for quite a few reasons: 1) kids were relentlessly begging 2) local people were not very friendly 3) no one allowed me to camp because it was killing their business.
So on Day 2 of my Leh to Nubra Valley, I was left with no option but to stay in a homestay. Though my homestay was super-cheap (400 Rupees per night including two meals) the fact that Turtuk had no space for camping because local people wanted to make money, I didn't like it.
On Day 3, I left Turtuk and headed to Hunder. The town of Hunder is popular for its sand dunes and camel safari. A nearly 90km from Turtuk, which I happened to cover using three different lifts, took me almost 7 hours.
Hunder, too, had a few grassy patches for people wanting to camp and spend a night. There are an Indian army canteen and a few low-cost Tibetan restaurants on the highway to eat and pack food.
On day 3 of my Leh to Nubra Valley trip, despite saving almost 100 percent on accommodation and staying in my tent for free, I even had a chance to bathe in fresh glacier water. Indeed, camping has its own charm!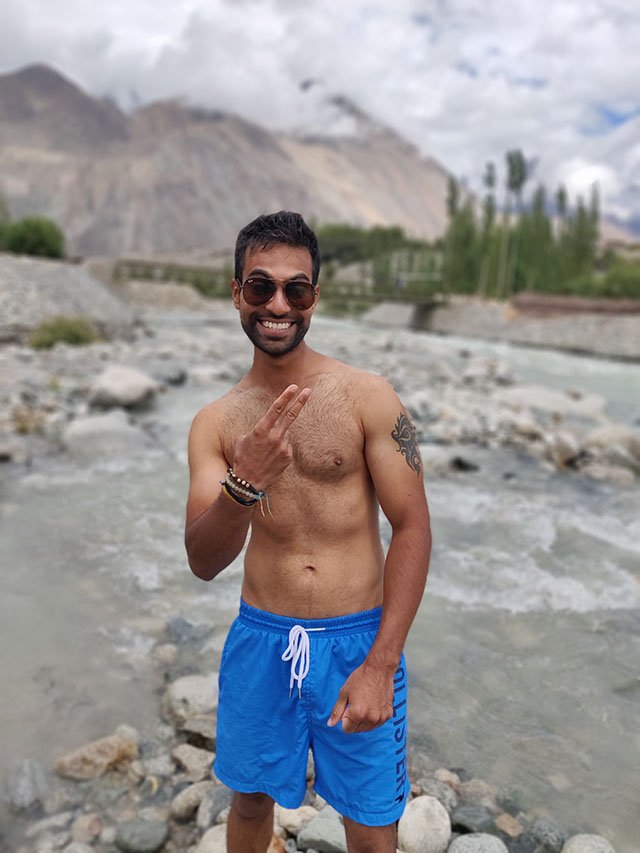 So, night 3 happened in Hunder, before I started my Leh to Nubra Valley journey the next day.
How Much Did I Spend In Total In Nubra Valley
Day1 (Leh to Skuru): 240 Rupees on the bus and 300 Rupees on meals | Camped for free | Total = 540 Rupees
Day2 (Skuru to Turtuk): 400 Rupees for accommodation plus 2 meals + 150 rupees for lunch | Travelled for free |  Total= 550 Rupees
Day 3 (Turtuk to Hunder): 340 Rupees on meals | Travelled and Camped for free | Total = 340 Rupees
Day 4 (Hunder to Leh): 300 Rupees on meals | Travelled for free | Total = 300 Rupees
Total expenses for Leh to Nubra Valley 4-Day trip come to 1,730 Rupees
Here's a video of my Nubra Valley journey on my Youtube Channel:
Have you travelled from Leh to Nubra Valley? How much did you spend on your trip?
If you are into budget travelling, this article on Budget Travel Tips In India will be a great resource for you.