Wondering how to go Leh from Delhi or the other way round? Planning a Leh Trip From Delhi? Read this blog.
Leh has emerged as one of the top destinations in the Indian Himalayas. From backpackers to honeymooners to adventure bikers, everyone wants to plan a Leh trip from Delhi. Leh to Nubra Valley and Pangong is also a popular trail.
Many people also plan a Manali to Leh road trip for adventure (though I don't suggest it anymore, just like I don't suggest a Delhi to Manali road trip).
If you are staying in Manali, I can suggest my own 2 boutique properties. Check FootlooseCamps website or visit the Instagram page for more.
Anyway, when it comes to Leh, one thing that curbs people from travelling there is the thought process for how to go to Leh from Delhi. Though only 1000 km, the journey remains time-consuming and confusing. If you talk about Google, the most searched query doesn't remain about things to see in Leh but how to plan a Leh trip from Delhi.
Other than for those who can afford a flight, the journey remains a confusing question. So attempting the answer and helping those who are wondering how to go to Leh from Delhi, here are some most economical and time-efficient ways to do so…
How To Go Leh From Delhi: Leh Trip From Delhi, Explained!
Take A Flight For Your Leh Trip From Delhi
For those who are not privy to the fact, and are unnecessarily worrying about how to go Leh from Delhi should note that Leh has an army airport with daily connecting flights to and from New Delhi. The airport remains open under public hold for commercial flights until 12 in the afternoon. After 12, the airport is used for army movement.
So yea, if you want your Leh trip from Delhi to start very conveniently, book a flight.
Now, since taxes to fly commercially are quite high, compared to other airports, any flight taking off from here are often highly-priced. But the same flight landing here can be cheap. So to travel to Leh from Delhi, book a flight from Delhi to Leh and save yourself some time. On the way back, however, travel in a bus. This is exactly how to go Leh from Delhi the best way.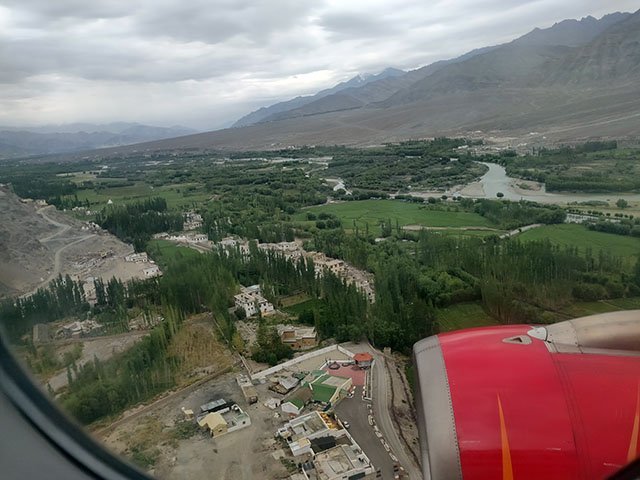 During my recent trip to Leh trip from Delhi, I booked a single journey Delhi to Leh flight for just Rupees 3,150 including breakfast and a 15kg check-in baggage. I booked with Air India. The same flight, taking off the same day, back to New Delhi, was a whopping 8,000 Rupees. And the trend continued for all flights on all days from Leh to Delhi.
Naturally, for my return journey, I took a bus.
Take A Bus
Though you can get from Leh to Delhi for under 1500 Rupees by taking two ordinary Himachal State Transport buses – one from Leh to Manali (with a stop-over for a night in Keylong) and the other from Manali to Delhi, both costing about 700 Rupees, I don't recommend them because they're super uncomfortable.
So your two best bets are:
Himachal Tourism Bus From Leh To Manali + Volvo From Manali to Delhi
Those wondering how to go to Leh from Delhi without flying but not giving up much on comfort will be happy to know that Himachal Tourism, every summer, starts a special bus for tourists which, unfortunately, costs a whopping 2900 Rupees but takes you all the way from Leh to Manali with an added comfort of pushback seats. What's better is the price includes the night accommodation in Keylong in a comfortable government guest house and complimentary dinner and morning breakfast.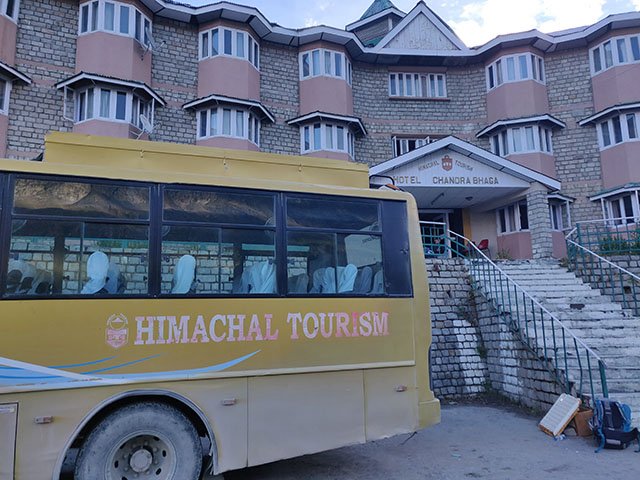 From Manali, you can book one of those regular 1000 Rupees luxury Volvo buses that bring you to Delhi overnight. The total time duration will be 2 days and 2 nights, and the total cost will be approx 4000 Rupees. This combination makes for a great Leh trip from Delhi, and back.
Tip: You can book the Himachal Tourism bus from Leh to Manali online or from the Himachal Tourism office in Leh near the Main Bazaar.
Shared Taxi From Leh To Srinagar + Flight From Srinagar To Delhi
Your second-best bet for how to go to Leh from Delhi and avoid losing 8k on a Leh-Delhi flight is by taking a 1200 Rupees shared jeep or a traveller (that can be booked from the main bus station in Leh) that starts at 4 in the afternoon and drops you in Srinagar the following morning at around 7, and then taking a flight to Delhi the same evening. Flights from Srinagar to Delhi are often cheaper and cost around 3000 Rupees. So in less than 4,500 Rupees and in 2 Days and 1 night, you reach all the way from Leh to Delhi.
My Journey From Delhi to Leh and Leh To Delhi
As I said, I took a 3100 Rupees flight for my Leh trip from Delhi. On my way back, I took the 2900 Rupees Himachal Tourism bus to Manali (from Leh) and an 800 Rupees Volvo from Manali to Delhi.
In 3100+3700 Rupees I completed my return journey from Delhi to Leh.
Here's a video of my Ladakh trip on my Youtube channel:
Got more tips on how to go Leh from Delhi? Let's share them in the comments below and help others plan their Leh trip from Delhi.