The last time I did Manali to Leh, was some 4 years ago. Back then, it was one of the top adventure trails for motorbikers in India. And if someone wanted it a little more challenging, they would do the entire Srinagar-Kargil-Leh-Manali circuit.
But times have changed now. The Indian government and the Border Road Organisation have made efforts to keep all border roads in good shape and Manali to Leh road became an obvious victim. The entire highway now remains so well looked after that F1 tracks around the world can take shame from it.
At every landslide-prone area, a dedicated JCB has been placed. Every few kilometres you can see construction workers either adding a layer of tar or sweeping the road with a broom to ensure a smoother drive.
It has been only a week since I returned from this route and looking at the current road condition, I can say that this Ladakh road trip is now anything but adventurous.
Here's a quick video to give you an idea of how the road from Manali to Leh looked in October 2019. I did the route solo, and nowhere did I feel any adventure. Take a look:
My Leh To Manali Journey
Since it was a return journey, I did Leh to Manali (after doing Sach Pass and Shinkula Pass on the same journey).
I was with a couple of friends throughout the trip, but as I exited Zanskar into Kargil and made my way to Leh I decided to go solo to see how adventurous the Manali-Leh feels if I have no one to watch my back.
I started from Leh (around 10 in the morning) and until about Sarchu, I can't remember if I saw anything but the newly spread and evenly shining tar on the road, all the way to Sarchu. At some stretches (particularly at Morre Plains) I was doing well over 120 km.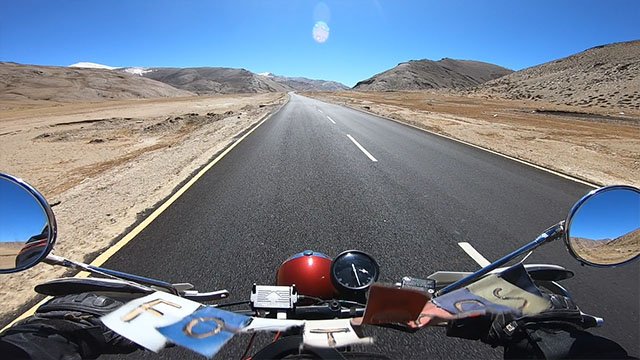 Leh to Manali Is No Offroading
I remember I found only a little stretch of offroading (between Sarchu and Zing-Zing Bar) on the entire route. And it was less than a 75km stretch taking me over Baralacha La Pass.
There was only one easy, but at least a real, water crossing near Baralacha La Pass that, with an upcoming overbridge will soon be bypassed. Having said that, by 2020 (if the overbridge I found under construction gets completed) there will be no water crossing whatsoever on the entire Manali to Leh highway.
So yea, between Leh and Sarchu, the road was no less than a racing track, giving a little offroading between Sarchu and Zing-Zing Bar, before getting better again all the way to Keylong.
From Keylong to Manali you will find Rohtang Pass (a nearly 4000m high mountain pass) that, anyway, stays in perfect condition throughout the season. To make it even better, BRO is currently making a tunnel to avoid Rohtang Pass and make this Ladakh road trip doable throughout the year.
This means once you've Rohtang Pass Tunnel in its place, you will not be able to do Manali to Leh journey throughout the year but also do it in just a day. Currently, it takes two days to do the route.
Update: In 2021, the route has become even more boring after Atal Tunnel route from Manali that now bypasses Rohtang La.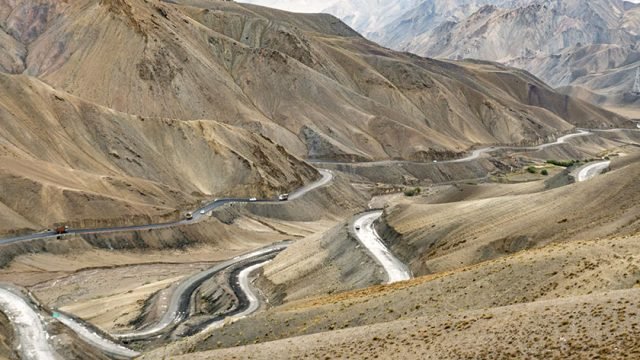 I Carried No Extra Fuel
I did not carry any extra petrol on my Jawa 42 which gave me a mileage of nearly 25 km on this route. The bike has a fuel capacity of 14 L.
One full tank was enough between the two farthest petrol stations on the way – Leh and Tandi. In fact, I had enough petrol left in my tank at Tandi that I could do all the way from Leh to Manali in one full tank.
Earlier, motorbikers used to carry petrol jerkins because despite having the same distance to cover between two petrol stations (Tandi and Leh) they had ferocious river crossings and a serious deal of offroading to deal with. Now, offroading is a distant dream, giving a good overall mileage on this route in Ladakh.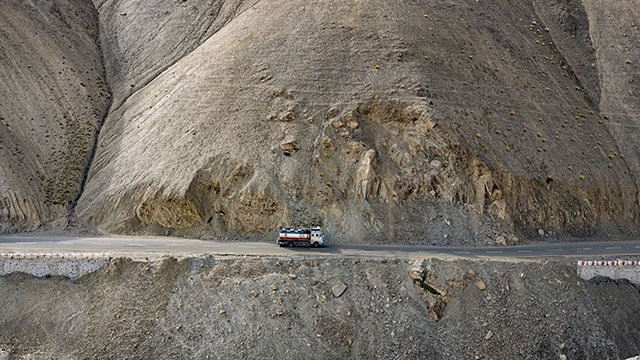 I Won't Call It Adventurous
Alright, you can call me a little more daring than most people, for I always plan reckless journeys. My first motorbiking journey in the Himalayas was a solo motorcycle ride to Spiti Valley and to make it more interesting, I coupled the entire idea of riding solo in Spiti Valley with camping. Throughout my trip to Spiti Valley, I camped alone, sometimes in the wilderness only to ride solo the next morning. I moreover did the entire trip in just INR 5000, including 9 days of fuel, food, accommodation and taxes. I was also one of the first few riders who did the Shinkula Pass as soon as it opened last year.
So yea, you consider me more adventurous, or perhaps a little crazy than an average rider out there, and there is no need to do Leh to Manali solo, just like I did. But even if you do so, won't call it adventurous!
Want to know what's adventurous in my definition? This…
Manali to Leh: FAQs
Now that I have busted the myth and made my point that this Ladakh road trip is no adventurous, let's discuss a few FAQs. These FAQs will help you plan your trip better.
What's the Best Time To Do Manali to Leh
Personally speaking, I find July to October the best time to do this route.
Starting July (that is monsoon) the offseason starts. And with that, the hotels become less pricey. Moreover, there is no monsoon in the Ladakh region (between Keylong and Leh). So as soon as you cross Keylong, there is no risk of getting wet either. If, however, you're from Delhi to Manali, then skip the monsoon months and do it sometime between September and October.
When Does Manali To Leh Road Open & Close?
It all depends on when did heavy snowfall started and ended in the region. The high mountain pass of Baralacha La is a blockade. If BRO manages to clear the snow, this route to Ladakh remains open, if not and there is continuous snowfall, the route remains closed.
But to give you an idea, the Manali to Leh route opens sometime between April and May and closes either in October or November. You can check the Himachal Tourism website for the latest news before your trip.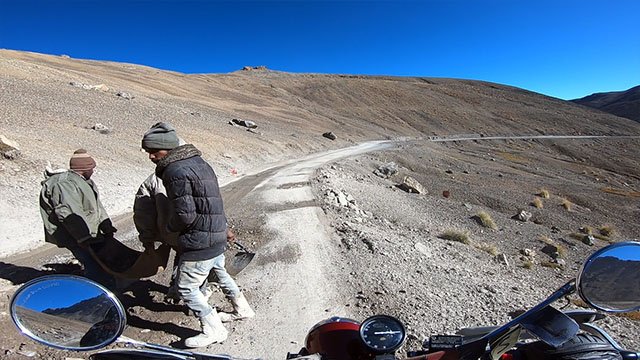 How Much Fuel You May Need In Total.
As I said above, the entire highway is in very good shape, giving you good mileage. Earlier people had to carry extra fuel but it's no longer needed for most riders.
I was riding a 300cc Jawa motorcycle that gave me a mileage of nearly 35 kmpl. And its 14 litres tank had enough fuel for me to do the entire stretch. The two farthest petrol stations on this route are in Tandi and Leh.
What Can Be The Total Cost of A Manali To Leh Trip?
It depends on what time of the year, how many days, and what bike you are riding.
If you want to do on a minimum budget, you can do it in 2 days: Manali to Keylong and then Keylong to Leh. Even if you're booking a 1000 Rupee room single occupancy and eating lavishly for 700 Rupees a day, consider 3400 Rupees on one side. Double it for a return journey. Add total fuel cost (for me it was around 1000 per side) on top.
In total, you can do it for 5 to 6 thousand Rupees even if you're doing it alone.
Have a pillion, or another riding buddy (two solo riders) and you can bring down the figure by sharing accommodation and other costs.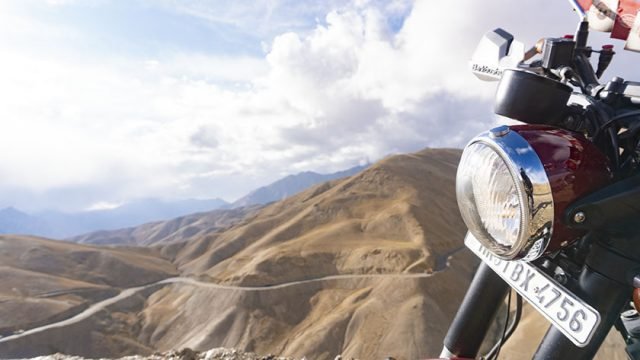 Can You Do Manali to Leh On A 100 cc Bike?
It is a myth that only a Royal Enfield is a good bike for this trip. I have seen people riding 100cc and 150cc Activas and Novas in Ladakh. There are many people who have done a Ladakh road trip on a classic Chetak Scooter (15+ years old).
As long as you are a good rider and you can repair your ride in case of a breakdown, you can take anything.
Is It Safe To Do Manali to Leh, Solo?
As you have read above, I did it solo and at no point did I find the route risky.
As long as you are a good rider and you know how to repair a puncture or a breakdown, you can do it solo.
How Many River Crossings Between Manali To Leh Highway?
Only one. At Baralacha La Pass. If you are not an expert rider, I suggest you find a buddy on the way or wait for other riders to do this bit. I have seen people getting stuck there, needing a little manual push.
However, I did it on my own and that too, around 5 in the evening. So yea, you can very well do it alone too.
Additionally, BRO was constructing an overbridge on this water crossing when I visited in October 2019. Having said that, by 2020 (if the overbridge I found under construction gets completed) there will be no water crossing whatsoever on this particular Ladakh road trip.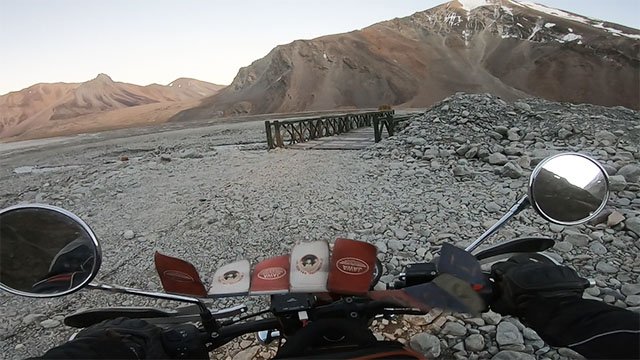 Best Manali to Leh Trip Package.
I do not really recommend you buy a package for this trip and this is for two reasons: one, there is already no adventure on this route and a prebooked package tour will make it even easier, and two, you can save a lot of money if you do it on your own.
Which Phone Network Is Best For This Route?
I was carrying an Airtel and a Vodafone. Airtel had an intermittent signal, whereas Vodafone was pretty much dead throughout the route. I was getting a 4G network in Airtel in every big town like Keylong and Tandi etc.
I have heard from other riders that BSNL has the best connectivity on this route. Jio is also a good choice, but not as strong as BSNL.
Have you done Manali to Leh road trip recently? What do you think of it?