Want to know all about Jawa 42? From mileage to seat height to performance to Jawa 42 Ground Clearance? Read this detailed owner review.
I understand for a travel blogger whose focus area always remained documenting his travels, writing a few simultaneous stories featuring a motorbike can sound a bit fishy.
So, before you make any assumptions, first things first… I am not being paid to promote Jawa.
I am writing such Jawa 42 owner review because people are asking for it. Not many people own a Jawa motorcycle at the moment.
By sharing my own experiences, I am only bridging the information gap.
View this post on Instagram
To start with, I want to tell you that Jawa motorcycles were brought to India by Classic Legends. There are 6 different Jawa 42 colours, namely, galactic green, Halley's teal, Lumos lime, starlight blue, comet red and nebula blue.
If you are interested, read about these JAWA AFTERMARKET ACCESSORIES I have personally been using and recommend. You may also be interested in reading BEST RIDING JACKETS YOU CAN BUY IN INDIA.
Now, read the entire article or click on the table of contents below to read the required information:
Also See: Jawa bike Images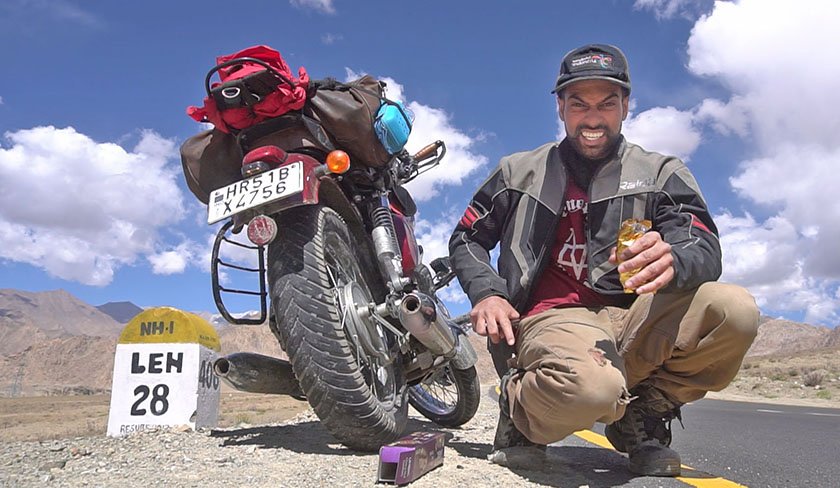 View this post on Instagram
A Useful Update (February 2020): I have returned from a 2-month Delhi-Bangalore-Kerala-Delhi road trip on my bike. For the first time, I felt that this bike is not meant for long-distance touring.
Until this trip, I was riding my Jawa 42 in the mountains only where you go zig-zag and take regular turns… not feeling much fatigue, because of regular movement of arms and shoulder. But riding it on straight highways is a different thing.
The bad comfort made the entire journey so tough that I've even decided to either sell my Jawa or keep it as a substitute for city rides only (waiting for something to come in BS6 at the moment). Having said that, Jawa is not meant for long touring (again, it's a solely personal experience). Watch the detailed review video here…
Jawa 42 Mileage, Seat Height, Ground Clearance & Other Details
Before we get into details, let's get into a few technical specifications.
Please note that both Jawa bikes come with exactly identical technical specifications.
Both are powered with a 4 Stroke, Single-Cylinder, Liquid Cooled, Spark Ignition, DOCH; and offer an impressive 28 N.m @5000 rpm of torque, guaranteeing a much quicker acceleration, compared to other competitors in the retro segment. And speaking of Jawa 42 mileage, I am getting nearly 40kmpl at the moment.
Here's an easy compilation of some other useful Technical Specifications & Dimensions:
Engine Oil Capacity (service fill): 1.25 Litre
Fuel System: Electronic Fuel Injection
6 Speed Gearbox
Fuel Tank Capacity 13.2 Litre (3.0 Litre reserve)
Battery: 12V, (9Ah)
Weight: 179 Kg (with 90% Fuel, Tools, etc.)
Overall Length: 2071 mm
Width: 833 mm
Overall Height: 1090 and 1065
Jawa Ground Clearance: 165 mm
Jawa 42 Seat Height: 765 mm
With that said the company also claims that the above dimensions are subject to change for further improvements.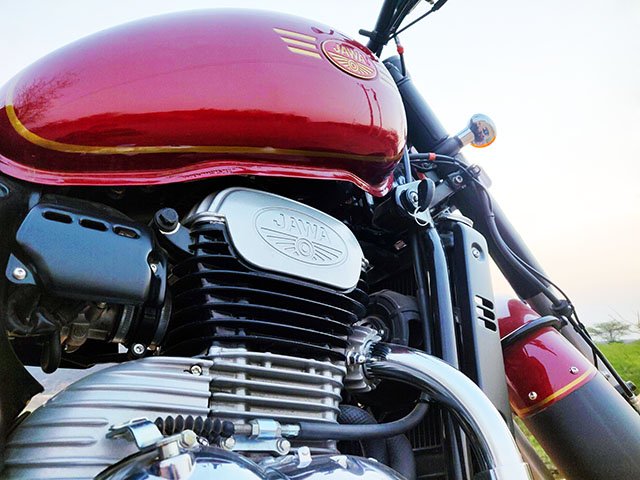 The Pride Behind Owning A Jawa
There is no denying the fact that both Jawas are impressive. Where Jawa is more retro and classic in its appearance, Jawa 42 is trendy and new-age. And since it's not the first time for Jawa to sell its motorbikes in India, the company already has a powerful fan base and a legacy associated with it. Having said that, there is a certain degree of pride associated with owning a Jawa.
It happens to me that every time I ride my Jawa 42 in the city, people notice. And their reactions, if nothing else, are assuring me that this motorbike is at least not letting me down because of its appearance.
From its price to specifications to the waiting time, people inquire about all kinds of questions.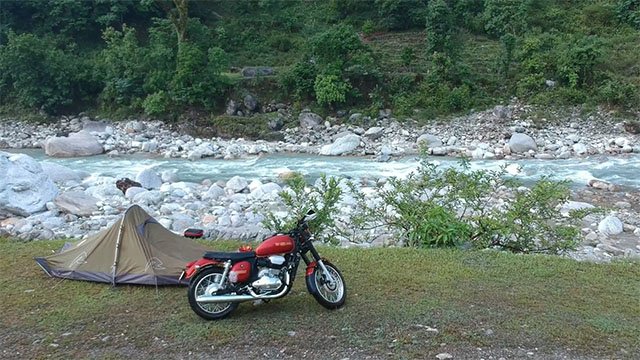 Jawa 42 Mileage Per Liter
Though the company is claiming to have a mileage of 37.5 kmpl when I tested the mileage of Jawa 42, I got nearly 34 kmpl. The second mileage test, however, gave an improved result of 36 kmpl. Having said that, my Jawa 42 mileage is improving, as it happens before the first service.
Update (July 2019): After my first service, the mileage was about 42 kmpl. I even did a mileage test in the mountains and got an average of over 40kmpl which is pretty impressive. Here's a quick video test of my Jawa 42 mileage in mountains:
Jawa Classic will have the exact same mileage since both bikes are identical in all specifications.
Update (November 2019): After my second service and with my kilometer reading at 7,800 my mileage seemed to have decreased to nearly 34 kmpl. I removed the Db Killer from my motorbike, which may be another reason for a sudden fall in the mileage. So, I am planning to put back the Db killer now. But yea, at this moment, my Jawa 42 mileage is about 34 kmpl.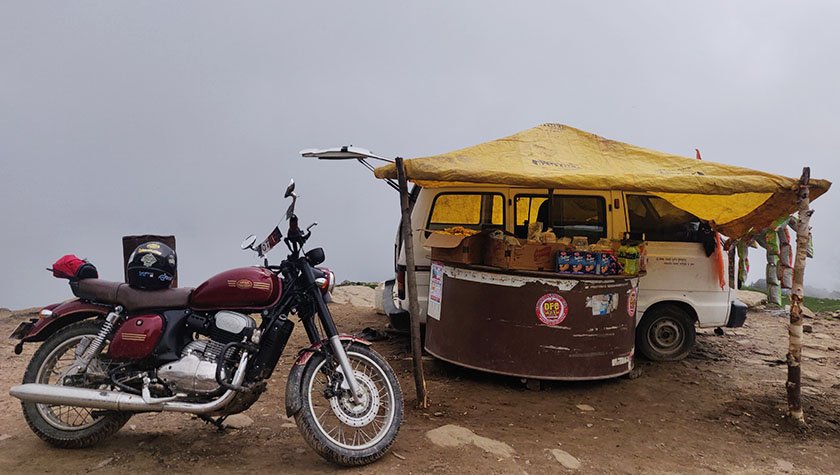 Update (February 2020): During my North to South India 2-month motorcycle trip, I calculated the mileage a few times and every time I got the result of over 40kmpl which is quite impressive. So yea, speaking of the mileage, I am certainly impressed with the Jawa 42 performance.
Jawa 42 Heating Issues
For some reason, people have been noticing the heating issue during a few minutes of the demo ride. But the Jawa bike comes with a liquid cool engine, with a powerful radiator and coolant doing their work at the backend.
So rest assured, the heating mechanism has been well placed by the company and there should be no reason to be worried about it. Speaking of the heating mechanism, as soon as the engine temperature hits the mark of 98 degrees Fahrenheit, the radiator starts functioning in its effort to cool it down to 92 degrees. There is moreover an overheating indication given in the odometer that signals RED ALERT as soon as the temperature hits a certain level.
Update (July 2019): After the first service, and riding it for almost 3000km in the previous 3 months, I am pretty satisfied with the heating issue. The radiator works when it has to, the engine does not feel as if it's about to blast. The heating of the engine, after the first service, has certainly improved.
Update (February 2020): I sum up the experience in 5 words: STOP WORRYING ABOUT HEATING ISSUES!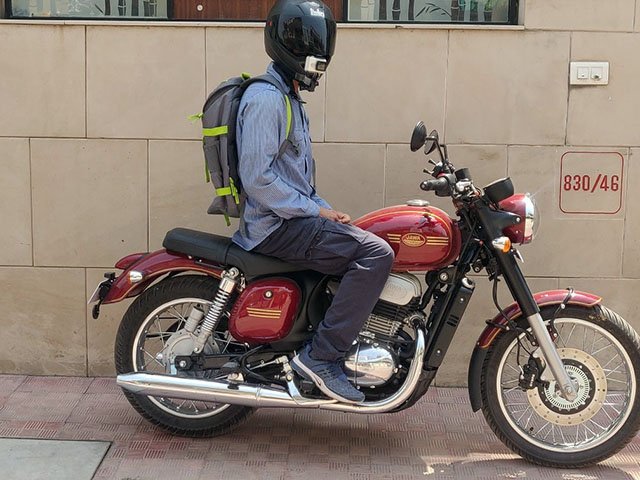 Jawa 42 Handling
Thanks to a great riding posture, a light-weighted body, and overall design, both bikes offer great handling/manoeuvring – especially if we compare them with their most common competitor Royal Enfield Classic 350.
A low seating (of 765mm) makes the riding posture more confident for me, as unlike with higher seating motorbikes (even if I compare it with my previous Bajaj Pulsar 200) it's not just my toes that touch the ground now but my entire feet do. This moreover makes taking U-turns exceptionally easy. Speaking of my height, I am 5'7". For people over 6 feet, Jawa 42 may feel a little tiny, but that is a minority in India.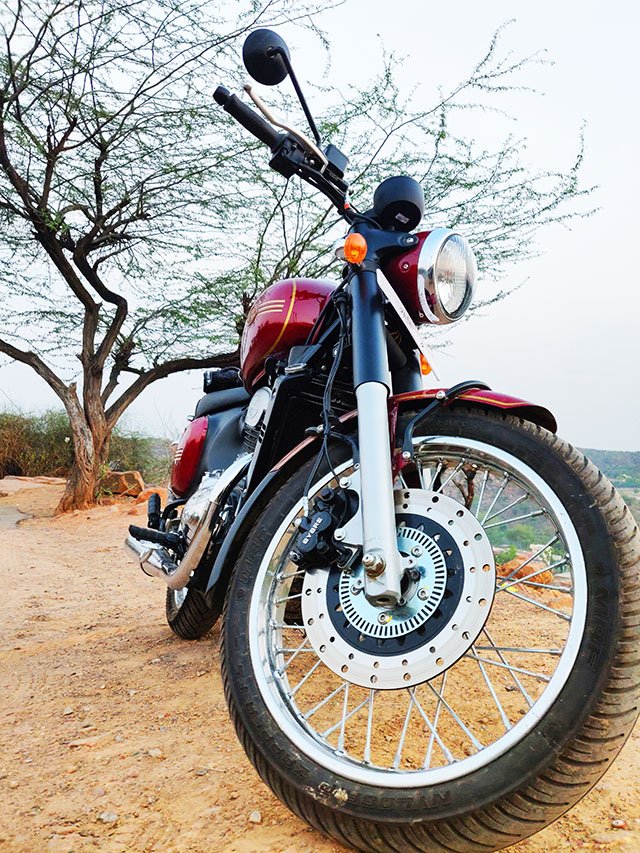 Jawa Ground Clearance
To be honest, it does feel a little disappointing when it comes to Jawa ground clearance, especially if we position it as an off-roader. As a street-tourer, however, Jawa ground clearance is okay.
It happened to me a few times that I scratched its exhausts on bumps (exceptionally bigger ones though) and regretted not slowing down a bit more.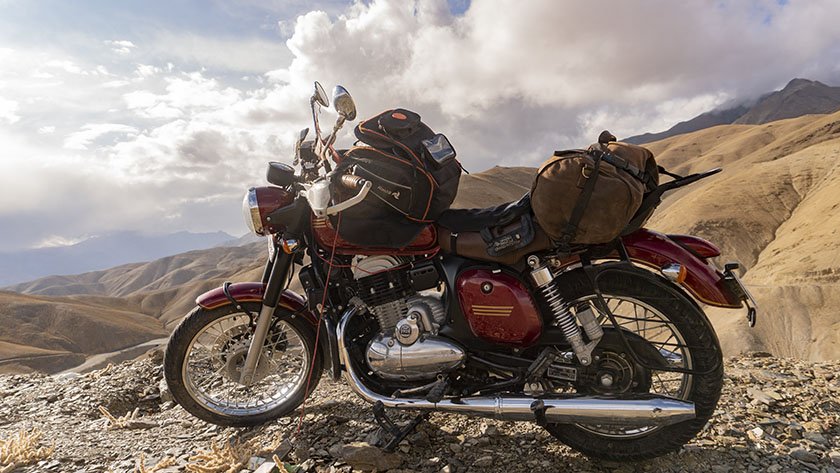 However, if you compare Jawa with Royal Enfield Classic 350, you will be happy to know that Jawa 42 ground clearance is better than Royal Enfield Classic 350 (as per their user manuals).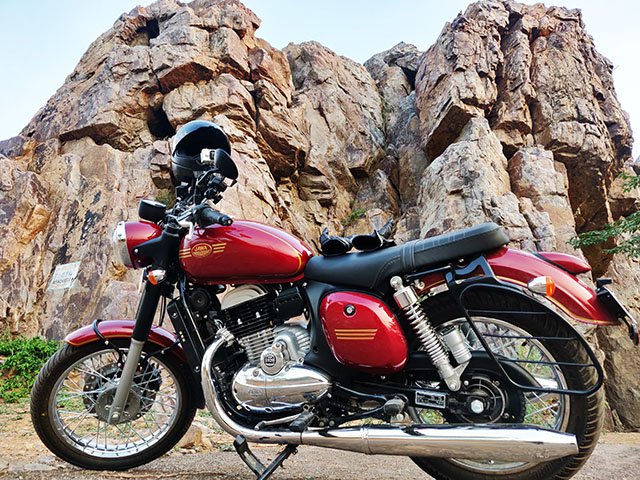 Jawa 42 Service/Maintenance Cost
I am really happy that Jawa offers a good service interval of every 6000 km, allowing people like me to stay on the road and not worry about servicing every few thousand kilometers.
Speaking of the numbers, the first service will be due at 1000 km, followed by a service interval of every 6000 km thereafter.
Also Read: Jawa 42 Delivery Waiting Time
Update February 2020: I have clocked over 18000 km on my Jawa 42. Here's the breakdown of the first four services done by Jawa:
Jawa 42 first service cost: INR 1440
Second service cost: INR 1269
Third free service cost: INR 1670
Fourth service cost: INR 1590
Company Fitted Jawa 42 Accessories
This is where Jawa disappoints a little as they've really kept everything as an add-on accessory – a trick to take every little buck out of its customers. Even essentials like crash guards and backrests are paid add-on accessories.
If you're looking for more advice on the best Jawa aftermarket accessories, made a list of the 13 Best Jawa aftermarket Accessories and Riding Gear you can buy online. This includes things that either I use, or someone I know is using. Read here: Jawa Aftermarket Accessories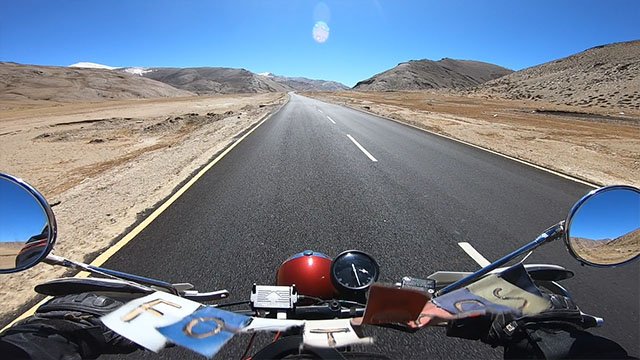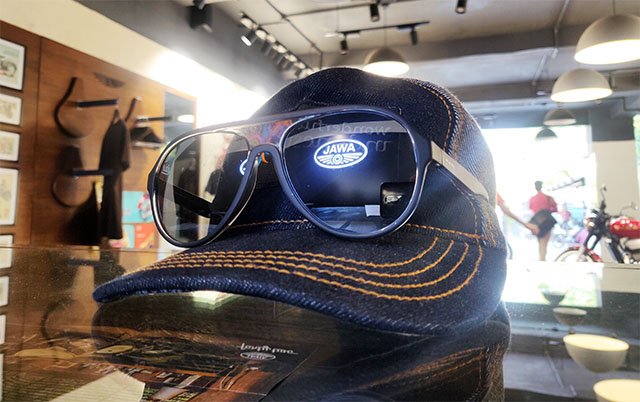 Jawa: An Urban Scrambler
Jawa 42 has quick acceleration, impressive power, and a lightweight body, which makes it a perfect street motorbike with great off-roading abilities. Unlike its most obvious competitor (Royal Enfield Classic 350) Jawa offers impressive in-traffic-handling and manoeuvring. And this remained a fairly significant reason why I chose Jawa over Royal Enfield.
It can be a perfect urban scrambler, provided we install dual-purpose tires and exhaust with better ground clearance.
Is Jawa Worth Investing: Conclusion & Owner Review
To cut things short: I am super happy with my Jawa 42 performance and I will certainly recommend it (if you're considering buying a Jawa at all). Until now, I have done nearly 500 km in Delhi and there seems no problem with my motorbike. Given its aesthetics and design, the bike offers good handling, making it easy to filter through traffic.
It offers all the new-age technology: a BS6 engine, Fuel Injection, liquid-cooled, 6-speed gearbox and torque to challenge other competitors in the class. As said above, Jawa 42 attracts those who are looking for a retro motorbike with the perks of a scrambler. It is light-weight, easy to manoeuvre, quick, powerful, with looks to die for.
And speaking of other nitty-gritty details like how good the shock absorbers, the rear drum, single-cylinder engine power, and the single-channel abs reaction, be assured that I found everything great. Yes, I am satisfied with the overall riding experience of my Jawa 42 comet red.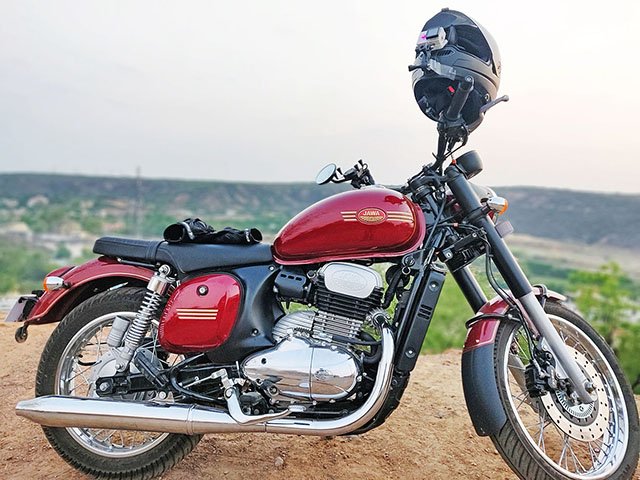 So knowing how my bike performs, coupled with all the things I like or dislike about Jawa, would I buy it again? Hell yes. A hundred times!
Check the latest video of my Jawa 42 Ladakh tour published on my Youtube channel:
Did you find this Jawa 42 mileage and other details review helpful? Are you happy or disappointed with the mileage ground clearance of Jawas? How has been your overall experience so far? Let's share in the comments below!
For more about Jawa ownership and performance reviews, find me on Youtube (as 'Footloose Dev') for almost daily videos. Here's the link to my Channel.