Looking for Jawa 42 Images? Here are some of the best and personal favorite Jawa Classic, Perak and Jawa 42 pictures I have clicked…
My name is Dev (popular as Footloose Dev) and I am a full-time Indian travel blogger from New Delhi. I quit my corporate career in England, moved to India and became a full-time blogger and Youtuber in 2016. Since 2016, I've only been travelling around the world.
I also happen to own the first Jawa 42 in Haryana. I got my bike in April 2019 and thus begun the routine of clicking pictures of the bike.
Please note that these Jawa 42 images are not HD but standard definition, as I cannot upload such heavy photos on my website. If you want them in HD, you can contact me on Instagram and I will share the heavier files
Most of these Jawa 42 Images belong to the recent official 'Punjab Da Tor' ride organised by Jawa Motorcycles. But some pictures also belong to my previous Ladakh, Zanskar and South India ride.
Here's is one of the best videos I made during our official Punjab ride if you are interested in a bit of moving action rather than just still pictures of Jawa motorcycles…
Now, coming back to the blog, all pictures shared below are recently taken, with a few aftermarket accessories installed on my Jawa 42. But you will find some with no modifications too. I am sure you can spot the difference.
Other than the Jawa 42 image, there are photos of other Jawa models too, including Jawa Classic and Jawa Perak.
I have also written other articles for more details including Jawa Delivery Waiting Time that you may find worth reading. You may also be interested in reading a comparison review of my Jawa 42 bike mileage before first service, after that, and now at nearly 20,000 km reading.
Without wasting any more time, let's get started with…
Perak, Classic, Jawa 42 Images and Pictures
As I said above, I happen to be the first few owners of Jawa motorcycles in India. I booked the 42 o on the first day of its launch (15 November). This was when there were no dealerships in the country and I could not test ride one.
The reason why I booked so early was that I knew that it is going to be a success as soon as it launches in India. I knew the popularity this brand had back in the days.
It is almost like if Royal Enfiled discontinues today and returns 30 years later. A sudden liking towards the brand is natural.
I moreover knew that Mahindra is backing the company this meaning – meaning, if nothing else, the company is going to stay.
And then the launch happened, I got my bike, started clicking the beautiful pictures and photos of my Jawa 42 images and I totally loved it. From riding to showing off, everything about my cute little comet-red was great. I am happy that I invested in this bike and I am sure you will like it too, had you decided to buy one.
Let's continue with more photos now…
Also, if you want to know about riding jackets we're wearing in these pictures and the ones I recommend, read this article on Best Riding Jackets In India.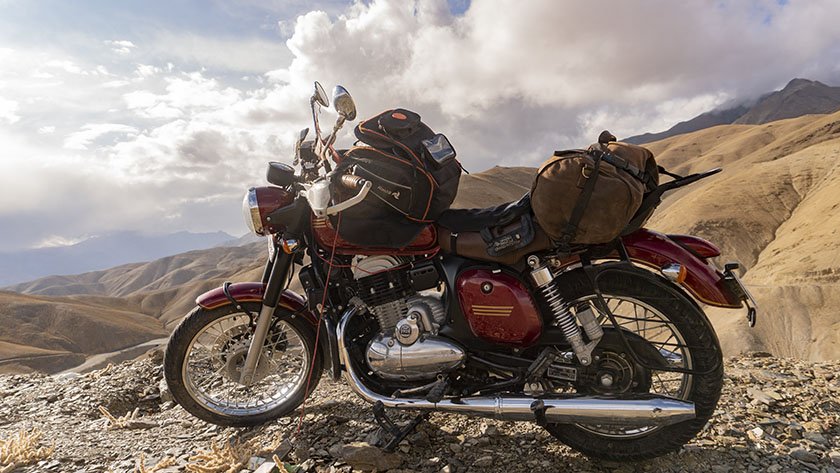 And now, in the end, a couple of photos of me with my comet-red Jawa 42…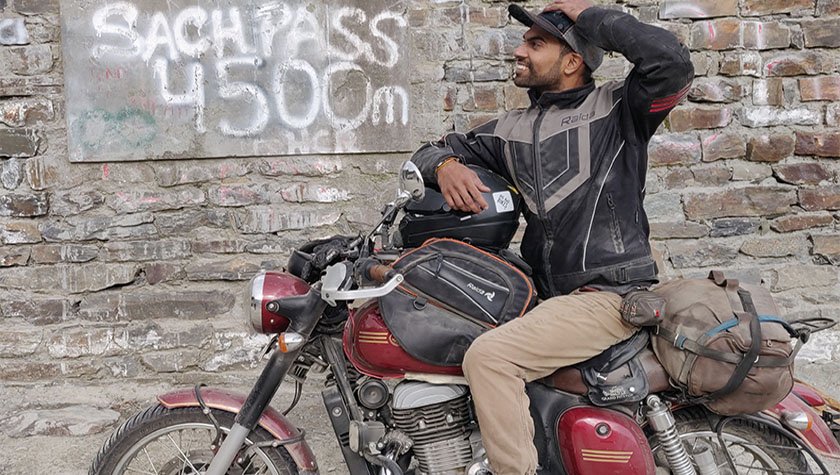 I hope you like these Jawa 42 Images, as they're clicked in a real setting. I hope the gallery helped you in figuring 42's road presence compared to Jawa Perak and Jawa Classic.
Again, if you want their HD file, you can contact me on Instagram and I will share them with you. On my Instagram channel, you can find more photos of the bike as well.
You may also be interested in this youtube video from my Youtube channel where I have shown all three versions of Jawa bikes some of which are highly modified. I was invited by Jawa motorcycles for an official ride in Punjab. This video is made during that ride:
You can find many more Jawa related review videos on my Youtube channel.