Have you booked a Jawa Perak? Are you looking for its performance review and other nitty-gritty details?
In this blog, I will talk about my experience of a few days of ownership (not literally) and touring across on a Jawa Perak in the countryside of Punjab.
If you don't want to read about it, however, continue with all factual information including things like Jawa Perak mileage and other performance details. Click on what you want to know from the Table of Contents below…
Or let's start from beginning…
Punjab Da Tor
Jawa Motorcycles, in March 2020, organised an official ride in Punjab to make a few commercials and short movies (that will be out soon) as a part of their marketing campaign.
It was a 6-day 5-night ride organised by Classic Legends.
30 Riders, including the core team of Jawa Motorcycles in India and the two founders, covering nearly 800 kms through the heartland of Punjab.
I was invited by Jawa motorcycles as one of two influencers (write the name of the other influencer in the comments below if you know. If you have seen my Instagram Stories you would know the other person).
Everything, during the ride, was taken care of by Jawa Motorcycles — from hotel to food to whatever else in between. They even planned and took care of tea breaks on the route. The ride was named as Punjab da Tor.
Here's how the itinerary looked:
Day 1: Arrive in Amritsar. Explore Amritsar.
Day 2: Visit Attari and other places nearby Amritsar. Stay in Amritsar.
Day 3: Amritsar to Jalandhar via Tarn Taran Sahib and Sultanpur Lodhi.
Day 4: Jalandhar to Ludhiana via Nakodar.
Day 5: Ludhiana to Chandigarh via Nangal.
During Punjab da Tor, I happened to ride a Jawa Perak. I rode it for a pretty good time and tested it in different terrains.
I rode it in the foothills of the Himalayas studying its manoeuvring, on highways testing the top speed of Jawa Perak, and in all major cities in Punjab enjoying its road-presence.
You can see all three daily-vlogs on my Youtube channel.
Other than exploring the machine on my own, I had a pretty good opportunity to interact with the core Jawa team and ask related questions. From the obvious "will Jawa Perak come with a double seat" to the not-so-obvious questions I asked them all.
Here's a quick review video I published on my Youtube channel during the ride…
Is Double Seat Possible In Jawa Perak?
If you are looking for the answer in the world of aftermarket accessories, yes!
If you are looking for the company to provide an aftermarket pillion seat for Jawa Perak, then forget it.
As of now, there aren't any aftermarket seats available in the market either. But I am hopeful that as soon as the motorcycle is launched, those who are in modification work with get the measurements and provide a solution.
You can check on Google how other bobber style motorcycles look after installing a pillion seat and get an idea.
Jawa Perak Launch Date, Top Speed, Mileage & Other Details
I have already stated in another blog about Jawa 42 delivery time that the company is following the First-In-First-Out method of inventory (also known as FIFO system).
According to this, every delivery will be decided as per its booking date. Those who booked a Jawa Perak early are going to get it first than those who booked it later. Classic Legends are following a fair sequence order.
Having said that, one thing that's certain is that the waiting time for all Jawa motorcycles is going to be fair.
Speaking of Jawa Perak launch date, Classic Legends has announced on their Instagram channel that deliveries begin from 20th July.
I also did a similar post on my Instagram channel (follow me on Instagram for regular info about Jawa motorcycles) one day before the company's announcement giving hints about Jawa Perak delivery and waiting time.
I later visited the local dealership and confirmed the date…
Now, how long the total delivery or waiting time of Jawa Perak is going to be, however, remains highly uncertain. Due to Coronavirus, the supply chain is badly affected.
Keep asking your local dealership as the delivery time depends on the frequency of motorcycles being manufactured and launched from the factory too and not just the number of bookings before you.
Jawa Perak Mileage
Though it is something that depends on how you ride your bike, as per other publications on the internet, the mileage of Jawa Perak will be somewhere around 30 kmpl.
Again, please note that stating the exact mileage is not possible and it varies from motorcycle to motorcycle. For example, I have always received a mileage of nearly 40kmlp from my Jawa 42. But I often come across other owners claiming to be getting mileage of below 30 kmpl from their 42 or Classic.
So stating a number that is valid for you too isn't possible.
As far as the technology of the motorcycle is concerned, Jawa Perak isn't very different from 42 or Classic, except for a little increase in power and engine displacement.
Having said that, if you drive very economically, you should be able to keep your Jawa Perak mileage around 40, or 35+ at least. If, however, you practise aggressive acceleration and braking while riding, you may get a lower number.
During my Punjab Da Tor ride, I tried calculating the milage of  Jawa Perak and I got 29 kmpl. Please note that the bike was a testing vehicle and I was riding in a group gear-shifting not-so-economically. There was enough scope to improve the number.
Other than that, Jawa Perak comes with the same 14-litre tank capacity as the other two motorcycles by Jawa. So if you're getting mileage of 35-40, be rest assured that a 14-litre tank is good enough for touring.
Those who have seen my Ladakh videos may know that I never carried extra fuel during the entire ride, given my 42 was giving a mileage of 35+ during the ride.
Jawa Perak Top Speed
During the Punjab Da Tor ride, I tested the top speed a few times. I could easily go above 135 km per hour with some power still left in the bike to push further.
According to some publications on Google, the top speed of Jawa Perak is between 150 and 160 kilometres per hour. But it would take some effort for it to go above 150 I believe.
I will do more top speed and 0 to 60 km per hour in how many seconds tests soon and publish videos on my Youtube channel.
Compared to my 42, it has a better top end. It produces 30bhp and 31Nm of torque.
As far as vibrations in Jawa Perak are concerned, the bike is phenomenally smooth and you won't feel anything until 100 km per hour speed.
Jawa Perak Accessories
Most official accessories like the handlebar mirror, the crash guard are the same as for 42 and Classic. So you can check their price on the official Jawa Motorcycles website.
You can also check this blog on Jawa aftermarket accessories for a list of third-party accessories.
As far as the question of official accessories that stock Jawa Perak comes with is concerned, you will be disappointed to know that there isn't much in package. The bike comes just as raw as Jawa 42 or the classic.
The only difference will be, where 42 and classic come without the bar-end rear-view mirrors and you need to pay Rupees 1598 for a pair if you want them, in Jawa Perak, it is a free accessory.
I have made a video of Jawa Perak delivery where the owner told me he did not have to pay for bar-end mirrors and it was a part of the free accessory. Here's the video…
For other accessories, like the crash-guards, however, you will have to pay.
You can check Jawa Motorcycle's official page for all official add-on accessories.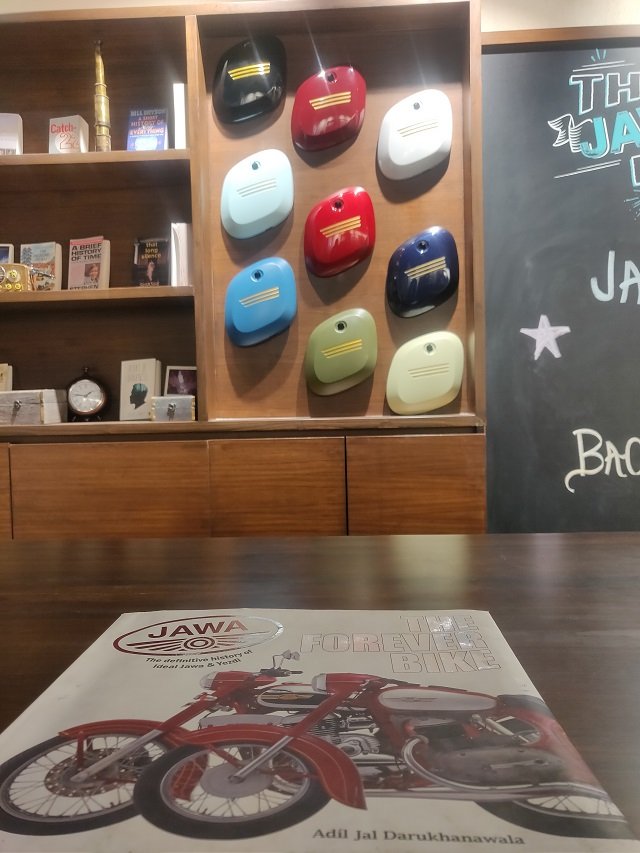 Performance During Monsoon
Out of all the settings, if you are wondering why I am talking about Jawa Perak performance in monsoon, in particular, is because it was only in Monsoon that Perak didn't make an impression on me.
Because of disproportionate weight or god knows what, the rear wheel of Jawa Perak loses grip a lot.
In slush or in rain, you will have to be a lot careful riding a Perak.
The Road Presence
There is no denying the fact that Jawa motorcycles are catchy. I remember when I owned the only 42 in my city, I caught quite a few eyeballs. In road presence, Jawa Perak is even killer.
Rest assured, if there's one thing that you need not worry, it is the road presence of this machine.
Check these pictures of all Jawa motorcycles and compare Perak with 42 and classic.
View this post on Instagram
Jawa Perak Specifications
Engine Type
Single Cylinder, Four Stroke, Liquid Cooled, SI Engine, DOHC
Displacement
334 cc
Max Power
30. 64 PS
Max Torque
32. 74 Nm
No. of Cylinders
One
Cooling System
Liquid Cooled
Valve Per Cylinder
Four
Drive Type
Chain Drive
Starting
Self Start only
Fuel Supply
Fuel Injection
Transmission
Manual
Gear Box
6 Speed
Engine Type
BS6 only
That's all about Jawa Perak for now. If you have any particular questions that I did not answer, please leave a comment below.