Wondering what's the Jawa 42 delivery time? What accessories your Jawa motorcycle comes with? Read my ownership experience!
After more than five months of Jawa 42 waiting time, my bike has finally been delivered on 7th April 2019.
As soon as I got it, I realized one thing "The wait was worth it". The looks, the technical specifications, the mileage, everything about Jawa 42 is just perfect. And the emotion behind riding a legendary motorbike, coupled with the fact that I was among the first few customers in India makes it even better.
Call me a fool prejudiced Jawa owner, and I will take no shame!
But let's be honest, when I booked my Jawa on the first day of its launch, on November 15, I had no idea about the Jawa 42 delivery time.
To make the decision tougher, there was not a single company dealership in the entire country. All I had was a website, an official video and a few pictures to decide.
But then, I knew that Jawa is at least working with a name that we, at least in India, cannot disregard. Yes, I am talking about Mahindra.
That was how I booked and got my motorcycle. If you've booked a Jawa for you too, and wondering how long is the Jawa 42 delivery time, what accessories Jawa motorcycles come with, read below…
Also See: Jawa 42, Classic, Perak Images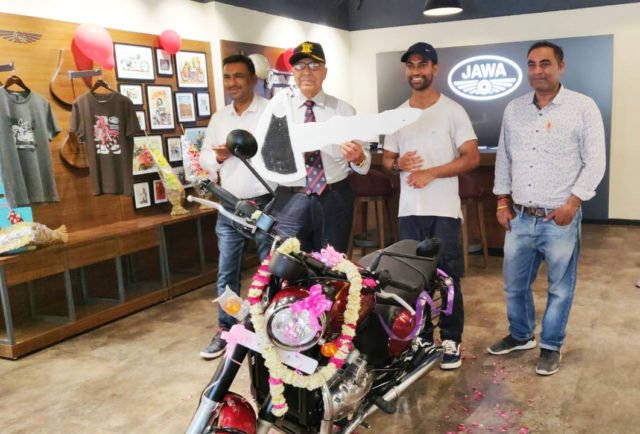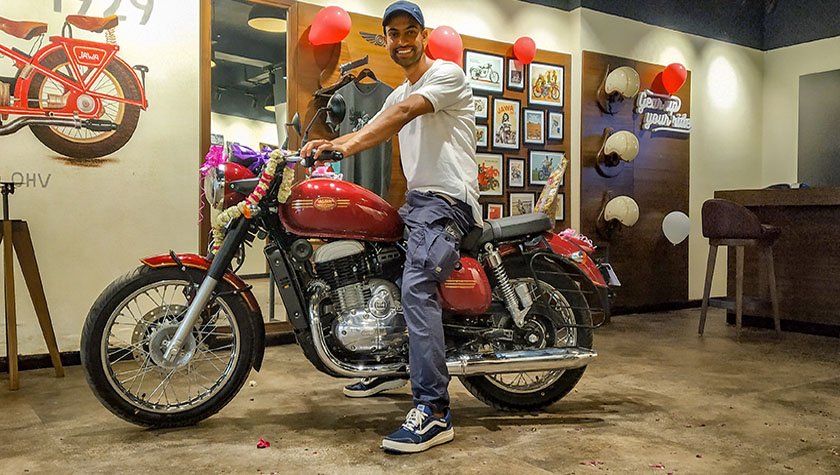 Note: I have updated the article in January 2021, to give you the latest information below!
Jawa 42 Delivery Time
If you are wondering how long it took Jawa to deliver my motorcycle, which also happened to be the first Jawa 42 in Haryana, the answer will be…
SURPRISINGLY LONG ENOUGH!
I remember that the company originally promised that they will start delivering the bikes in March (again, I booked on November 15 — the day online booking started) and that their dealerships will open by December 15. But both things got delayed – thanks to a longer waiting time for Jawa 42.
Dealerships in Delhi NCR were still opening in the month of February, and the delivery of motorbikes never started in March, at least not in Delhi NCR. In short, everything worked with an Indian sense of time and commitment. No one had any clue about Jawa 42 delivery time.
I finally got my bike on 7th April  — almost 5 months after the original booking date.
But regular touch with the company's marketing team was an assurance.
Update (January 2021): As of January 2021, most of the cities across India now have about 1 month of Jawa 42 waiting time.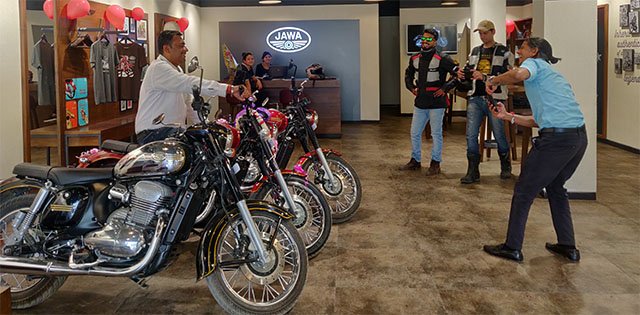 Jawa 42 Waiting Time: FIFO Approach
As a journalist (of a different kind) I cannot help my habit of gaining insider news. Though this isn't something unique or undercover, useful for those who are still waiting for their Jawa motorcycle's delivery. So let's get into technicalities…
Speaking of the Jawa 42 waiting time, the company is following the First-In-First-Out method of inventory (also known as the FIFO system). According to this, every delivery will be decided as per its booking date. Those who booked early are going to get it first than those who booked later, following a fair sequence order.
Having said that, one thing is sure, the waiting time for Jawa 42 is going to be fair for everyone. Those who have booked their Jawa online are going to get it first before those who booked through a dealership.
Now that we have discussed the Jawa 42 delivery time and know the waiting period, let's discuss a few other things too…
Jawa 42 Owner Review
Since it's a new company I understand that 'cutting the red tape' can become challenging. There are government norms especially when we have the Indian government to deal with.
So as far as my Jawa ownership experience is concerned (being the first few customers in India, and the first one from my dealership in Delhi NCR) I have no complaints.
Of course, the ever-delaying delivery time was a little agitating at times, but in the end, if I am getting a product that makes my heart smile, I am happy.
I prefer a few weeks of extra Jawa 42 waiting time (even if it's tiring) and getting the right product then getting it early and regretting it forever.
Also, read a more detailed ownership review of the bike: Jawa 42 Owner Experience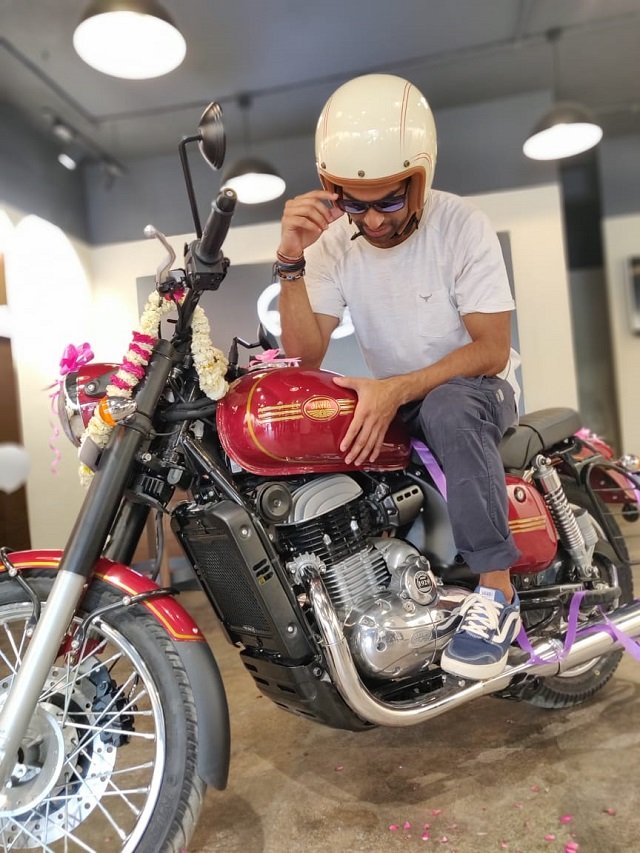 Jawa 42 Company-Fitted Accessories
To be honest, if you always thought that Royal Enfield is good at selling their merchandise, be warned that Jawa is better!
Below is the picture of the Jawa 42 with ex-showroom accessories. It has an engine, a seat and a side stand, and that's all. Well, not literally, but you get the idea!
You can also check my other blog where I have mentioned all Jawa 42 accessories in detail (both aftermarket and original).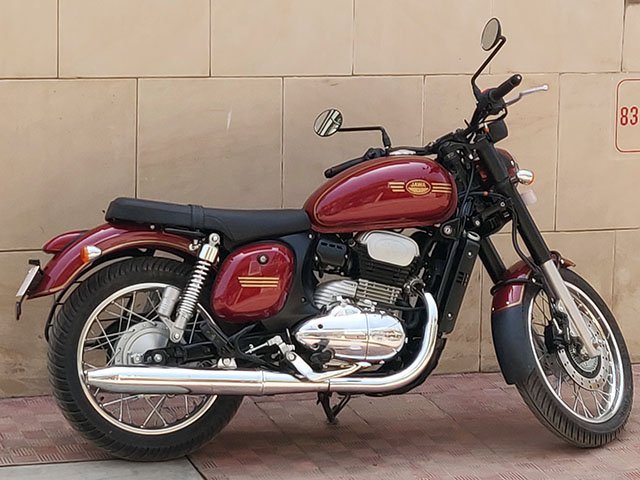 When I saw my Jawa 42 the first time my biggest disappointment was that it didn't come with the handle-bar rear-view mirrors (or bar-end mirrors) – the ones that were shown on Jawa's website and all official promotional videos. You are getting the same old traditional rear-view mirrors mounted in the center of the handlebar. If, however, you want the fancy ones, you need to buy them. It's an add-on accessory. As of March 2020, they cost Rupees 1598 for a pair.
If this surprises you, what can be more surprising is the fact that your new Jawa won't even have crash guards or the centre stand. Did you say, crash-guards are a basic necessity you may need to protect your legs? Well then buy it. You aren't getting it for free!
Other add-on accessories and merchandise that you will find in your Jawa store include T-shirts, helmets, backrest, saddlebags and so on.
Here's a rate list of all add-on accessories:
Center stand: INR 799
Bar-end mirrors: INR 1,598
Matte black crash guard: INR 1499
Chrome crash guard: INR 1599
The hammerhead backrest: INR 399+599+999 (three assemblies in total)
The hammerhead spoiler: INR 999
The classic grab-rail: INR 749
Please note that the prices mentioned above were as of March 2020. To check the updated price, visit Jawa Motorcycle's official page.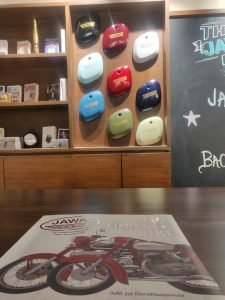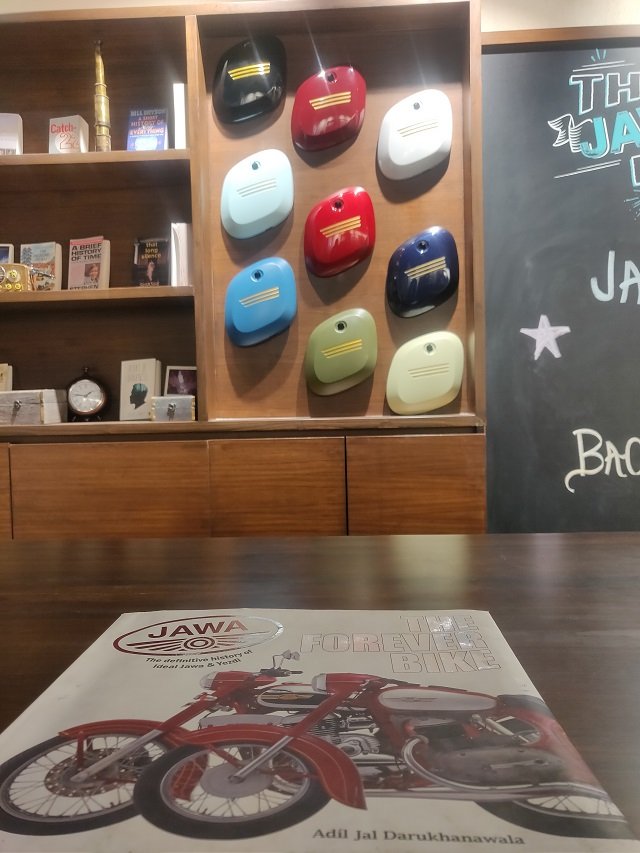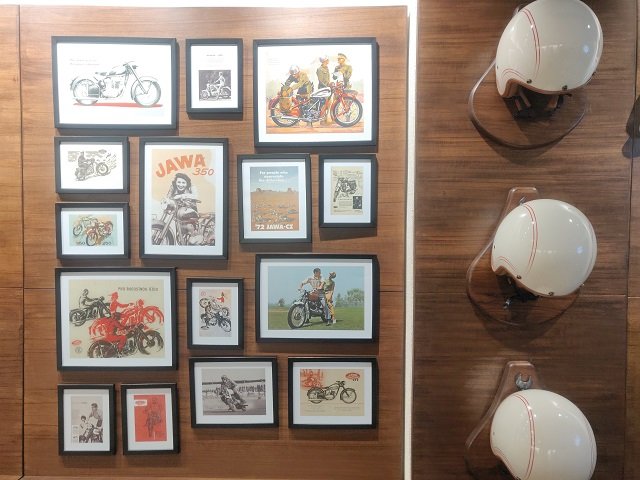 Is It Worth Investing in?
As I said earlier, I won't change my bike for anything else in the world because I am impressed by it. And even if there is a long Jawa 42 waiting time period, it is worth buying.
Its looks, its specifications, everything is better than its much-hyped Indian competitor, as I've personally found. Its engine and technical specifications are also comparatively much impressive and reliable.
The only thing, however, that has always bothered me (other than a long Jawa 42 delivery time period) is the comfort level.
Since it is a lightweight modern classic, it lacks the heaviness and comfort that classic motorcycles in India were known for. But then again, a lightweight body means it is easy to manoeuvre.
I am moreover quite impressed with my Jawa 42 mileage which stands at nearly 40 kilometres per litre.
Another thing to note here is that Jawa motorcycles give you a 6000 Km service window – a pretty decent time frame for people like me who enjoy redefining the definition of Wanderer.
Here's a short video I made during my 20-day road trip across Uttarakhand talking about Jawa's performance in mountains.
Speaking of the wanderer, have I mentioned that Jawa's WA suffix stands for the word Wanderer? Well, that's another reason to buy a Jawa. If only, of course, you fit in the description!
For more about Jawa ownership and performance reviews, find me on Youtube (as 'Footloose Dev') for almost daily videos. Here's the link to my Channel. 
If you are still confused about your Jawa 42 waiting time or delivery period, write me a comment below.