Laos is a landlocked realm steeped in nature, history, Buddhism, and cuisine and there are lots of interesting things to do in Laos. The country is wrapped in a stunning mountainous landscape, making it on the top list of most attractive countries even if it lacks other places' beaches.
Adventure travel in this country is immense. You can go kayaking, zip-lining, and cave tubing all day. The country used to be a famous traveling destination for partying, but since those wild tubing days seem to have been curtailed, it turned into a peaceful outdoor-oriented country. And just to mention, Luang Prabang remains my favorite city.
Travelling to Laos can be a little confusing to some people too, given the fact that there isn't much information available online.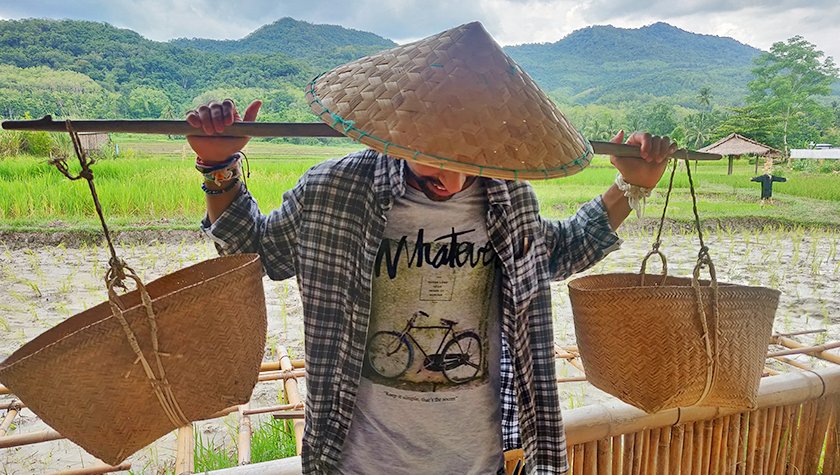 So before I start with interesting things to do in Laos, here's a bit of useful information…
Basic information
Visa For Laos
You can obtain a Laos visa from a consulate or Laos embassy to enter this country. The government offers a 30-day visa on arrival for most travellers to this country. The visa on arrival is valid for only 30 days and is available on arrival for most tourists. While some nations in the Middle East and Africa must apply for visas prior to their travel, most nationals can get visas on arrival.
Currency In Laos
The currency in Laos is the Laos kip. The one US$ is worth roughly 12000 kips, so don't be amazed to purchase a sandwich at 25,000 kips.
Language In Laos
The official language in Laos is Lao, mostly known as Laotian. This language is closely related to Thai; therefore, if you speak Thai, you will be able to understand Lao. Luckily, most Laos speaks English; therefore, you will still manage your own while on vacation if you don't understand Thai.
About Transport
The movement from one town to another is somewhat in Laos. It is advised to get a Skyscanner app to view boats, buses, and train schedules ahead of time.
About Safety
Laos is a safe place to explore. Generally, the Lao people are friendly and kind, but you still need to be smart. Ensure that you don't leave your expensive jewellery and money in your hotel and keep an eye on your belonging when traveling mostly in crowded buses. Also, be street-smart.
Interesting Things to Do in Laos
Lose yourself in Luang Prabang
Luang Prabang is a significant yet charming small town that ranks among the most popular tourist destinations in this beautiful country. The town features old French colonial architecture, former royal palaces and more than 30 temples, and stunning natural scenery.
Just wake up very early in the morning and take part in the ritual of giving alms to orange-robed monks, enjoy your tasty and leisurely breakfast in a stunning café, and take all your time to tour the ancient architecture.
Tad lo
Located 90 kilometers away from Paske's southern town, Tad lo is an impressive waterfall in Salavan province. The waterfall is made of three cascades: Tad Suong, Tad lo, and Tad Suing. Soak in the aural splendour and visual of the falls or take a dip and cool off from the heat.
There are accommodations available if you want to spend your night and enjoy the stunning scenery. The several restaurants and guesthouses around the waterfall make it an ideal stopover for swimming, tubing, trekking, and an ideal lunch spot. This place is accessible by motorbike, bus, or as part of a group tour package of the Bolaven plateau.
Trekking in Luang Namtha
You can trek deep into the heart of the jungle and discover the beautiful natural scenery of Luang Namtha. Situated in the Northeastern of the Laos region, Luang Namtha is popularly known for its dense forests, lush valleys, and flowing rivers. Suppose you are looking for the ultimate adventure; a single multi-day trek to this region is the ideal way to experience the beautiful landscape with your eyes.
There are various trekking and trail firms in Luang Namtha to select from, but most of the journeys take even five days. You will get an ideal chance to camp outdoors and visit the local villages along the way.
Drown in the deep history ay Vieng Xai's caves
Situated in the sleepy Vieng Xai village, these caves are one of the main attractions for most travelers. Despite their beautiful landscape, these caves are popularly known for accommodating over 20000 civilians and soldiers during the Indochina war. For more than nine, the people worked, stayed, and formed a community inside these caves.
While you can only tour a few of them, it's still a worthwhile journey to see and understand much more about this country's tumultuous history. You will be able to see meeting rooms, theatres, and houses built in underground caves.
This Was A Guest Post. Here's The Author's Bio:
Susan Noel is an experienced content writer. She is associated with many renowned travel blogs as a guest author where she shares her valuable travel tips with the audience.