There's no escaping the fact that travelling needs money but if you know just happen to know your way around and have the knowledge of all the right places to look at, then you can go on amazing vacations despite not being a millionaire.
I mean it's because of budget travelling that I've been able to survive the initial days of travel blogging when blogging didn't generate any revenue and I had to invest all the money for my travels from my pocket. I could have, back then, travelled like an average irrational tourist, spending carelessly on quick flight bookings, expensive hotels and a few taxis here and there, but I didn't. I knew that I could either travel more by spending less money (and fulfilling my travel dreams) or not be travelling at all. So if you too are struggling with a little cash inflow and still want to travel the world, these travel hacks will help you go a long way.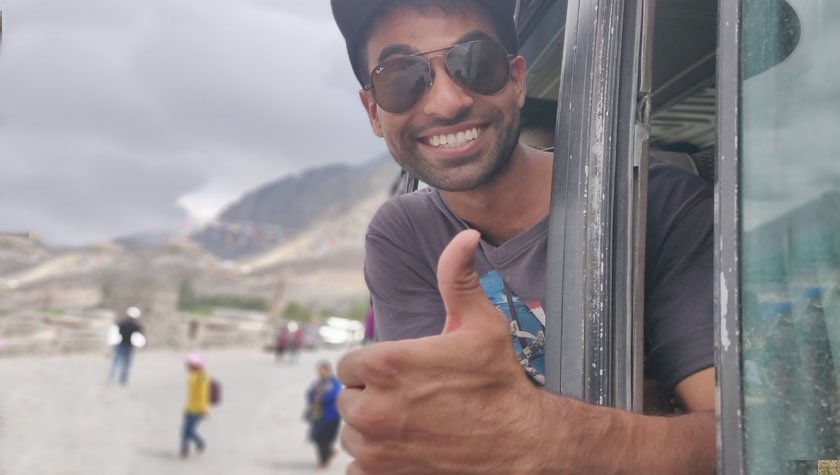 Top Travel Hacks For When You Are Broke
Avoid Travelling On Weekends
Hotels and flights tend to have higher prices on weekends as a lot of people travel during that time. So it's better to travel on weekdays to avoid high prices and get better deals. Try to travel during weekdays to have cheaper hotel rooms, and if booking flight tickets, try to book them on Thursdays and Tuesdays (no guarantee of a cheaper fare though, but from my personal research, they are the best two days in a week).
Book Flights Beforehand 
Flight tickets are priced based on demand and the closer the departure date, the higher the demand and the higher the price of the ticket. So it's better to book flight tickets at least two to three weeks before the departure date to get the best deals. Similarly, I've personally felt that if you book a ticket more than 3 or 4 months in advance, you're likely to buy it expensive. Though it's not always true, in most cases, booking a ticket hopelessly early hardly gets you a cheaper deal.
Further Reading: How To Find Cheap Flight Tickets
Look for Cost-Effective Entertainment
Visit Museums and public concerts that are often free for tourists in most places. If not, invest in a city card or something that gives you free access to many tourist highlights. Avoid fine dining experiences and rather look for places that cater to locals to save on food.
Travel on Off-Seasons
This one's a no-brainer. You save more by travelling at the end of January rather than during the Christmas holidays. Since more people travel during the holidays the hotel and flight prices are likely to go up, and while the period just after the holidays experiences a lull in demand you can take the advantage of it and grab some great deals on hotel bookings and on other things.
Compare Websites
A hotel may list several different prices for the same room on different websites. The same is true for flights as well. In this case, compare different websites to get the best price and deal for the same room or the same flight. A little time and effort go a long way in saving a lot of money.
For example, when booking flights, use Skyscanner or Google Flights. I personally use Google Flights as it offers a calendar to compare fares for as far as a period of the next 2 months, all under one window. For hotels, I use booking.com!
Lookout for Coupons and Promo codes
Several hotel websites, flight operators and even travel aggregator websites give promotional coupon codes and promo codes for additional discounts. Often, they can be combined with other offers to get even better deals. Make sure to look out for these and save some big bucks. Subscribe to their newsletters or like their Facebook and Twitter pages to not miss them out.
Lookout for Student Discounts
Everyone knows students don't have too much money to spare but that doesn't mean that they must miss out on the fun in the primes of their youth. Many hotels and flight operators offer student discounts with some going as high as fifty percent off on standard prices. If you are a student, then you can surely take advantage of this as long as you have your school or college ID handy. Many cities around the world even offer in-city discounted public transport for students.
Cook Your Own Food
Eating out is one of the biggest money spenders while on vacation. Coupled with the high prices of restaurants in tourist spots and the taxes, your food bill can burn through your cash very soon. A more cost-effective and healthier alternative would be buying vegetables at the local grocery store and then cooking them yourself. Hostels often have an in-house kitchen for travellers.
Eat a Heavy Lunch
We all eat heavily only once a day and it's better to have a heavy lunch rather than a heavy breakfast or dinner. This is because a heavy lunch will keep you energized throughout the day, but a heavy breakfast may slow you down for the rest of the day, while a heavy dinner is not a good idea health-wise as all those calories, will have no way to burn. Also, restaurants charge far lower prices for lunch rather than for dinner.
Day Trips
Vacations or weekend stays cost more than a tight budget can handle. Day trips are easy on the pockets and don't take much time out of a busy schedule either. All you need to do is some pre-planning and choose a spot and a conveyance mode that can get you there and back within a day. You will be super tired from the journey, but you will save super big bucks and not break the bank while enjoying yourself. Also, if you start early, you can get back home with a lot of time to enjoy in between. I use day trips wherever I go and explore the city on a fast track.
Use Airbnb
Airbnb is a cheap alternative to hotels where you have the freedom of living as you would at your own home, all at a bundled price. However, don't expect the top of line features when you book for a cheap Airbnb. Your objective is to save money of course, and this option ties in nicely with the whole cooking your own food and not eating out policy that we outlined above. Also, often Airbnb has tie-ups with several flight operators to provide some crazy deals and it pays to watch out for those too!
Use Frequent Flier Privileges
Most Airlines add frequent flier points to the accounts of their most loyal customers who travel a lot with them. These often translate to discounts on ticket prices, or on a seat upgrade or added benefits in the flight which would have cost you money otherwise. So, consider using your frequent flyer points if you have any. I once had a free New Delhi to Bangalore flight thanks to the frequent flier point by Jet Airways. Though it only saved me 5000 Rupees, now that I think of it, when you're short on money, five thousand is a good figure too.
Use E-wallets to Pay
When Paying online for a flight or a hotel or when using your credit card to pay after a meal, try to load money to your e-wallet and pay using that. Often payments made through e-wallets such as Paytm or Paypal etc. will result in cashback or discounts and reduce the effective cost you have to bear.
Complimentary Meals
Several hotels offer one or two meals complimentary – usually breakfast or lunch or both. This can let you save a lot of money while travelling as food bills are often the highest cash burners. So if you have the option of getting a complimentary meal for each day of your stay at a hotel, be sure to take it.
Use Public Transport 
Taxis are a nightmare for tourists as we all know. They take longer routes, charge higher fares and ask for outrageous trips. It's always best to take public transport like buses or the underground to get from one tourist spot to another on a vacation as this saves a ton of money. But be sure to learn the proper routes first. Use navigation apps to find your routes and not lose the way.
Apply for The VISAs On Your Own
When applying for a VISA, do it yourself and through the official immigration website of the country you want to visit, as travel agents involve additional costs, and applying for a visa is always no work. Also, remember that Visa on Arrivals and eVisas are often expensive. So if you have got a little time, spare it in filling out the application form and submitting it by visiting the embassy, reducing visa costs furthermore.
Join Facebook Groups For Discounted Deals
There are hundreds of groups on Facebook that are dedicated to hunting down and sharing discounted deals on hotels and flights. Become a member there and take advantage of all the deals that other member share to save your hard-earned cash.
Avoid Drinking
The quantity you drink can easily get out of hand when you are having a good time and that can burn a big hole in your pocket. If you are broke and you are travelling, stay away from alcohol for a few. You can thank me later.
And click here for the bonus tip: Volunteer and Travel
So these were my top travel hacks for when you are broke. Do you have any other travel hacks in mind? Be sure to share them in the comments below!