I remember the time I was planning my first-ever solo motorcycle trip in the Himalayas, I was scared. I had never done a solo bike trip before and I had no idea what to expect from it.
To make my fear even worse, I decided to ride to the world's most isolated and treacherous roads — Spiti Valley in Himachal Pradesh. (You can read about that ride and plan a similar trip by reading my Spiti Valley motorcycle trip itinerary)
But where on one side I was scared and confused about my Ladakh bike trip, as I had no past experiences of any solo motorbike trip in the Himalayas whatsoever, on the other side, I knew I was ready for it — at least if technically speaking.
I had researched the entire route map in detail and equipped myself with a bit of knowledge on how to repair a motorcycle. I was even carrying all necessary spare parts if the need be.
For 9 days, I rode an average of 200 kilometres per day, covering a total of 2200 kilometre and it was a whirlwind experience.
At times I was scared, at times I was thrilled. I mean the idea of solo-riding on the world's most isolated roads, with no one around you, but an eerie silence, you do feel a certain degree of anxiety.
But as I said, I did it and I did it well. Despite having no riding experience for the Himalayas whatsoever, I managed to do my solo Spiti valley bike ride without any accidents.
And if I did it, so can you!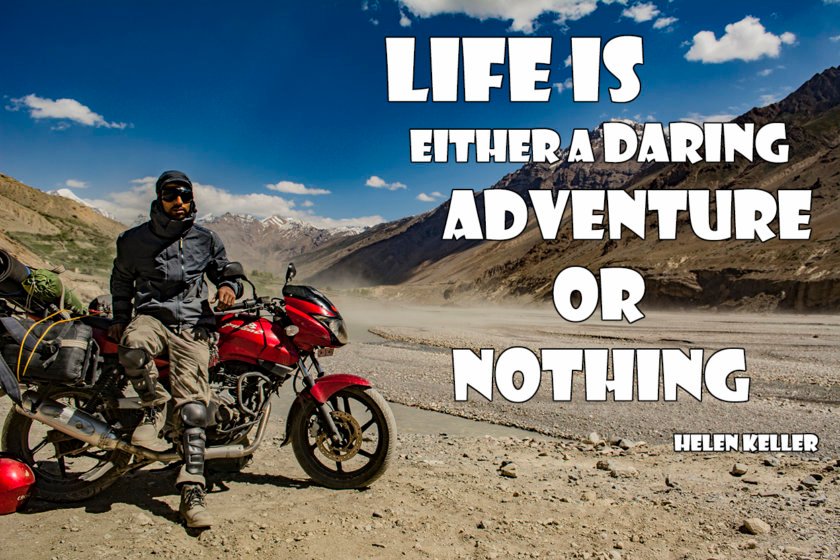 If you are planning your first motorcycle trip in the Himalayas, but aren't sure where to start, read ahead.
And remember, if you think you cannot do it on your own, you can always join a paid bike trip to Leh Ladakh and other places in the Himalayas.
Tips For Solo Motorcycle Trip In the Himalayas
Carry Spare Parts
When you're riding on your own, it's most important you carry all necessary spare parts. Spare parts like a puncture kit, clutch wire, break-wire, chain lock, gear oil, engine oil, spark plugs, etc are a must-carry. They are more necessary than your camera and other personal things. Because if you're stuck somewhere on the way, with a broken clutch wire after 5 in the evening, with no one around you but pure wilderness, you're going to regret not carrying it, more than anything else. Finding bike spare parts in Ladakh and other places in the Himalayas is a challenge.
It's moreover a good idea to get a few repairing lessons before your ride. But even if not, you can always ask other passing-by riders/drivers for help.
Riders in the Himalayas always help each other. But they can only help you if you've spare parts.
So yea, one of the most important tips for a motorcycle trip in the Himalayas is Carry Spareparts!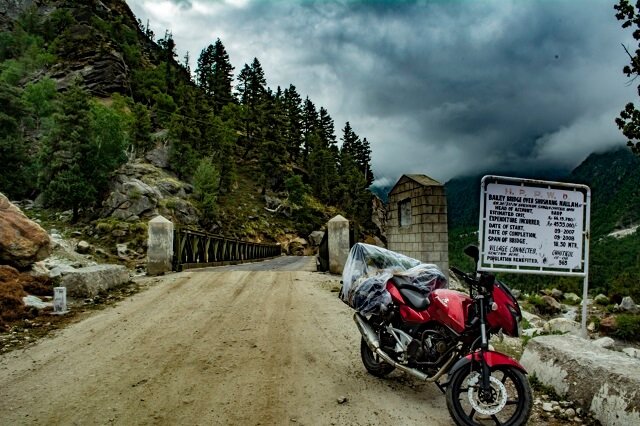 Leave Early
As much as a motorcycle trip in the Himalayas is about hardship and pushing your limits, a part of it is about punctuality and leaving early too.
In the Himalayas, particularly on trails like Spiti Valley and Shinkula Pass in Zanskar, even a 100km stretch of a road can take hours to complete.
There are moreover times when you ride for hours only to end up at a broken trail, or a blocked road due to a landslide, and the next thing you know is that you need to head back from where you started, and that point is 6 hours away. Though it's a rarity, but rather still, a possibility.
I remember while I was riding in Spiti Valley, there were days when I started at the first light of dawn, rode all day with a few to no stops, and still only reached my next destination after sunset. And riding in the Himalayas at night is no fun. It's scary.
One way to make solo riding in the Himalayas feel safer is by carrying a tent with you so that if you ever got stuck in the middle of nowhere, you can at least find a flat surface, pitch your tent and spend the night. [Read: My experience of camping in Spiti Valley].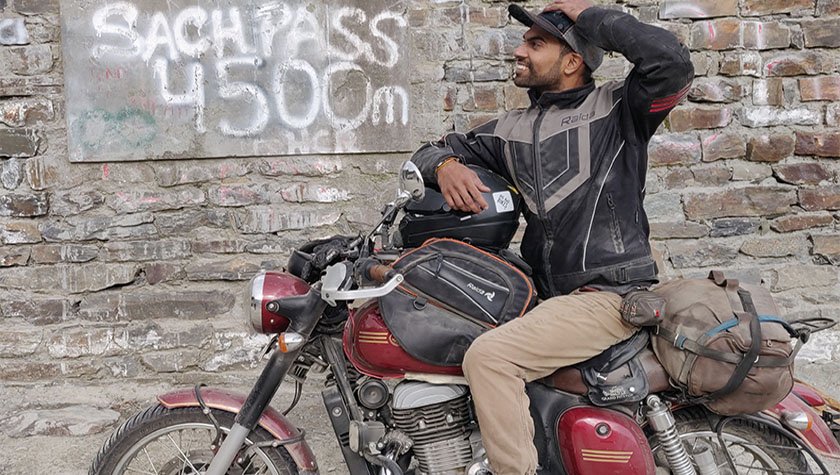 Check The Weather
There's an old saying that on a motorcycle trip you are never comfortable. At any point, you can end up feeling hot, cold, and wet all at the same time. And when you're in the Himalayas, at 10,000 feet above sea level, the saying becomes even truer. And harsher.
In all my solo bike trips in the Himalayas, whether it was Spiti Valley or Zanskar or my Bairagarh to Killar Sach Pass ride, I never felt very comfortable. Even though the temperature never got unbearably hot at those places, my safety gear conspired to roast me like a Christmas ham.
If it's too hot and suddenly starts raining, it's a momentary relief before feeling wet and miserable again. By the time the rain stops, I'm absolutely freezing and desperate for the sun again. When the sun returns, it is only a matter of time before it starts feeling like being steamed alive. Well, that's life as a rider, in a nutshell — never comfortable!
So make sure you're prepared for all weather conditions.
Well-ventilated waterproof equipment will make the hot parts cooler, the wet parts dryer, and the cold parts warmer!
Invest in riding equipment, and still, be ready to change your clothes a few times.
Here's an article about my recommended riding gear and motorcycle accessories.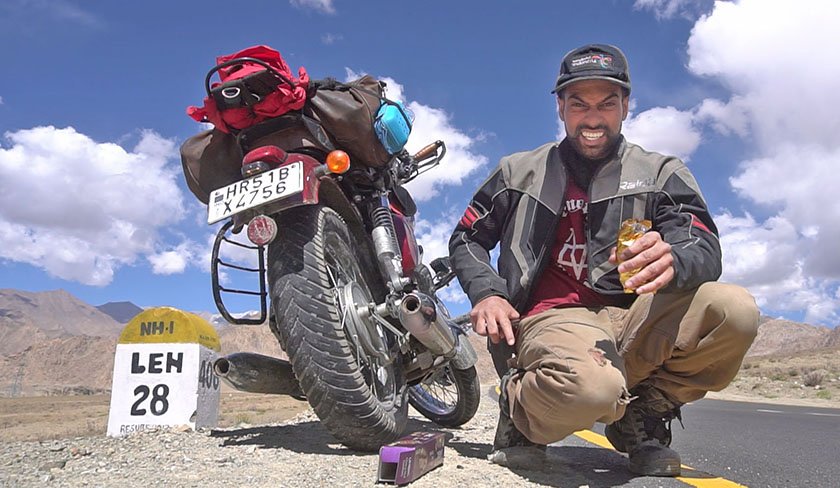 Take Proper Rest
During all the motorcycle rides I've done so far, I take a break every two hours of riding.
Taking time to drink some water, and stretching your legs and back is necessary. With increasing fatigue, after a few days of riding, the need became more crucial.
It is because of this reason that I also plan long rides rather than hurried and short rides. For example, rather than doing a 4-day Delhi to Munisiyari trip (like most riders), I took almost 20 days for my Delhi to Munisiyari trip. I would ride only 100-200km a day and enjoy the pace of the journey.
It is true that not everyone has so many days to travel, but hurrying too much and seeing more only invites a bad experience.
Motorcycle trips in the Himalayas are all about slowing down and absorbing the beauty around them.
Don't try to go too far if you don't have too many days.
Stay Motivated
Staying motivated is one of the most useful tips for a motorcycle trip in the Himalayas.
On a solo motorcycle trip, you never know what's coming.
During my Solo bike trip to Spiti Valley, I rode for 9 consecutive days, while camping in Spiti valley. During one of the evenings, I did not reach the town I had initially planned to reach, before dusk. The night came quickly. Now picture this: Feeling homeless in the middle of nowhere, with your phone having no phone network in Spiti Valley to call for help. You also don't know if the next village will have a place for you to stay or not, and even worse — how far it's going to be. Under such circumstances, losing hope means inviting death.
So always stay motivated & excited, even if you fall, skid or get a flat tire. Getting panicky & scared isn't really useful out there.
In the Himalayas, even the most skilled riders make mistakes, but the ones who remain stronger at all times are the real rider.
And now, for some fun, here's a video of my solo Leh to Manali journey. I did the journey in two days and this is Day 1 of the total 2-day journey.
I have also done a few hurried journeys, like my 36 hours non-stop Hyderabad to Delhi ride. But I don't really recommend such hurried trips. I did this non-stop Hyderabad to Delhi ride to test the skills of my Jawa 42 motorcycle. Watch the video here, if you like:
You can watch more riding videos on my Youtube channel
Also read: My Delhi to Bangalore Motorcycle Ride
If you have more questions about tips for motorcycle trip in the Himalayas, please ask in the comments below!