Disclaimer: Before you make any opinions, please note that this 1 month Southeast Asia itinerary was written keeping two things in mind: one, travelling a maximum number of Southeast Asian countries. And two, doing it on the minimum possible budget.
If Southeast Asia is the world's top backpacking location then there's a reason for it. It is a perfect destination for millennials, who have time but no money — the kind of people falling in my category.
In southeast Asia, the visas are cheap travelling through one country and another is possible by land (even for the unfortunate Indians with their weak Indian passport thanks to many countries' including Thailand visa on arrival) and flights to major airports like Bangkok and Kuala Lumpur cost as low as flying domestically in big countries like India.
For Southeast Asia,  all you need is a bit of planning, and a little bit of time and you can do (almost) the entire continent for a bargain.
I suggest you try Air Asia and Flyscoot airlines for cheap airfares.
Also note that if you just happen to be someone who needs visas for Southeast Asia, please note that right now is even better to do so, because to increase the tourist inflow, many countries, including Malaysia and Thailand, have just cut slashed their visa costs. [In 2019 I grabbed my 15-day Malayasian Visa for less than INR 1,500].
If I had one month, and wanted to cover as many countries as possible, in a budget, this is the first thing I'd tell myself…
Southeast Asia in 1 Month – Itinerary and Tips
Don't Touch Philippines or Indonesia
You fly to the Philippines, and you fly back. You fly to Indonesia, and you fly back again. So why even do that and bleed unnecessary money, unless you really want to do the two countries? Rather, cover a few others in mainland Southeast Asia.
The Mainland Southeast Asia
Myanmar, Thailand, Laos, Cambodia, Vietnam, Malaysia, and Singapore make mainland Southeast Asia and offer you a lot of freedom while travelling between them. You can travel by land in between them, without having a need to fly.
Moreover, the visas for all of them can be obtained electronically or on arrival. The only problem, however, can be long distances and limited time (you need more than 1 month to cover them all without hurrying).
So, given that you have one month to travel, I'll advise focussing on 4 countries, namely, Malaysia, Thailand, Cambodia, and Vietnam. The distances between them aren't that brutal. They make for a cheap 1 month Southeast Asia itinerary.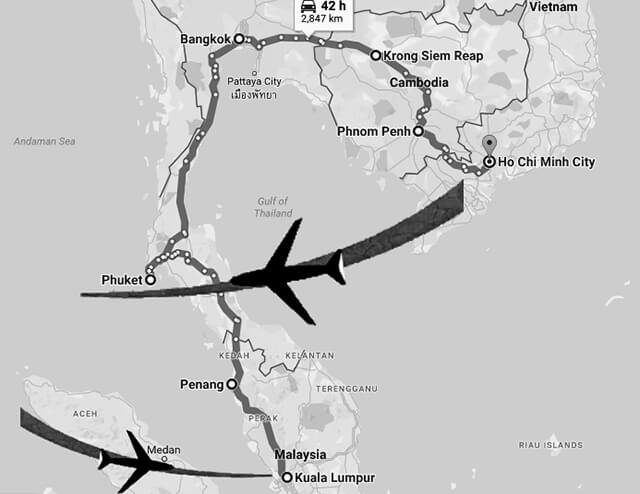 4 Countries | 7 Highlights | No Flying
Kuala Lumpur and Bangkok offer city highlights in Southeast Asia. Both capital cities are safer to travel, cheaper to eat, and more entertaining to spend some time in. I totally loved Thailand for its ease of travelling.
You name a thing and Thailand will provide that. Malaysia, on the other hand, is a little sophisticated and offers a better place for grown-ups. If you want something more wild and raw, you have Cambodian and Vietnamese capitals. Siem Reap is all about history and people. And Phuket, a party city.
The seven cities, altogether, moreover offer centuries-old history and rich cultural experience. You stay in Phnom Penh for a few days, and you understand the country from the inside out. The same thing applies to the rest too, making each one of them a must-see and a know-it-all city.
Use Kuala Lumpur And Ho Chi Minh As Your Entry/Exit Port
Kuala Lumpur and Ho Chi Minh have always been of two major highlights in Southeast Asia keeping their airports among the busiest airports on the continent (alright Bangkok has busier airports, and two of them, but its location doesn't suit us in this regard). And because Kuala Lumpur and Ho Chi Minh are busy, flying to and from them is always a comparatively cheaper and better deal.
From India, and in India from Chennai or Kolkata, you can fly to either of the two in under 7,000 INR, with Ho Chi Minh being a comparatively expensive deal, but still, be a bargain!
If You Had A Little more time
Traveling from Kuala Lumpur to Bangkok, overland, is a highlighter and an awesome route, with tons of incredible places to see along the way. So if you've at least 20 more days to spare, I'd suggest you travel from Malaysia to Thailand exploring a few places in between. The route offers you a chance to see the best of hippie beach culture and some gorgeous islands — a kind of journey to cherish.
As per my proposed route, and from what other people recommend, this may just be your ideal route map. Starting from Kuala Lumpur… Kuala Lumpur – Penang – Koh Phi Phi – Koh Phangan – Bangkok.
If you have a little more time than just one month, here's three months in Southeast Asia itinerary blog written by a fellow traveller.
Do you have anything to add to this 1 month Southeast Asia itinerary? Write in the comments below. 
Recommended read: Cambodia Visa On Arrival