One of the days while travelling in Rome, I happened to plan a day trip to Villa d'este (or Villa d este) in Tivoli.
The hilltop town of Tivoli, back in time, may just be a summer retreat for ancient Romans, but today, it is home to two UNESCO World Heritage sites: Villa Adriana, the sprawling estate of Emperor Hadrian; and the 16th-century Villa d'este (or Villa d este).
During my two-week of volunteering experience in Rome I happened to explore the old city of Tivoli, and in Tivoli, Villa d este and Adrian. It turned out that out of all the palaces I had seen in Europe – whether it was during a short 24 hours in Zurich or a completely longer trip to Vienna – had the most surreal gardens.
Villa d este as I had imagined (after watching its glimpse in the Hollywood movie Lizzie McGuire) was grand, majestic and awe-inspiring.
The detailed Villa d'Este dates back its foundation to the mid 16th century when Cardinal Ippolito d'Este decided to make changes to the convent he was given, upon his appointment as the governor of Tivoli, Italy.
A member of an influential family and a lover of the finest things in life, d'Este commissioned his architect to build a new, grand residence filled with everything that money could buy and from what he could take from the nearby abandoned Hadrian's Villa. What resulted was one of the most magnificent examples of Renaissance architecture and gardens ever built.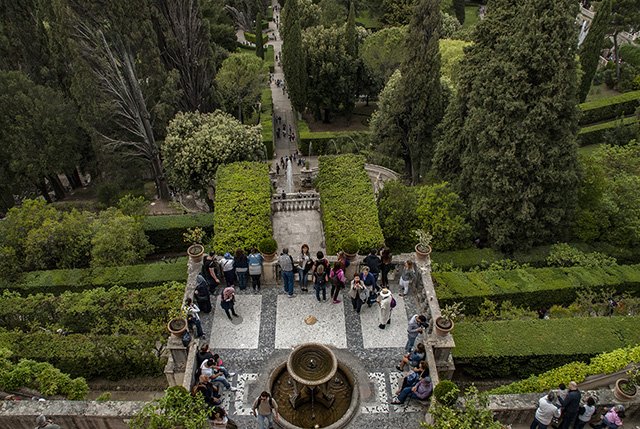 The interior of the Villa d este (or should I rather call it Villa d estate lol) speaks high status of its owner. They looked grander than many places I saw during my Vatican City tour.
Priceless antique statues and the many surreal frescoes (all of which telling different stories) decorate its halls, with beautiful gardens surrounding the villa. Today, the gardens are the only thing that remained intact of its former magnificence.
Though the villa itself is also standing and you can stroll through its bright but empty halls…
… the gardens, however, are an entirely different matter – with much life and freshness still existing around them.
Walking around the garden with its 500 plus fountains feels like being in a mythical place of the ancient past. With its statues, grottos, columns, and reliefs, each alley or path reveals a new mossy fountain in a carefully landscaped vista.
The entire premise of Villa d Este gardens fits so harmoniously into the overall landscape that it seems not to have been created by humans, but by nature itself.
There is so much to see and admire that not only would you frolic through the gardens that take you to some fairy-tale-like trance, as you slowly meander through its premises, but you also take in sweeping views of Lazio, and wonder what life could be like, living at such a place.
The place was moreover so big that just like my Rome Segway tour I wished I had a Segway to explore villa d este too.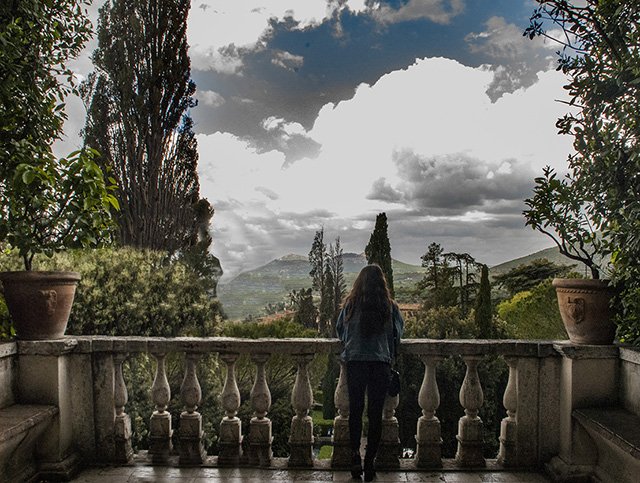 Some Factual Mumbo-Jumbo
Tickets to Villa d'Este are €8 full-price and €4 for a reduced ticket. You can purchase them ahead of time, but usually, the line isn't too bad.
On the first Sunday of every month, the villa is free for all visitors but will be more crowded. Some people told me it's free only for Italians, but I ended up accessing it for free. So I think as long as it's Sunday, and your appearance does not speak highly of your atypical non-Italian looks you should be fine to explore the Villa without having to pay any money.
Villa d este is a UNESCO World Heritage site.
Tivoli is located at about an hour and a half drive from Rome and can be reached via public transport. If visiting only Villa d'Este, then a half-day trip from Rome should suffice, however, if you wish to see the other two villas located in Tivoli (there are a total of three historic villas in Tivoli), then you need a full day.
I visited Villa d'Este and Villa Adriana, and would recommend Villa d'Este should you have a time limitation and need to choose just one among the two!
Have you been to Villa d'este? How was your experience?