Read this Vatican city travel blog for details about how to travel there, what's the best time to visit etc. Also, know things like who lives in there, what is its population, was anyone born there, where does the pope sleep, and more.
Over twenty thousand people visit Vatican City every day. They hope of experiencing a sublime or spiritual moment but only end up having a baffling experience.
I mean how can you, in God's name, feel anything tranquil in a place where all you get to see is a crowd of people pouring in, and guards constantly shouting "No talking, no pictures"? This particularly makes everything impossible if you are a blogger visiting with the intention to write a Vatican City travel blog, just like I did.
The solution?
Take an exclusive VIP skip the crowded tour carried out before the opening hours (for the general public).
Private Vatican City tours like the one I ended up doing were usually reserved for celebrities, royals, and politicians. But almost a decade ago, it opened its gates to the general public and those who wish to pay a little extra and escape the crowds. And this time, as I travelled through Rome, I ended up being one among them.
I also wanted to do this special VIP tour because I wanted to write a detailed Vatican City travel blog.
Also, read this planning Europe trip from India blog and budget travel tips for Europe if you are interested in such quick tips relating to Europe. You may also be interested in seeing these Europe pictures.
I booked my early morning Skip The Crowds Vatican city tour (for a little extra cost than what an ordinary walking tour costs) with a tour company called Musement which claims to have their guides hand-picked, with an academic background in Archaeology, Art History, etc, and with that, someone whose knowledge of the Roman history is no less profound. And it turned out that they delivered exactly what they promised.
The skip-the-crowds tour moreover helped me get some good pictures for my Vatican City tour.
After reaching our meeting point around 7 in the morning (near Castel Sant'Angelo – the same point where my Rome Segway tour started) our tour began at 8 am sharp — one hour before the opening time of regular tours of the Vatican City. And we were lucky to be just three (a couple from the USA and me) of us in the group, plus our guide.
We skipped the queues that had already started to form outside and off we began our trip and my quest to collect content for my…
Vatican City
I have always been sceptical of tour guides, preferring to do my own homework, but overwhelmed by the crowds I might have to deal with had I planned my own visit and the amount of information I might have missed, I thought it would be foolish not to have a guided Vatican city tour – especially that I want to write a detailed travel blog on it.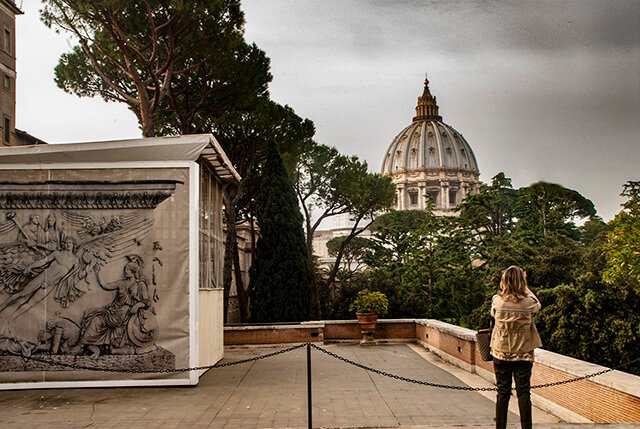 As we entered the museum, and our guide started with his (what I think was the usual) gamut of information overload, things started turning out as I planned — interesting!
He led us through the 120-meter-long map room, past the huge tapestries by Pieter van Aelst, and the Raphael rooms that include a painting of the all-star lineup of Michelangelo, Leonardo, and Raphael himself in the School of Athens.
Being a PhD student, researching Roman History, he knew a lot about the subject. He turned out to be the perfect guide for me given I wanted to write a detailed Vatican City blog.
Throughout the tour, he shared his personal ideas and philosophies coupled with what's written in textbooks. I was baffled at first, but later realised that it was perhaps going to be a long Now-Google-Your-Doubts night!
At about 8:30 in the morning (and still half an hour before the gates were to open for the public) we took a sharp turn and made our way through a small unassuming door. Slowly, we emerged inside the grand Sistine Chapel. It was just us, a handful of other privileged tour groups, and Michelangelo.
Michelangelo spent more than four years here painting the chapel by himself, and this is the closest one can get to being alone in Vatican Museums as he was.
There were no guards asking us to be quiet, no banging into other tourists, and no gesturing to move on to let more people in. Just silence. And as we were busy studying the unbelievably many frescoes, stretching from wall to wall and floor to ceiling, before a priest, in his all-black robes stepped in and called prayers.
We savoured the experience, and later soaked up more of the vivid blue restoration of the Last Judgement, finding Michelangelo's frowning face in the distance, and moving at leisure from the Separation of Light from Darkness.
Following up with the tour, as we did, we walked through the Raphael Rooms (another place I certainly wanted to add to my Vatican City travel blog) before finally making it to our last stop — Italy's largest, richest and most spectacular St. Peters Basilica.
Built atop an earlier 4th-century church, it was consecrated in 1626 after 120 years of construction. Its lavish interior contains many spectacular works of art, including three of Italy's most celebrated masterpieces — Bernini's 29m-high baldachin over the papal altar, Michelangelo's Pietà, and his soaring dome.
Looking at its magnificent richness, I realised that we may not have reached heaven, but we have definitely reached a place I'd call as 'the most impressive (at least if visually speaking) place of worship human has ever created.'
Vatican City Images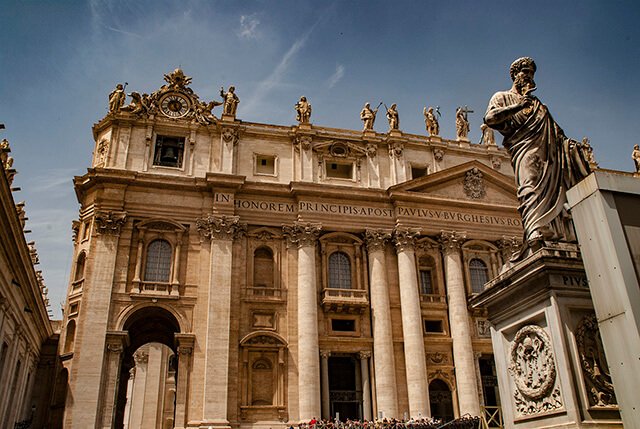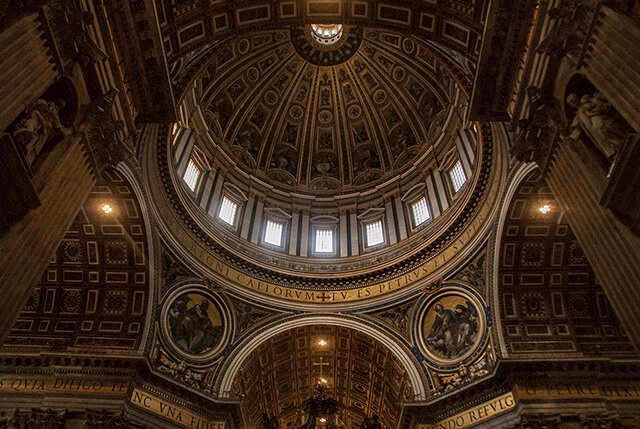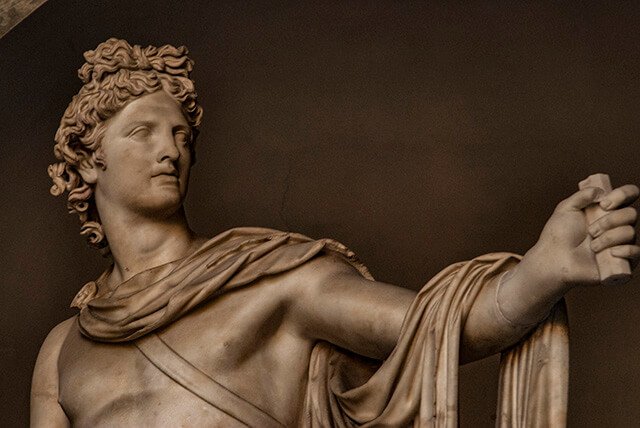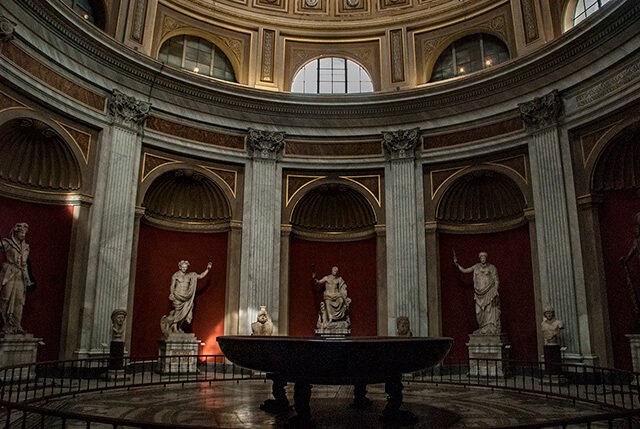 That's all in the picture gallery. Now let's discuss some FAQs.
What is the population of Vatican City in 2020?
As per the world population review website, the current population of Vatican City in 2020 was around 800 people. The estimate was based on projections of the latest United Nations data. The estimates were moreover done in July 2020.
This must be making you question if the population of Vatican City is 800 then where do these people sleep? Where does the pope sleep? Who are these people who live there? Well, let's discuss them all one by one.
Who lives in Vatican City?
During my skip-the-line tour and while collecting as much information as I could for my  blog, I asked my guide the same question "Who lives in Vatican City?" I asked Who are these 800 people?
I was told that the citizens there are all Roman Catholic. They are not The inhabitants though and neither were they born there. The people who live in Vatican City are the people who work there. These include clergy (religious people) and the Swiss Guards who are the Police force of the country. Having said that, this is not a regular residential place.
Was anyone born in Vatican city?
Since no one lives there, no one is born in the country either. Of course, the clergy and guards stay inside Vatican City, but only for official work. Their families live outside of the city.
Citizenship in the country is not based on birth but granted only to those who reside in the Vatican because of their work or office.
Does Vatican City have a jail?
The city has no prison system whatsoever apart from a few cells for pre-trial detention. If someone commits a crime they go to those detention centres, before they are transferred to another prison in Italy or Rome.
I hope this answers your question about does the Vatican have a jail. In a way it does and in a way it does not.
People sentenced to imprisonment by the Vatican serve time in Italian prisons. You can read more about does Vatican City have a jail and about the crime there on Wikipedia.
Where does the Pope sleep?
Other than the clergy and the guards staying inside the walled city, it's the Pope who lives in Vatican City. In a way, you can say that if this place is home to someone it is the pope.
Now speaking of where the pope speel, the Apostolic Palace is the official residence of the pope. The Apostolic Palace is also known as the Papal Palace.
What is its total area?
Measuring just 0.2 square miles, Vatican City is the smallest country in the world. Its 2-mile border is moreover landlocked by Italy and the entire city is walled.
Who owns Vatican City?
Since the place is governed as an absolute monarchy with the pope as its head it won't be wrong to say that it is the pope who owns the Vatican City. It, moreover, mints its own euros, prints its own stamps, and issues passports and license plates and that's how the entire country functions.
Where does Vatican City get its money from?
Now that we know who lives there, what the population of it is, who was anyone born there, and where the pope sleeps, let's discuss the most frequently asked question of where Vatican City gets its money from.
It gets its money from many sources. Of course, tourism is one of the biggest revenue sources. Other than tourism, it generates money from the sale of stamps, coins, medals, and tourist mementoes. The fee for admission to museums and the tours (just like what I paid for my VIP skip-the-line Vatican City tour) and donations are, however, the biggest source of revenue.
That's all in this travel blog. If you think I have missed something, please leave a comment below.