This Luang Prabang Travel Itinerary will help you explore some of the most popular tourist destinations in Luang Prabang in just 4-days.
Before visiting Luang Prabang, I expected it will be very under-developed. I thought the majority of people there must be relying on agriculture and fishing in the Mekong River. But I was wrong!
Of course, the place looked quiet and simple, but it didn't look underprivileged in any sense. The roads were clean, people were content, and the cars… well, they were quite a few in number. Everything about Luang Prabang was pleasant and likeable. If I have to describe the town in three words, it will be an 'ideal retirement plan'.
The outline of the distant mountains, the soothing flow of the Mekong River, the fresh smell of the jungle everything was just perfect. And the smiling locals repeating 'Khop Chai' were like a cherry on the cake. Read this Luang Prabang blog for more praise.
Though I explored it all following my 4-days Luang Prabang Travel Itinerary, I want to explore more!
You can also read my Singapore Airlines Business class review if you are flying to Luang Prabang with Singapore Airlines. Please note that there are no direct flights from India to Laos and you need to fly with a layover. The best thing about flying with Singapore airlines is that they fly from the popular Jewel Changi Airport, which is another highlight to explore for Indians. Other flights that fly to Laos from India are Scoot Airlines (read my Flyscoot experience) if you are flying with them.
A romantic traveller's paradise – that's what Luang Prabang was in nutshell!
Now let's get ahead with the topic at hand, and discuss what to see and do in Luang Prabang. Precisely speaking, if you happen to be there for 4-Days, follow this Ideal Luang Prabang Travel itinerary: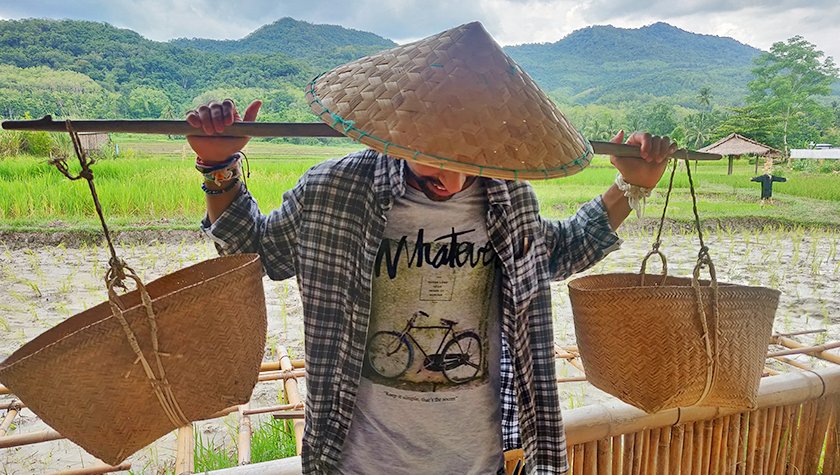 Luang Prabang Travel Itinerary
Day 1: An Introduction To Luang Prabang
Kick-off With A Bit Of History: Royal Palace Museum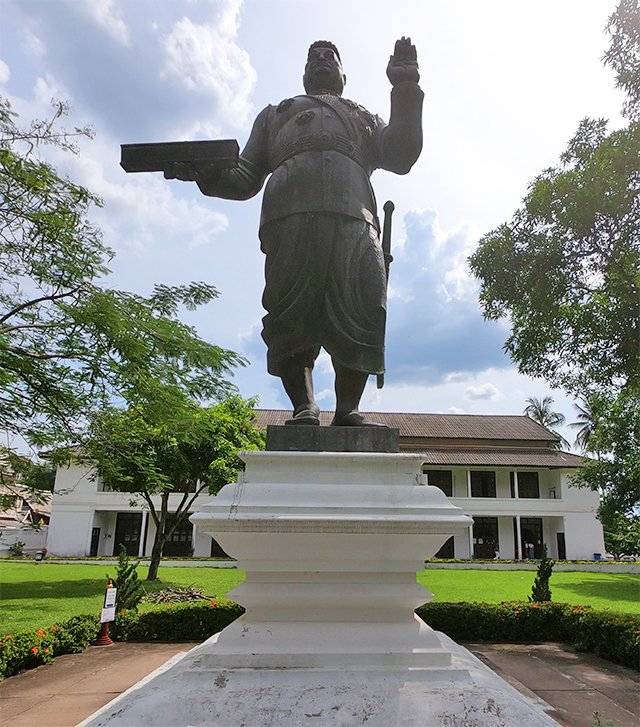 Start your tour in Luang Prabang with a visit to the Royal Palace Museum that provides a fine overview of the culture and history of this ancient city.
Built in 1904, as a residence for King Sisavang Vong, the Royal Palace Museum, today, holds a significant number of artefacts and items from the past that tells their own story, and with that, the story of the country of Laos. The building itself is a state of the art architecture with a perfect blend of traditional Lao and French architecture.
For some reason, I loved temples in Luang Prabang more beautiful than temples I explored during my Bangkok Thailand trip.
Cameras are not allowed inside the Royal Palace Museum, but you will get some lockers to store them, in case you're carrying one. A complete overview of the Royal Palace Museum can take one or two hours.
Next Up, Wat Xiengthong and Wat Khilli
Among all the things that Luang Prabang is popular for, temples is one of them. And during our 4-day Luang Prabang travel itinerary, we are going to see some of the popular ones.
Within its tiny boundaries, the town has over 30 religious temples. So, one thing you will be struggling with, while you're in Luang Prabang, is choosing between the best of all temples.
To make the choice a little easier, let me recommend Wat Xiengthong and Wat Khili – two of the most prominent temples you should see when you're in Luang Prabang.
Located at just a stone's throw away from the Royal Palace Museum, Wat Xiengthong represents typical Laos art and craft, with its gilded wooden doors depicting scenes from Buddha's life. Wander around its premise, click pictures, and marvel on its architecture that represents the classic Luang Prabang style, before crossing the road to Wat Khilli whose charming traditional library building houses a historic photo exhibition of Buddhist heritage. You may also find some local faces to click in the temple.
Right next to Wat Khili is the Traditional Arts and Ethnology Center which gives a great insight into the rich and diverse ethnic and cultural blend of Laos and is worth a quick visit.
From the different ethnic tribes to how a typical house in Laos looks, the place takes you to a journey inside Laos culture.
Next up, lunch at 3 Nagas Restaurant
Located at Ban Vatnong, Sakkaline Road, 3 Nagas Restaurant is popular for authentic and exquisite Lao dishes like Mhok Het (steamed mushroom on a banana leaf), Phaneang Khai (Laotian chicken curry), Naem Kao (steamed rice crepe stuffed with minced pork) and much more. They have two restaurants located on either side of the road both offering a unique sense of style and ambience to cater to everyone's taste.
I had Pok Pok which is eggplant served with rice noodles, banana flowers, long bean, and some Lao herbs, and it was a lovely combination together. Also, try some Tapioca in coconut milk if you've some room for dessert.
Explore The Night/Evening Market In Luang Prabang
When it comes to night markets, you don't get many options to choose from as there are only two-night markets in Luang Prabang. But rest assured, you will get enough to eat and buy at both the places. They may not be very big in size, as your average night market in Bangkok, but they're entertaining and big enough.
The night market at Sisavangvong Road is the most popular among the two, where you can find handicrafts, food, fruit shake, jewellery, cakes, apparel, coffee, tea, whiskey… you name it! In short, if it is on your list, Sisavangvong Road night market has it.
It may take about two hours if you are not doing anything but just scanning the place. Shopping and eating may take extra time. Both the markets start at 4 in the afternoon.
Have your dinner at one of the 2 dollar all-you-can-eat buffets, with a popular BeerLao!
Day 2: The Mekong River & Temples
Hire A Private Boat
River cruising is the best way to relax and explore life around the Mekong River. And the first thing on Day 2 of our 4-day Luang Prabang travel itinerary is a boar ride.
A 10+ seater boat in Luang Prabang costs only about 70 USD for a nearly 6-hour tour and takes you to many highlights located on either side of the river. So, hire a private boat and start your day by…
Exploring The Quaint Ban Xieng Maen Village
If Luang Prabang is a well looked-after UNESCO heritage town that offers little to no hints of how local people in rural Laos live, the village of Ban Xieng Maen is an exact opposite of that. Consisting of no more than 500 families, Ban Xieng Maen takes you to rural Laos. And the good thing is, it is located just across the Mekong river (or a 5-minute boat ride) but half a planet away. Just wander around, follow one of its many dirt roads and explore the local life in rural Laos.
Ban Xieng Mean is also home to some famous temples, but popular among all is the ancient royal temple of Wat Long Khoon, that was formerly used by the royal families for meditation. A quick stroll in Wat Long Khoon is certainly worth it.
Next Up, Head To Pha Tad Ke Botanical Gardens
From Ban Xieng Mean village, botanical gardens is a half an hour boat-ride away. Established in 2008, by a Dutchman, Pha Tad Ke Botanical Garden is the first and one of its kind that preserves Lao's biodiversity and ethnobotanical heritage. Draped in 40 hectares of thick tropical jungle, Pha Tad Ke appears is a pure treat for nature lovers.
Stroll through the Ginger Gardens and the Ethno-Botanical Garden which is the centrepiece of the botanical garden. You can hire a guide or buy some reading material at the reception, for a better understanding of the place.
There's an in-house restaurant that serves some traditional dishes at the Sala overlooking the pond. You can eat there or get your lunch packed and eat it on the boat as you make your way to your next stop of the day.
Visit The Pak Ou Caves
The boat journey from the Botanical Gardens to the Caves is going to be one of the most memorable things of your trip, so grab a good place in the boat.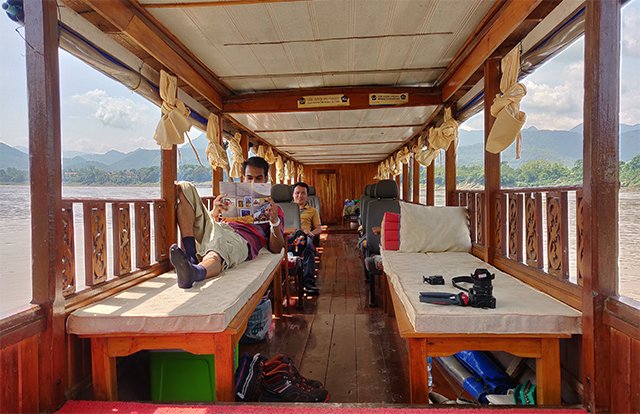 Enjoy the tranquillity of Mekong, as you sail against the river current and slowly make your way towards Pak Ou Caves. Explore and enjoy the local life around the Mekong as local fishing boats will go past around you, waving at you or smiling and shouting. The journey from the Botanical Gardens to the Caves can take up to 2 hours.
Set in a rocky cliff face overlooking the Mekong River, Pak Ou Caves are filled with thousands of Buddha statues. There are two caves: a lower cave not too far from the river level, and an upper cave that's a steep 5-10-minute climb up stone steps.
As you will enter one of the caves, you will be awe-struck finding thousands of Buddha status (I think there is more than 5000 Buddha status in both the caves combined) in every position, every era of life and in every size lining the cave walls.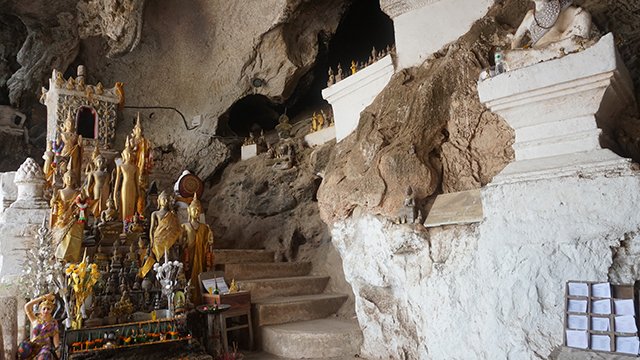 Interestingly, anyone can bring a Buddha statue and leave it there. Doing so, as it's believed, brings good luck and health.
Next Up, Wat Done Khoon Temple
As you make your journey back to the original ferry point, you come across a very unique temple situated on an island in the Mekong called Wat Done Khoon.
Here, you will find Monks and Nuns living together in a very peculiar setting. A quick stop at Wat Done Khoon is certainly worth it before you continue your journey back to the original ferry point.
It is possible to take pictures of monks and nuns if you want to. Just ask for permission beforehand though.
Dinner Recommendation: Tamarind Restaurant
Tamarind is one of the best restaurants in Luang Prabang and definitely worth a visit while you're there.
It serves some of Laos' best dishes, including lab, sticky rice, and some tasty creations with aubergine. Vegetarians will be happy to know that this place is particularly popular for their vegetarian dishes. Grab yourself a Beer Lao for an ideal combination.
The place may feel a little pricier than most places you'll eat in Laos, but is well worth it
Day 3: Learn Rice Harvesting & Visit Kuang Si Waterfall
Book A Tour With Living Lands Organic Farms
Set in the idyllic countryside, the Living Land Farm offers a learning experience to tourists that teach them everything about how rice harvesting in Laos is done. And since rice is the staple diet of Lao people and you will be eating more rice in Laos than you ever did in your life, it makes even more sense to learn how it gets to the plate.
Local farmers teach all about the 14 different stages of cultivating rice – from selecting the seeds to planting and to even plowing the paddy with a buffalo – as visitors try their hands at these activities.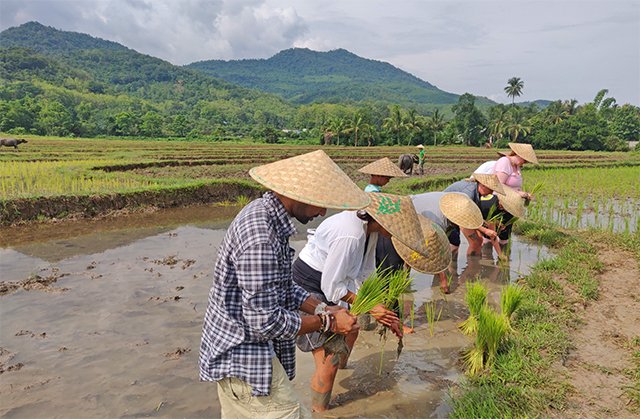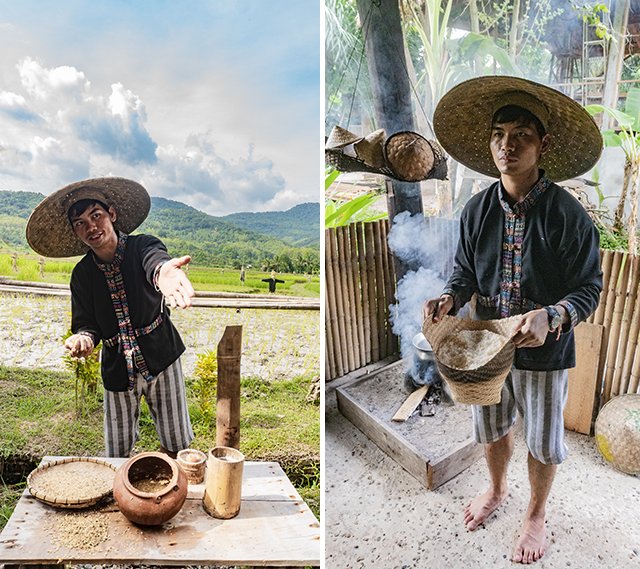 The entire tour takes about 3 hours that concludes at the communal dish of the farm's specialities – sticky rice with fiery chilli dip, some round puffed crackers, and cookies spiced with coconut. You can ask for some rice wine or try their inhouse sugarcane juice.
Kuang Si Waterfall
Kuang Si Waterfall remains the most frequently visited highlight in Luang Prabang. As the name suggests, it's a big massive 50-meter high waterfall. But what's interesting is that it leads to and a group of (4 in total) turquoise pools, set in the tropical rain forest, where visitors can bathe and relax.
Kuang Si Waterfall is popular among tourists and locals alike where people go for a picnic lunch overlooking the falls – meaning, it can be a great place to have your third day's lunch and a few beers next to a natural pool. So don't forget to bring your munchies along.
Locals families and slow-travellers spend an entire day at the place, but since you're short with time, a half-day tour (from lunch to until it gets dark) will give you enough time to enjoy the place and get a hang of Luang Prabang's most visited natural attraction.
Next to the falls is a Bear Rescue Center that does a great job in protecting and rehabilitating the rare Asiatic Black Bear. From a viewing platform, you can observe the animals as they play, search for food, or just do nothing and relax.
Dinner at one of the SinDats
SinDat is one of the many do-it-yourself barbecue places around Luang Prabang that give you a small barbecue bucket to cook and eat right on your table.
A small bucket of hot charcoal sits in the middle of your table with a plate of sliced meat, vegetables, a pile of rice noodles and some eggs, complemented with a selection of local condiments – for your to cook and eat in whatever way you please.
Day 4: A Full-Day Elephant Tour
Laos was once known as the 'Land of a Million Elephants'. Sadly, that reality has become a thing of the past due to the poaching of wild animals. According to statistics today, the current population of wild elephants stands at a mere 400.
Another reason that contributes to elephant extinction and early deaths in Laos is the many elephant tours that offer rides – that, from an outset, give an impression that they're looking after elephants but from inside they're exploiting them to make money.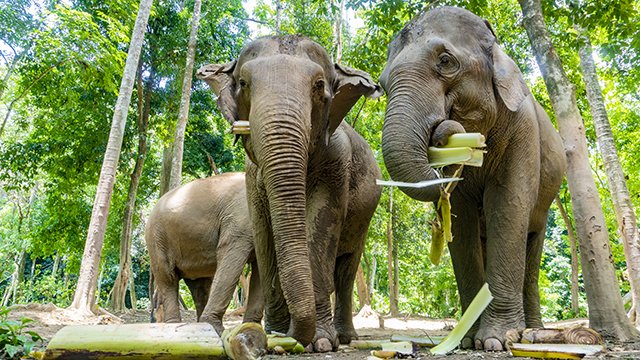 The good news is that there is a handful of elephant conservation-focused organizations in Laos working hard at promoting ethical elephant interaction experiences, and MandaLao Sanctuary is one of them.
With MandaLao, you get half-day and full-day walking tours, doing nothing more than learning about them, hiking alongside them in the jungle, and feeding them on the way (and of course, touching and kissing them if you fancy).
Despite seeing elephants in India quite a few times and even touching and feeding them before, this tour brought me so much closer to elephants, learning so much more about their behavior and intelligence in just a day.
Other than hiking alongside elephants, the day-tour takes you deep inside the beautiful rainforest of Laos and to a local village nearby that gives hints of Mishing Tribe in India – with their one square room houses and a relating past.
Also Read: Mishing Tribe of Majuli Island, India
A full-day tour with MandaLao is a great way to learn about the rainforest and the rural life in Laos.
A Guide To Luang Prabang's Most Cultural Event
Just like with everything else, Laos is certainly one of the last few places in the world that have still managed to preserve its traditional, authentic Buddhist appeal.
Here, Buddhist monks won't appear taking selfies in their iPhone, but walking across the street every morning to perform the daily ritual of TAT BAT, where they ask for alms, which, later that day, will be their only food.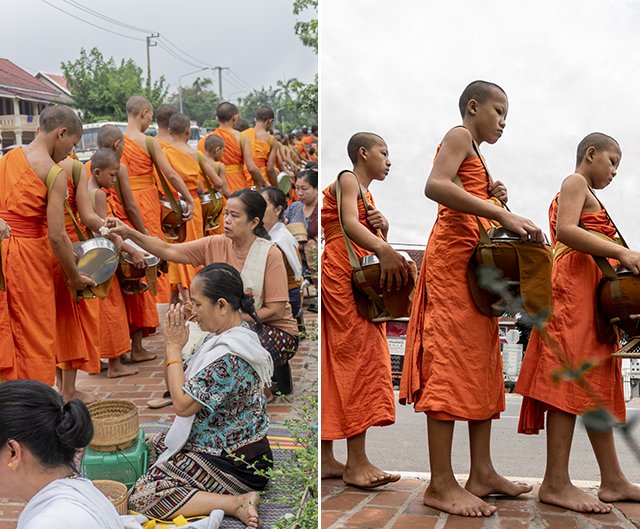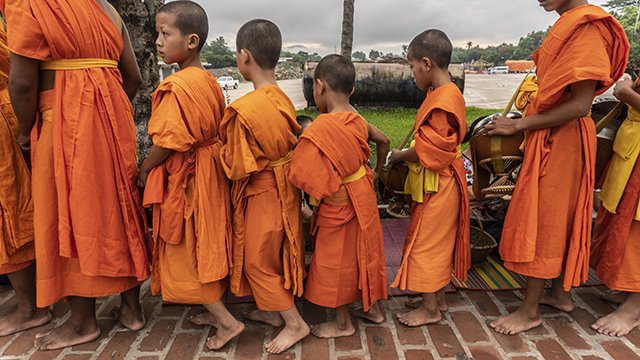 Hundreds of monks and novices, every day, walk barefoot along the streets of Luang Prabang asking for alms. This is one such experience that completes your Luang Prabang visit and should not be missed.
Useful Travel Tips For Luang Prabang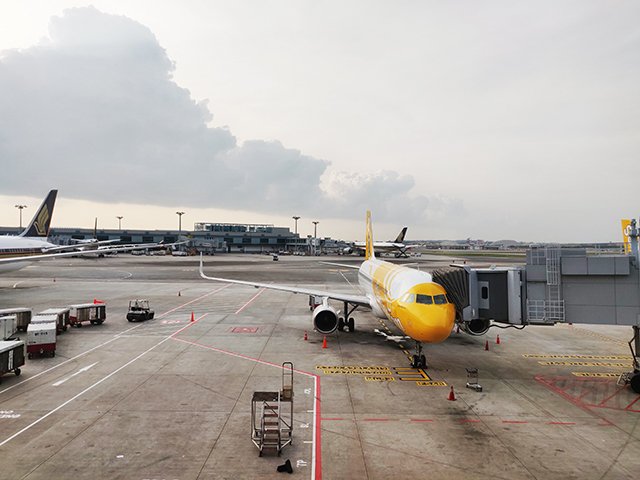 Flying To Luang Prabang: Though Luang Prabang has an international airport, not many flight carriers operate there. The two most popular destinations connecting Luang Prabang are Bangkok and Singapore. I flew from Singapore's Changi Airport with Scoot Airlines. At the moment, Scoot has 3 flights to Laos on Mondays, Thursdays, and Saturdays, and it flies the loop Singapore – Luang Prabang – Vientiane – Singapore.
When To Travel: Weather in Luang Prabang, and elsewhere in Laos is majorly topical, making it quite sweaty throughout the year, except for between November and January, and that's when Laos has its peak tourist season because of good weather – it's cool and dry during this period, particularly up in Luang Prabang which is hilly so it's generally cooler than Vientiane.
About Currency: Laos uses the Kip as the national currency which is almost 8500 to a USD. It is very unlikely to find Kip anywhere else in the world except for in Laos. Moreover, USDs are widely used in Luang Prabang or Laos. So don't carry Kip. Just use the USDs and get your change back in USDs, unless there's a shorter change that cannot be converted into USD.
In Luang Prabang, Nothing Is Free: Even most of the temples cost 10,000-20,000 Kip.
Have you been to Luang Prabang? Would you like to add anything to this Luang Prabang travel itinerary? Share your tips in the comments below.
Disclaimer: I visited Laos on a blog-trip with Singapore Airlines. Where my trip was sponsored by Singapore Airlines, all recommendations are solely personal. I only recommend what I personally try, and find worth appreciating!